While surfing the web you may face several problems. Sometimes web pages fail to open completely, server error, slow loading of pages, the site getting stuck, and many other types of errors. One of them is totally different, that it affects only a few websites so that some websites not opening in any browser.
A website not opening issue is really annoying especially when all other sites are working fine. And only some "website not loading" or not opening in any browser like Google Chrome, Firefox, Opera, etc. This may happen on any version of Windows like Windows 7, 8/8.1 & Windows 10 or even on macOS X.
You may have tried many different solutions to fix this error like restarting the router and computer, tried safe mode in Windows, disabling few windows services and if it is still not working for you then probably you came to the right place.
There may be a number of reasons why your computer is blocking access to a particular website.
Why are Some Websites Not Opening?
Try to recall what you were doing before getting this annoying issue? Did you install new software, patch, crack, keygen? Or maybe you just start getting this issue without doing anything.
This problem mostly occurs when a program tries to change the DNS server address of your computer and affects it in different ways like it tries to change proxy settings, DNS addresses, and other connection settings.
Or your ISP is having the problem with their default DNS server address.
A website not loading issue can occur if your computer is affected by a malicious program or virus. Or the website is down or it is blocked in your region.
Above are the reason for the Website are not loading error.
How to Fix Website Not Loading Error
There may be different reasons behind the issue, you have to try different fixes for your laptop/PC. These tips worked for many users you can try them one by one to fix the issue.
Here are some tips and tricks you can try but the most successful solution is to change your ISP's DNS to Google's public DNS.
Method 1: Change DNS server address on Windows 7,8.1, & 10
The default DNS server provided by your ISP may not be working properly. You can try to change the DNS server to some of the free and secure public DNS which are provided by Google, Open DNS, DNS Watch, OpenNIC, and UncensoredDNS.
Follow the steps below to change DNS server on your Windows computer-
1. Go to Start and open control panel. On Windows 10 just search for the "Control Panel".
2. Look for "Network and sharing center" and open it. You will find it under "Network" options. Or click to show "All control panel items".
3. Find your network interface, in simple words internet connection name, and click on it.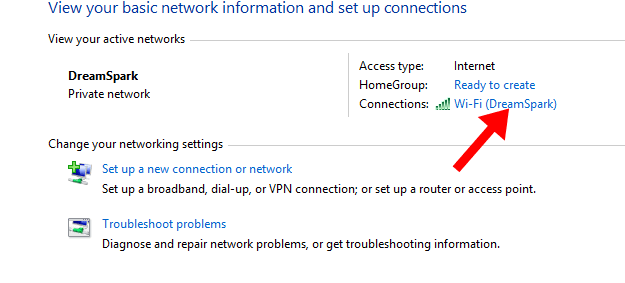 4. Now you will get another window with connection status, click on Properties here.
5. Under properties double-click Internet Protocol Version 4 (TCP/IPv4).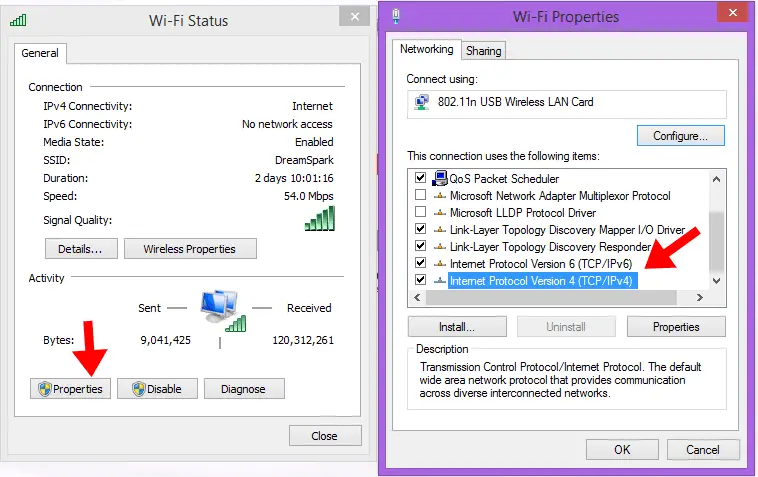 6. Now another dialog box will appear with IP address and DNS server address, here you need to select "Use the following DNS server address" and assign following DNS address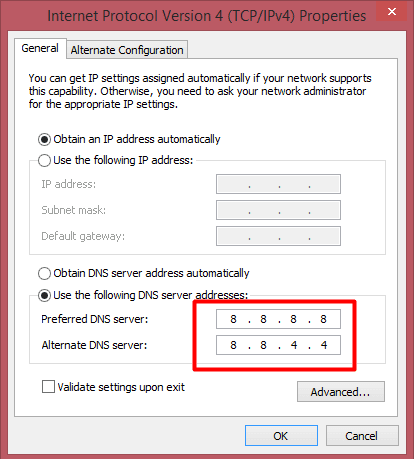 Above DNS server address is Google's public DNS which is one of the fastest DNS servers around the globe.
7. Now hit OK to every dialog box to save the changes you made.
Try to visit the affected websites now, if they work then great if not try restarting your computer.
Here is a list of Secure public DNS, if Google DNS is not working then you can try any of these-
Google DNS – 8.8.8.8 and 8.8.4.4
Open DNS – 208.67.220.220 and 208.67.222.222
DNS Watch – 84.200.69.80 and 84.200.70.40
OpenNIC – 206.125.173.29 and 45.32.230.225
UncensoredDNS – 91.239.100.100 and 89.233.43.71
Method 2: If Websites are still not opening even after the restart
The above method of changing DNS should work if you are still facing a Website not opening issue then follow next.
1. Delete temporary files – Press Win+ R key together on your keyboard, type %temp%  in "run" dialog box and hit OK, it will take you to the temporary files, select them all and delete.
2. Delete history, cache, and cookies from browsers.
3. Reset your browsers to their default settings.
4. Check the Hosts file in Windows if a particular website is not working.
Go to My Computer > C:\Windows\System32\drivers\etc  locate Hosts file and open it with notepad. If you find that particular website listed there then put # before the site name or delete the site from the hosts file and save it.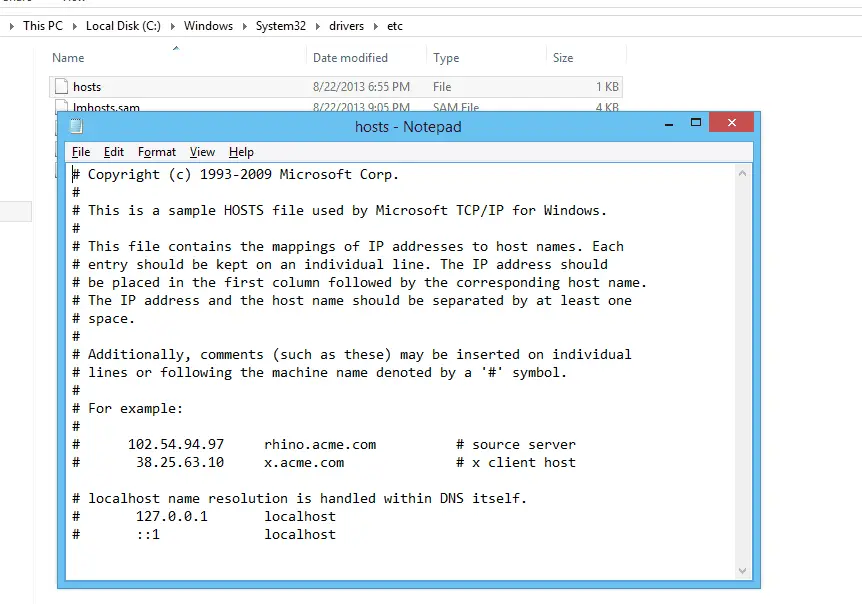 A normal hosts file will look like the above picture, if you have something different then make it like this.
If you are unable to edit the hosts file then you need to change the security setting for the files. Go to hosts file properties, select security then allows it for your user account.
After the changes, revert the original security settings.
Restart your computer and try to open affected sites, if they are still not opening then try the next method.
Method 3: Flushing DNS Cache
Whenever you visit websites, your Windows OS creates a small database in your computer to keep the record of visited websites for faster access next time.
These records are created when you visit a website for the first time.
It is like a phone book where you don't have to remember the numbers, in the same way, this database records the DNS address and IP of visited websites.
Whenever you try to open the same website again, the DNS cache fetches the IP of the website from DNS cache for faster access.
DNS cache may get corrupted and get wrong entries for particular or many websites due to the technical fault or some malware attacks.
To reset this DNS database you have to perform DNS flushing to erase all the entries.
Follow these steps –
Go to start and find "cmd". Or press Win+X on Windows 8/8.1 and 10.
Open cmd as administrator.
Type ipconfig/flushdns and hit enter to clear the DNS cache.
You will get Successfully flushed the DNS Resolver Cache message after executing the command.
Method 4: Run a Malware Scan
There may be malware affecting your browsing experiences like injecting adware, redirects, pop-up ads, and many other annoying banner ads. These may be due to adware mainly caused by different types of malware into your Windows computer.
These malware changes the DNS records and redirects your favorite website to some ads or block them completely.
If the malware exists in your computer then it will re-enter the bad entries into the DNS server even after DNS Flush.
To remove them completely you need to run a malware scan using a good antivirus program.
Or you can Download Hitman Pro and run a quick scan, it comes free for the first 30 days.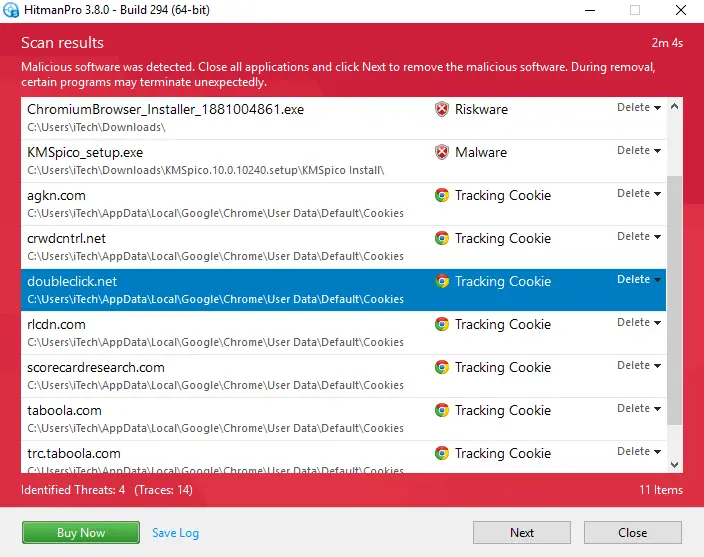 Delete all the found malware, be careful it may give false-positive results too. It may mark some important DLL files as malware, just uncheck them before deleting.
Now reboot your computer and check if the particular website is working or not.
Method 5 – Disable and Enable Network Adapter
There may be different network adapters installed on your Windows computer. Sometimes it may be the culprit behind the issue. You need to disable and re-enable the network adapter.
1. Open the Control Panel and go to Network and sharing center.
2. From the options in the right pane select Change Adapter Settings.
3. Find your network adapter, right-click on it, and hit disable and then enable.
4. If there are more than one network adapters then disable all other adapters leaving the one which is currently connected.
Method 6 – Unblock the Blocked Websites
Are you trying to open some websites that are blocked by your ISP, Government, or in your region? Then none of the above options would work. If there is certain censorship by Govt or organization then you won't be able to access some websites.
For example, certain YouTube videos may not play in your country, or some Netflix shows are not available. You can unblock these sites using a VPN service. The VPN will bypass such restrictions.
You can download the VPN apps for your device and select some other countries and access blocked websites. Check these VPN services and download accordingly.
Fix if Some Websites Not Opening on WiFi
There may be a scenario when certain websites are not loading over wifi but works pretty well on a wired connection on your laptop or PC. This issue is mainly caused by a router firewall or misconfiguration in the router's setting.
You need to access the router interface by logging into the admin area. Check the default URL to access your router generally it is 192.168.1.1 or 192.168.1.0 for most of the routers and username – admin, password- admin.
If you are not sure you can find the default URL, Username, and password on the Internet.
Once you are logged in check if your router has an internal firewall. If it has, then disable it for a certain period. Now check if you are able to access blocked websites.
If it does not have any firewall then you can reset the modem/router. Before any reset note down the configurations or take screenshots. After the reset, assign a valid SSID and password for your router. You may also call your ISP if you are unable to do it your own.
How to fix the Website Not loading error on Mac OS X.
1. If this happened for the first time try restarting your Mac.
2. Try clearing browser history cache and cookies, clean your browser using the free cleaning tool Ccleaner. Ccleaner is a popular tool for both Windows and Mac and it works well with every browser like Safari, Chrome, Firefox, etc.
Change DNS server address to Google Public DNS
 From the Apple menu, click on Preferences. And the below window will appear.
2. Select Network and you will get another window as below. Select your network interface by default, the active internet connection is already selected.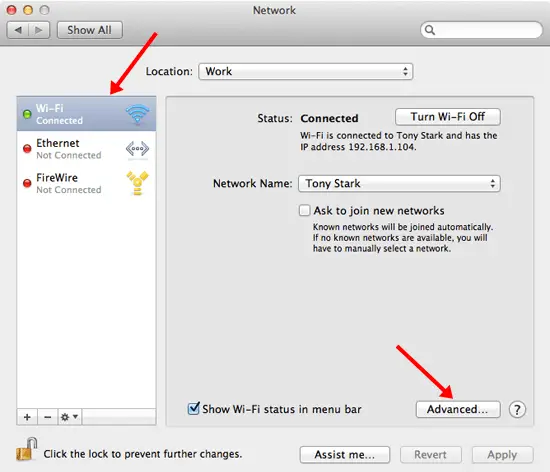 3. Once selected the network connection click on the  Advanced option and from the next window select DNS.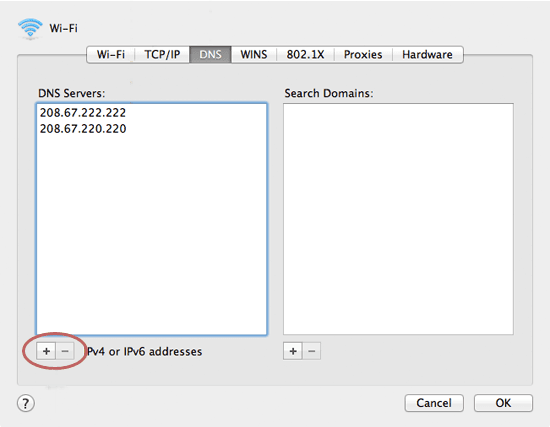 4. Click on "+" to add a new DNS server address. If it has already any other DNS server then remove them by clicking on "–" sign.
5.  Add new DNS server  8.8.8.8 and 8.8.4.4 (Google DNS)
6. Click OK and Apply to save the changes.
Now try to visit those sites, if it still does not work then restart your Mac.
You can also use OpenDNS by Cisco instead of Google DNS.
OpenDNS server address is:
208.67.222.222  and 208.67.220.220
DNS Flush in macOS X
Go to the Search option on the right top of the menu bar.
Search for "Terminal".
Open Terminal and type dscacheutil -flushcache 

and hit Enter.
Conclusion
A website not opening issue is a very common issue, there a chances that some websites may not open due to tons of reasons. You have the above options to fix such issues with your Windows 7,8.1 or Windows 10 computers.
Mac users can fix it by changing and flushing the DNS as well. I hope the above solutions work for you, whether it is working or not please let me know in comments.
Also Read:-