Apple Inc's flagship products- the iPhone & the iPad, are the most secure devices to date. Both products are designed in hardware and software to combat malware, viruses, spyware, and other perilous threats. A sole preventative measure would be to invest in a VPN service provider. Henceforth, we have curated the top VPN  services for iPhone and iPad Users.
Whilst there are some that claim to be the best iOS VPN App free,' we suggest against it. When a service as essential as a virtual private network is given away at no cost, you must wonder whether your data is being compromised so that the service providers can remain afloat.
Related Post: What is a VPN?
5 Best iOS VPN Apps Review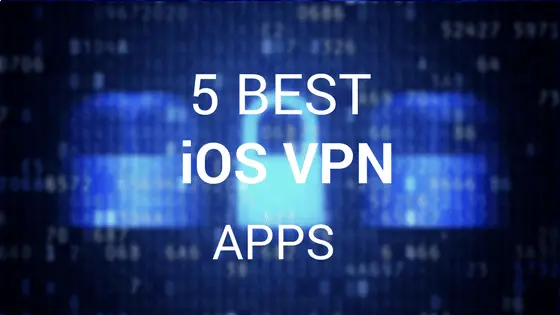 With many accolades under its belt, VPN by Nord VPN is the currently reigning champion and represents the very best VPN apps on iOS.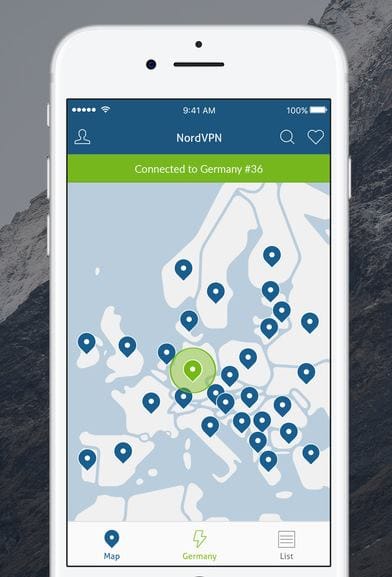 Special Features:-
NordVPN incorporates the latest and widely known security standards, the IKEv2. It is praised for its speed and higher encryption.
The makers of NordVPN assure absolute privacy with over 1000 remote servers located in 60 countries. Furthermore, they do not keep any data logs of your activity.
So your browsing habits reside in a vacuum that only you can edit, move or delete permanently. All of your Internet traffic is doubly encrypted with the military-grade AES-256-CBC encryption system that applies to all the data leaving and entering your iOS device. Do you see why this is the best VPN app for iOS?
Users who know how to configure OpenVPN can make use of this security protocol with NordVPN. Additionally, IKEv2, L2TP is also supported by this host.
All this points to the fact that your Real IP address remains hidden inside a vault, and your output IP will be that of NordVPN.
Other likable features include P2P-friendly, limitless bandwidth, Bitcoin acceptance, Automatic Kill switch, Anti DDoS servers for extra security, and support for IPsec encryption protocol.
Cost:
There are three payment options for NordVPN fans. Since you can only avail a 7-day free trial after subscribing to one of the three subscriptions, you get to pick what you're comfortable with.
The prices vary between $11.99 per month, $41.99 for 6 months, and $68.99 per 12 months.
Regardless of your chosen plan, you gain all of the features promised by NordVPN.
What it lacks?
Two things: it is expensive & lacks an Ad-Blocking feature!
Compared to most of its competitors, NordVPN is expensive, especially its monthly asking price. With no free trial before the subscription, it asks for a lot from a user well in advance.
Moreover, for this heavy price, you don't get Ad-blocking. Perhaps they will integrate that in the future, but for now, it could be a deal breaker for some. Rest assured, you are not troubled by trackers and spyware of any kind.
Probably it is the only VPN on the App Store that contains colorful and cute graphics of a bear digging tunnels that, in fact, resembles a real tunnel being dug through to form a connection. It's also induced with bear puns for those who're into that sort of thing.
This artistically engineered VPN app has quickly risen to the top of every reviewer's list, myself included.
Special Features: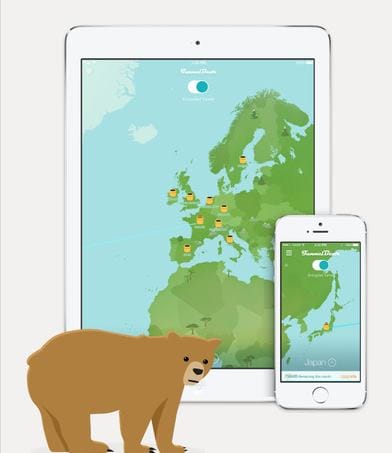 With a presence in over 20+ nations, TunnelBear VPN offers very good speeds to its users. With this app, you can access your websites or any content on the Internet anytime and anywhere with 24-hour customer support by your side.
Even though it lacks P2P security, it does have 256-bit encryption and runs on the IPSec protocol without data logging. The app is very simple and easy enough to understand, with selecting your favorite server and tapping on it to form a connection.
Cost:
TunnelBear VPN allows a free service with a usage restriction of 500MB each month. You can ask for more if you bring in more users by sharing the app link on social media.
There are two different types of plans available-
A full plan that allows you to use TunnelBear on any device (Windows, Android, etc.) for only $9.99 per month or $59.99 per year.
An exclusive iOS-only plan is also available for purchase at $4.99 per month or $39.99 per year, which is eligible for iPhone and iPad devices only.
With both subscriptions, you gain access to unlimited access and all of their server locations and connect up to 5 devices.
What it lacks?
TunnelBear is still in its infancy, so currently, it experiences a slowdown at times and does not support P2P protocol or BitTorrent. This is not to say they won't ever! 
VyprVPN is quite well-known in the market of VPN for iOS and offers a robust service. VyprVPN by Golden Frog has impeccable top-notch security protocols that one expects to get in a paid VPN for iOS.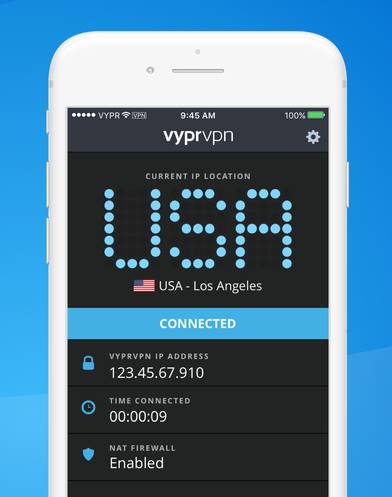 Special Features:
With over 73 server locations across the world and over 700 servers, VyprVPN has managed to stay on the top-tier VPN apps for iOS.
VyprVPN brings the NAT Firewall to iOS devices. This feature is particularly useful to block inbound traffic, bots that scan for vulnerabilities, etc. However, a VyprDNS feature on iOS would've been great, and it is absent so far.
All free account users get only 1GB of free data; once it is over, you must upgrade.
The company only keeps partial data that is deleted after 30 days. Users can share files via P2P or BitTorrent, but unless you use either on iOS, it is not much of a helpful feature. An advantage, though, is that the company does not sell your private details to advertisers. It remains ad-proof.
Cost:
Two choices exist for users- VyprVPN and VyprVPN Premium.
The VyprVPN costs $9.95 per month, while the Premium costs $12.95 per month. There's a free three-day trial included, after which you can ask for a full refund if you're not too impressed.
What it lacks?
Golden Frog VyprVPN on Windows includes some features that are not supported for iOS, like the Kill Switch options.
Also, it does not have a built-in Adblocker! 
Yet another popular choice of many iOS VPN users is the PIA Anonymous VPN. It is as simple as a VPN app can be. For its price, the PIA does offer compatibility with up to 5 devices.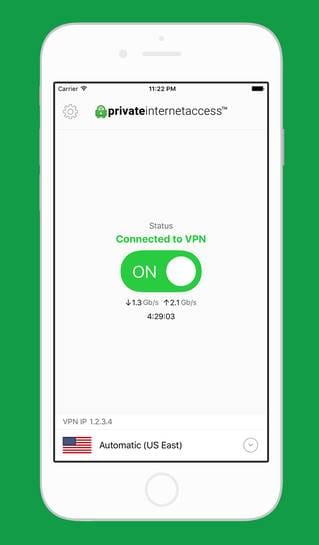 Special features:
With 27 locations offered across the world placed in decent and well-reached positions, the PIA is small but stable due to its strategic placement of servers in popular destinations. With faster speeds, this VPN supports 256-bit encryption and OpenVPN on iOS, which is found in fewer VPN apps for iOS.
Although the app suggests 128-bit encryption for higher surfing speeds, you can opt for 256-bit. Also, the app is centered in the United States, so it swears to not save any logging traffic and VPN usage.
Cost:
There is no free trial available, which is a bummer! You do have to give your credit card info in order to get a 7-day free trial with a money-back guarantee.
If you like the service, you can keep paying $7 a month, or pay $36 for six months upfront, or pay only $4 more and make it $40 for a whole year.
For such less price, you also get to add five simultaneous connections.
TorGuard prevents online data snooping pretty well and does the exact job of a VPN. The service is A-class, without a doubt, and it has global server locations and offers many advanced options too.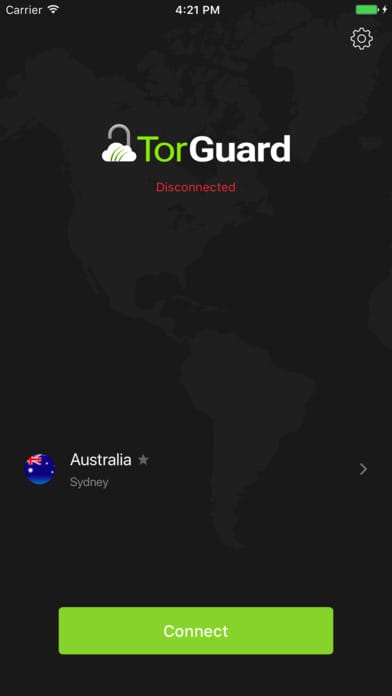 Special Features:
It is not a surprise that Apple takes very excellent care of its privacy. That is why any VPN app for iOS platform wishing to use the open source OpenVPN must undergo rigorous vetting. While some support this, most do not.
TorGuard offers to its users the option to choose between the IPSec protocol or IKEv2 protocol.
You can connect up to 5 simultaneous devices. It has more than 1,600 servers worldwide, spanning 51 countries.
The VPN will filter out unwanted advertisements at the network level. There is no simple method to enable ad-block in TorGuard, but you can configure your iPhone to use this VPN's DNS servers.
By default, you get a shared static IP address, but you can opt for a dedicated IP address in any region where your connection is faster. This may cost a little extra.
Also, you get to enjoy additional licenses and bag in many more devices to use TorGuard simultaneously with access to up to 10Gbps on the premium subscription.
Cost:
The pricing of TorGuard is about as average as any other app in the market offering VPN service. You pay $9.99 per month or $19.99 per three months, $29.99 per six months, or buy a whole year package for just $59.99.
With frequent yearly subscription promotions, you may be able to get it for less!
Where it lacks?
You can't access the TorGuard anonymization network with the iOS app. Instead, the Tor in the app's name refers to BitTorrent, which means that this company allows torrenting.
No server selection help is available.
Although TorGuard supports L2TP, OpenVPN, PPTP, and SSTP, these aren't included in the iPhone app.
The app's interface could use a bit of work.
TorGuard is simple and efficient even though it does not have much of a UX feel to it, like TunnelBear, for example. It does well with regard to speed, and it is a highly functional app as well.
These were our picks on the 5 best iOS VPN apps; you can use any of them to secure your browsing and surf the internet anonymously without exposing your actual IP address.
Do you use any other VPN apps for your iOS device? Let us know in the comments.
Also Read-