Do you want to reset Google Chrome on Windows 11, 10, and 8.1 because it is running slow, not opening, or taking too much RAM memory? Well, you can even factory reset Google Chrome without uninstalling it. No argument that Google Chrome is the fastest browser available today. Browsing the internet and downloading stuff online is faster than other browsers.
A lightweight browser that opens web pages faster, but sometimes due to junk files, cache, and cookies, it gets slow and does not function properly. Also, if there are certain incompatible programs installed into your Windows computer, then it may not work as intended. You may face slower browsing, longer load time, or it may not open at all.
If your Google Chrome is slow or showing any error, then you can try to fix it by resetting Google Chrome to its default settings. If you reset Google Chrome, it may work as usual since a reset reverts back to the original settings.
But before you reset Chrome to its default settings, you should check for incompatible programs. There are three programs mentioned on the Google Chrome support page that may affect your google chrome.
These are –
Spyware Doctor
Comodo Firewall
McAfee Enterprise
If you have any of these programs then uninstall them and check if your chrome is working properly.
How To Reset Google Chrome Completely
There are a few methods to reset google chrome to default settings completely. These will work on Windows 7, 8/8.1, and Windows 10/11.
If you are using mac OSx, then Skip to Mac Part
A complete uninstall and re-install will also work, but you would lose all the Chrome data. If you logged in to chrome, then you should not worry about losing chrome data.
A logged-in user can always retrieve their Chrome data like history, saved passwords, autofill form data, etc.
1. Resetting Google Chrome From Settings
If you can open Google Chrome, but it does not work properly or keeps crashing after a certain time then you can use this method to reset chrome.
This will restore all the settings to default and reset your homepage, new tab pages, and search engine, disable your extensions and unpin all tabs. It will also clear other temporary and cached data, such as cookies, content, and site data.
Your bookmarks, saved passwords, and history will not be deleted. If you are skeptical about losing your data, then sync all the data on the Google server.
Just log in to Chrome using your Gmail, and it will sync everything on the server. After resetting if anything goes wrong, you can always get your data back.
Here is how you can reset chrome from settings-
Step 1. Go to the Top- Right corner of Chrome and click the hamburger menu (3 little dots).
Step 2. Now Click on Settings.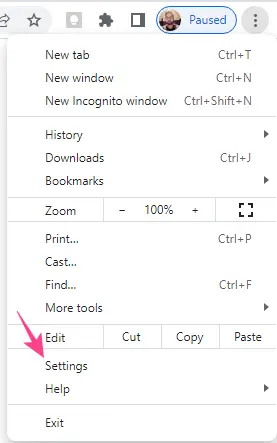 Or you can type in chrome://settings/ in the address bar and hit Enter to open settings.
Step 3. Once you click on Settings, you will see a list of options in the left pane. Look for "Reset and clean up" and click on it.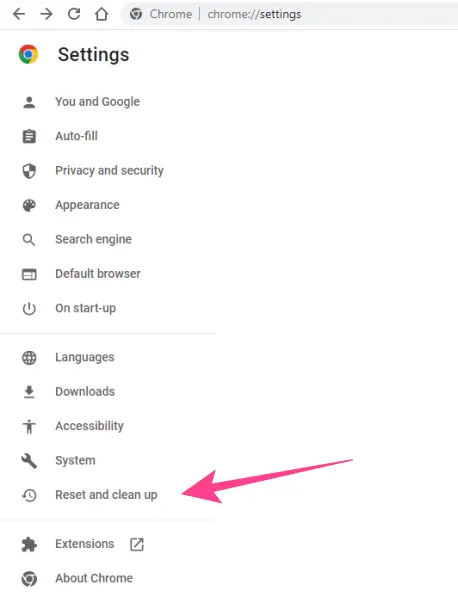 Step 4.  Now Click on Restore settings to their original defaults.
Step 5.  Click on Reset Settings to confirm the restoration process.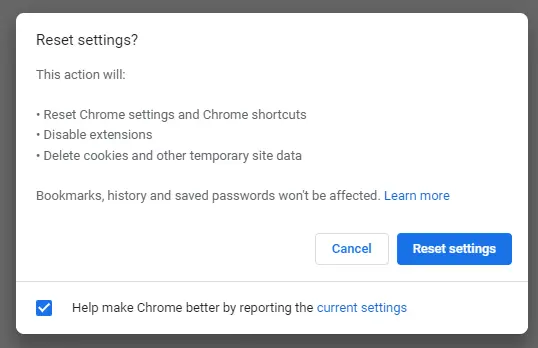 Once you Reset chrome, you will get clean Google Chrome with default settings.
If you believe there is malware on your PC, then you can click the "Clean up computer" option to remove the malicious programs.
Chrome users must check:- Reduce high RAM usage by Chrome up to 90%
2. Reset Chrome by Deleting The User Profile
There is another way to Reset Google Chrome by deleting the "Default" user profile. By deleting this folder you can ensure that every junk will be deleted from Chrome. Follow these steps-
Step 1. Go to Start and search for the run, open the run window, type %appdata%, and click OK.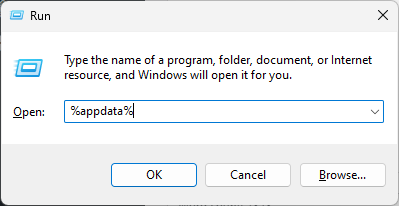 Step 2.  You will get the Roaming folder; now go to the AppData folder.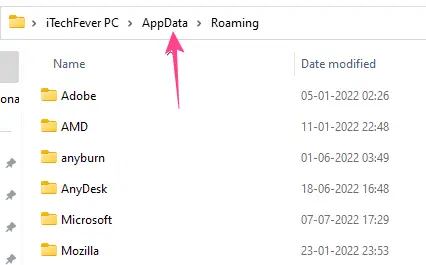 and Navigate to  Local > Google > Chrome > User Data.
The Full Path is  C:\Users\iTechFever PC\AppData\Local\Google\Chrome\User Data; only change the user account name to your user account name.
here you will get the Default folder.
Backup this folder first and Exit chrome from the right bottom corner and Task manager as-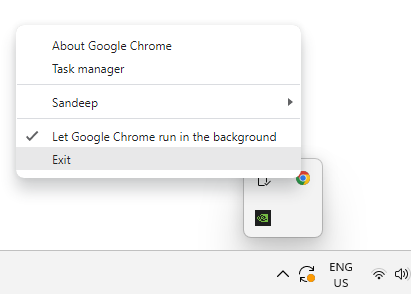 Step 3.  Now Delete this Default folder. Or you can rename this folder as well.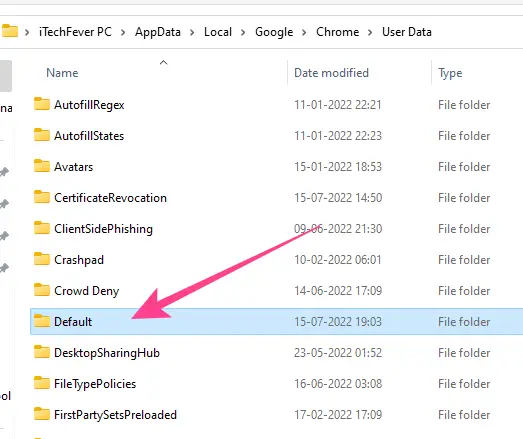 Your chrome user data, bookmarks, history, cookies, and cache will be cleared, and you will get fresh Google Chrome running on your computer.
Complete Uninstall
A complete uninstall of Google Chrome can fully reset it. If you are worried about your chrome data, then you can always take a backup of the Default folder and replace it back after a fresh installation.
Like I said before if you have synced your chrome data on the Google server using your Gmail address, then you don't have to worry about losing your data. Even if you don't back up the default folder.
Here's How to Completely Uninstall Google's Browser on Windows
1. Go to Progam and Features or Apps in Windows 10/11, find and double click to Uninstall it.
2. Navigate to C:\Users\<User_Name>\AppData\Local\Google\ and then delete the Chrome folder.
3. The Chrome application is located on C:\Program Files (x86)\Google\Chrome\Applications\chrome.exe but after uninstall, you won't find chrome.exe so just go to Google Folder and delete the Chrome Folder.
4. Now, you need to delete unused registry keys of Chrome.
Open the registry editor and navigate to
HKEY_LOCAL_MACHINE\Software\Microsoft\Windows\CurrentVersion\App Paths\chrome.exe\
HKEY_LOCAL_MACHINE\SOFTWARE\Clients\StartMenuInternet\Google Chrome\ and delete the found registry keys.
But if you are not tech-savvy then I don't recommend deleting registry entries manually.
Use Ccleaner to clean the unused registry keys. ( Better and safer)
If you don't have time and experience to completely uninstall a program manually, then you can always use a third-party uninstaller like Revo Uninstaller or IObit Advanced Uninstaller.
Download and install the Uninstaller and select Chrome.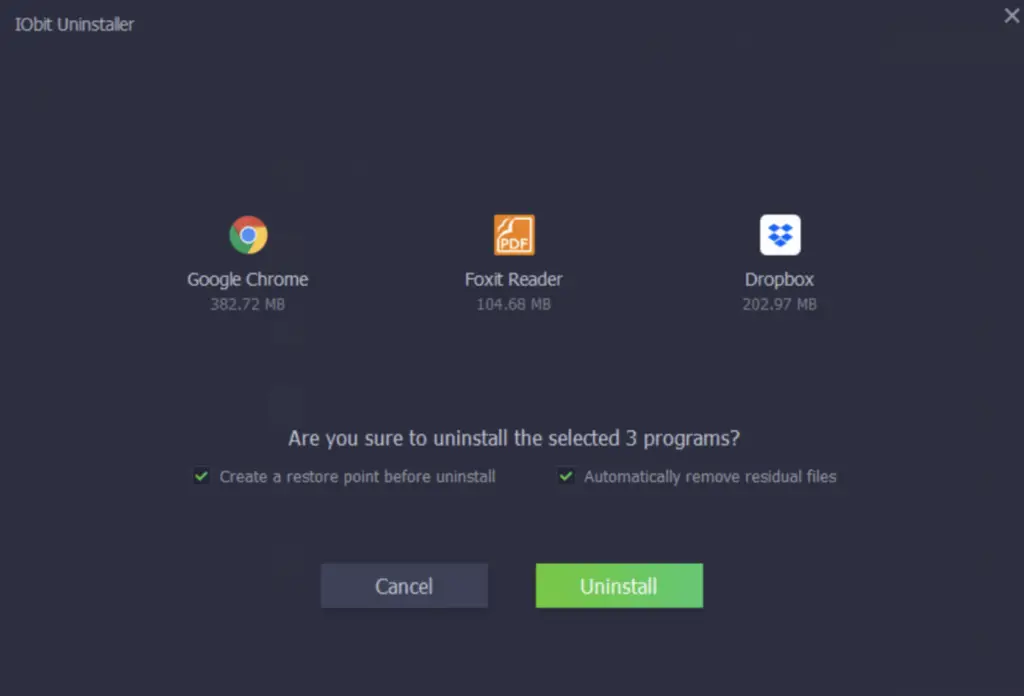 And uninstall after selecting the "Automatically remove residual files".
Reset Google Chrome on Mac OSx
Mac users can reset Chrome by going to Settings > Reset settings >Restore settings to their original defaults, as mentioned above. There is no difference in terms of the user interface of Chrome on Mac and Windows.
Deleting User Profile in Mac OSx
Like Windows, you can try deleting the user profile on macOS, which can totally reset Google Chrome without reinstalling.
Here's how to do it-
Go to  /Users/<username>/Library/Application Support/Google/Chrome/ find and delete Default folder.
Or press Shift + Command + G while you are on finder and type there /<Username> Library/Application Support/Google/Chrome/
The Library folder inside the user account stays hidden by default. Make sure to unhide these folders by pressing Command + Shift + .  (Command + Shift + dot)
After deleting the Default folder, relaunch Chrome, and you will get a fresh running Chrome.
Completely Uninstall Google Chrome on Mac OSx
Even after a hard reset, if the chrome won't open, then you can try to uninstall it from your Mac device completely.
First, close Google Chrome and remove all background processes from the utility manager.
Go to applications and move chrome to trash. (Right-click on the Chrome application and move to trash.)
Navigate to /Users/<username>/Library/Application Support/Google and delete entire chrome folder.
Go to /Users/<username>/Library/ find and delete Google folder.
Or you can use a free tool Ccleaner for mac to uninstall chrome and delete all the residual files.
Now open Safari and install Chrome from the official site.
After a new install, login to chrome using your Gmail account to sync all of your Chrome data back to the computer.
Also Read:
Reset Google Chrome FAQs
What does reset and clean up do in Chrome?
Reset, and cleanup will restore Chrome to the default settings. It will reset your homepage and default search engine and delete site cookies, cache, pinned tabs, and site settings. All extensions will be disabled, and your search history, bookmarks, and saved passwords will not be affected.
How do you fully clean Chrome?
A full cleanup will delete all chrome data, including your search history, passwords, and bookmarks. If you have synced your Chrome data to a Google server, then there is no need to worry.
To fully clean Chrome –
1. Go to C:\Users\user_name\AppData\Local\Google\Chrome\User Data
2. Find and delete the "Default" folder. Or you can rename the "Default" folder.

Or you can completely uninstall chrome to clean Chrome fully.
Go to Start > Control Panel > Program & Features
Find and uninstall Google Chrome.
How do I reset Chrome profile?
Delete the default folder from the Local folder, and it will reset the Chrome profile. Check the method mentioned above.
What is the best cleaner for Google Chrome?
To clean Chrome cache, cookies, and other junk files, you can use Ccleaner to clean Google Chrome completely. You can set auto cleanup to automate the process.