Are you looking for the free antivirus software to download which provides you complete protection from viruses, malware, and other computer threats on your Windows 11, 10, 8.1, and Windows 7 computers?
This detailed guide will help you to choose the best free PC protection according to your requirements and system specifications.
A good antivirus software stops you from unknowingly downloading viruses or opening unsafe files. That's why it is essential to have antivirus software installed on your Windows computer with the latest updates.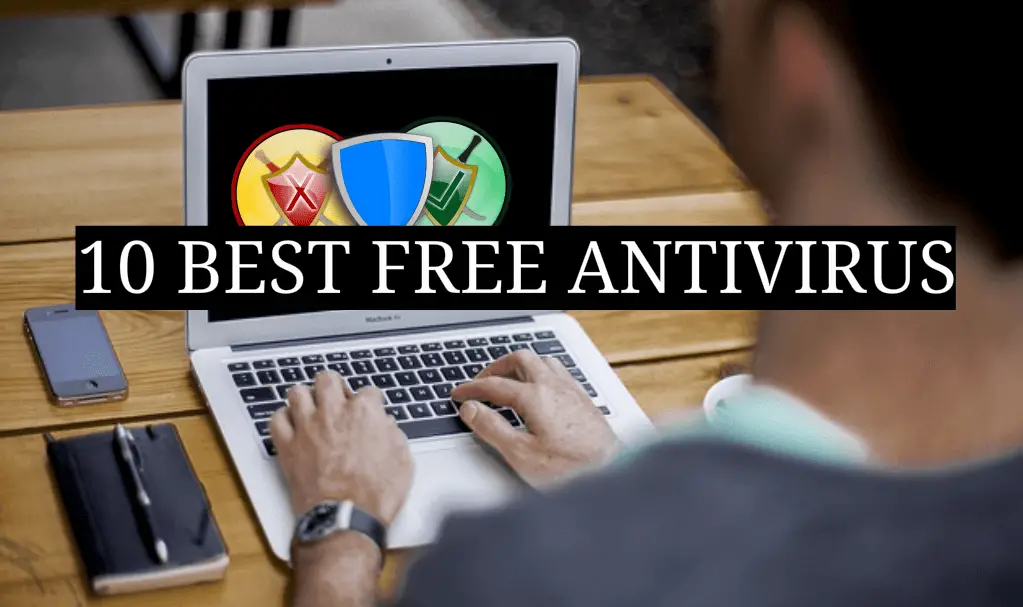 An antivirus is a tool aimed very specifically at detecting attempts to exploit, vulnerabilities in the operating system or applications.
However, Microsoft provides inbuilt malware protection called Windows defender which works well in detecting and removing different kinds of virus and malware but malware are getting smarter and becomes undetectable by Windows defender. To combat this, we need dedicated antivirus software to protect our computers from all such kinds of threats.
A good antivirus program should definitely have the ability to root out existing malware, but also, its task is to prevent any nasty programs from getting in. The best part is when we get these services free of cost.
[toc]
How to Select Best Free Antivirus To Download?
So what do we look for when selecting the best free antivirus for Windows 7, Windows 8/8.1, Windows 10 & Windows 11? Antivirus software should do its basic job that is detecting malware and able to delete them. Apart from that here are some features to look for.
Useful Features to look for:
1. To simply start with, every antivirus product scans files on access to make sure malware can't launch and also scans the entire system on demand, or on a schedule you set.
2. Blocking all access to malware-hosting URLs is a nice way to avoid trouble. Many products extend that protection to also steer users away from fraudulent websites, phishing sites that try to steal login credentials. A few rate links in search results, flagging any dangerous ones.
3. Behavior-based detection, a feature of some antivirus products, is a two-edged sword. On the one hand, it can detect malware that's never been seen before. On the other hand, if it's not done right, it can baffle the user with messages about perfectly legitimate programs.
4. Other useful bonus features include preventing USB-based malware attacks, scanning for router weaknesses, and cleaning up traces of browsing history.
5. It should have the latest antivirus engine with constant updates for new malware. This will ensure that you are being protected from the latest threats.
You can read in detail about the antivirus buying guide.
10 Best Free Antivirus for Windows 11, 10, 8.1 & 7
Below is the list of top 10 free antivirus software that offers protection from a wide range of online and offline PC threats, these antivirus utilities all the features mentioned above.
If you ask what is the best computer protection for your computer then it totally depends on the system configuration. Some of these may run quite fast and some may slow down your windows a little bit.
You have to try and test which antivirus is working without any issue. If you have a high-end PC/Laptop with more than 4 G RAM and the latest processor like Intel i3, i5, i7 minimum 4th generation then you can run any of this antivirus software without any lags.
Avast is a popular choice of millions of people, whenever it comes to a free antivirus program Avast comes in the mind first. It is easy to install and a straightforward interface makes it easy to use. Whenever you install it for the first time it does perform a quick scan that should identify any potential threats to your PC.
It is a lightweight antivirus that has minimal impact on your system performance. Independent testing by AV-Test has found the program to be a good all-rounder, and it was one of AV-Comparative's Products of 2020.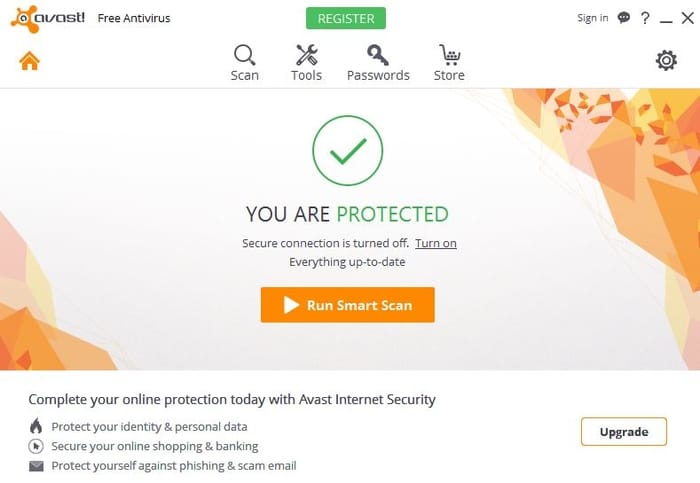 Avast has some useful extras too. A Software Updater alerts you to program updates you've missed. For instance, its Browser Cleanup tool provides a simple way to remove unwanted add-ons from your browsers.
You can perform on-demand scanning of a complete PC or selected drive including external storage devices like USB flash drives, SD cards, etc.
It also provides a boot-time scanner that helps you to find and delete any kind of boot sector virus.
Avira is another leading antivirus company that offers complete protection from viruses, malware, trojan, worms spyware, and rootkits.
According to AV-TEST, Avira offers the strongest protection against both widespread and zero-day malware. However, computers with less RAM might see a performance impact.
However, Avira Free Antivirus's sheer effectiveness and a good range of features including a mobile portal and child-safety settings make it one of the best choices.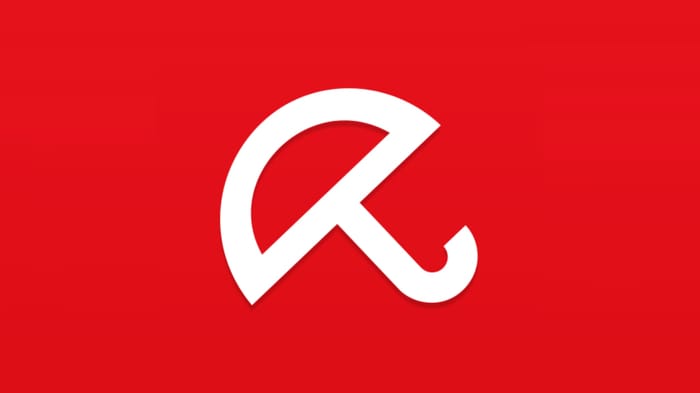 The user interface of Avira is not that simple and clean like Avast or AVG, it has a bunch of control and setting options that give you more control on the antivirus but you may not get familiar easily.
However, it does take less time to complete the scanning compared to other free antiviruses, and if you are having less than 2 Gigs of RAM you might notice a little performance drop during the scan process.
There are hundreds of new threats are being spread every day sometimes these threats skip through your main antivirus and get into your PC.
To deal with such threats here comes Malwarebytes' antimalware which is technically not antivirus software itself. It is a second opinion to antivirus programs, Malwarebytes Anti-Malware Free is an excellent complement to any antivirus program.
The software has a laser-like focus on eliminating tricky zero-day malware from your PC.
The Chameleon feature, which disguises the software so malicious programs can't find it, is worth mentioning. We recommend Malwarebytes Anti-Malware Free for every PC user.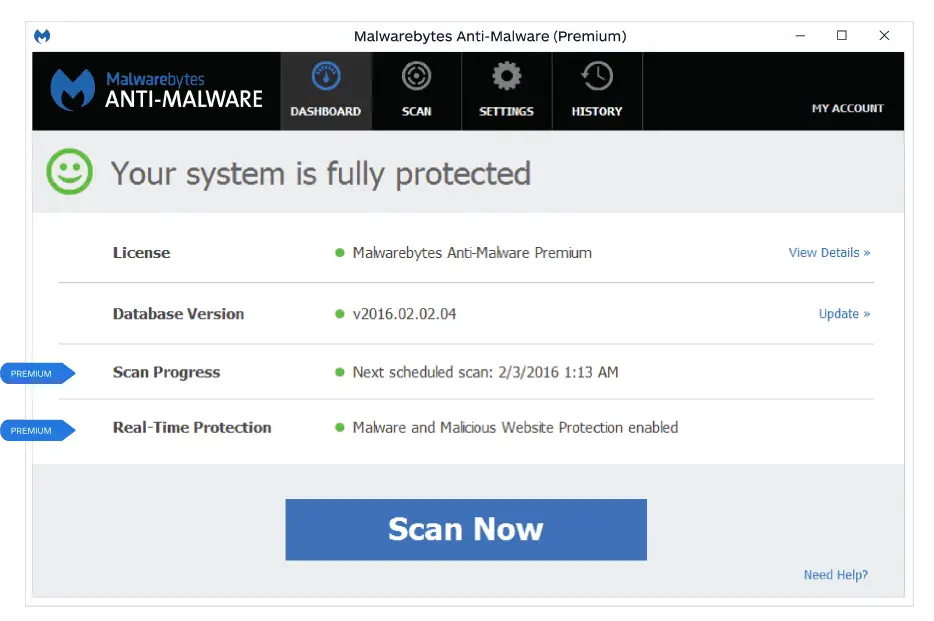 Although, it has a very simple interface but may take more time to detect and delete malware and other PC threats, the 2022 version of antimalware has an attractive interface along with added features that protect you from known and unknown malware.
Bitdefender's antivirus engine makes it one of the top antivirus to download around, and a favorite of the independent testing labs, the free version of Bitdefender is engineered to enable computer performance to the maximum.
The program is ultra-compact, downloading and installing takes less than a minute. A very basic interface then provides effective on-demand and automatic scanning, real-time antivirus, and anti-phishing protection.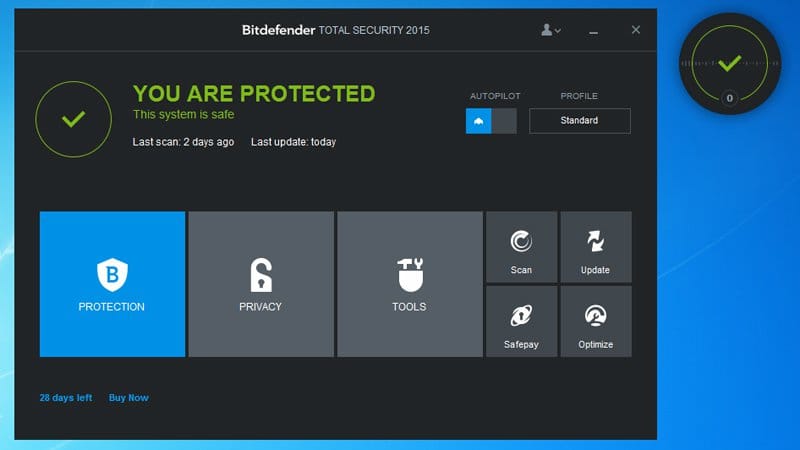 It doesn't slow down your PC, computers having less RAM can easily use it without any performance drop. Even if you are gaming, video/photo editing, or using resource-intensive applications it won't slow down your PC.
There are very few manual controls here, no settings, no options, no scan types, no schedule, nothing at all, perhaps an issue if you like to fine-tune your security. But if you prefer simplicity then Bitdefender Antivirus Free Edition is an excellent choice.
Like Avast, Panda scored top marks for virus protection in AV-Test's report.
Its interface is pretty but not as user-friendly as that of Avast. It also has a nice feature called USB Vaccine – this prevents virus attacks that occur when you plug in an infected USB drive.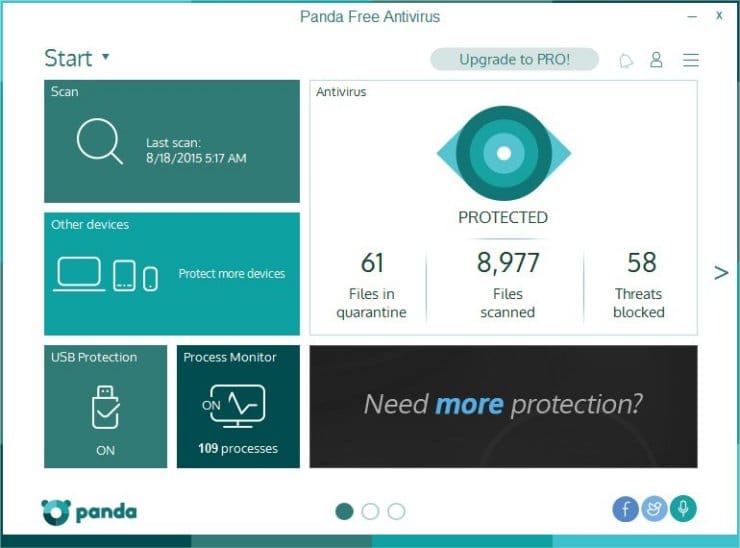 Panda free is an "install and forget" antivirus, once it gets installed on your windows computer it automatically performs Url & web filtering with behavioral analysis protection.
Panda is a cloud-based antivirus engine that protects you while you do all the tasks and you even won't notice any performance lag, all these features make it another top malware protection tool around to download.
The latest version of Comodo antivirus has been released, earlier comodo had decided not to provide any version numbering but now they are following the year versioning and named it Antivirus 2021.
It has a very good score in hands-on malware blocking tests. it does a good job both in detecting and deleting a wide range of malware and viruses.
It has Defence plus Auto sandboxing technology which isolates any unknown and potentially hazardous file to run within the Sandbox environment.
Sandbox limits damage from unknown programs. It also has a Host Intrusion Prevention System, Behavioral blocking, Virtual desktop, a hardened browser with a Do Not Track add-on.
It makes sure only known PC safe application executes and provide strong protection for your online banking and shopping transactions.
However, it has not so impressive score in the malicious URL blocking test. It has received mixed scores from independent labs. Also, the default auto-sandbox does not work well every time and it may interfere with the installation of unknown programs and sometimes identified valid programs as malware.
AVG Free 2022 offers good protection from malware and spyware, the latest version has AVG Zen™ Dashboard where you can manage all your device from a single screen, it is also available for Mac and Android devices.
The remote protection feature allows you to scan and remove PC threats from a mobile device and It received good scores in independent lab tests and has a speedy full scan. Has inbuilt features like website rating and Do Not Track, File shredder, and PC tune-up.
It blocks unsafe links, downloads, and email attachments with real-time security updates.
You can do both scheduled and manual scans whenever you need. Downloading and installation of the free version is a bit tricky. If you are not careful while installing you will end up installing a trial of the Pro version.
So choose custom install and uncheck Pro trial, but you will still get the frequent prompt to upgrade to the Pro version.
The downside is that the PC tuneup component shuts down after the one-day free trial. The latest edition of AVG AntiVirus earned good scores from the independent labs. AVG is an Editor's Choice for free computer protection.
Zone alarm antivirus + firewall is developed by Check Point and has more than 90 million downloads which bring it to the frontline of Antivirus.
You will get an installer which may take additional time to install the product. At first, it will install Firewall but after a restart, you need to click on "Install Antivirus" to get a free antivirus too.
Zone alarm is perhaps the most popular free firewall available which works great with its antivirus. It has a strong firewall component that resists malware attacks, 5GB of hosted online backup, Credit monitoring, and identity and data protection.
On the downside, it lacks a few of Kaspersky's advanced features. It has no phishing protection. In testing, at maximum sensitivity, suspicious behavior detection flagged good programs and bad.
It does provide WI-FI protection, traffic monitoring, early boot protection, identity protection, anti-phishing tool and protect your computer from unsafe downloads.
If you tend toward the minimalist approach, Check Point's ZoneAlarm Free Antivirus + Firewall may well suit your needs. Its firewall component is an Editors' Choice, and its antivirus protection is licensed from security giant Kaspersky.
Qihoo (pronounced as Chi-hoo) has two products under 360 brandings, Total security and Total security essential and both are available for free. Total security has more features than Total security essential, you can choose any of them but if your computer has lesser RAM than 2 GB then install Total Security Essential.
360 total security provides many modules to make your PC safe, secure, and fast it has a Virus scanner, PC tune-up, Junk Cleaner, and sandbox.
The sandbox allows you to try new and unknown applications safely. It also provides protection against browser hijackers and webcam protection against hackers.
The free version offers antivirus + antimalware, anti-ransomware, sandbox, secure online shopping, privacy protection, and internet protection for your computer.
360 Total security has a negligible impact on system performance since this antivirus doesn't download the whole database to your computer but uses a cloud-based antivirus engine.
These engines include-
360 Cloud Scan Engine
360 QVMII AI Engine
Avira Antivirus Engine
Bitdefender AV Engine
Overall, Qihoo 360 Total Security provides complete protection and full system optimization without slowing down your PC.
FortiClient is a free endpoint protection suite that offers malware & virus detection, rootkit removal, parental control, and VPN. While they're best known in the corporate world for making network security appliances and various enterprise-level security suites. Fortinet also produces a capable antivirus tool, FortiClient, which is free for home users.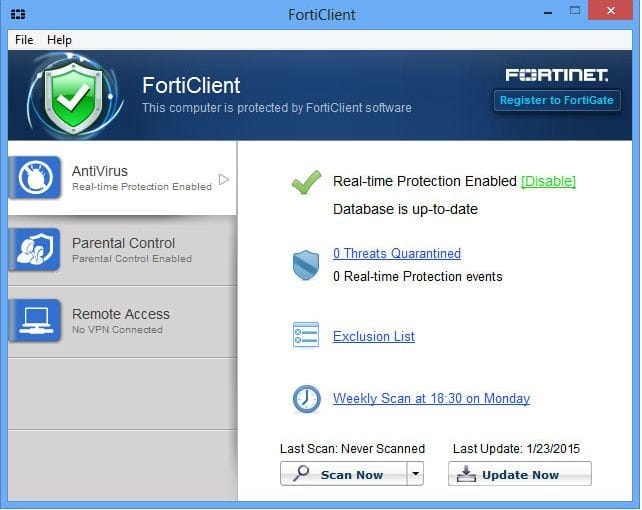 The program can be installed in two modes.
The standard option provides a good range of tools like an antivirus engine, simple parental controls, an application firewall, vulnerability scanning, and more. But you can also run FortiClient without its real-time protection, perfect if you need to run it alongside an existing antivirus tool without conflicts.
FortiClient is also available for Mac, Ios, and Android operating systems.
The verdict
Earlier Microsoft used to provide an-inbuilt protection known as Microsoft Security Essential. But now it has been discontinued and bundled with Windows Defender.
So above are the top free antivirus suites which are able to protect your PC and other devices from different kinds of threats in both online and offline environments. The best practice to avoid viruses, malware, and other threats is not to download any cracked software, keygen, hacking tools, and beware of scams and frauds while surfing and downloading stuff from the Internet.
Although there are numerous antiviruses with their own distinct features and a set of pros and cons. No antivirus can be addressed as backward, or perfect. It's because each one has its own area of specialization.
Also Read:-
Stay Safe, Happy Computing!
Do you use any other antivirus program?  Do share it with us too 🙂