Many users are facing a weird problem with YouTube shorts where the algorithm keeps repeating the same videos even if you close and reopen the YouTube app. YouTube algorithm is designed to show you the content you might like, but sometimes it doesn't know what you like or dislike, and it shows the same content.
Ways to Fix YouTube Shorts Repeating the Same Content
When YouTube doesn't get enough data about your preferences, it will suggest random videos, mostly from your country, and keep playing them in a loop.
So, we need to find out why YouTube isn't getting enough data to suggest new videos.
1. Like or Dislike the Videos
If you see an interesting video, you can leave a like and comment. If you don't want to see similar videos, dislike it. Also, if you don't want to see videos from a particular channel, hide them from your preferences.
1. Open the YouTube app and go to the Shorts tab.
2. Tap on the 3 little dots at the top right corner of the video and select "Don't recommend this channel." Do this with channels you don't like.
2. Turn ON YouTube Watch History
YouTube creates a profile about your likes or dislikes based on your Watch History. If it is off, YouTube won't know what you are watching and will repeatedly show you the same videos.
Check if the Watch History is ON; if not, turn it ON.
1. Open the YouTube app and tap on the Library option at the bottom right corner.
2. Tap on the "View All" option. If the watch history is off, you'll get an option to turn it on. Or tap on three little dots on the below screen and enable YouTube Watch history from the given options.
Now, close and open the YouTube app and start scrolling, and you will be able to see new content.
If you still get repeated videos, keep scrolling and build a watch history. You might have to scroll and watch hundreds of videos, and then YouTube will suggest fresh content.
This is an important step to fix if YouTube Shorts are repeating the same videos. So reopen the app and keep scrolling to build a decent watch history.
Read: How to Turn Off YouTube Autoplay
3. Turn On Incognito Mode
You can check if this is a problem with your account or the YouTube app itself. Try enabling the Incognito mode and browse YouTube Shorts. If you find new videos, then this might be an issue with your account, mostly with watch history.
1. Open the YouTube app and tap on Profile Icon.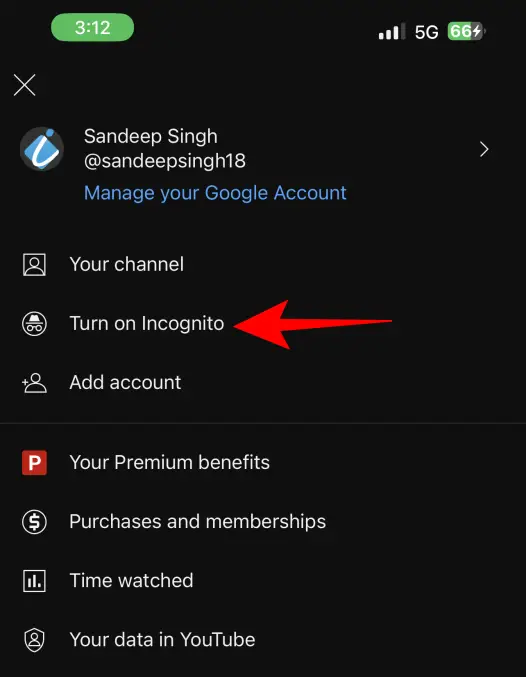 2. Tap "Turn on Incognito."
3. Now, go to the Shorts sections and scroll to watch the videos.
4. Reinstall YouTube App
Try reinstalling the app if you still get repeated videos in Incognito mode.
On your Android device, open Settings, go to Apps & notifications, and tap to see all apps.
Find and Uninstall the YouTube app. If you don't get an uninstall option, clear the Storage & cache. Remember, it will also delete your downloaded videos and music.
Now, go to the Play Store and install the app again.
For iPhone, tap and hold on the YouTube app and select "Remove app." Then, install it again from the App Store.
Reinstalling the app should fix the problem if the above solutions don't work.
5. Send Feedback to YouTube
In rare cases, if nothing works, then send feedback to YouTube explaining your issues. YouTube takes feedback seriously and might respond to your query via email.
Play any Shorts video, tap on 3 little dots at the top right corner, and then tap on "Send Feedback." Select your email and describe the problem. Here is a sample message you can copy:-
I wanted to provide some feedback regarding the Shorts videos on the platform. Lately, I've noticed that the same videos are being repeated frequently, making it challenging to discover new content. It would be greatly appreciated if you could enhance the algorithm to introduce more variety and fresh content in the Shorts section.
Attach the Screenshot and System logs. Also, check the option reading "We may email you for more information or updates." Now, hit the send option at the top.
No More Repeated Shorts Videos
YouTube Shorts might repeat the same videos, but if it happens frequently, you can fix it by following the above tips. Watch history is important in overcoming this issue, so ensure it is turned on. If this doesn't work, follow all other tips.
FAQs
Why is YouTube Shorts repeating the same videos?
When YouTube can't get enough data about your interests, it shows the same videos in the Shorts section. YouTube recommendation system will likely show videos you might be interested in. However, If it doesn't know your interest, it will repeatedly show the same videos.
How do I stop YouTube Shorts from repeating?
Provide enough data about your interest by rating and commenting on the videos. Also, enable YouTube Watch history to get fresh content based on your preferences.
How do I reset my YouTube algorithm?
You can reset the recommendation system for your account by deleting your activities. Delete watch history, search, and app data to reset the algorithm.