A Virtual Private Network is one of the most heavily used tools in the world driving the Internet of Things. Every connected device is exposed to a multitude of threats, most of which are unforeseen.
Lately, the news of cyber attacks and the stealth of personal information has been surfacing a lot.
As a result, even the once assumed "safe" servers have come under the spell of hackers, such as the Apple iCloud hack.
However, today is different, with the best free VPN service providers taking the market by storm.
Nearly all virtual private network service providers have simplified their approach considerably to meet the needs of the smartphone generation.' Using an Anti-Virus, Anti-Spyware, Anti-Malware is always a good option. Still, it so is using reliable VPN service providers that won't burn a hole in your savings and also provide quality service.
10 Best VPN Service Providers
So, here are the 10 best VPN service providers on the market right now. When it comes to security, the more options you have, the better.
IPVanish facilitates connection to the Internet using a Virtual Private Network. It is available for all major platforms Mac, Windows, iOS, and Android, with the exception to Linux, in more than 250 Internet Service Providers from several countries.
Why should you download IPVanish VPN?
IPVanish VPN privatizes your connection completely, which includes all online data, such as emails, messages, data transfers, browsing history, online banking, and more!
The app makers claim to own all of their 700+ VPN servers worldwide and offer unlimited VPN server switching.
They also manage the network on their own, develop apps by themselves and offer around-the-clock customer support.
The whole process is simple and completes in three easy steps.
Enter your email or user name and password to log into the app.
Select a city of your choice (or a server).
Enjoy unrestricted browsing.
How much does it cost?
Its monthly plan costs only $9.99 and it brings easy access to the web without limitations by availing high data transfer all along, practically anywhere.
While you could go for the free VPN service providers, what you would get with IPVanish is their worldwide presence and better monitoring service. Also, the yearly plans are a real cost-saver, it costs only $74.99, but you could also pay just $26.99 for a short period of three months.
Other notable features:
Do you have a smartphone that does not offer support? IPVanish VPN will break this wall; all you have to do is to configure it manually.
This Windows, Mac, Android, and iOS application offers a great advantage when it comes to switching IP and interleaving between VPN service providers from anywhere in the world.
It unlocks restricted content from Netflix and other marketplaces.
It also facilitates the download of heavy files on faster networks by breaking interruptions and bars outside of a corporate network, for example.
IPVanish VPN has become an excellent alternative compared to other free competitors; it is faster, more reliable, and versatile.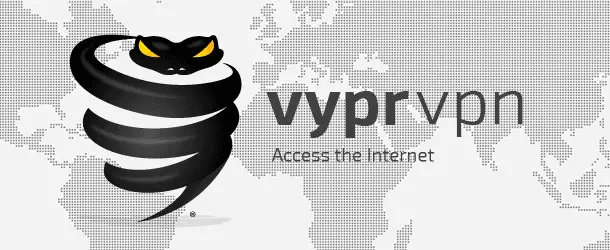 VyprVPN has been around for a while, and it is one of the most well-known and powerful Virtual Private Network users have ever known.
This VPN service provider operates autonomously and without third-party apps.
It is available on all major platforms- Windows, Mac, Android, and iOS. Regardless of the domain, VyprVPN presents an impeccable interface and ease of use.
Why should you download VyprVPN?
With VyprVPN, you get incredibly fast VPN speeds with over 70 global server locations, 200,000 global IPs, and unlimited data usage.
It is also armed with IPsec/IKEv2 256-bit encryption protocol; automatic reconnect facility, ping test to view server location connectivity speeds, up to 5 simultaneous connections.
You can connect safely to a public Wi-Fi (cafeteria, airports, etc.) encrypt your Internet connection prevent monitoring of personal confidential communications, stop the collection of private data, and bypass any restrictive content and censorship placed by authorities.
Special Feature:
This is the best part of all. VyprVPN Free accounts receive 1GB of one-time data usage on up to 2 simultaneous connections.
Other notable features and functions of VyprVPN:
The mobile app displays a log of the connection right on the main screen, a speed graph, and the server's location.
Sliding your finger to the left will skip this step. Browse the rest of the information, like other currently running functions, firewall, IP address, and the time of connection.
At the top of the screen are the icons that give access to settings and options like VyprVPN for business, which is well explained and allows you to change the type of connection, encryption and activate or change notifications, among other features.
Choosing a server from another location is also simple enough. The list of options is extensive and displays connection speeds so that the user can choose accordingly.
The "Fastest Server" configuration enables you to connect to the fastest server available. This is a remarkable achievement for being one of the very best VPN service providers in the world.
TunnelBear Free VPN is one of the very well-known VPN service providers that creates a connection with just one click. This virtual private network connects to countries like the USA, Germany, Canada, France, UK or Japan, and more!
Why should you download TunnelBear VPN?
TunnelBear VPN allocates 500 MB of free data each and every month! Yes, it renews itself each month! You can also get more data usage (1 GB) if you spread the word on social media and have your friends sign up for the service. Isn't that interesting and lucrative?
How much does it cost?
You can also opt to pay a mere $6.99 monthly or $49.99 yearly within the app. TunnelBear VPN has a special offer for iOS, iPad, and Mac customers only. If you are a regular Apple product user, you can protect your privacy and restrict data logging on any server by simply making a purchase of $3.99 monthly or $29.99 yearly. So less for so much more!
Other Features:
With compatibility support for Mac, Windows, iOS, and Android, TunnelBear VPN allows users to access restricted content from most countries through a private network that creates a 'tunnel' between your device and its servers.
You can use the TunnelBear to connect to the Internet via DNS.
But you needn't worry about your privacy since this platform maintains total discretion of your connection. The IP address that is generated and identified by external servers is generated by TunnelBear VPN.
It is a very user-friendly app and one of the very best VPN service providers ever created. All that you have to do is to turn it on and off as per your requirement. It protects you from hackers and malicious threats and enables distraction-free browsing.
Hide My Ass VPN focuses on providing 'government-level protection against personal identity thefts.
It keeps the prying eyes away from your online browsing activities. Furthermore, it offers a unanimous shield when used at public Wi-Fi hotspots that are mostly unprotected.
HMA is the best VPN service provider for users surfing the Internet on iOS and Android smartphones.
Why should you download Hide My Ass VPN?
You enjoy private surfing with Hide My Ass and also gain access to one of the largest VPN service providers in the world.
The app contains a Help function built right into the app, and it can be used on any device hassle-free!
If there's a particular server that you make use of every day, then you can mark it as your favorite and enjoy a faster connection every time you use the app.
Moreover, users can avail 24/7 customer support via email, live chat, and phone.
How much does it cost?
For easy access and total safeguard, you can purchase a one-month subscription for just $10.99 or a 12-month subscription for $79.99. All you need to do is to subscribe to the app and start using it right away!
It is a VPN for smartphones, guaranteeing anonymity for the user in any content accessed on mobile devices.
CyberGhost VPN incorporates the latest technology in the Virtual Private Network industry. There are four profiles that customers can choose from, each of which is customized for users operating at a different level of requirement, such as casual to expert.
Why should you download CyberGhost VPN?
With this virtual private network, you benefit a secure Wi-Fi. It provides free and unlimited usage while connected to Wi-Fi networks that it detects & encrypts automatically.
No matter what you access on the Internet- Messenger, email, Skype, Viber, everything is sealed away from hackers.
The app makers claim that CyberGhost VPN is a must-have app for those who travel quite frequently and stay at hotels, and visit restaurants, cafes, or clubs for business or leisure. So, this app ensures that you remain risk-free and take advantage of the best in cybersecurity.
Another intriguing feature of CyberGhost is that you can surf anonymously on Wi-Fi and mobile data (3G, 4G LTE) by selecting a country of your choice.
There are over 30 countries to choose from, which adds an extra layer of anonymity. You can also choose to remove advertising, block tracking, and protect yourself from malicious content with the genius creation of CyberGhost VPN service providers.
How much does it cost?
For such an excellent service, the CyberGhost VPN also stays light in your pocket. You can get a Premium plan for only $2.99 a month or $29.99 a year.
In conclusion, CyberGhost VPN is self-managing that optimizes providing secure access to your streaming services even when you are overseas. So, you enjoy the flexibility and protection it brings to your business and lifestyle.
Hotspot Shield VPN Unlimited Privacy Security Proxy is one of the world's most-used apps, with over 500 million users worldwide. It offers a trustworthy level of security, privacy, and access, along with speed and stability.
Why should you download HotspotShield VPN?
You enjoy access to all websites and apps in a secure manner. Your browsing is not curbed by the pre-existing security at school, work, or anywhere else; the VPN bypasses all of that.
You can also remain completely anonymous and prevent tracking, identity theft, and cookies from seeking permission to access your location to sell customized merchandise.
Special Features:
As a HotspotShield user, you can either choose free & unlimited access forever or upgrade to Elite for additional protective features.
You also gain the fastest VPN speeds on the most trusted and secured VPN connection ever.
In addition, HotspotShield has the largest VPN coverage spanning across countries including the US, UK, JP, IN, AU, CA & more!
How much does it cost?
A premium Elite version of HotspotShield comes with a 7-day free trial, no commitment, and an anytime cancellation policy. This week is not charged.
You can choose between a one-month ($12.99), three-month ($32.99), six-month ($53.99) or one-year ($69.99) subscription.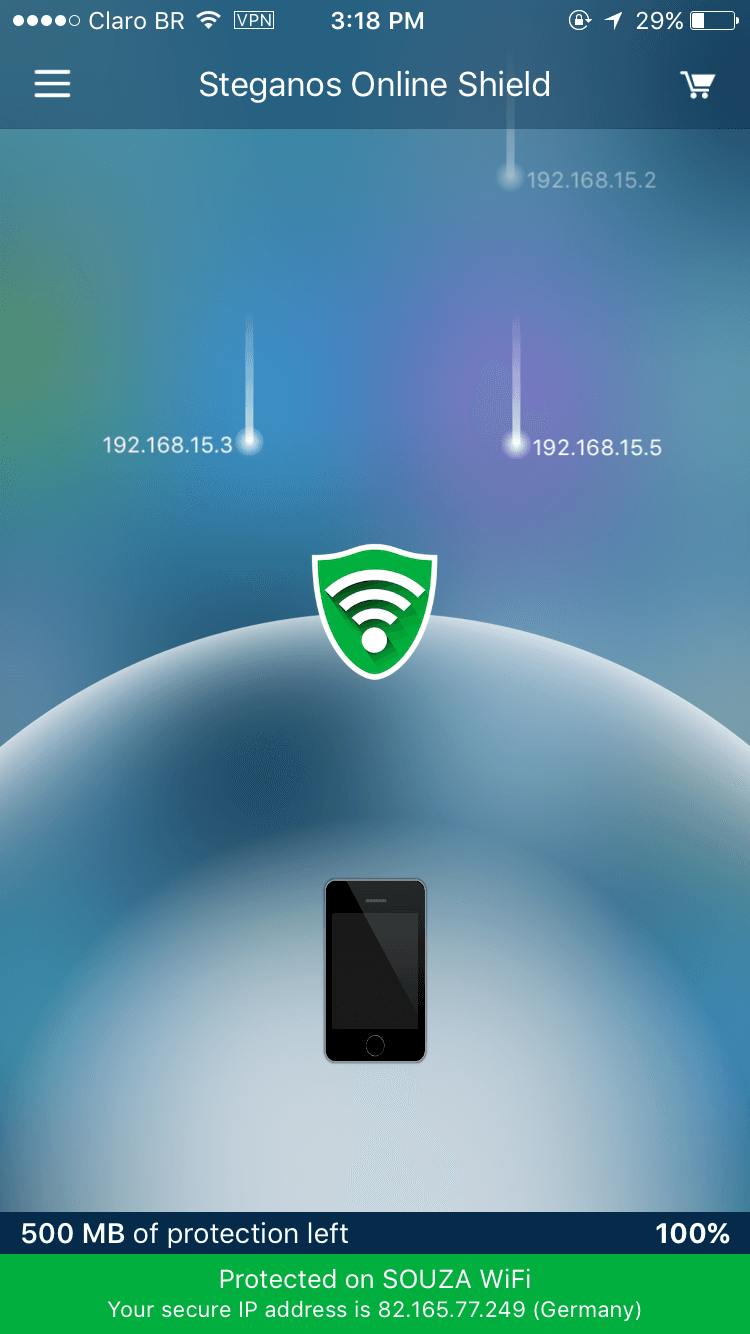 Steganos Online Shield VPN is a trustworthy, fast, and simple virtual private network. This Germany-based company offers a service with state-of-the-art AES-XEX 384-bit encryption and NI-Hardware acceleration that will potentially protect your Internet data with just one click.
Why should you use Steganos Online Shield VPN?
The Steganos Online Shield VPN offers total security and password protection on a PC, iOS, Android, or Mac. Also, you can link cloud services like Dropbox, OneDrive, Google Drive, etc. Your photos on the internet stay safe from stealth.
All of your passwords stay protected and in one place. Since everything is encrypted, it is impossible for any malware to affect your files or your device.
The Steganos Mobile Privacy app for iOS and Android auto-inserts passwords with the in-app browser. The app is even more comfortable with Password-Expiration notice and Touch ID on iOS.
Other notable features:
You can configure Safes which allows you to move and delete files across your home network. Moreover, the Internet Shredder deletes all activity on your PC.
The TraceDestructor erases all of your tracks on the Internet.
It also offers options to block advertising, automatically deletes cookies, prevents crawling of your mobile, and hides the browser you are currently using, all with just one click on an uncomplicated interface.
How much does it cost?
The newly launched Steganos Privacy Suite 17 can be purchased for just $59.95, which includes effective protection for data and passwords. The price also includes extended protection for connected devices (up to 5), whether it is iOS or Android, phones or tablets.
Alternatively, you can also choose to buy only Password Manager 17 or Safe 17, which costs $24.95 and $39.95, respectively.
Furthermore, if you are purchasing Steganos Online Shield VPN on the phone, you have the option to pay $2.99 per month or a non-recurring $24.99 per year license.
Opera VPN has an easy-to-use interface and connects you to the Internet in no time. It is designed particularly to work with Android and iOS domains, and that's why it is available for free on iTunes and Google Play Store.
Why should you download Opera VPN?
Firstly, it is a free virtual private network presented as an app. It does not crash, does not curb security for being a free standalone application, and comes with the combined expertise of 20 years of exceptional service provided by the creators of Opera.
Notable features:
You can block all annoying ads to speed up browsing activity and save data if you are not connected to Wi-Fi. Furthermore, Opera VPN employs a unique technology that enables you to prevent all creepy online trackers.
This virtual private network has a built-in ad blocker for Safari, Chrome, and other apps.
The makers of Opera VPN present to the world another genius product that is SurfEasy VPN. It comes with a 7-day free trial that offers as much protection as the paid plans.
Why should you download SurfEasy VPN?
With SurfEasy VPN, you enjoy a strict no-log network, which means their servers do not retain a log of your online browsing data or downloading activity.
It offers the latest bank-grade encryption technology to implement in virtual private network environments.
You can flexibly change your location.
Those users who use Torrents a lot to download movies, documents, etc., can now access safe torrent servers with SurfEasy VPN.
Other Notable features:
The app makers claim that they own 500 ultra-fast servers in over 28 countries, an enhanced track-blocker that blocks cookies from advertising content providers.
In addition, Unlimited data offering on all plans makes this app highly desirable, with a 99.9% uptime.
How much does it cost?
Yearly plans for SurfEasy VPN include-
Free Starter package that offers 500MB free data and tracker blocking
The total package with unlimited data and tracker blocking for only $3.99 per month (billed yearly)
Ultra package with unlimited data, tracker blocking, torrent protection, and 12 additional countries for only $6.49 per month (billed yearly).
Monthly plans include-
The Total package for $4.99 and the Ultra package for $11.99 is billed every month. Features for each are the same as yearly plans.
If you are seeking anti-malware, Adblock, and anti-tracking protection, then VPN Unlimited is the answer.
Why should you download VPN Unlimited?
It is available on multiple platforms. IOS & Mac, Android, Windows, Linux, Windows Mobile, Firefox, and Chrome Browser extension.
No matter how you download it, you receive the following benefits:
Total Security
Absolute Privacy
Unlimited access
Lightning speed
Usability on more than 5 devices
Lifetime Protection.
Additional features:
Extended virtual private network protection for more than 5 devices.
Also, special services for demanding users with a personal server, personal IP, and personal Wi-Fi Router setup and customization.
How much does it cost?
VPN Unlimited offers a special deal to all of its customers. In a 7-day free trial, you can experience unlimited traffic bandwidth, unlimited connection speed, unlimited privacy, and wifi hotspot protection, along with unlimited connections from your account.
For 7-days you can choose to pay only $3.99
A month would cost you just $8.99
If you want to try for a short term, you can opt for 3 months for $16.99
For whatever reason, if you find VPN Unlimited's service impressive and high-quality, you can buy their yearly plan for $39.99 only! Such a small price to pay for so many benefits!
Regardless of which of these above-listed virtual private network service providers you pick, they guarantee a higher level of service and extreme protection. Furthermore, this list has been curated after careful consideration. Therefore, you can download and try each one of them without a hiccup.
In conclusion, if you have personal experiences with using any of these applications for PC, Mac, and mobile, do share your thoughts with us in the comments section.
Read More:-