Google Chrome is the most popular browser of all time, it is hard to switch to other browsers once you liked the Chrome. Apart from faster experience chrome has great UI which makes it more convenient for the users.
But if you keep opening more and more tabs or new window then it becomes slow and sluggish. Opening too many tabs takes more system resources resulting in slower browsing speed.
However, memory usages totally depend on your browsing style. Tabbed browsing on computers having less RAM like 3 -4 GB is the real pain, you may face different issues and errors while you perform tabbed browsing.
High memory usages may cause chrome to get hang, crash, aw snap and other kinds of errors.
While searching for different topics, particular information, completing assignments we all open too many tabs on Chrome which sometimes takes much time to load or freezes up the entire browser and most probably you get an error that Google Chrome is not responding.
"The great suspender" is an ultimate extension to reduce the memory and CPU usages of already opened pages.
This extension automatically releases the memory from chrome pages which  stay idle for a specific time duration.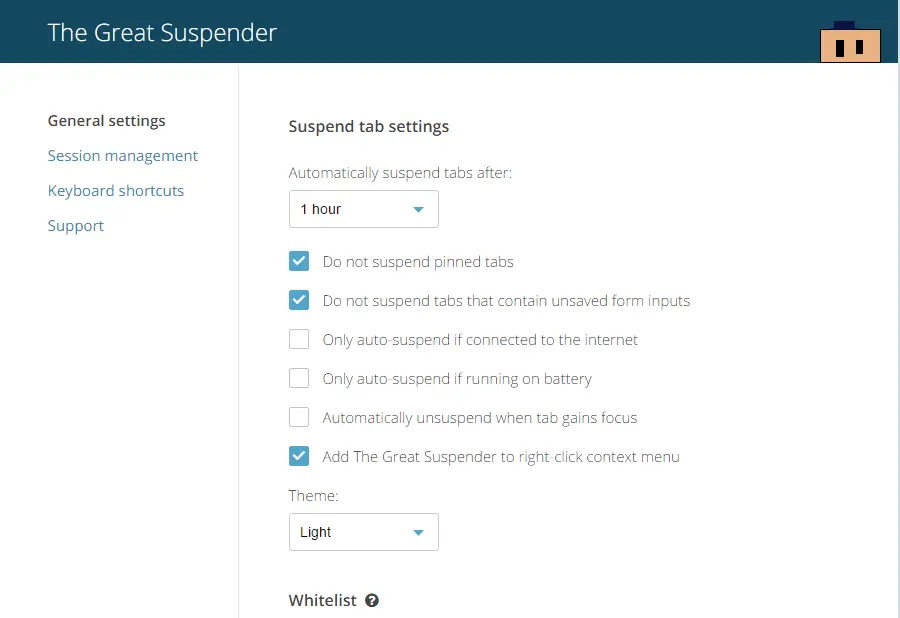 "The Great Suspender" is a free and open-source Google Chrome extension which automatically suspends unused tabs to free up system resources like CPU and memory usages
How to use The Great Suspender for tabbed browsing
First, go to this link and add this extension to your Google Chrome.
After adding this extension it starts working automatically, it does check for the tabs which are opened from a long time.
By default, it is set to 1 hour and suspends the tabs which are opened from an hour.
You can manually select the time ranging from 20 seconds to 3 days to suspend the tabs.
There are numerous options which would be very helpful to you, like –
Do not suspend pinned tabs  – Does not suspend pinned tabs.
Do not suspend tabs that contain unsaved form inputs.  Would not suspend if the page has unsaved info like form data.
Only auto-suspend if connected to the internet
Only auto-suspend if running on battery – For battery saving.
Automatically unsuspend when tab gains focus. – Unsuspend tabs when you click on the tab.
Add The Great Suspender to right-click context menu. – Suspend/unsuspend tabs from right click menu.
If you don't want a website to be suspended then add the website to the whitelist. You can do this either from right-click menu, option from the suspended tab or by going into settings.
There are keyboard shortcuts for every option, like suspend/unsuspend active tabs, suspend/Unsuspend all tabs in the active window,  suspend/Unsuspend all tabs in all windows.
You can manually create keyboard shortcuts as per your choice.
There are few other extensions are available to manage resources used by Google Chrome. These are  TooManyTabs, Tab Hibernation,  OneTab which does the same job in different ways.
Adding these extensions to Chrome helps you to do tabbed browsing without using high system resources, and these extensions take negligible system resources itself.
Also Read –  5 must have extensions for every chrome user.