You might face a problem where Google Chrome won't open at all after the double click? Chrome may stop working without any error on Windows 10, 11, 8.1, or 7. Maybe it was working last night but after a Windows update or restart it is not opening. 
It makes you go crazy when Google Chrome is not opening and you don't want to use other browsers because Chrome has all your installed extensions, bookmarks, and saved passwords.
One can also import these browsing data to another browser but once you love chrome you can't leave it. If browsers like Mozilla Firefox and Microsoft Edge work without any issue then you need to investigate the issue with Google's browser.
So let's discuss in detail to find the reason behind why Chrome is acting weird on your PC and how to fix it.
Have You Taken These Steps To Fix The Chrome Not Opening Issue?
Have you tried fixing this issue by –
Removing Chrome process from task manager ( If this Just happened).
Ran Malware Scan.
Rebooted several times.
Re-Installed Chrome?
Tried to open it in safe mode.
But all the above solution doesn't work? Then you are at the right place. (If you haven't tried the above solutions then try them before you proceed below)
Why Won't Google Chrome Open?
If you have gone through all the above steps but still it is unable to start or google chrome only opens once then never again. This means your browser is affected by some malware or there is a third-party program that is stopping it from opening.
This may be due to  Antivirus, 3rd Party Firewall, Firewall installed by Antivirus OR you have installed such program which is causing a problem with it.
Basically, in such cases, the Ownership of Google chrome got changed and you can't start it from your user account.
As mentioned on Google Chrome Support Page, there are 3 Programs that may cause this issue-
Spyware Doctor
Comodo Firewall
McAfee Enterprise
If you have any of the above programs installed, then disable them and create an Exception in Firewall settings for Chrome. Now re-enable those programs and try,  also try removing Spyware Doctor, If these don't fix this issue proceed next.
Ways to Repair Chrome on Windows 11, 10, 8/8.1 & 7
If this just happened then you need to try these two steps first –
1. End Chrome Process from Task manager – Open Task Manager and Kill Every process of Google Chrome.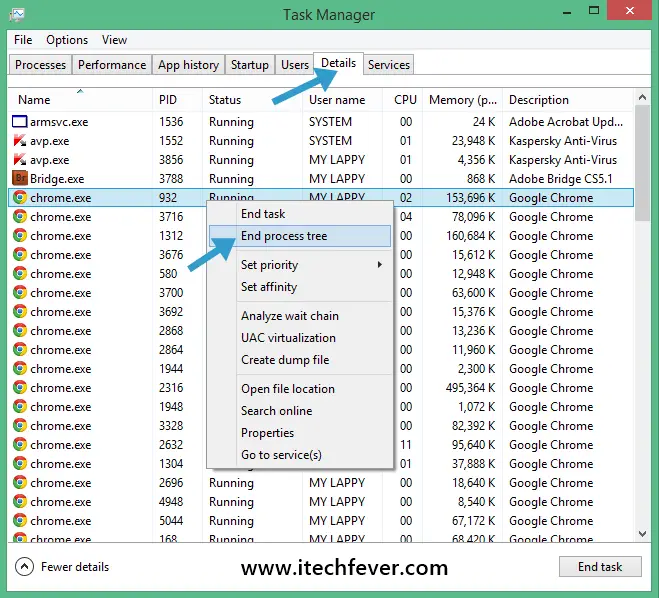 Check if it is working or not. If working then Great! If No
2. Reboot Your Computer and check again.
3. There may be another user account on your PC, log in to that user account and check. If it is working on other user accounts then the first user account got affected.
If it doesn't work on any user account then chrome got affected for all users.
Method 1. Change Permissions To Fix Chrome
If all the above solutions couldn't resolve this error then before Resetting Chrome or Re-installing it (This may also not work) try this final Fix it will surely resolve this issue. [This method worked for more than 500K users]
As written above Google chrome ownership is affected by some malware or incompatible programs we need to get the ownership back for the same user account, to do so follow these steps –
1.  Go to Shortcut of chrome Right-click on it > Open File Location.
You can also open the Chrome folder by navigating to:
Computer > C:\Program Files (x86)\Google\Chrome\Application 
 OR
C:\Program Files\Google\Chrome\Application  If it is 32 bit OS.
Check whether you have 32 or 64 bit OS.
This may also in –
C:\Users\<USER>\AppData\Local\Google\Chrome\Application
Anyhow you have to open the Chrome Application folder, this location remains the same irrespective of the Windows version you are using it would be the same on Windows 7, 8/8.1, and Windows 10/11.
2. Now create a new shortcut for the Chrome application on the desktop. (Right-click on Chrome and click send to desktop)
3. Right Click on New Shortcut and Go to Properties.
4. Go to the Security tab.
5. Click on Advanced.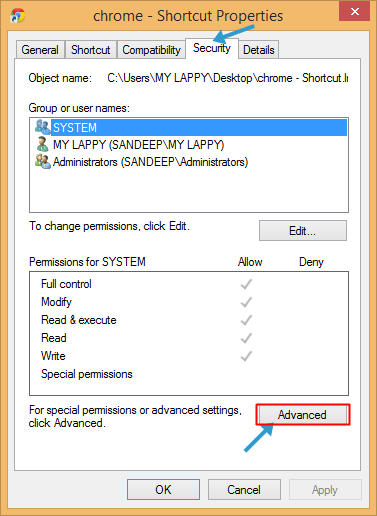 6. Once you click on the Advanced option you will get another window named Advanced Security Settings. Here click on the Change Option.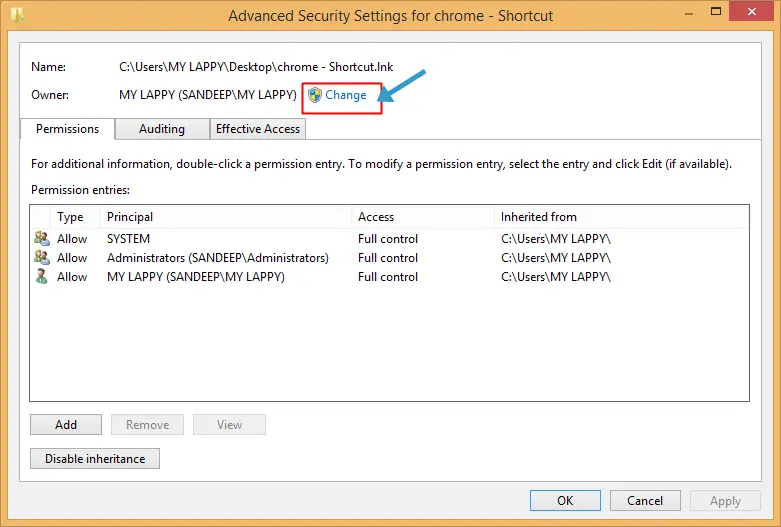 7. After Clicking on Change in the owner section, you will get another window to Select User or Group, In the Box below type your USER NAME  (Mine is My Lappy) and Click on Check Names.
It will turn to COMPUTER NAME/USER NAME   (Mine is like SANDEEP/MY LAPPY) and Click on OK.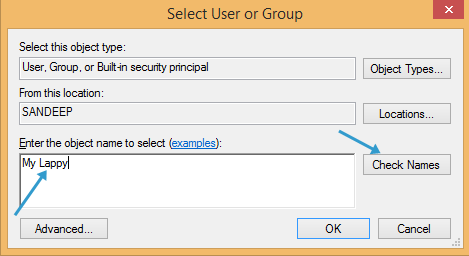 8. Now Go to Effective Access Tab in Advanced Security Settings, and click on Select a User.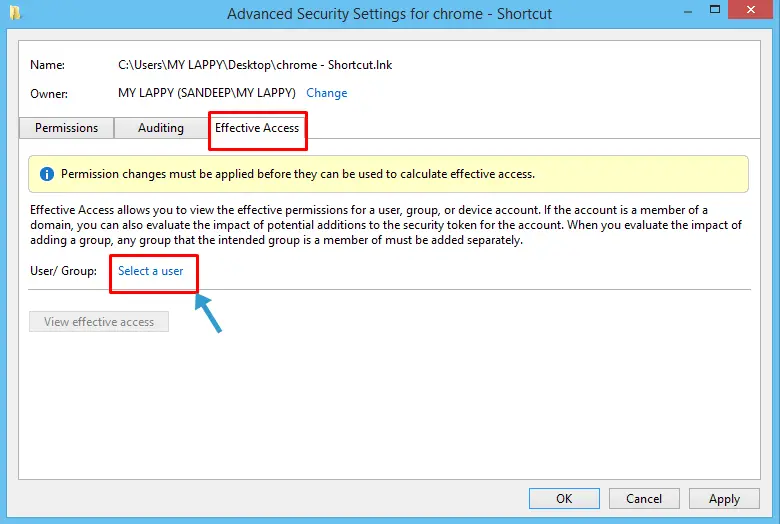 9. After clicking on Select a user same window of user or group will appear again, type USER name, and click on Check Names again.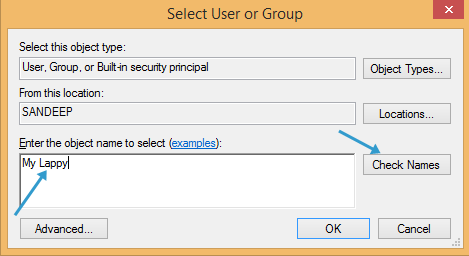 10. Hit OK to it.
11. Hit Apply / OK  on the Advanced Security Settings Window.
Then Apply / OK on  Chrome Shortcut – Properties Window.  This means saving all the changes you have made.
Now try to open Google Chrome, it will open and work properly if not then restart your computer and check. Delete the older shortcut of chrome from the Start menu, Taskbar, and replace it with a Modified one.
After following the above steps, you will be able to open Chrome as usual.
Updated [2022] Fix To Repair Chrome
Many users reported that the above fix "changing chrome ownership" is also not working for them. The latest version of Windows 10 has some compatibility issues and it can stop Chrome from opening. 
In this case, follow these methods-
Method 2. Rename Chrome and Create New Shortcut
This method will help if the Chrome shortcut is corrupt by any other program. You should try it before following the other methods mentioned below.
1. Go to This PC or My Computer and open C drive.
2. Navigate to this location C:\Program Files (x86)\Google\Chrome\Application.
3. Inside the application folder find Chrome.exe or Chrome.
4. Right-click on Chrome and rename it to some other name like Chrome_bak.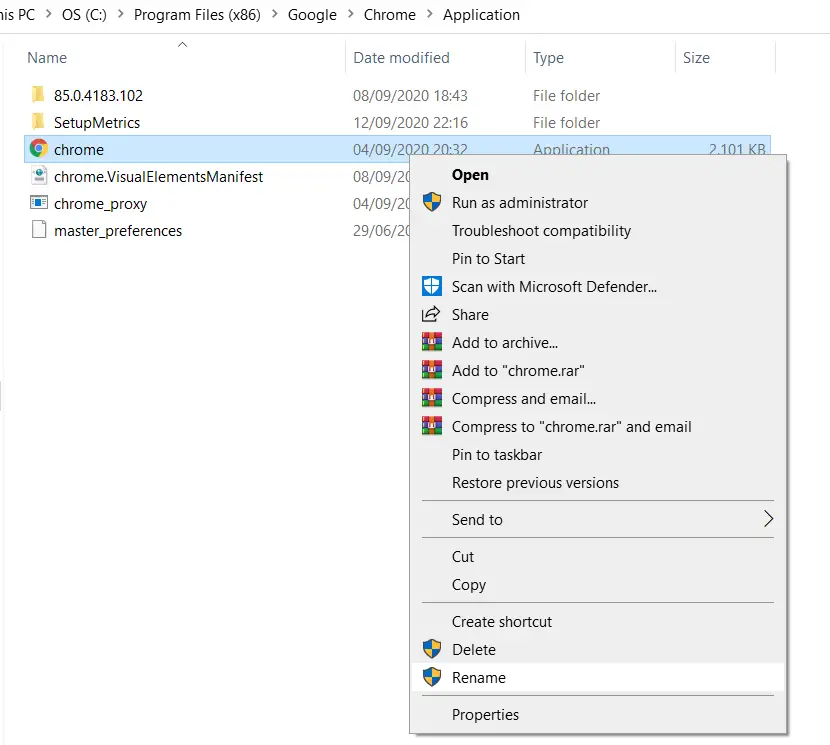 5. Now Right Click on Chrome_bak and Send it to Desktop (Create Shortcut).
6. On the desktop rename this shortcut from Chrome_bak to Google Chrome.
7. Double click to open the newly created shortcut and you would be able to launch Google Chrome.
If you have Chrome pinned to the taskbar then unpin the older shortcut and pin the new one.
Now you can access the chrome using the new shortcut on the desktop and pinned shortcut.
Method 3. Undo Recent Updates
One of the best features of Google Chrome is that it updates itself in the background without any prompt. Sometimes a problem occurs when chrome tries to update itself to a newer version, if the update fails then Chrome will be unstable.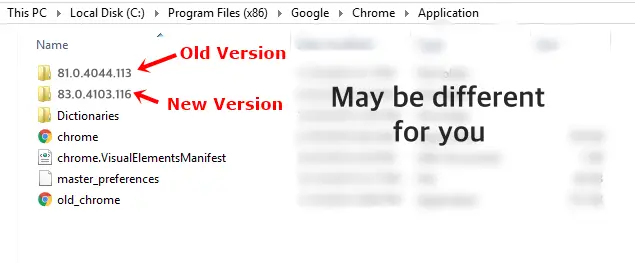 As you can see in the above image chrome has 2 versions in the Application folder 81.0.4044.113 is the older version and 83.0.4103.116  is the latest version.
Open both folders and check which has less number of files, if the older version has less no. of files then –
Access the newer version's folder and copy all the subfolders & files and paste them into the older version's folder.
These versions may be different on your computer, at the time of writing this article Chrome had the above versions installed into my computer. Anyway just find the latest version of Google Chrome and copy-paste the files accordingly.
Try to open Google Chrome now and check if it working or not.
Method 4. Delete Chrome.dll file
Thanks to Eric Schmidt [Comment on YouTube Video] for this fix, Chrome.dll is a file that contains various settings for the browser. If chrome isn't opening then delete this chrome.dll file from the application folder.
Open C:\Program Files (x86)\Google\Chrome\Application then open the chrome version folder. Find and delete chrome.dll.  Deleting this DLL file removes all the older settings of google chrome.
This solution also worked for many users.
Method 5. Google Chrome Offline Installer
Download Firefox or Edge browsers, If Edge and Firefox browsers are working then you need to check Chrome in safe mode. Boot your windows in safe mode and check if Chrome is able to open or not.
If safe mode works then there are some windows services that are causing the issue. You need to disable certain services and try and test to find which Windows service is responsible for the chrome issue.
In case it is still not working then while you are in safe mode, uninstall Google Chrome completely from Programs and Features and delete all the associated files from the "Appdata" and Windows application folder.
Download google chrome offline installer and install it in normal mode. 
This option also worked for many users.
Method 6. Fix Chrome Compatibility Issue
If you have upgraded your Windows PC from Windows 7, 8.1 to Windows 10  or Windows 11 then you may face this issue.
After the upgrade Chrome will not open due to Microsoft's installer automatic settings. This installer will set Chrome's execution mode for the older version of Windows.
To Fix the Compatibility issue after an upgrade you need to change the compatibility settings.
1.  Locate the Chrome shortcut on the desktop. (If you don't have a chrome shortcut on the desktop then make it).
2. Right-click on the Shortcut and Click Properties then select the Compatibility tab.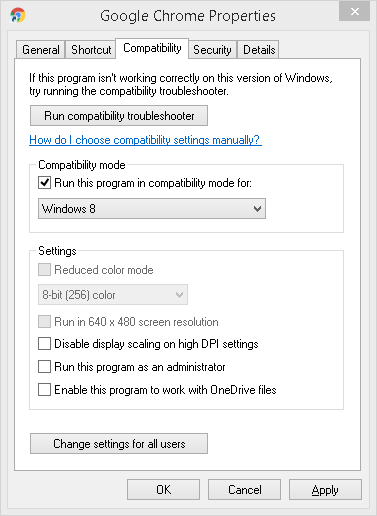 3. Uncheck the box which says " Run this program in compatibility mode", then hit Apply and OK.
You can try checking and unchecking this option it may work for any of these options.
Now check if Google Chrome is opening or not.
Method 7. Clean Your Google Chrome
Download Chrome Cleanup Tool using a different browser (obviously) and locate the downloaded program and double-click to open it.
This program won't install on your computer, it is a flash scanner to find suspicious programs and to reset Google Chrome Settings.

Clean up tool will scan for the conflicting program, if it does find any such program then it is recommended to uninstall those programs.
If it does not find any suspicious program then click on Continue.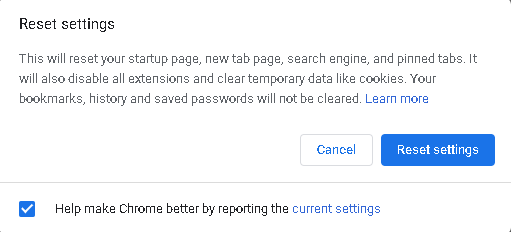 The cleanup tool will try to open and reset Chrome settings. (Try this fix before trying other mentioned fixes)
Reboot your computer and check if it is working or not.
Method 8. Adjusting the Firewall and Antivirus
Sometimes your Antivirus or Firewall may block certain actions to be taken by your computer.
If you have an antivirus program installed then try to turn it off temporarily and check if you are able to open Google Chrome.
Create an exception to the Firewall setting for Google Chrome.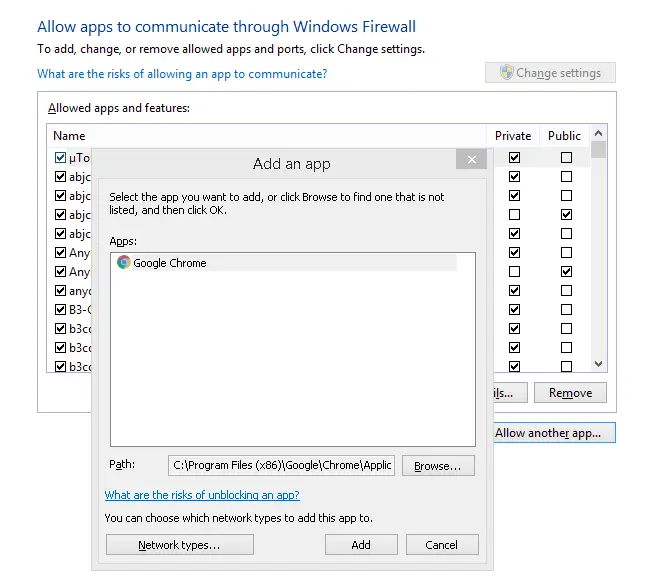 Open Windows Firewall from the control panel and Click Allow an App through the Windows Firewall.
Now browser the Chrome.exe from C:\Program Files\Chrome\Application and add the exception.
Check the Private option for Chrome.exe.
Method 9. Fix Corrupt User Profile
An answer by Google Expert suggests that if Google Chrome is unable to open and won't give any error message then you may have a broken user profile.
You need to create a new user profile in order to get your Chrome working again.
Press the Win+R key on your keyboard and type %localappdata% then hit OK.
It will take you to the AppData folder, and navigate to Google\Chrome\Userdata.
Now, look for the Default

folder in User Data, Rename this Default folder to anything else like "

Default1

"

Default Backup

"

Restart

your PC without any try to open it.
Once restarted try to open Chrome and check if it is working. At this point, Chrome will create a new User Profile Named "Default" with new settings.
If you have trouble fixing a corrupt User Profile, Check this Article to Reset Chrome Where I have written the detailed procedure.
Method 10. System Restore To Fix Chrome Not Opening Issue
System restore can revert back the settings to an older date when Chrome was working. This will also uninstall the programs and updates which were installed after a restore point.
Press the Win+R key to open the Run dialog box.
Type in "rstrui.exe" and hit OK. It will open the system restore option.
Look for the recent restore points when Chrome was working fine, select the restore point date, and hit Next.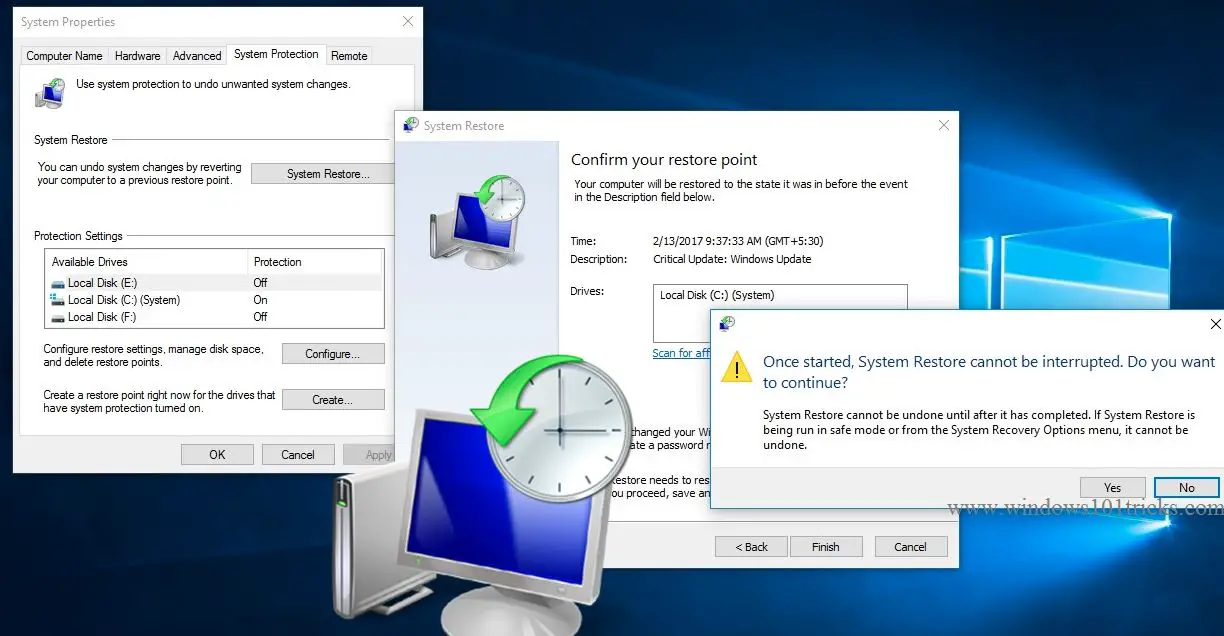 If you are lucky enough you will find recent restore points even if you haven't created them manually.
A successful restore can revert the changes and Chrome should work again. Bear in mind system restore will also remove every software and setting created after the restore point.
Conclusion
All the above-mentioned methods helped thousands of users to fix the Google Chrome not opening issue, you need to try different fixes for your computer, any of the above fixes may work for you.
There may be slight differences in the Windows version you are using but it will work on all major versions of OS like Windows 11, Windows 10, 8.1 & 7.
Since this happens due to incompatible programs or malware attacks. It is advised to run a malware scan using good antivirus like Hitman Pro, check your system type, download, and install Hitman Pro accordingly.
It will quickly scan critical areas and delete found malware, this antivirus comes free for the first 30 days with full access, you just need to register with your email.
Always install a good antivirus program to avoid any such issue in the future, having a full version of an antivirus give you peace of mind and protect your PC from different type of malware, and also offers internet security.
Or you can also install a free antivirus, these free antivirus programs provide you with essential security from numerous PC threats.
Let me know which method fixed the Google Chrome not working issue. If you face any trouble during all the above solutions then comment below.
Must Read-
 Faqs
How do I fix Google Chrome Not Opening On Windows 10?
Try the mentioned fixes, first, try to end all Google Chrome processes from the task manager, and if it doesn't work then create a new shortcut and check if it is working or not.
What causes Google Chrome not responding?
High RAM memory usage by Chrome can make it unresponsive. Close all Chrome tabs and unnecessary programs running in the background.
Disable unused Chrome extensions and plugins.
How do you reset Google Chrome?
To fully reset the Chrome to factory settings when it is not opening, rename the default folder in Appdata.
Follow this article – Reset Chrome Without Opening it.
How do I fix corrupted Chrome?
If Chrome is corrupted then try to reset it or reinstall it completely. If it is not working even after a clean install then change the Chrome Ownership to the current user account on Windows PC
How do you restart Google Chrome?
Open the Task Manager and go to details options. Find all the Chrome processes and terminate them. Right-click on each process and click "End Process Tree"