There is no argument that Google Chrome is one of the revolutionary Browser in all aspect like browsing speed, compatibility, user interface, easy navigation and much more, chrome made internet browsing easier than earlier, if you are using Google Chrome then probably you don't want to switch to another browser, one of the main advantage of google chrome is it has thousands of extension available for every purpose, like there are number of extensions available for normal user, web developer, gamer, business and much more.
Top 5 Google Chrome Extensions
If you have visited chrome web store and got confused which extension to install, here is the list of top 5 google chrome extension for normal internet user.
1. Ad Block :   This extension is able to block ads on different websites and also can block video ads on the youtube and other video hosting sites, peoples are claiming that it is killing the free web, yes it is killing the free web if it blocks  all ads on the site how website owner going to  earn this discouraging both publisher and advertiser, Some claims that it is the best way to get rid of bogus ads and pop-ups which keep on  appearing on the web, it provides you safer and faster web browsing.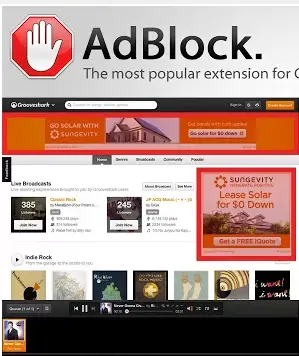 2. Send from Gmail:  It is very smart chrome extension by which you can send emails directly from the google chrome extension bar, basically when you click on send from Gmail extension a chrome pop-up window appears with Gmail compose mail section and already contain the URL of selected website and also contain selected text in it, you just need to enter email id to send it.
3. AddToAny:  Today sharing means a lot you found any content useful or appropriate and want to share you generally go to social sharing sites and copy paste the content or related links, here AddToAny is very handy and useful chrome extension which allow you to share web content without navigating to social sites you can print share content to any social sharing site using AddToAny extension.
4. Hover Zoom: How often you go to websites and found small images which are not clearly visible, or you need to click on every photo on facebook to see it clearly, sometimes there arFacebookok posts which contain the only thumbnail and you just click on that image to see it and redirected to nasty websites, here Hover Zoom is the best extension to zoom images on any website, like on google image search you don't need to click on images to see full image just hover the mouse there and it will automatically zoom up.
Download Hover Zoom
5. Search Preview:  This is one of the chrome extension which can save your time when you are looking for particular content in search engines, this extension generate a thumbnail preview on the left of the search result, this helps you to get a look of website and you can easily choose which one is right to open. Also, it helps to visit the site you visited earlier but didn't bookmark it.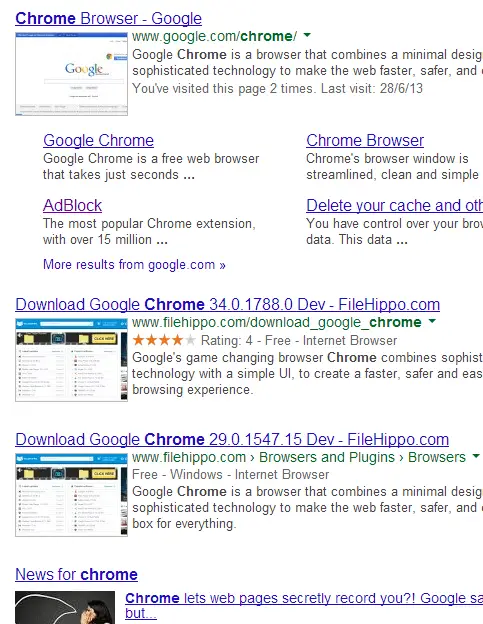 Download SearchPreview
Install these Chrome Extensions from Google Web-store and enjoy these awesome features, it will provide you better and enhanced browsing experience on Google Chrome.
Also Read