One of the reasons why people prefer Windows operating systems is because of their customization options. And yet, Windows 11 still doesn't have a built-in setting for live wallpaper for the home screen.
Android users know how fun using live wallpapers on the home screen is. Why not use them on your Windows 11 PC? You can't select a live wallpaper from the Windows desktop settings. Hence, the only way is to use third-party apps. 
Best Live Wallpaper Apps for Windows 11
If you are a big fan of making your desktop look cool, this is the page for you, as today we list the best live wallpaper apps for Windows 11. Some of these apps are free, and some come with a price. But the live wallpapers that you get on these apps are stunning. 
1. Lively Wallpaper
If you're looking for a top-notch live wallpaper app for Windows 11, your search ends with Lively Wallpaper. This app, available for free on the Microsoft Store, is one of the top live wallpaper apps. With Lively Wallpaper, you can access a stunning collection of wallpapers without spending a single penny.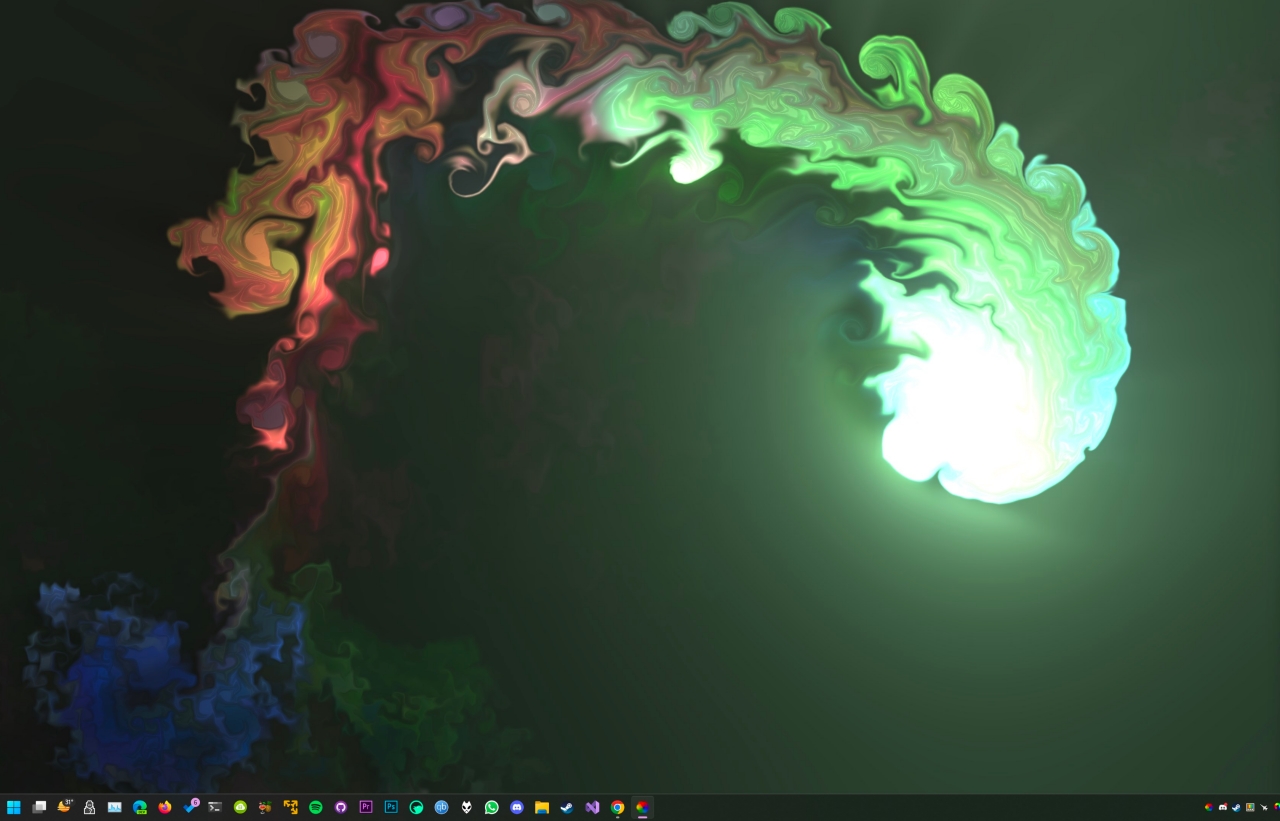 Lively Wallpaper is designed to work flawlessly across multiple aspect ratios, including ultra-wide monitors, ensuring a seamless visual experience.
Despite its cost-free nature, Lively Wallpaper keeps its features the same. Set videos, animated GIFs, and more as your live wallpaper, breathing life into your desktop. The app allows you to fetch live wallpapers from various sources, expanding your options further.
One of the standout attributes of Lively Wallpaper is its lightweight design, delivering exceptional functionality without burdening your system's performance. When you step away from your desktop, Lively Wallpaper intelligently pauses the live wallpaper, conserving valuable RAM resources.
Immerse yourself in the outstanding performance, minimal resource strain, and support for various media formats offered by Lively Wallpaper. Give it a try and watch as your Windows 11 desktop springs to life!
Top Features: 
Free and open-source.
The minimal strain on PC resources.
Lightweight app for smooth performance.
Supports GIFs, online videos, and downloaded videos.
Pauses wallpaper when not active to conserve resources.
2. RainWallpaper
Following that, RainWallpaper provides a visually appealing collection of live wallpapers for your Windows 11 PC. This app includes a variety of categories, such as landscapes, animals, abstract art, and more. Its simple user interface allows you to explore and install wallpapers with a few clicks.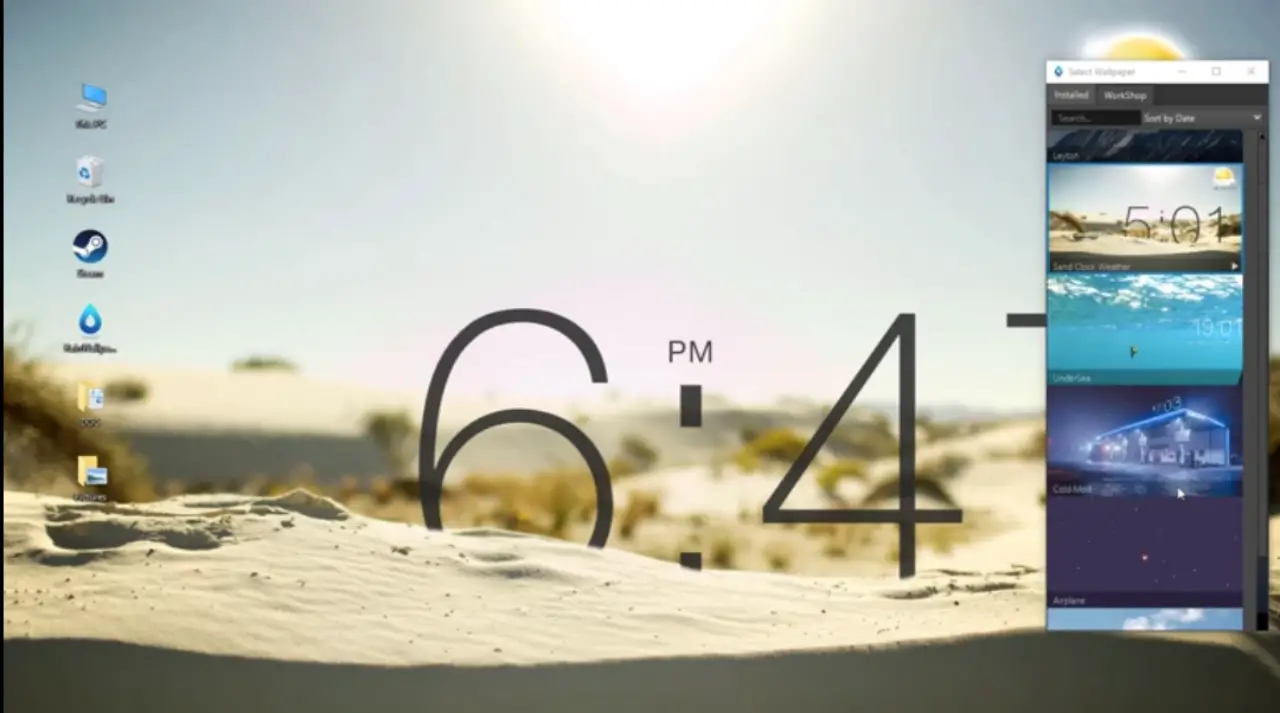 RainWallpaper also offers interactive wallpapers, which allow you to interact with desktop objects. It also allows you to make live wallpapers out of films or GIFs, allowing you to customize your desktop experience further.
Top Features: 
A visually stunning selection of live wallpapers in various categories.
Supports interactive wallpapers, allowing user interaction with desktop elements.
Ability to create custom live wallpapers using videos or GIFs.
3. DeskScapes
Looking to add a touch of personalization to your Windows 11 desktop? Look no further than DeskScapes, a tool that offers extensive features for customizing your desktop with captivating live wallpapers, videos, and images.
While DeskScapes is a paid app, it generously provides a 30-day free trial, allowing new users to explore its offerings without any initial investment.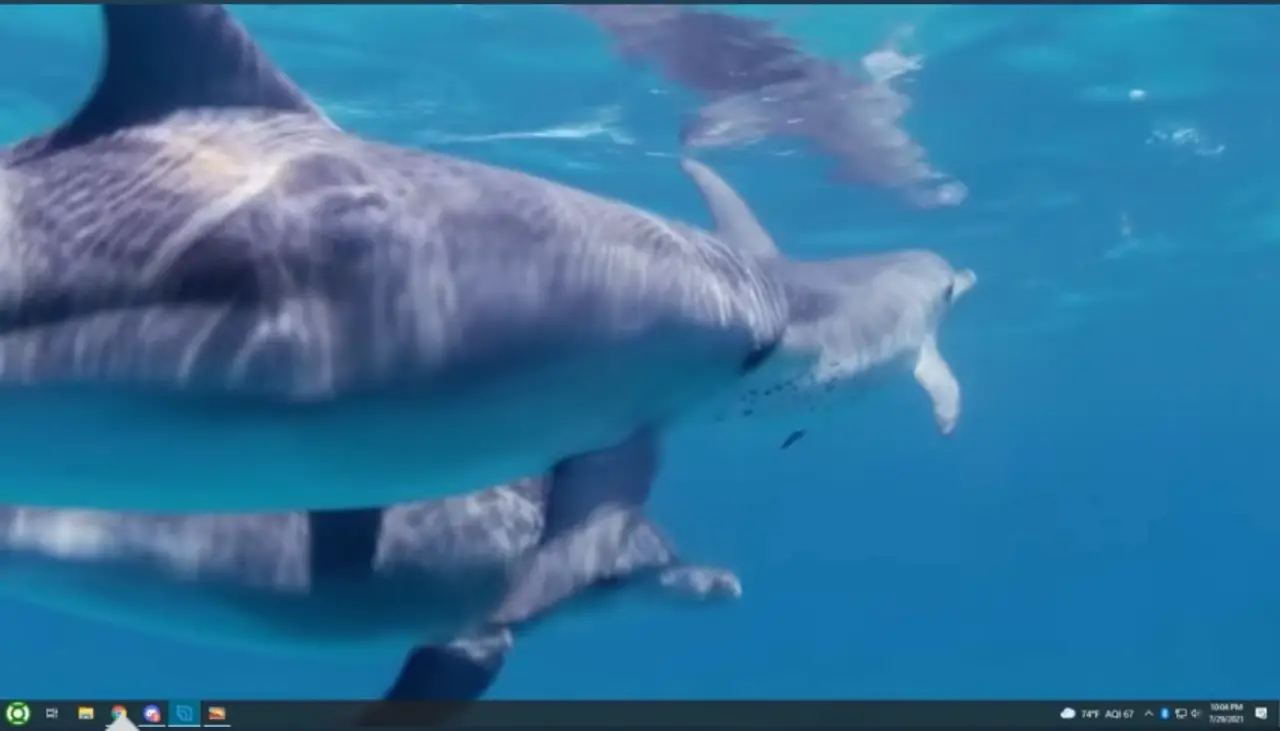 One of the standout features of DeskScapes is its vast customization options. Whether you choose to use images from the existing collection or create your own, DeskScapes lets you tailor your live wallpapers to your liking.
With over 50 special effects and color options, you can make your desktop come alive. Its built-in editor sets DeskScapes apart, empowering you to take your customization game to the next level.
From drawing tools to brushes, particle effects, and other design tools, you have the means to add a personal touch to your live wallpapers.
Top Features: 
Lots of customization options.
Built-in wallpaper editor for advanced customization.
There is a plethora of special effects to enhance your live wallpapers.
Mouse interaction support for interactive experiences.
4. WinDynamicDesktop
Do you want to make Windows 11 desktop look like macOS? WinDynamicDesktop can enable the Mac dynamic wallpapers on your PC.
It gives your desktop a fresh and captivating look. With no configuration required, you can enjoy stunning wallpapers right away. WinDynamicDesktop also offers location-based customization, automatically changing the background based on your location and the time of day.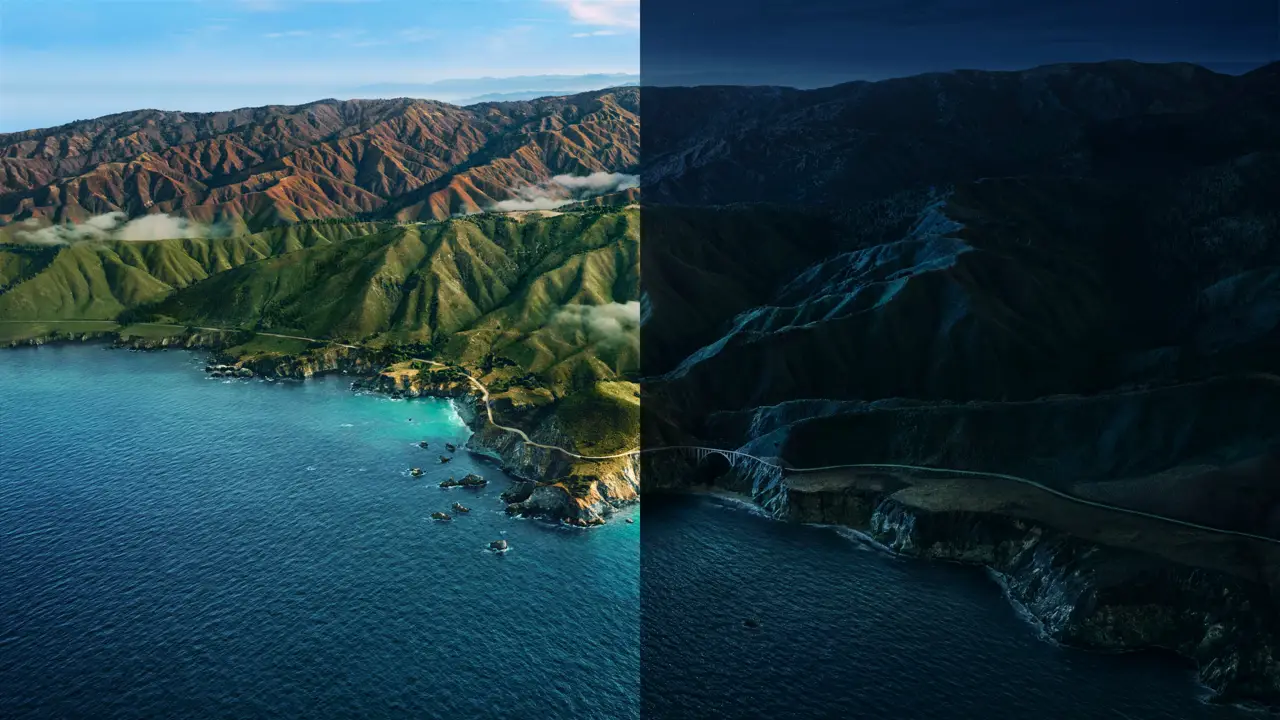 This brings the macOS dynamic wallpapers and supports automatic desktop wallpaper changes. It is free to use, making it an excellent choice for enhancing your Windows 11 desktop experience.
Top Features: 
Bring macOS dynamic wallpapers to Windows 11 effortlessly.
Location-based customization for automatic background changes.
Automatic desktop wallpaper changes for added variety.
Lightweight app with no impact on system resources.
5. Wallpaper Engine 
Wallpaper Engine takes the crown regarding feature-rich live wallpaper apps for Windows 11. While it is a paid app, the investment is worth it for its incredible customization options.
With Wallpaper Engine, you can import downloaded videos, your image collection, online videos, and even websites as captivating live wallpapers.
Its vast collection of live wallpapers within the app sets it apart, saving you the hassle of searching the internet for stunning wallpapers. With a simple search and apply feature, you can easily find and apply your desired wallpapers.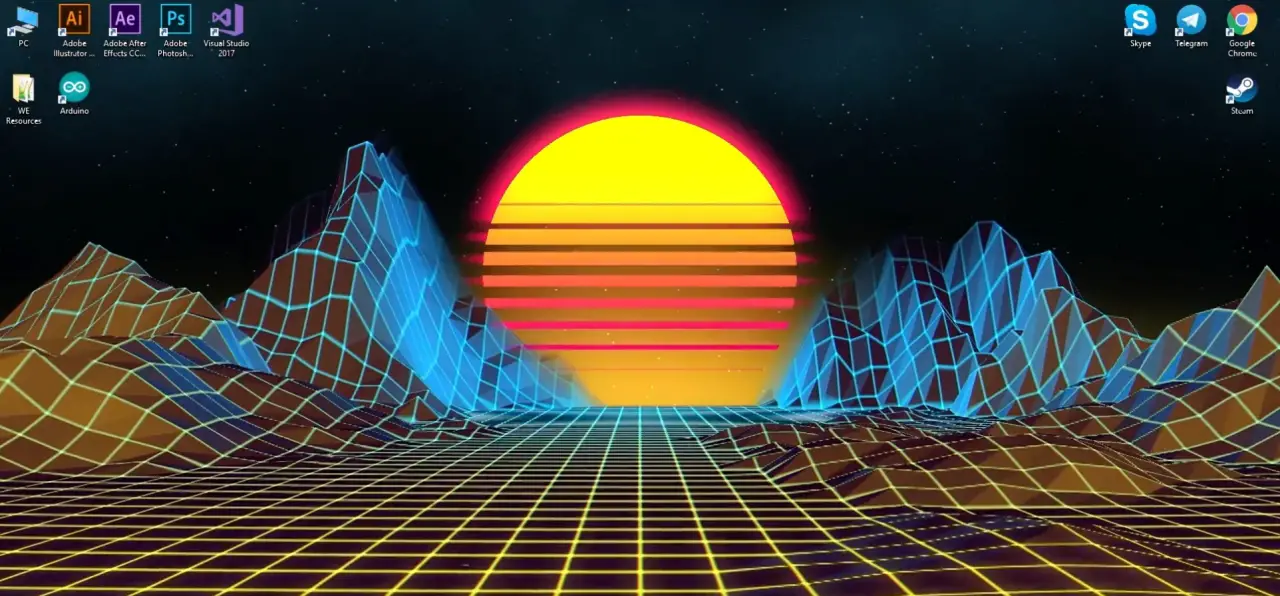 Wallpaper Engine delivers on customization and supports multi-monitor setups, offering features like spanning and dedicated wallpapers for different monitors.
It even allows you to share your created live wallpapers to your Android device, adding an extra convenience layer. Interactivity is another highlight, as you can interact with the live wallpapers using your mouse.
Despite its feature-rich nature, Wallpaper Engine performs comparably well to Lively Wallpaper, although it may consume slightly more resources.
Top Features: 
Powerful live wallpaper app with extensive customization options.
Create your live wallpapers using patterns and images from the library.
Supports online and offline videos, as well as GIFs.
Multi-monitor support with spanning and dedicated wallpapers.
6. PUSH Video Wallpaper
PUSH Video Wallpaper is the go-to live wallpaper app for those seeking seamless video playback as wallpapers. This app lets you set any video as your desktop wallpaper, creating an immersive and dynamic visual experience. You can use your favorite movie scenes, music videos, or personal recordings to breathe life into your desktop.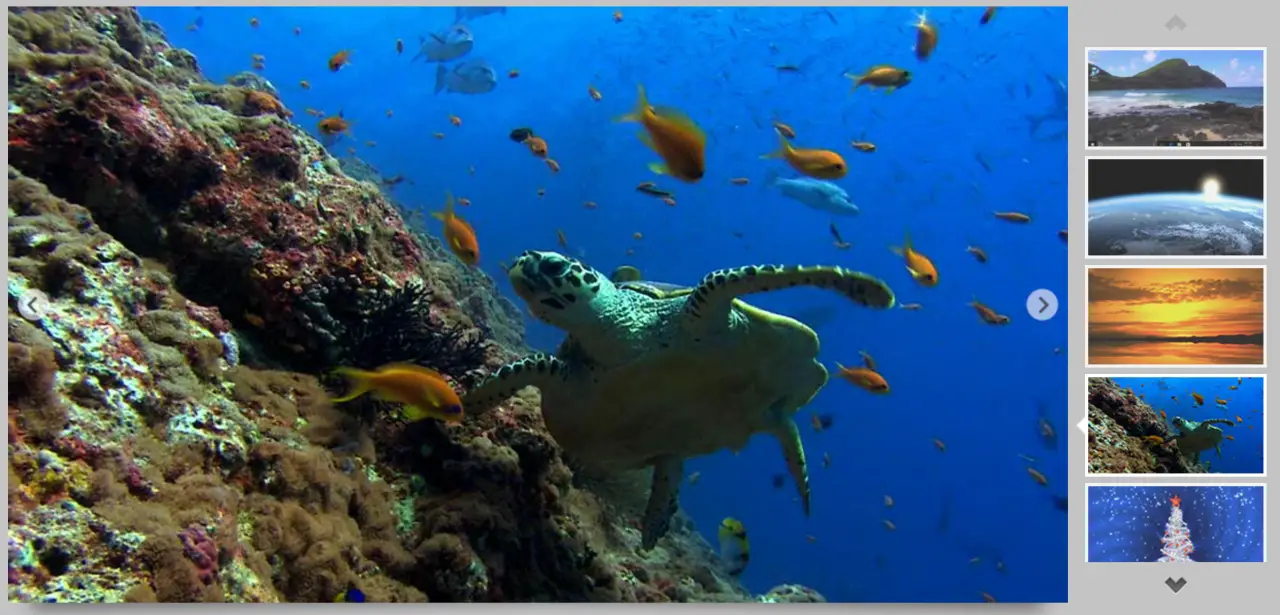 It also offers playlist functionality, allowing you to queue up multiple videos to cycle through as your wallpaper. It's a powerful tool that transforms your Windows 11 desktop into a personal cinematic showcase. 
Top Features: 
Seamless video playback as wallpapers for an immersive visual experience.
Playlist functionality to queue up multiple videos for cycling wallpapers.
Transform your desktop into a personal cinematic showcase.
7. DesktopHut
If you're a fan of anime, sci-fi, and gaming, look no further than DesktopHut, a fantastic live wallpaper app for your PC. It's a website hosting a vast collection of anime and gaming live wallpapers and a user-friendly desktop client for easy wallpaper customization.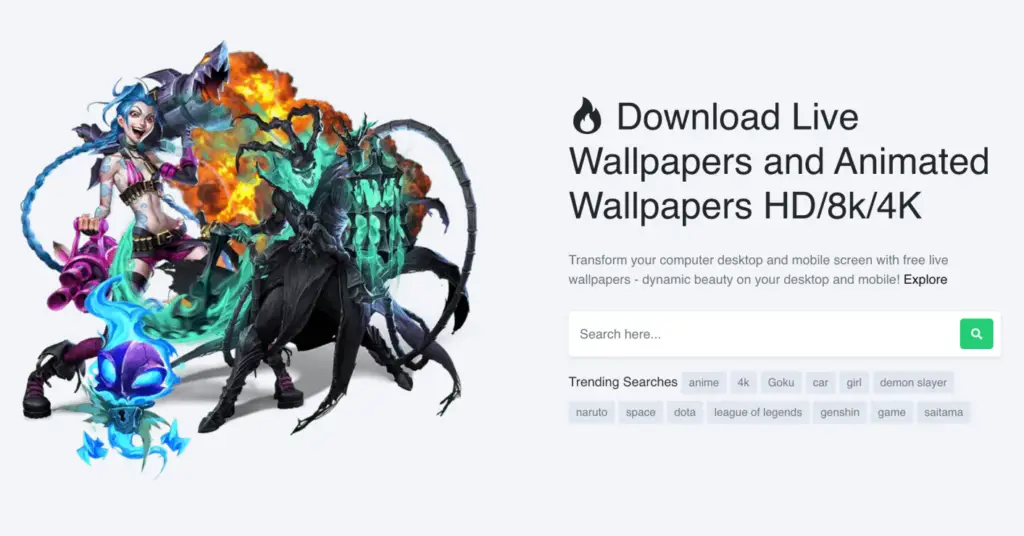 It hosts high-resolution live wallpapers that are genuinely one-of-a-kind, with a broad choice of categories to explore, including 4K live wallpapers, 3D animation, abstract designs, nature, and travel. Although it does not have as many features as the other apps on this list, it excels at producing one-of-a-kind and visually spectacular live wallpapers that you will not find anywhere else. 
The lightweight software uses few system resources and performs incredibly effectively. The only downside is that you must manually keep the app running in the background for the live wallpapers to work, as Windows 11 defaults to its static wallpaper otherwise.
Top Features: 
Best live wallpapers for anime and games.
Lightweight desktop client for easy customization.
High-resolution 4K live wallpapers.
Huge collection of unique and captivating wallpapers.
Experience Live Wallpaper on Your Windows 11
Customizing your Windows 11 desktop with live wallpapers can improve your user experience and give your PC a personal touch. Bring your desktop to life and experience gorgeous images that match your style and preferences by using one of the many live wallpaper apps available. If you like anime, gaming, dynamic wallpapers, or interactive patterns, the list above contains some of the most excellent live wallpaper apps for Windows 11. 
FAQs
Can I use live wallpapers on Windows 11 without third-party apps?
Windows 11 has no built-in setting for live wallpapers on the home screen. To use live wallpapers, you need to rely on third-party apps.
Are the live wallpaper apps mentioned in the article free?
Some live wallpaper apps, such as Lively Wallpaper and WinDynamicDesktop, are free. However, apps like DeskScapes and Wallpaper Engine are paid, although they may offer free trials or limited functionality without a purchase.
Can I create my live wallpapers with these apps?
Yes, some apps like DeskScapes and Wallpaper Engine offer features that allow you to create and customize your live wallpapers using images, videos, or GIFs.
Do live wallpapers impact system performance?
Live wallpaper apps like Lively Wallpaper and WinDynamicDesktop are designed to have minimal impact on system resources. However, feature-rich apps like Wallpaper Engine may consume more resources due to their extensive customization options.
Don't forget to check –