An online photo editor is a good way to edit your photos without downloading any app. If you want to edit photos quickly or you don't know how to work on Photoshop or other photo editing software, you can use a web-based service for editing.
These days everybody cares about their presence on social media and maintaining their popularity. They do lots of editing to their photos. Many people only need basic editing like crop, brightness, contrast, texture, effects, enhanced color, or normal touch-ups.
These basic editing can be done using web-based photo editors which are the fast way to edit photos/Images without installing heavy software like Adobe Photoshop.
So here is a list of the top 10 websites that provide free and effective tools to brush up on your photos without having any photo editing skills, which will surely make your photos stand out from the crowd. This list is based on three-factor worldwide popularity, ranking, and available features.
Top 10 Online Photo Editor Sites
Here is the list of the top 10 sites to make your photos look better; you will find different tools, features, and unique ways to edit your photos with basic skills. You don't have to spend much time learning; these sites offer a user-friendly and easy-to-understand interface.
PicMonkey is one of the most popular sites to edit photos online, the features provided are really very attractive and effective one can easily edit their photos with large numbers of effects, tools, and many more features.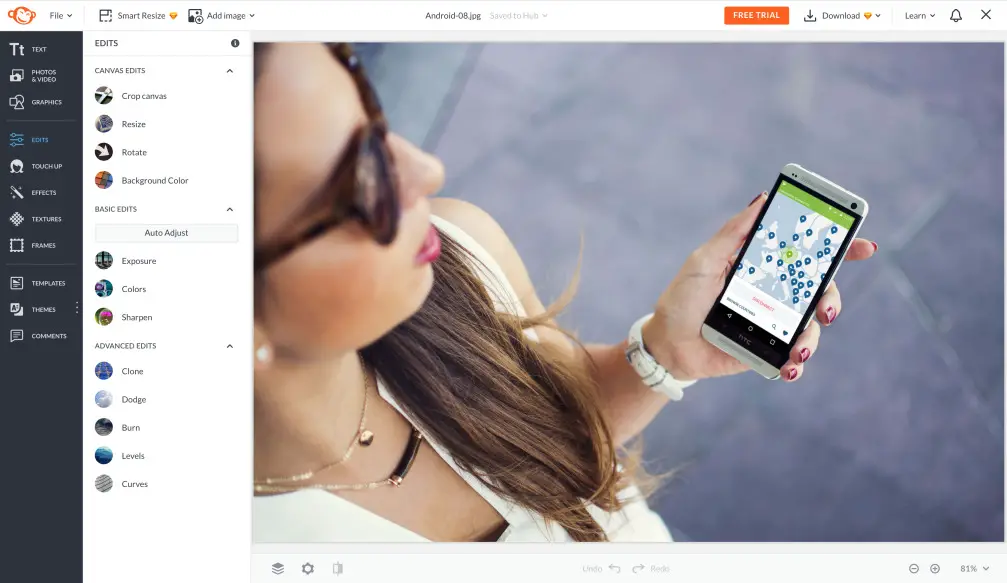 It has many editing tools like Crop, Frames, Textures, Effects, and much more. One of the best features I really like is their effects which are eye-catching and makes your photos really attractive.
You can upload your photos from your computer, and import them from Facebook, Dropbox, and Flicker. It also has a collage maker and editor tool with the same features and effects.
Update – Pic Monkey has evolved over time; it is no longer a basic editing tool but a high-end online graphics designing tool. Earlier, it was not required to sign in, but now you must create an account to access the editor.
The advanced editor is feature-rich with new tools like touchups, frames, templates, graphics, and themes. Apart from the editor, you will get designing tools for social media, websites, and many others.
Easily create Facebook, Instagram, and Pinterest posts and stories. You can choose blank templates with exact dimensions for Etsy, Linkedin, Medium, Snapchat, Tumblr, Twitch, Twitter, YouTube, and ebooks.
It has a solution for all social media images, whether it is a post, story, Ads, YouTube channel art, Thumbnails, Instagram carousel Ads, Story highlight covers, and you name it.
Pixlr is the most visited online photo editor, even though it ranks above PicMonkey in terms of popularity. It is like a web version of  Photoshop, which enables many features of Photoshop and provide tons of tool which are the perfect way to edit photos.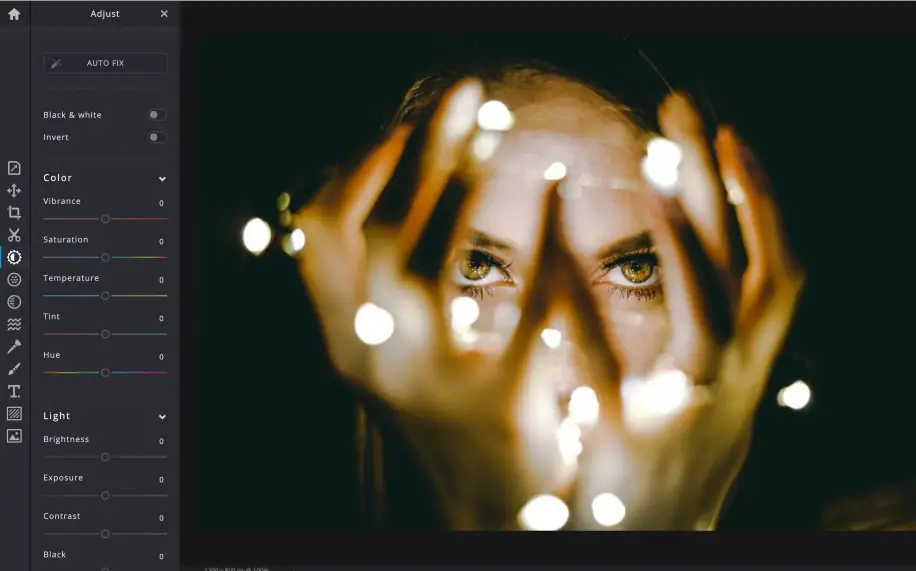 If you want to experience Photoshop, then Pixlr is the best option; this includes many features of Photoshop, tools available on Pixlr are a paint bucket, brushes, gradient tool, color picker, drawing tool, Clone stamp, crop, wand tool, and many other.
On Pixlr editor, one can work on different kinds of layers, and a wide range of filters are also available. These tools provide an experience closer to Photoshop. It does not require an account or login to save edited photos.
The site has 2 editors, Pixlr X and Pixlr E; the first one is a simple and effective editor for basic photo editing. On the other hand, Pixlr E is an advanced version with a great collection of tools for photo professionals.
Fotor is 3rd biggest online photo editor & has more than 4 million visitors per month; get you an amazing experience not only in photo editing but also provides collage maker, card designing for different occasions, and Cover designing tools for Facebook, Twitter, Youtube, Linkedin, and About Me profiles.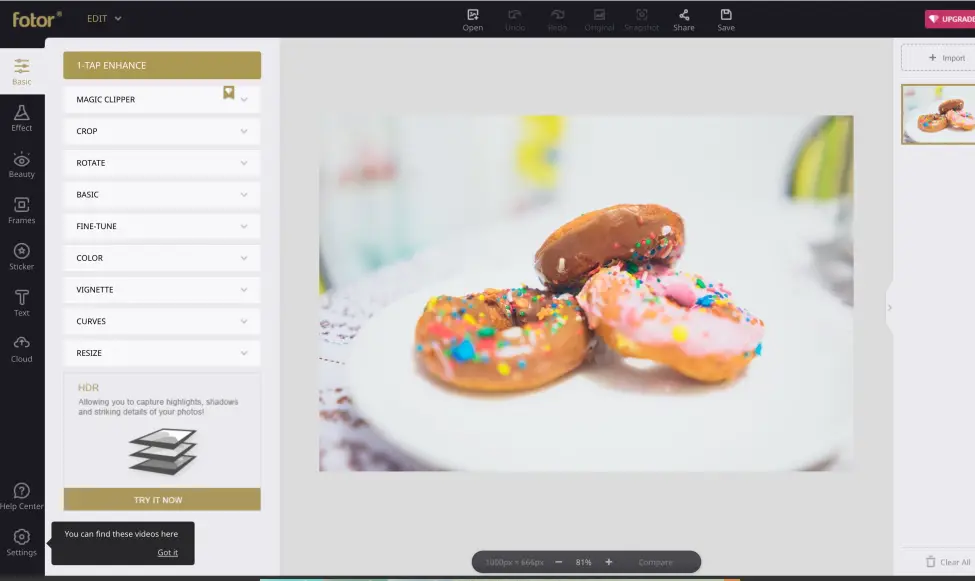 It provides basic editing where you can crop, rotate, enhance color, and do some enhancements.  Also, it has many kinds of effects, frames, and stickers that can decorate your photos.
Apart from an editor, there is a Collage maker, Card Maker, and Cover designer tool for social media. You can save your photos without logging into the site.
Ipiccy is another famous online photo editor which makes photos look great with many easy-to-use tools. Apart from basic editing, it has many advanced editing tools like Clone, Curve, Drawing, online liquify, and burn tools. It provides many adjustments, color enhancement, and filter tools.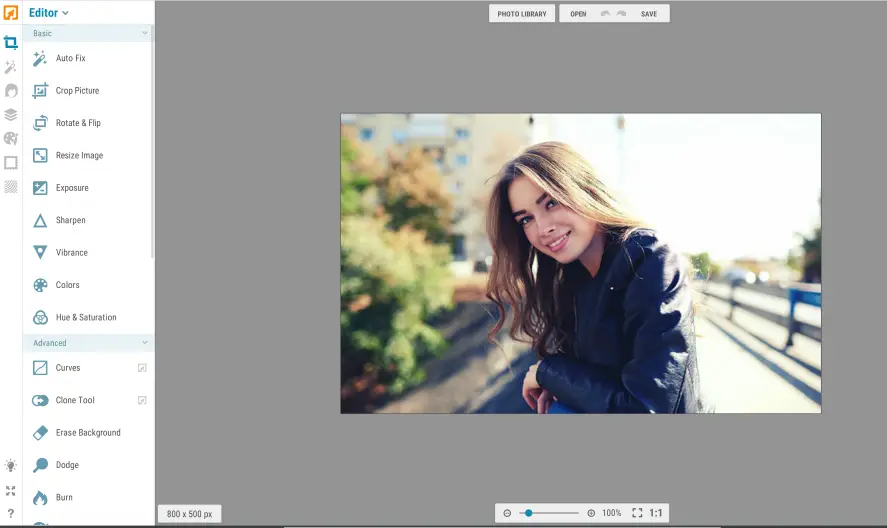 It has different kinds of Photo Effects, Stickers, Frames, Textures, and Painting tools somewhat to Pixlr; you can't save any editing or photos without registering to the site, and you need to create an account in order to save photos to your computer.
After the update, they enabled some more advanced tools like Clone tool, Auto Fix, Retouch, layers, background eraser, dodge, and burn tools.
BeFunky is another free and easy-to-use online photo editor with features like PicMonkey and Fotor, enabling a good photo editing experience. There are multiple kinds of tools available, like basic editing tools, lots of awesome effects, frames, many types of text effects with large numbers of font families, and hundreds of Goodies.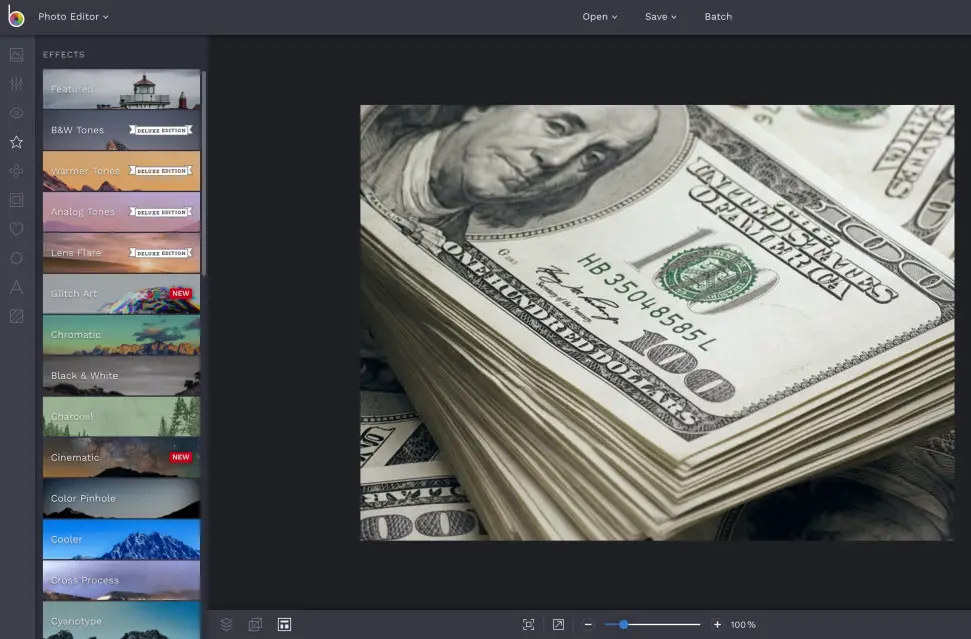 It also has a collage maker tool where you can make collages from your Facebook photos or uploaded images, many templates, lots of background effects, text, and goodies that can make your collage look awesome.
You can save your edited photos even without login into the site; a registered user can save their uploaded and edited photos in their account.
Fotojet is another effective tool for editing. It has tons of features to make your photos look outstanding. The basic editor offers multiple tools like crop, resize, rotate, exposure, and color. The pro users can unlock advanced features such as sharpening, dehaze tool, vignette, noise, focus, color splash, and selective filters.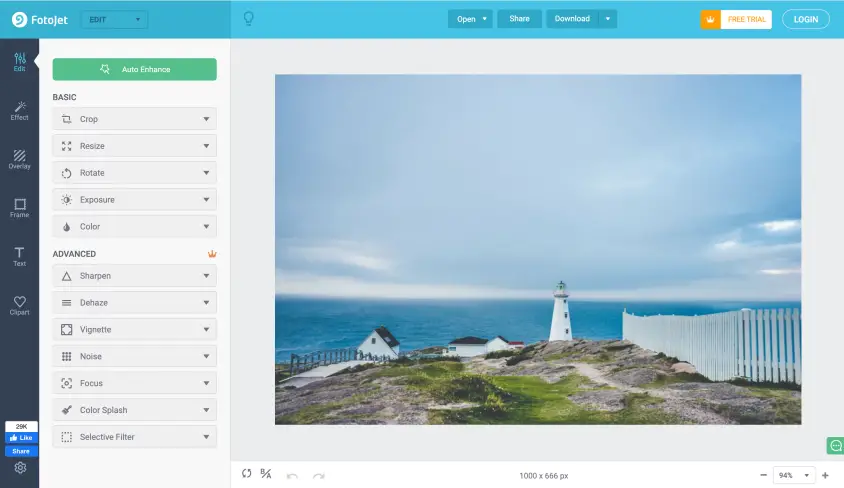 Apart from the editor, you will find effects, overlays, frames, text tools, and clipart.
There are tons of effects available for free, but if you want to get more effects, you can subscribe to their pro plan. The overlay tool contains bokeh, montage, burst, fabric, metal, and many other effects.
You can add headings, subheadings, and predesigned text with effects on the text tool. Clipart allows you to add different shapes, icons, and much other clipart.
You may have come across Canva; it is not just a photo editing tool but a complete graphics designing solution for the modern world. If you just want to edit the photos, then Canva has a separate tool.
If you need some graphic designing for a website, social media, and ad banners, then Canva would be a great choice. You cannot access this tool without creating an account on the site.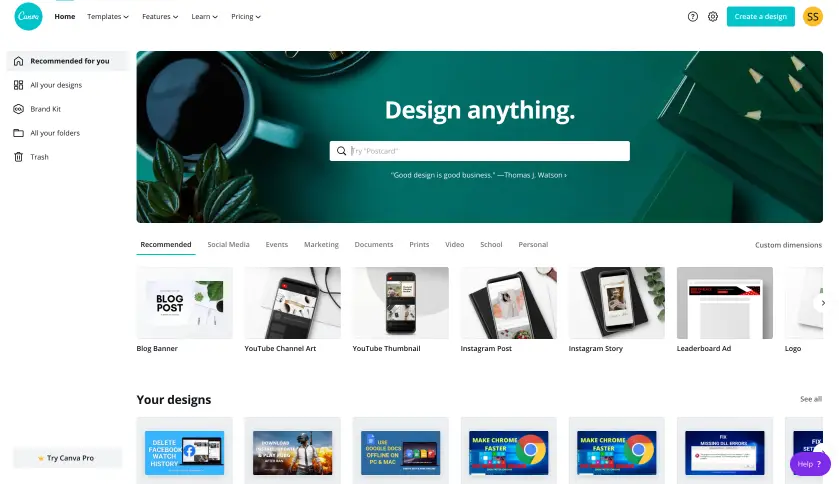 It has tons of templates for a jumpstart. You can find templates for blog banners, YouTube thumbnails, Channel art, Instagram Posts and Stories, Ads, Logos, and many other categories.
Once you select a template, it will open the editor with a perfect dimension for the service which you want. So you don't need to resize the image after creation.
The editor offers millions of images for free. You can add filters, animation, effects, texts, colors, and other enhancements. It has templates for all your needs, whether it is professional or personal.
Canva is my favorite destination for designing blog banners and YouTube thumbnails. If you are running out of ideas, look at different templates; you won't be disappointed.
They have launched a separate photo editing tool for basic photo enhancement that includes crop, filters, and other image adjustments.
Lunapic is a simple yet powerful online image editor, the interface looks dull and outdated, but it has a lot more tools than any photo editor on the list. Once you open the site it will look normal, but once you get into the features, you will be amazed.
The best part is that it is completely free, and you don't need to create an account. You can access it with one click and import photos from your computer or URL.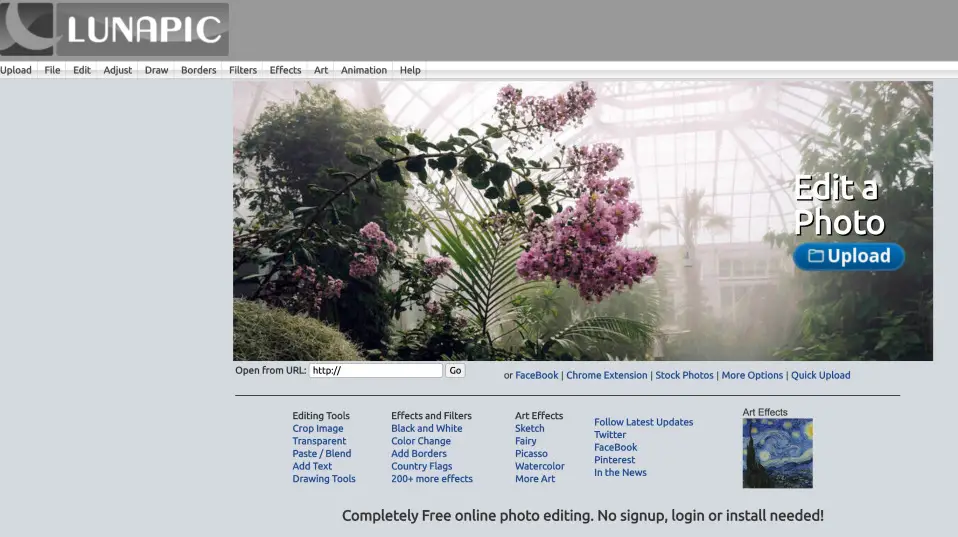 The editor has basic cut, crop, resize, draw, rotate, paint, and eraser tools with a similar interface to photoshop. If you want some advanced editing, access the tools available on the top menu.
It offers tools like a layer mask, magic wand, skew image, transparent background, color adjustment, deHaze, saturation, motion blur, sharpening, brightness, exposure, red-eye removal tool, contrast, and several other editing tools.
Also, you can take advantage of the effects, filters, art, and animation with a wide range of selections.
Want to experience modern photoshop online? Then PhotoPea is not going to disappoint you at all. The site looks modern and eye-catching with the latest UI, it not only allows you to edit photos and create new graphics with tons of templates available.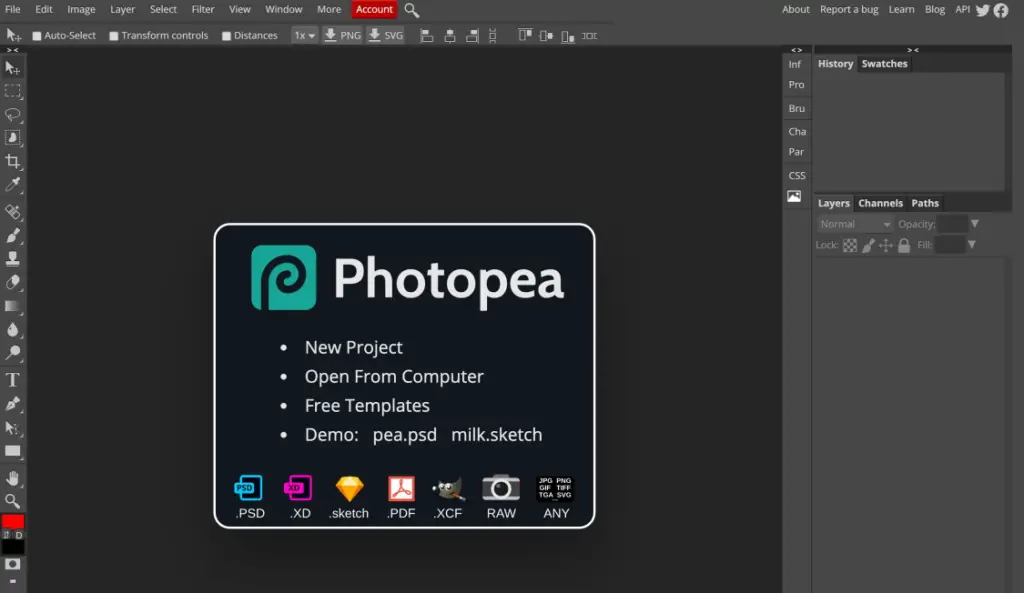 You can open images from the computer in different image formats; it also supports photoshop .psd files, RAW, XD, .sketch, XCF, and even PDF files. Since it supports several file formats, then it consists of a bunch of tools.
You will find all basic tools like cut, crop, erase, selection, paint, gradient, blur, dodge, object selection, text, and online lasso tools. Create and work on different layers as you want; it has photoshop like layer management.
The advanced tools include brightness, contrast, exposure, transform, hue, saturation, selective color, and online liquify tools. The filter option has all the necessary effects to make your photos better.
The site is ad-supported, so it is totally free to use without an account.
Do you need a clean and minimal interface with high-end tools? Ribbet will allow you to edit photos with its simple yet effective tools. You can find all the necessary options to fine-tune your images.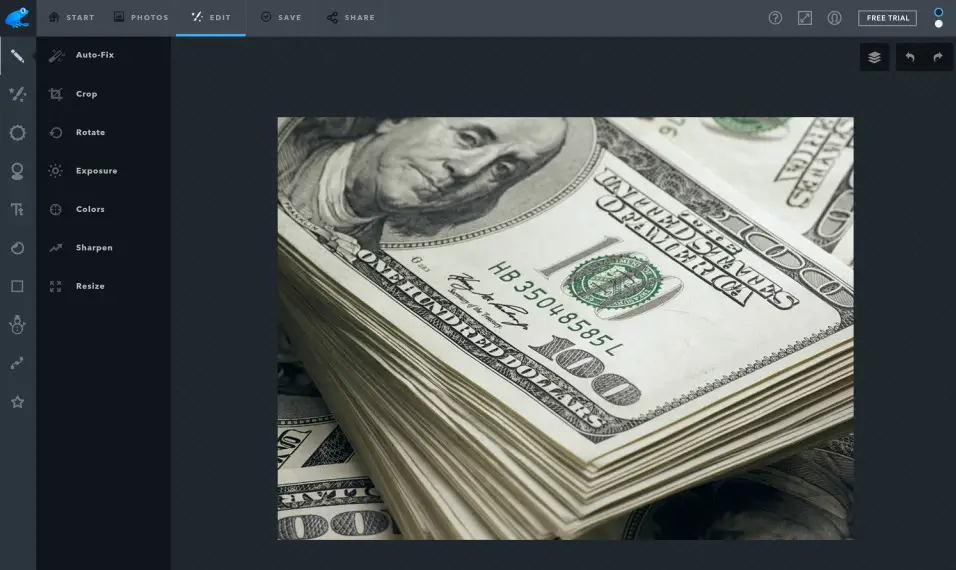 It has all the basic tools, along with some eye groping effects, overlays, stickers, and frames. The Auto-Fix tool can enhance your photos with a single click. You can adjust the intensity of the effects as you like.
Most of the effects and overlays are free, but if you want to get something more, check their pro plans.
Verdict
We all need to edit photos in this era on various occasions; most of us want to touch up the images to post on social media and other sites. These photo editors can help to edit photos effectively. You don't need to install any software or an app on your device.
If you want heavy editing on different layers, then none of them can replace Adobe Photoshop. But still, you can enjoy many of its features online.
Many other online photo editors are available, but the above 10 are the most popular sites with user-friendly navigation. And they all have the ability to make photos look awesome.
Also Read –