You may want to resize images without losing the quality for a different purpose. There are sites that do not accept images larger than the mentioned size. You may be filling some forms or applying for a job. These portals have specific requirements for images, they do not accept heavy size images to prevent server overload.
Or you be trying to crop images without losing quality in Android phones for any other purpose, but if you do it the traditional way then you might lose the picture quality and get blurry images.
Smartphones are not only communication devices as they have lots of benefits to people. You can use your smartphone for photography, graphic design, and social media to make your life amazing.
People want to capture the best photos then it is essential for you to look for the quality of the camera whenever you buy a new phone. But one of the biggest problems, when you buy a high-resolution camera smartphone, is that it captures pictures always in big file size.
Must Check – Best Handwriting Apps For Android
It makes it difficult for you to share these photos on the social media platform, upload them to specific websites, and such photos require more space on your device.
The most effective solution to resolve these issues is to get an Image Resizer app on your Android smartphone. The apps can help you reduce the size of the file without having damage to the quality of the photograph.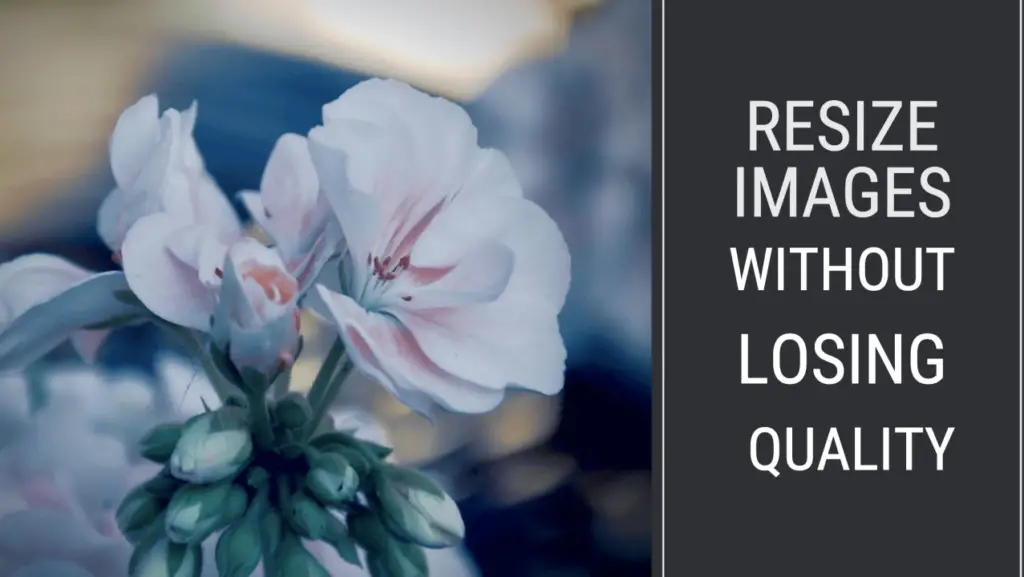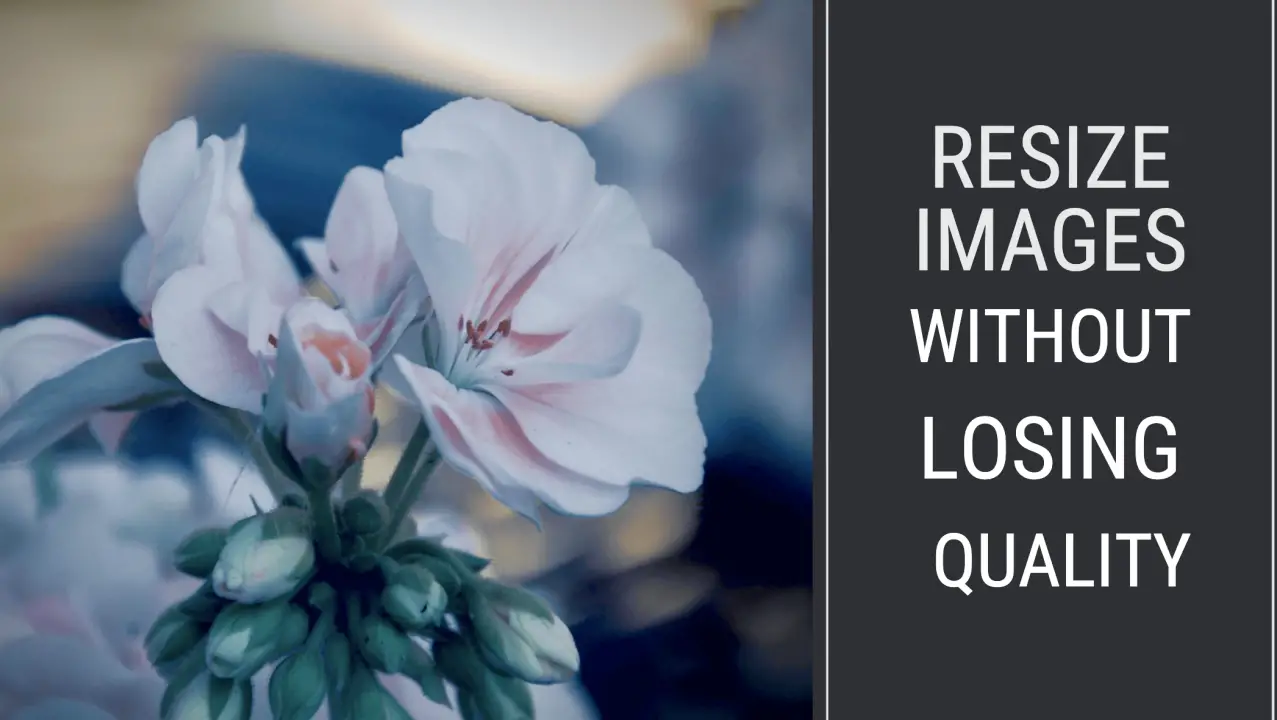 What Does Image Compression Mean?
Image compression is a process to convert or encode an image file in a way it takes less space than the original image. Image compression is performed by certain algorithms and codecs.
These algorithms reduce the similar pixels in an image. As it may reduce similar color pixels in a few pixels that can respond to hundreds and thousands of pixels.
There are 2 types of image compression –
Lossy – Lossy compression removes some data from original files to reduce the image size.
Lossless – This compression does not delete the original data from images.
You can reduce the image size by changing the aspected ratio, compressing the pixels, or reducing the dimension. If you reduce the dimension then there is a high chance of lossless compression.
Any reduction in dimensions like cm, mm, or pixels can help you to achieve high-quality images.
Android Apps To Resize Image Without Losing Quality
There are some online image compressors and online photo editors that can help you to reduce the image size. But you have to upload files each time you want to process a photo. Also, not all sites are mobile-friendly to execute the task. If you are on an Android smartphone then it will be hectic to upload images.
To android users here are some of the most wonderful and effective resize image apps. These apps allow you to resize your high-quality images in the best effective and efficient way.
Choose one best among them that can help you resize your images in the best way.
Photo Compress 2.0 allows the users to compress, resize & crop the images in the best effective manner according to their needs and requirements. You can easily choose the compressed quality manually low, medium, or high as per your needs.
The user has to simply choose the required compression level and then just press the compress button to get the new image.
Features:
Using the Photo Compress 2.0 app, you can easily resize, compress batch collection and crop your photos in the best effective manner.
The pro version of Photo Compress 2.0 allows you to access several new features such as keep EXIF data of images.
The app also allows users to edit photos without losing quality in android.
Quick compress and resize a photo by using the last used settings.
It allows users to decide the quality of the compressed image.
Pros:
While using Photo Compress 2.0, you will notice no decay in the image quality of the compressed imager.
There are certain editing features of the app you can enjoy free of cost.
This app is compatible with Android 3.2 and up that offer, you high-quality photos while reducing image file size.
The app can easily resize the photos in a batch.
You can save your data and resize image in kb that make easy to store it in your device.
Cons:
If you want to enjoy the unlimited editing features of the app, then you have to get the paid version of the app.
If you are one of those people who love to share captured images on several social media platforms but the large photo size does not allow you to do so, then it is beneficial for you to install Reduce Photo Size app on your device.
This app can help you resize your photos in the best effective manner and you will get processed image in kb that make easy for you to upload the picture on several social media platform.
Features:
The app can resize your photo that makes it easy to store them in your device's memory without affecting the quality.
The app is compatible with Android 3.0 and up.
You can use the app to crop and rotate photos.
Pros:
It is free of cost to use this app and you will enjoy the quality image resolution in lesser file size.
You can use the app to reduce image file size and also able to enjoy its amazing features.
Cons:
Reduce Photo Size keep on displaying several annoying ads that can distract you while editing.
The app has to ability to resize only a single photo.
Photo & Picture Resizer is one of the most effective and easy solutions for you to fulfill your picture resizing needs.
The app never reduces the quality of the image and allows you to get the desired size of a photo that accomplishes your needs. There are lots of users who use this app and are happy to enjoy the various features and benefits of this app.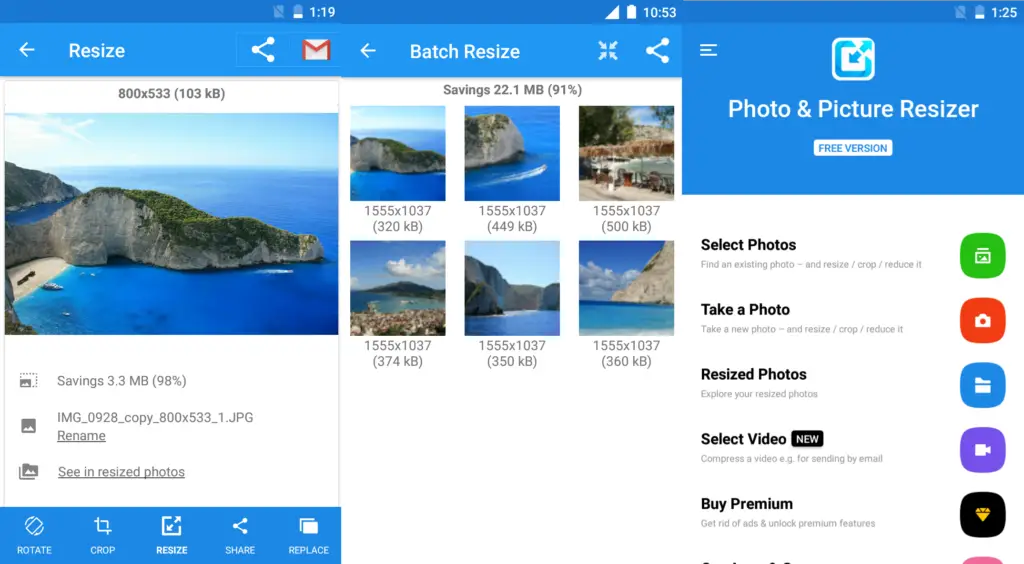 Features:
This app can define custom photo resolution.
You can browse images by gesture in the app.
The app allows you to direct social media sharing of pictures that save you time.
The app is compatible with Android 4.0.3 and up.
Pros:
The app has the batch image resizing ability, so you can save your time and effort in editing single pictures.
By using the app, you can easily send your resized photos directly to the web forms and social media platforms.
This app is available for Android users free of cost.
This app has a user-friendly interface so you can easily resize the image without losing quality in a simple process.
You do not have to save resized photos manually, the app allows them to save automatically in a separate folder.
Cons:
The app does not support resizing and cropping a photo at the same time.
Pixlr Express is one of the most popular and effective photo editing apps. It can reduce image file size and allow you to enjoy a better quality photo in low size.
This app is loaded with lots of amazing and outstanding features, utilities, and effects that allow you to fulfill your photo editing needs. There are lots of users who enjoy using this app and have satisfied with its features.
Features:
Pixlr Express has over 600 effects for photo editing.
The app is no limited to edition as it allows the user to crop, rotate and resize the photos.
It allows the user to advance editing tasks such as adjusting photo color, red-eye effect, contrast, and brightness.
This app is compatible with Android 4.0.3 and up.
Pros:
It is free of cost for you to download and enjoy the amazing features of this app.
Even if you are a beginner, then you can easily use this app with ease because it has an interactive UI that helps to edit heavy images.
You can also impress your friends with the amazing photos that you collect with the help of the special effects of this app.
By downloading this app, you can enjoy several features and high-level editing capabilities on your smartphone.
Cons:
You can only resize one image at a time.
Are you looking for an easy and effective solution to resize your heavy image on your Android device? If yes then choosing Image Easy Resizer & JPG-PNG is the ideal option for you.
It helps you not only to change the size of your photo but also helps to rotate photos and change the image formats.
Lots of people who want an easy solution to resize images prefer this app and visit the online platform to download the app. Here are some features, pros, and cons of this app that help you know better about it.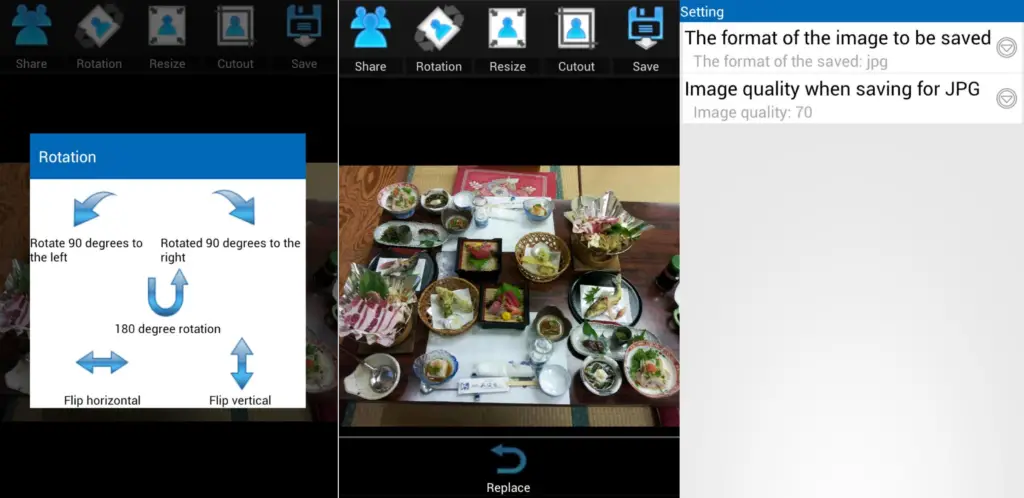 Features:
This app allows the user to change the image format and rotate the image.
The app is user-friendly as you can access various effects and features of the app with few swipes.
The users can define the custom file size to accomplish their needs of the specific size of the image.
The app allows users to choose between the variable aspect ratio of image resizing and the fixed aspect ratio that fulfills their needs.
This app is compatible with Android 2.3 and up.
Pros:
You can easily resize multiple pictures at the same time that allows you to save lots of time and effort.
It will be fun for you to edit and resize your image with the help of this app.
You can use this app free of cost as you do not have to pay anything to download this app.
As a user, you can enjoy several amazing and outstanding features of this app in a very easy and effective manner.
Cons:
Sometimes, the user has to deal with unnecessary ads.
Conclusion
All the above-mentioned apps have lots of amazing and impressive features that you can use to resize images without losing quality to fulfill your needs.
These image resizing apps offer compatibility with almost all the latest Android phones. So, it becomes very easy and simple for you to edit your beautiful images immediately and you can also share them on social media to impress your friends.
Most of these apps are available free of cost and you can enjoy their amazing feature just after downloading them to your device. Sometimes, you can also have to comprise with the unnecessary ads.
So, make the right decision and choose the best app to reduce image file size and to edit your picture in the best effective manner.
Must Check