A few years ago there wasn't much hype about video content but the popularity of YouTube, Instagram, Tik Tok, and other video sharing apps made video contents go viral in no time and people found it entertaining. If you are one of the creators then you know how important it is to edit and produce quality videos. If you create videos on the phone then you need a good video editing app to ease the task.
Text-based content can't beat video-based content since a video may be entertaining, educating, or maybe a tutorial, as per science people learn more and fast by watching rather than reading.
So the video contents are making a big impact everywhere.
If you are also the one who do create video content or want to create one but don't have costly software for Computer, then no need to worry your Android device can do a lot.
You can create amazing videos using your Android device itself, so there is a desperate need to understand what to look for in the best Android video editing apps.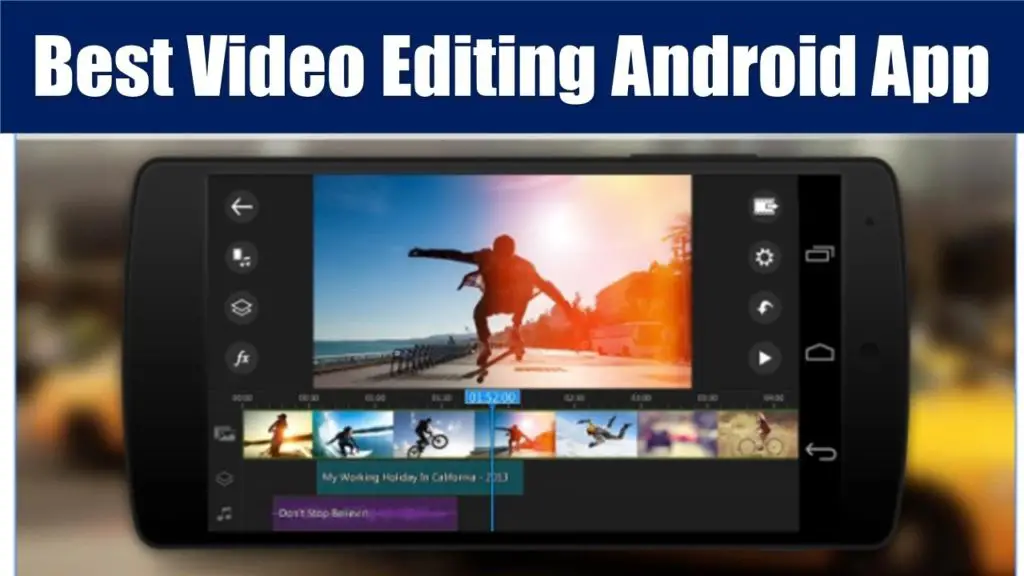 [toc]
What's video editing, anyway?
Video editing is the art of creating eye-catchy & information-rich visual content that you cannot overlook. You might have a couple of dozen subscriptions to fantastic YouTube channels yourself, so you know what we're talking about.
A brilliant video editor knows how to assemble sound effects, cooler graphics, and most importantly, assimilate numerous video clips to produce one final output that is worthy of your time… and entertaining too!
Video editing is a lot of work but it is not at all boring! So, if you are aspiring to be a professional video editor, you might want to start off with this mobile video editing software for Android.
Note:
The below-mentioned video editing apps simplify your visual content creation tasks by making it practical to do it on your smartphone.

Once the content is to your liking, you may publish and share it all around.

Some of the most daunting tasks performed by these mobile video editors include audio-visual effects, interactive stickers, video splicing, and much more.
10 Best Free Video Editing Apps For Android
Now let's check the top Android video editing apps that are free or offer a freemium model. These apps can help to create amazing videos which would stand out from the crowd. Keep in mind the best tool won't create the best video, it is up to you and your creative ideas, more you practice better you would do.
The list goes as-
1. Adobe Premiere Clip
Adobe Premiere Clip is a part of the amazing Adobe family and a free Android video editing app.
Quite easily so you are able to add videos from your phone or cloud services and save them for later use or share across social media.
Pick a project and let Premiere Clip's 'Automatic' video editor do the magic for you. It adds an upbeat soundtrack and makes it ready.
If you have recorded a good video without shakes and blurs, focusing on the subject then an automatic video editor would create a wonderful video with the best suitable music along with the music sync.
Though you can adjust its pace, change the order, and pick a different tune.
Alternatively, tap 'Freeform' and trim, splice, add effects, slow-mo, and more customization options yourself.
This video editing app gives you total control over your video and you would be surprised at how accurate it is.
There are no annoying Ads or un-necessary upgrade signs so you can work at your own pace.
Use Adobe Premiere Clip to make your visual art more vivid with color improvements, shadow effects, transitions, alter the speed and adjust exposure levels.
Save your video to the gallery or on cloud storage or can share it on social media.
It's a complete package that will not make you want to switch over to any other software. It syncs across devices and allows you to carry forward your work seamlessly.
Using Adobe Premiere Clip you can create videos without a watermark.
2. KineMaster
KineMaster is quite possibly is one of the best mobile video editing software out there, maybe a notch above Adobe Premiere Clip in certain aspects!
While being free for unlimited personal and non-commercial usage, KineMaster also offers monthly and annual subscriptions for further enhancements.
Here's what you get with KineMaster even if you don't want to pay.
Multiple video layers, images, effects, overlays, stickers, & handwritten texts.
More effects, overlays, stickers, and royalty-free music downloadable from KineMaster Asset Store.
Precise frame-by-frame trimming.
Instant preview.
Hue, brightness, and saturation controls.
Audio filters, including voice changer.
Blur, mosaic, and other effects.
Many animation styles.
Video speed control – Slow-Mo & fast mode.
Precise volume control.
Transition effects (3D transitions, wipes, fades, and more).
Various themes, animations, audio-visual effects
Real-time video and audio recording.
Share on YouTube, Facebook, Google+, Dropbox, and more.
It is the most popular among professional video editors like YouTube personalities because it's built for creative and inspiring people who seek an easy-to-use service like KineMaster.
You get engaged with this app from the get-go. An in-app tutorial explains the whole environment on your first execution.
This mobile video editor makes it easy to create an apt title for your new project. Thereafter, pick a video available on your smartphone for editing and include photos at the same time.
Classify your contents and tap on edit. Spice up and play around with effects like calligraphy, personally customized audio, handwritten texts, opening soundtrack, and stickers among other marvelous tricks.
KineMaster has a versatile interface packed that you need in an efficient mobile video editing software.
In the free version of KineMaster, you would get a watermark on the produced videos. To remove the watermark from KineMaster you have to buy the premium plan.
3. PowerDirector Video Editor App
PowerDirector by Cyberlink is yet another energized free Android video editing app.
Just like in the PC/Mac version, the PowerDirector Android video editing app also offers multiple track timelines with free video effects, slow motion, reverse video, voice-overs, and action movie effects.
The new Chroma Key feature allows you to produce 4K movies to share on social media.
Pick a video on your smartphone and start editing right away with the full HD movie maker.
Give it stunning video effects, smooth transitions, rotate, split, trim, add FX, transitions, or an audio tune.
Some of the awesome highlights of this mobile video editor include:
Sleek timeline editing interface using powerful video editing tools.
FX editing, add effects, audio editor, photo-video editor.
Chroma key selector allows you to create transparent video layer effects.
Blue and green screen filters.
Picture-in-Picture video overlay, pic and video collage with background music.
Use a photo-video editor to adjust brightness, contrast, and saturation.
Rotate, split, trim, and crop to create dazzling effects.
Share the final work with everyone on social media by exporting an HD (720p), Full HD (1080p), and 4K resolution videos.
Copyright your content by adding a free watermark at the end of video editing.
4. ActionDirector Video Editor
Another genius invention by Cyberlink is the ActionDirector Video Editor that lets you record & edit videos and also facilitates applying video effects.
You can edit and crop videos, add music to videos, use the built-in effects for videos and make them look industry-grade.
Another cool feature is the Ultra HD 4K video editor for Android devices.
Some notable features of this mobile video editing software are listed below.
Create a publishable video in minutes. Record your video and begin editing right after.
Add video effects, color, brightness, contrast, and saturation.
Record video and add music from your phone library.
Trim, cut, splice, and apply video filters to each clip.
Add texts, animated stickers, and titles with shadow and border effects.
Add slow-motion and fast-motion effects to your videos.
Share videos in Ultra HD 4K resolution to social media networks and messaging apps.
Works with Android 4.3 and above versions.
5. AndroVid
If you need a convenient tool that can deploy multiple tasks to edit videos then AndroVid will fit into your requirements.
This is also one of the best android video editor allows you to add background music, insert effects, or animated text for personalization.
Another advantage is that its interface is straightforward and easily understood.
Hence, this mobile video editing software can really come in handy, especially for those who have little practice with video editing tools.
At the same time, seasoned video editors should also keep AndroVid as a backup on their Android smartphones.
If you are in need of a well-structured, simple, and ready-to-go app for your videos.
6. Video Editor (By WeVideo)
Don't let the simplistic name fool you! Video Editor has been featured on popular Tech Magazines like TechCrunch, The Next Web, Wired, CNET, and many others.
Video Editor by WeVideo allows you to add photos and videos from your phone gallery. Or you may capture a fresh photo or record a new video from within the app.
There are over 30 unique video themes and enhancement filters that allow you to make your video look awesome. With smooth skin to multiple colors and transitions can help you to correct haze in your videos.
Also, give voiceover to videos recorded with the mute on, re-arrange clips as per your liking, including emoji stickers to videos, and finally, publish in HD.
Create an account so you have access to all production material on the WeVideo Servers. Log in and continue to edit your videos at any time later.
To remove the watermark from video you have to upgrade to the premium version.
7. VidTrim
Yet another free Android video editing apps, VidTrim has been around for a while. Its latest update allows you to organize the video contents on top of offering impressive features that you have become used to.
Outstanding features of VidTrim are as follows:
Trimming, merging, frame grabbing, video effects.
Extracting audio and converting to MP3.
Transcoding (compressing and convert to MP4)
Easily trim any part that you don't need. Often when you record at length, most of it goes to waste. VidTrim is astute in this aspect because its primary function is to trim long videos.
It takes only three simple steps to conclude the whole process. This makes VidTrim a 'time saving' and an ideal tool for busy video editors.
8. VivaVideo
Perhaps the most popular tool on the list with over 400 million users worldwide is VivaVideo. It's a video and photo editor app with features like multiple clip imports, sound effects, scenes, music library, stickers, themes, and a lot more.
Besides the slideshow-making tools, regular video editing tools, this mobile video editor brings lens mode such as basic, music video, selfie, facial effects and live to add filters to scenes and images.
There's also Picture-in-Picture to create a video collage and screen recorder.
Capture the best moments on camera and let VivaVideo calibrate your videos with a handy performance of two functions: Recording & Video Editing.
You can use the multiple capture option such as video with music or FX & slow & fast motion. This is fully matchable with extra elements including stickers, animation, transition, filters, music, and live music dubbing.
Support for adding GIFs is activated. Keep your YouTube, Periscope, Vine followers, or friends always updated on your recent project by sharing videos to social networks in real-time.
9. VideoShow
With all of the regular features of a video editing app, VideoShow offers young filmmakers the access to beautify videos with texts, emojis, GIFs, FX, effects, photo filters, transitions, sound effects, live dubbing, and much more.
VideoShow is perfect for Snapchat users, you get to use super shooting function where you can add live face effects and motion stickers like bunnies, kitties, puppy eyes, enlarged eyes, charming lips, smoothing skin in video, facelift, eye-bag removal, etc.
It's worth trying an intelligent editing app that adds fun elements to the whole process. You can choose from stickers and hand-drawn drawings or search and download more themes, stickers, songs, and items to continue your project smoothly.
10. Magisto Video Editor & Maker
Magisto Video Editor & Maker is increasingly used by social media marketers, professional YouTubers, video advertisers, & event promoters.
This should tell you something about the efficiency of Magisto.
The Pro features of this app unlock a whole set of options perfect for "Viral Marketing." You also unlock longer HD quality videos, a commercial music library, adding logos and captions, advanced video editing, and free video hosting.
The latter hasn't been offered by any of the 9 Android video editing apps so far.
Mostly, Magisto focuses on offering end-to-end business solutions along with personal use.
It's best for making training videos, travel vlogs, sports and fitness, automotive, real estate, and even wedding videos among a ton of other options.
It explains why it's ranked as one of the most modern automated mobile video editing software for Android.
For significant editing, you can automate Magisto to make each clip exciting.
Toward complex tasks, make changes manually for further customization.
Before delivering or sharing, boost your videos by adding a theme and soundtrack.
Explore your video editing skills by using photos in composing the final material.
Bear in mind that numerous new elements can be only employed if you buy them. It's an investment that certainly brings a lot of cost-benefits and productivity.
---
Final Words
Making a video unique is no joke. Therefore, finding the right tool for video editing is the key.
That's why the selection above contains distinct & free android video editing apps that encompass everybody's video editing requirements.
Using these video editors you can edit videos on the go and create professional-looking quality videos for every purpose like YouTube, Facebook, Whatsapp, or any other video sharing platforms in different dimensions.
Which video editor app do you use on your Android device? Let us know in the comments.
Also Read-