Are you looking for iPhone Apps to Lock Photos & videos on your iPhone to keep your secret files safe from your friends and family while they access your iPhone? We often show photos/videos to our family or friends, and they might swipe left or right to check other things.
There are some photos or videos we do not wish anyone to see. It can be complex if many people have access to your iPhone. So, you need some powerful iPhone apps to lock photos and videos in a vault.
However, this can be daunting as many options are available in the market, and most are worthless. So we have taken the responsibility to resolve this issue for you.
This guide will show you some top-rated apps to hide/lock your photos and videos with a password different from the iPhone's. You can use them to keep your private photos and other files hidden. 
Top iPhone Apps To Keep Your Files Secret With Password
We have tested many apps available on the App store to find some great apps to keep your photos/videos private with an additional password. If someone accesses your iPhone with the password, they won't be able to see your private photos or other locked items.
Most apps in the list will work with iOS 13 and above. You can use them on iPhone 7, 8, X, 11, 12, 13, and 14 series iPhones.
1. Stock Photos App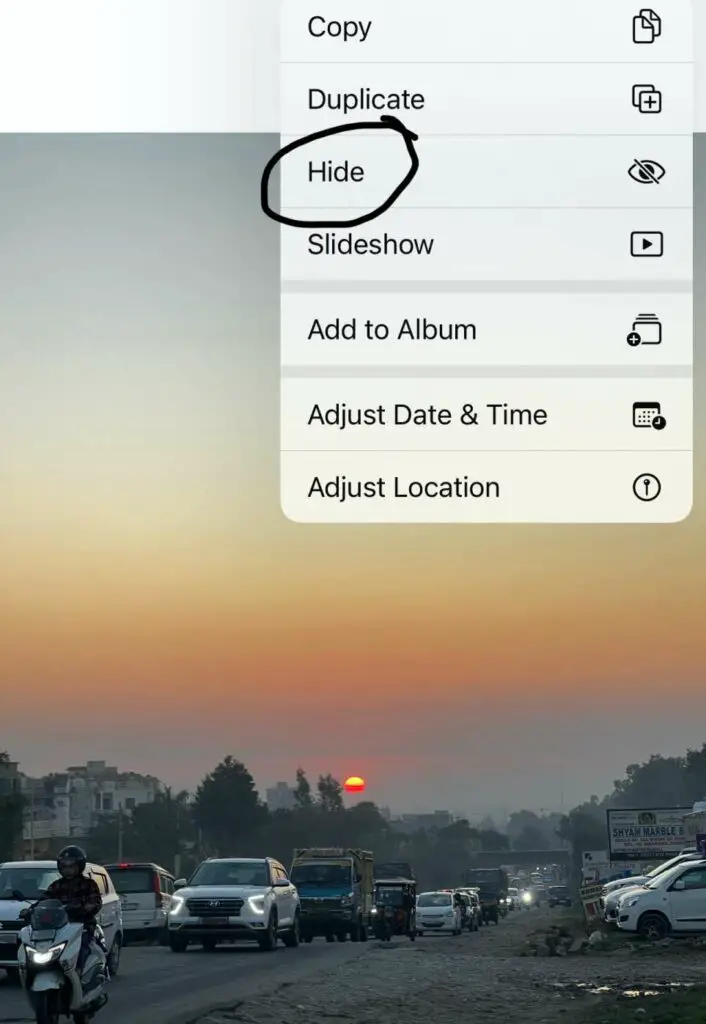 You might wonder how the stock Photos app on the iPhone made its way to the list. The stock Photos app on iPhone is powerful and has many security features to keep your photos hidden. If you do not like any third-party apps having access to your phone, this is the best option for you. 
There is an option to Hide your photos in the Photos app. You have to go to the photo, tap on the three-dots icon, then tap on Hide.  The app will move your photos to the Hidden album. The album is locked and requires FaceID or a passcode to unlock. So, all of your photos are safe and hidden. 
If you want additional security, then go to iPhone's Settings and find the Photos app. Now, turn off the option reading "Show Hidden Album." This will remove the hidden album from the Photos app.
2. Secret Photo Vault: Keepsafe
Keepsafe is one of the iPhones' most famous photo-hiding apps. It has over 70 million users across all platforms and comes with many cool features. The best thing is that it is available for iPhone and iPad, so you will not have any compatibility issues with your Apple devices. 
It offers PIN, touch ID & password protection with military-grade encryption, so all the cherished memories you wish to keep safe are always protected. The photo management tool on this app is simple and easy to use. The rest of the UI of the app is quite intuitive as well. So, if you are looking for a simple yet powerful vault, this is the one. 
Key Features:
Simple interface.
PIN protection.
High-end encryption.
Photo backup.
Custom albums.
Integrated camera for taking pictures and hiding them directly.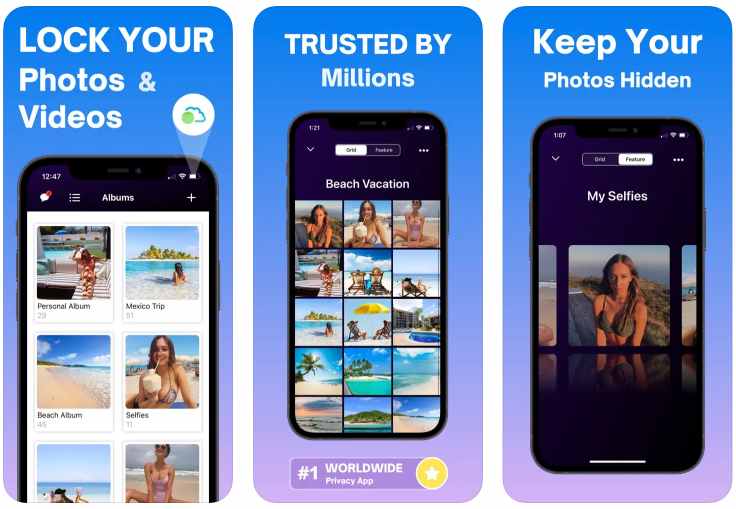 It is a popular choice among iPhone users to keep their photos hidden. It is available for free on the App Store. The privacy features of the app are what separates them from many. They help you to keep your photos, videos, apps, and passwords hidden without having to access them. 
This way, all your data is only yours to see, and the app doesn't take any part in it. You can set up a PIN or FaceID authentication for the app to protect your hidden data. Also, the app has a private browser that you can use and does not record any data.  
Key Features:
It does not access your personal data.
Built on zero-knowledge security architecture.
PIN passcode and FaceID security.
Built-in private browser.
4. Private Photo Vault- Pic Safe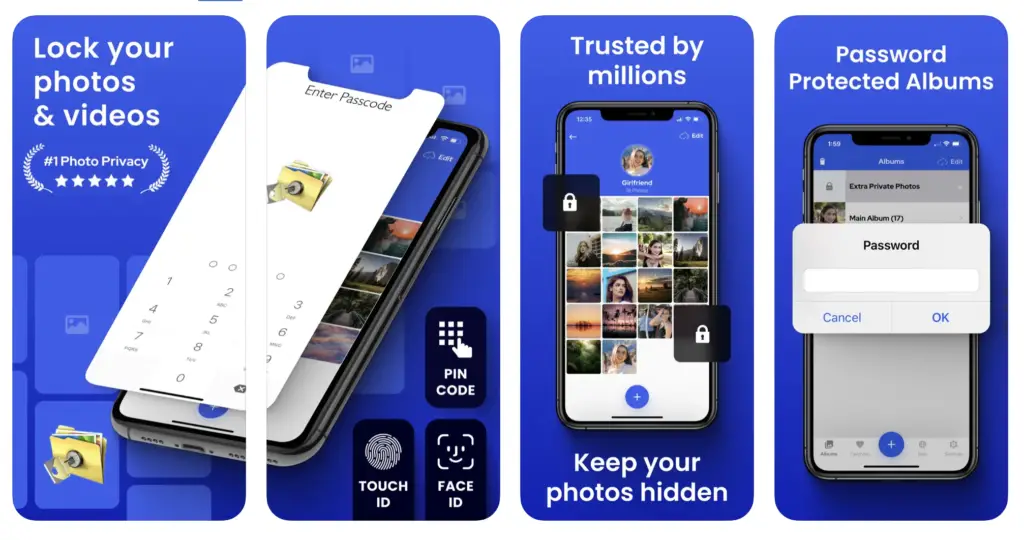 This is the perfect option if you want a simple app with all the necessary features to keep your photos and videos safe and hidden. The only way to get access to the app is via a password. It even gives you break-in reports along with GPS and photos of the person trying to access your data without authorization. 
The app also allows you to import and export photos from the Photos app. Then it also supports iCloud syncing, and you can even create albums. Overall, it is a powerful app with many cool features, and you can try it. 
Key Features:
Offers PIN, password, and pattern lock.
Intruder selfie.
Decoy password.
iTunes syncing.
Wireless photo transfer.
5. Secret Photo Album – SA
Secret Photo Album is a feature-packed app to hide media on your iPhone or iPad. There are multiple ways to protect your photos on this app, as you can select from a PIN or FaceID/TouchID. The app also has encryption to safeguard your photos. You can even set up a fake PIN to fool your family or friends. 
It also has break-in alerts; if someone enters an incorrect PIN three times, it locks the screen. It has a built-in media player and a photo app that allows you to take photos and videos. So make sure to check it out.  
Key Features:
Secure cloud backup.
Break-in alerts.
Touch/Face ID and PIN protection.
Encrypted vault.
Custom themes and album covers.
Download the Secret Photo Album
6. Safe Lock – Secret Photo Album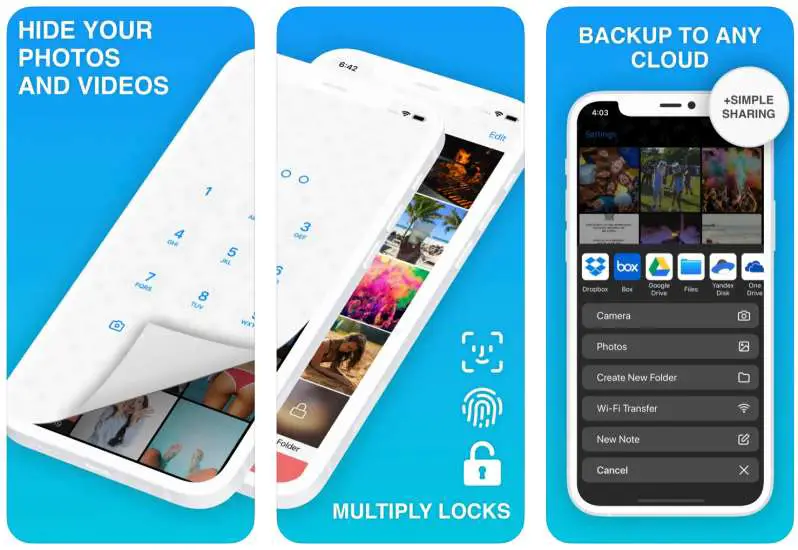 This vault takes things to the next level by adding more features to make it a robust privacy app. It can not only help you hide pictures, but it also allows you to manage all of the essential documents. It has a lot of authentication methods, including FaceID, TouchID, dot lock, pattern lock, and alphabetic lock. 
Safe Lock also has cool features like Wi-Fi file transfer, slideshow viewing, break-in reports, etc. Furthermore, the app integrates with all primary cloud services like DropBox, Google Drive, Yandex Disk, iCloud, and Box. So you do not have to worry about anything. 
Key Features:
Secret camera.
Wifi transfer.
Password recovery by email.
7 types of authentication methods.
Customize the app icon.
7. Vault: Hide Photos & Videos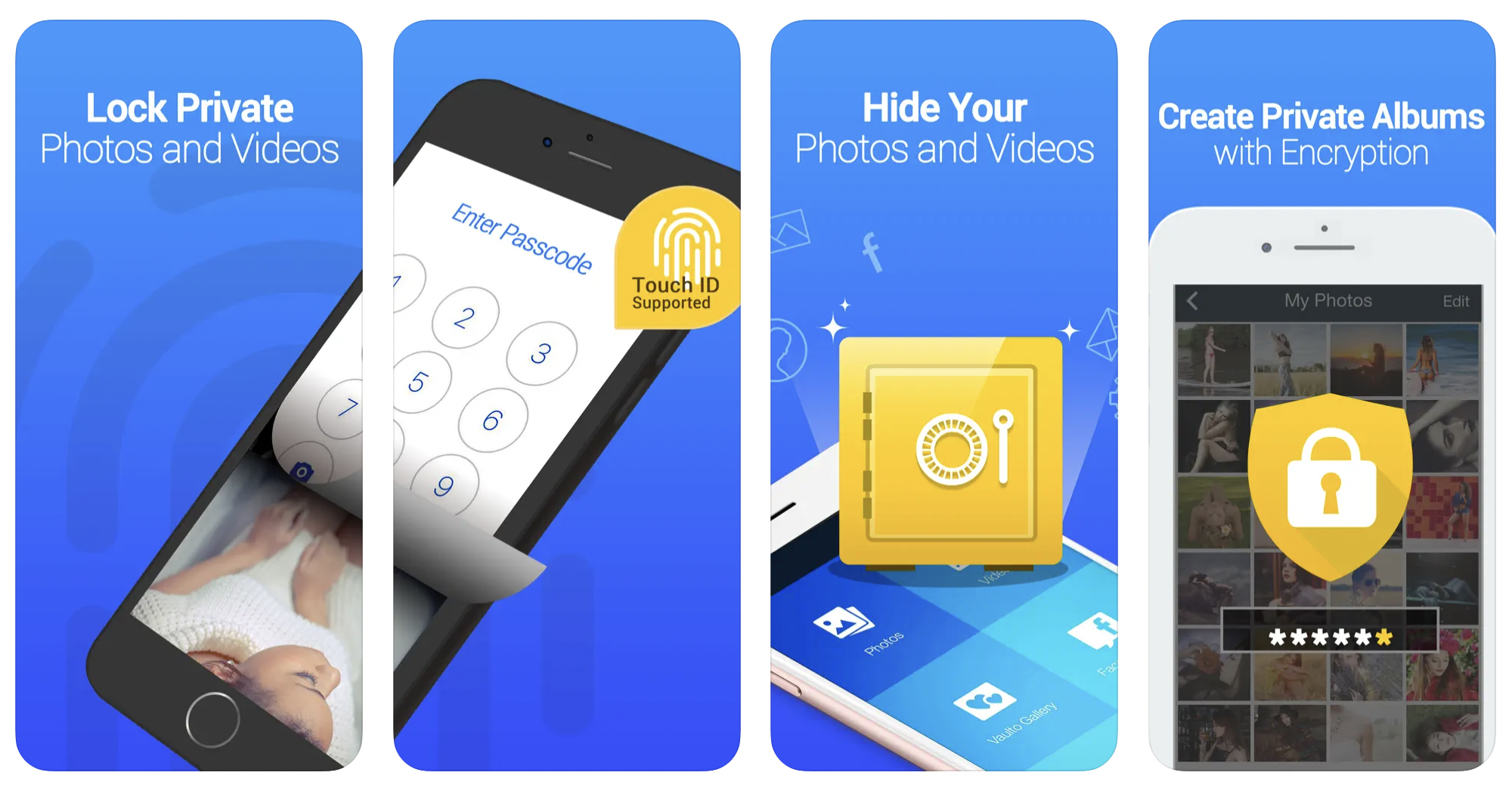 It is not as feature-packed as some of the other apps on the list, but it does a great job of securing your secrets. The app's interface is seamless, and you can learn it quickly. Importing all of your photos and videos into the app is a quick process. 
Then, you get instant encryption for all the imported files. It also has a private cloud service that can keep your photos safe. Like many other apps on the list, this one also has break-in alerts and captures photos of the intruder.  
Key Features:
Storage space encryption.
Password, touch & face ID authentication.
App disguises itself as a camera.
Intruder selfie.
Vault will exit when you face down the screen.
8. Secret Photo Vault Lock Photos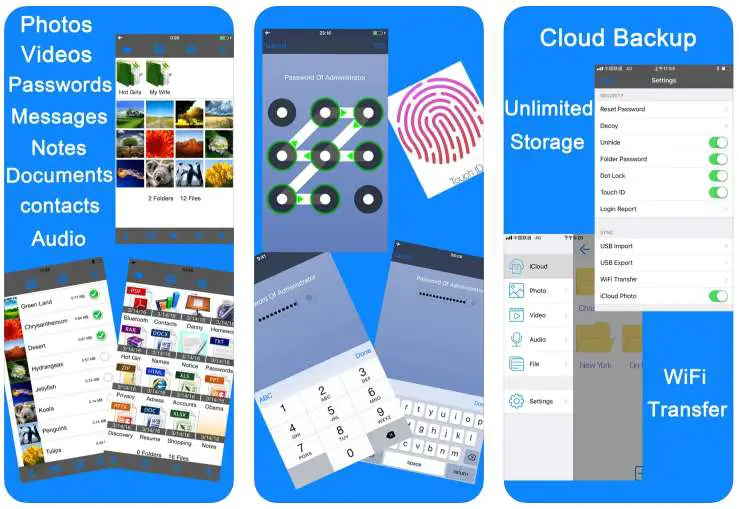 It is a perfect option for people who want a more flexible app to hide their photos and videos. The app supports many file formats, including jpg, png, bmp, gif, tif, tiff, jpeg, mov, mp4, m4v, mpv, mp3, aiff, and wave, pdf, doc, ppt, etc. So you do not have to worry about which files to keep. 
You can easily create many folders and keep all of your files separately. The app also has a feature to USB import/export multiple files from/to iTunes File Sharing, which allows seamless management. So make sure to check it out.
Key Features:
Support multiple file formats.
Support subfolders.
Password recovery via security Q/A.
Sort by size, date, type, and name.
One password for all folders.
9. Best Secret Folder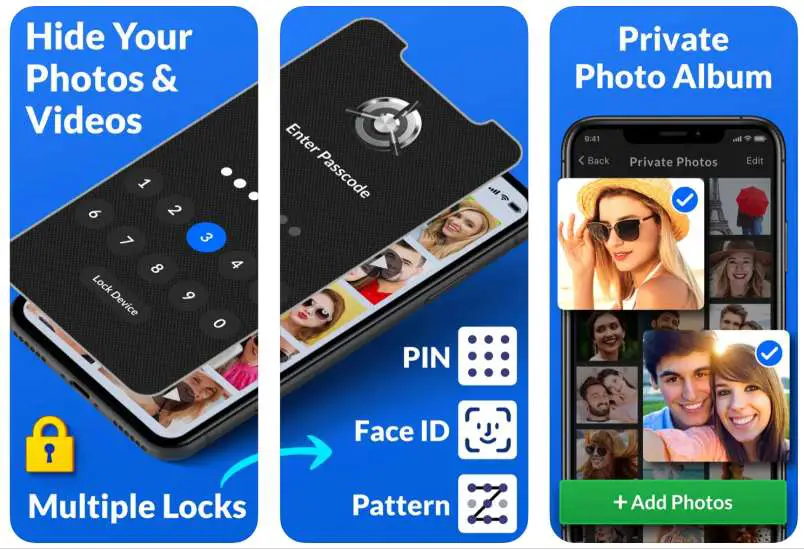 Like its name, it is definitely a top app to keep your photos a secret. A 4.8-star rating by 12.3K reviewers isn't a joke. The app has custom secret folders; you can use them to store your personal photos, videos, and any other media files you want. 
The app is quite discreet in appearance, and it is tough for people to notice. So, you can use this app to hide photos and other files on your iPhone. It uses Passcode, Touch ID, Face ID, and Pattern for authentication, keeping everything safe. 
Key Features:
Keeps a log of successful and failed logins.
Capture the intruder's photos and location.
Multiple security methods.
The app's icon is hard to notice.
Add notes secretly.
10. Calculator# Hide Photos & Videos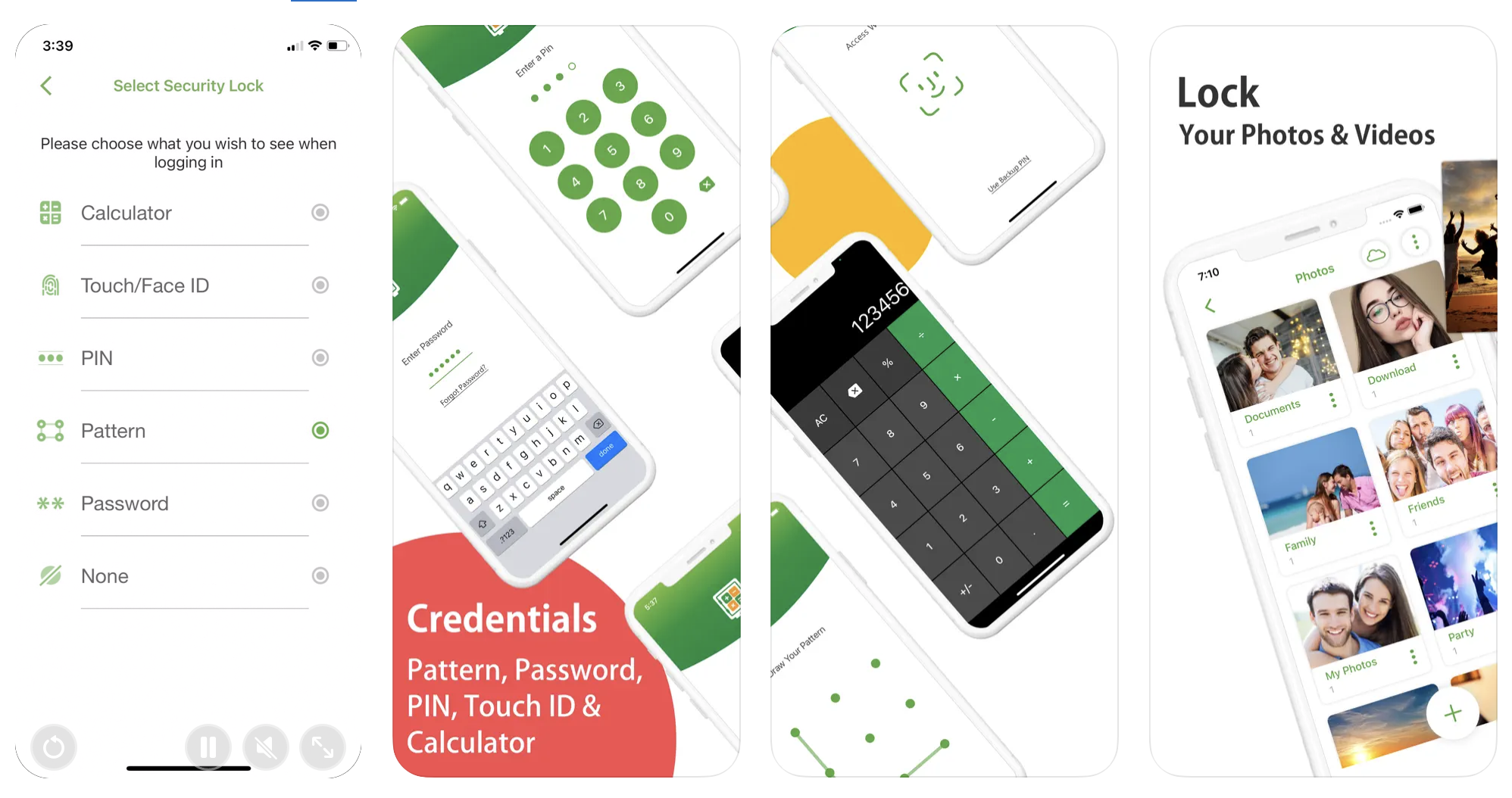 If you look at this app, it will look like a calculator designed to help you with mathematics, but the calculator works as a concealer for a powerful photo-hiding app. This is one of the most significant advantages of this app.
Inside the app, there is a secure gallery where you can keep all of your pictures hidden and secure. You can also store all of your personal notes in this app. Your data is password-protected; you can even enable TouchID/FaceID authentication. The app offers Dropbox integration, which you can use to store stuff on the cloud. 
You have to type your password in the calculator mode, which will unlock the vault with the matching password. It's a great app to disguise itself. The only disadvantage is you are limited to 300 photos/videos in the free version, which is supported by some annoying ads.
Key Features:
Multiple authentication methods.
App disguises itself.
Create multiple folders.
Panic Switch
Built-in browser.
Final Words
iPhone is considered safe, but you might share your phone with your friends or family, and sometimes, we don't want to share our important or secret photos, videos, or documents with anyone. You can use the above apps to meet your requirements.
Some of the apps on the list also allow you to hide documents as well. If you do not want to use a third-party app, using the Stock Photos app to hide photos is also a solid option. We hope this guide helps you find an excellent app to keep your private memories hidden. 
Most apps offer limited features in the free version. You can upgrade to the premium version to unlock all features and lock unlimited photos/videos.
FAQs
Can I lock photos, videos, and documents on my iPhone?
iPhone allows you to hide your photos, videos, or documents in a hidden album. The only problem is you can't have a separate password for the hidden album. Anyone who knows your passcode can access the hidden files.
Which is the best app to lock photos on iPhone?
The stock Photos app on the iPhone is one of the safest iPhone apps to lock photos. But if you want to create different passwords, then you have to rely on third-party apps.
Are photo-hiding apps safe?
If you use a trusted photo-hiding app with good reviews and a privacy policy, then it is safe to use. Still, disable the unnecessary app permissions.
Can I hide apps on my iPhone?
You don't have any option to hide apps, but you can remove apps from the home screen and access them from the app library when needed.
Read More: