Despite messaging services taking over the majority of the conversation methods, people still rely on calls when they want to talk about something important. Most of the calls do not need recording but if you are someone who needs to record calls then this guide is for you. A while ago, Apple introduced screen recording on iPhone but users can still not record calls natively. That is why many users need the best call recorder apps for iPhones.
In this guide, you are going to find the list of best call recorder apps for iPhones, and using either of the apps, you can seamlessly record calls on your smartphone. 
Before You Do
Recording someone while they are on call is not technically illegal but it can be a major breach of the other person's privacy. So before you start recording someone on call, make sure that you inform them and take their consent. 
Top iPhone Call Recording Apps
Recording calls for general talks is not really necessary. However, when you are making a deal via a call, interviewing someone, or just trying to get someone to confess, you need to record the call. In that case, you can use the below listed best call recorder apps for iPhones. 
The very first one on the list is Automatic Call Recorder and it is without a doubt one of the best call recorder apps for iPhones. The thing that makes this app so popular among the users is its user interface. The app is quite simple to use and even people who are not much into tech can set it up and use it. 
Users can record both incoming and outgoing calls with this app so you are covered on all bases. The app stores the recordings in a very organized manner and users also get the ability to edit the recordings. On top of that, you also get support for popular cloud services like Google Drive, OneDrive, and Dropbox. 
Key Features
Easy to Use
Records both Incoming and Outgoing Calls
Support for Google Drive, OneDrive, and Dropbox
TapeACall is another popular call recorder app for iPhones. The app is quite simple to use and all you have to do is tap on the recording button. Just like many other apps, this app also uses the 3-way setup to record calls where the third line is used to record calls. 
The app is reliable and can record clear audio from the calls for both sides. Users can also share the call recordings on social media and can also send them via email.
On top of that, you can save the recordings on Google Drive or Dropbox which can save a lot of storage on your iPhone. The app comes with a 7-day free trial and the annual charges of the app are also quite reasonable given the features it offers.  
Key Features
Transcribe Your Recordings 
Records Clear Audio
Support for Google Drive and Dropbox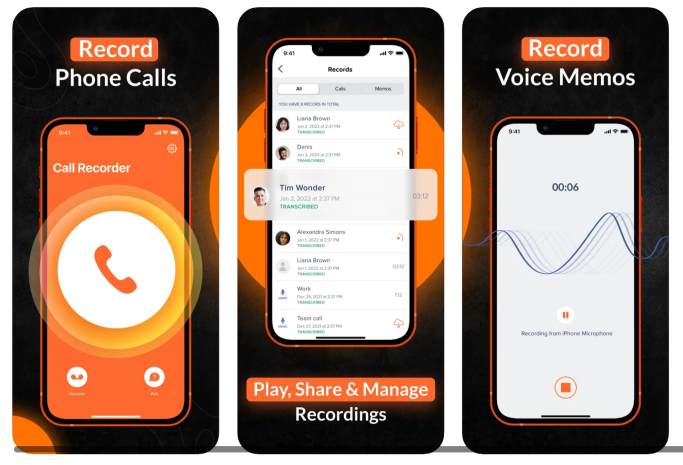 Next up, we have Call Recorder iCall, which is another great choice for many users. Recording calls with this app is just seamless. Just press the record button on the app and then tap on merge and that is how easy it is to use this app.
Just like any other call recording app, this one also uses a three-way setup to record calls. 
Users can record clear audio with this app without any interference. The app offers you a three-day trial period and frankly, it is worth the subscription fee with all the features it offers.
Also, there is no cap on the audio recording duration which is a great feature to have. 
Key Features
Easy to Setup
Clear Recording
No Cap on Recording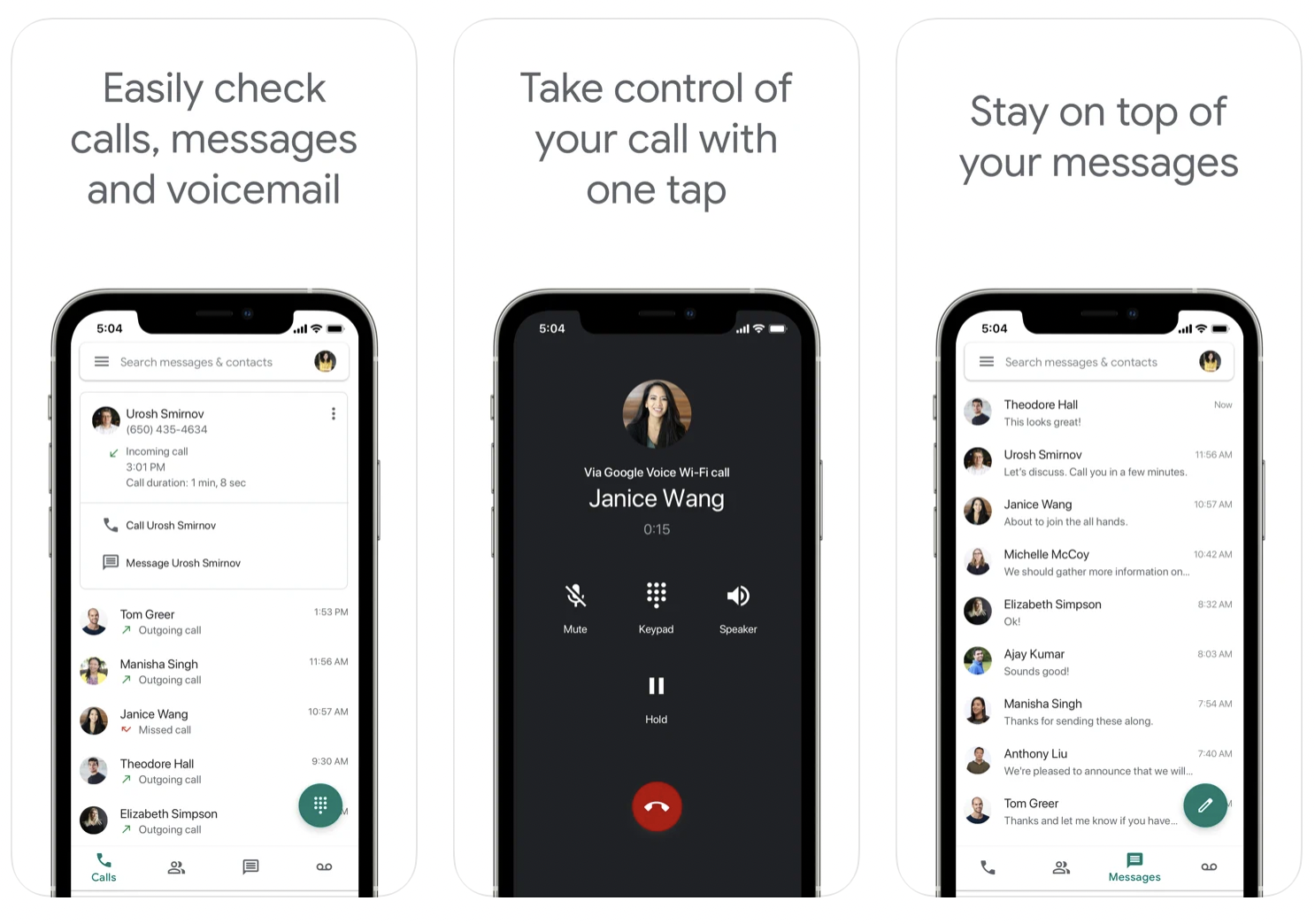 If you are not a big fan of using third-party call recording apps then Google Voice would be a good option for you. Using this app, you can make free calls, texts, and voice mails. On top of that, you can record the calls on your iPhone. 
Not only that, users can use Google Voice to create call logs and block any spam users on the go. The great thing about this app is that you also get syncing across all of your devices which makes everything so easy to manage.
With a powerful search option, you can easily track all the call recordings. Then you also get the powerful Google capabilities such as transcription. For safety, your data is securely backed up so it is a win-win situation. 
Key Features
Syncing Across All Devices
Transcription Feature
Secure Backup
Rev Call recorder is another popular and free call recording app. It is mainly aimed at business owners and professionals who need call recordings for professional purposes. 
There is no cap for the duration of the call recordings and this app offers you to save your recording to your phone as well as on your cloud. On top of that, users can share call recordings via email, dropbox, SMS, etc.
Key Features
Great Customer Support 
New Features with Regular Updates
Record calls in just one step
Call transcription service
Record incoming & outgoing calls
Call Recorder Lite is an easy-to-use app. It also uses the same three-way call recording setup that the other apps use. 
Using this app, users can save their call recordings on their cloud platforms like Dropbox or Google Drive. Apart from that, you can share the recordings via emails, iMessage, and Twitter. 
The free version will record unlimited calls, however, in order to listen past the first 60 seconds, you need to buy the in-app upgrade.
Key Features
Easy to Use
Unlimited Recording
Cloud Support
Finally, we have Call Recorder IntCall to record national or international calls. The app works a bit differently than the rest of the apps on the list. To record a call, you have to dial a number using the built-in dial pad on this app. 
Then you can also save your recordings from this app to your Google Drive or Dropbox cloud storage. Although, the app is not that great for recording incoming calls as there are too many steps to be followed.
The downside of this app is that it is not free, you can buy credits or take a weekly subscription.
Key Features
Cloud Support
Clear Recording  
Call recording saved on your Phone
Recording calls might help you in different ways, especially when you are doing any business deals. Make sure it is legal in your country and let the other party know the call is being recorded.
Above are some of the top iPhone call recording apps, most of the apps on the list are free to use and offer a lot of functionality. Some apps might ask for in-app purchases to unlock the full functionalities.
Read Next