Email tracker or mail tracking system is mostly used by companies, organizations, and bloggers to check the open rates, mail delivery status, tracking email opens, and many other data curation.
Most of them use third-party services like MailChimp, Aweber and other kinds of email service providers and few of them use their own email servers.
But for individuals, mail tracking isn't offered by email service providers like Gmail.
Mail tracking comes in handy when someone is not replying to your email and giving excuses like they didn't get your email or they were not able to check your email due to certain reasons.
You just can't figure out whether they are telling the truth or lying to you, in such cases, you need to check whether your email got delivered and has been read by them or not.
Maybe they are ignoring your email, and you are unable to find if they actually read your emails or not.
To come over this problem here is a simple solution to check mail status as delivery and mail open and other useful tracking details.
Track Sent Emails in Gmail Using Google Chrome
To enable email tracking in Gmail you need to have Google Chrome installed into your computer.
Follow these Steps to Track Sent Emails in Gmail–
First, you need to add a Chrome Extension from Webstore, follow this link to download.
This link will take you to an extension called "MailTrack for Gmail"
Now add this extension by clicking on "Add to Chrome"                                                                                                   
Again Click on Add Extension from the popup.                                                                                                                     
Now it will redirect to Mailtrack.io then click on "Sign in with Google"                                                                      
After that, you have to allow Authentication to this extension, just click on "Allow"
At the next step, you have to choose your plan, choose the basic plan which comes for free with unlimited numbers of email tracking.
It will redirect you to Gmail, now you will see a double green tick mark ✓✓ beside Sent Folder.
How to use Mail Track For Gmail
All you have to do is compose a new mail and you will get ✓✓ a mark button in the compose section.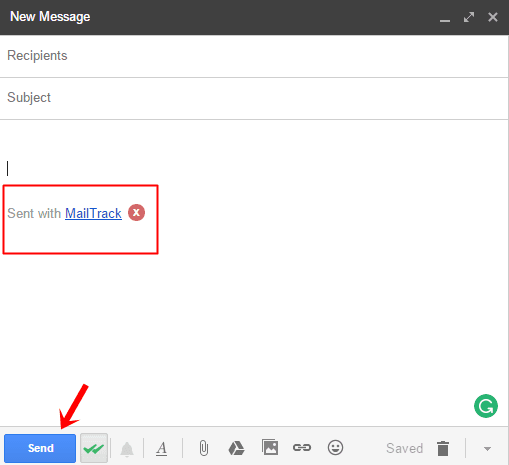 Click on ✓✓ the button to enable or disable tracking.
Compose and send mail to the recipient.
If the mail got delivered you will get a single green checkmark ✓ ✓  in the sent folder along with delivery time.
If the receipt has read your email you will get a desktop notification that the receipt has been read your email on the following device along with the date and time.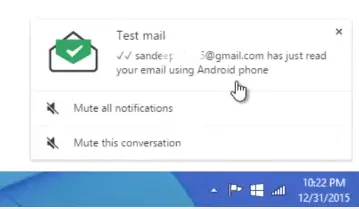 And you will get a double green tick mark ✓✓ in the sent folder.
MailTrack for Gmail offers the following features –
Double-check in your Gmail.
Tracking history (full details after 1st read).
Real-time Notifications on desktop.
Real-time Notifications via email.
On/Off Tracking Controls.
Links tracking inside emails.
Daily Reports of tracking activity.
Send a copy to your CRM.
All the above features are limited in their Free plan but you can also go for their paid plan if you want to remove signature and more accurate tracking without any limitation.
There are other services and extensions available but MailTrack for Gmail did a great job during my test.
Also Read-
Now you can track sent emails in Gmail and if someone reads your mail and not replying to you then you can detect their lies and tell them "You read my mail at this time on this device and you are telling me you didn't get my emails?"