Schedule Emails in Gmail , but Why and who need this mostly ? Lets find out way to schedule an email in Gmail. A business person needs to manage, respond and track emails without investing much time so that he can focus on other things which makes a business person more productive, and people like you and me  who keeps forgetting to wish their loved one on the important dates like birthday or Anniversary. Scheduling an email is a better idea to consume less time to send email to someone at perfect time, you need not to wait for a good time to mail your clients or co-workers.
Scheduling an Email helps you to –
Send emails on later date.
Manage more clients in less time.
Shoot email at perfect time.
Forget about remembering important dates to send emails.
Saves your head getting hit by your loved one's anger.
Schedule email and take a break.
By any mean you want to schedule emails.
So how to do this awesome job ?
Schedule Emails in Gmail for sending on later date.
There are mainly 3 methods to schedule email in Gmail.
1. Boomerang for Gmail
Boomerang for Gmail is an browser extension that adds time-awareness to email and it is available for all major browser like Google chrome, Mozilla Firefox and Apple's Safari it is also available for outlook, this plugin works well with Google Apps for Gmail, means you can schedule your emails for hosted domains on Google mail app also.
You need to download boomerang plugin for your browser from here, it automatically detects your browser and provides you suitable plugin, after download click on add if your are on google chrome.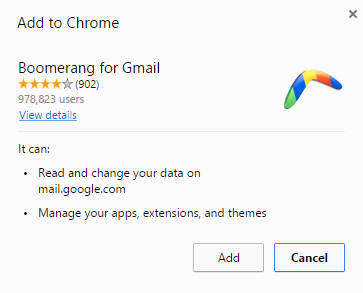 Once added this plugin offers you a Send Later button into compose section of your email like this –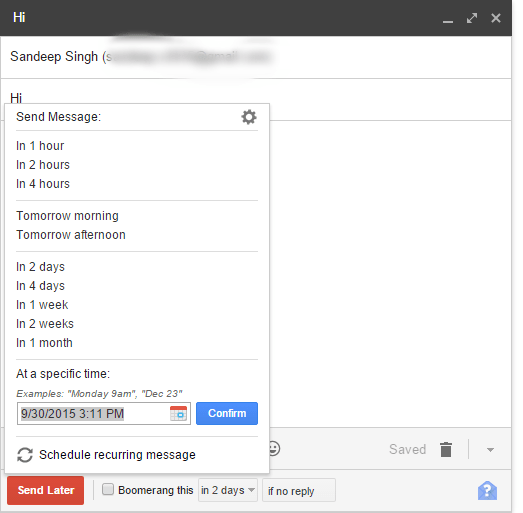 Write your email and hit on Send Later button and it will ask for authentication for your Gmail account, make sure pop up blocker allows such pop up and authenticate boomerang to access your Gmail account for scheduling.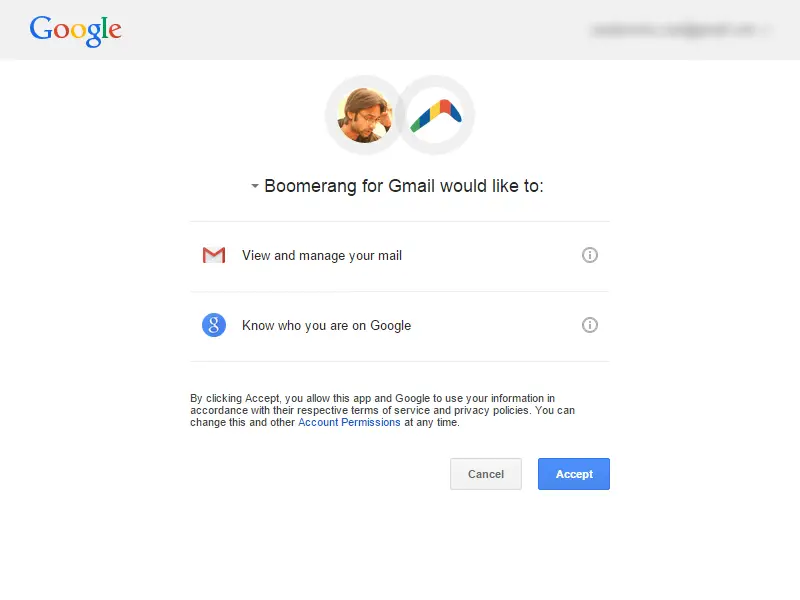 Click on accept and choose a time when you want to send email on later date, it also understand terms like 'tomorrow morning' 'in a week' etc, or you can  simply select date and time using date picker, after selecting date and time just hit Confirm button and it will save email in draft to send on later date.
You can always Reschedule, edit and cancel the schedule emails from Boomerang folders.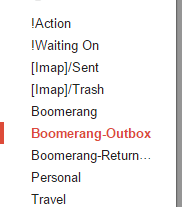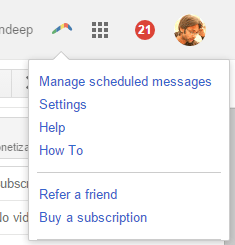 or you can manage your scheduled emails directly from your boomerang account.
2.  Right Inbox
Right inbox is another browser plugin which lets you schedule emails to send on later date in Gmail, this plugin is too available for Google chrome, Mozilla Firefox and Safari browsers.
Download  Right Inbox Browser Extension
After adding this into browser log in to your Gmail account and it will ask you to continue the installation once you click on Continue it will ask for permission, just accept and allow the authentication. After that compose an email and hit Send Later Button.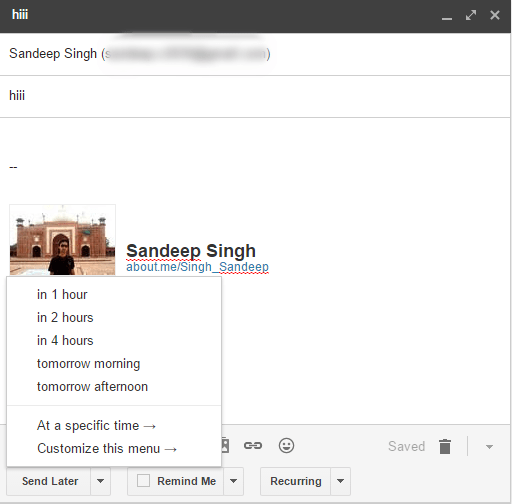 and it will offer you option to choose date and time pretty similar to boomerang, once you scheduled emails will get saved into draft folder. You can always reschedule, edit and cancel emails from draft folder, like boomerang it does not create additional folders for scheduled emails.
3. Amit Aggrawal of Digital Inspiration wrote a google app script which lets you schedule an email using Google Sheet, all you need to do is –
Copy Gmail Scheduler Script in your Google Drive by clicking on this link.
Click on file > Spreadsheet Setting and select your timezone.
Go to Gmail scheduler menu and authorize this app.
Click on Gmail Scheduler menu again and select Fetch Messages and all draft messages will be imported into google sheet.
Now select the date and time from Scheduled Time column.
Hit Gmail Scheduler Menu and Schedule messages in order to run this scheduler.
After scheduling emails close the sheet and it will send the messages on specified date.
Watch this Video tutorial –

To edit, reschedule and cancel a scheduled email you have to open Google script again and perform required task from there.
So above 3 methods shows you different ways to schedule emails in Gmail, Boomerang For Gmail and Right Inbox offers you limited email scheduling for their free version, you can always subscribe to their premium services for unlimited email scheduling in Gmail.
The third method by Amit Aggrawal is also free for around 20 emails scheduling but it offers you complete privacy because there is no third party involved as Google Script is hosted on you Google Drive, he has also a Premium Version for this with unlimited number of email scheduling.
Also Read. Top 5 Google Chrome Extensions.