Before July 2013 FBI Moneypak virus was able to infect Windows computers, there was no report that this virus is also spreading on Apple's Mac computers, now these days this virus became more strong and able to infect  Mac computers.
Basically, this is ransomware that locks your computer screen and gives you a warning that you were indulged in watching objectional videos & illegal activities.
The FBI Virus is also referred to as the Greendot virus, Citadel Reventon disguise itself as FBI, and if you want to access your computer in the allotted time of 48-72 hrs then you have to pay the penalty of $100, $200, or more using Moneypak Card.
FBI virus on Mac Locks the Safari Browser and gives you a warning, you cannot close safari to exit it.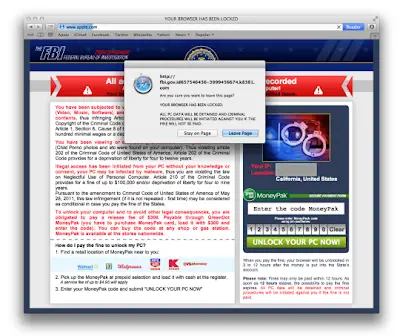 Steps To Remove FBI MoneyPak Virus from Mac Os X.
To remove FBI Moneypak virus all you need to just reset the Safari browser as-
1. Go to the top left corner of the safari browser and click on "Safari"
2. From the drop-down menu click on Reset Safari.
3. Select all the checkboxes and click on Reset.
Watch Video Tutorial to Fix FBI Moneypak virus on Mac-
After Resetting Safari browser runs a Junk cleaner program like
Ccleaner
 to get rid of all the traces into your computer.
Scan your Mac using any antivirus like
Sophos
to remove any suspicious file and programs that would be a virus.
Also Read –