If you are a journalist, musician, or creator, then you always want a voice recorder device handy. You can do all the voice recordings easily on your Android smartphone. However, most Android stock voice recorder apps are not that great. So you need a good voice recorder app on your smartphone. 
In this article, you will find some of the top apps for voice recording on Android. Using these apps, you can easily record with your smartphone anywhere. 
Voice Recorder Apps for Quality Recording
These apps can record high-quality audio in several audio formats. You can try them and check which suits your need the best.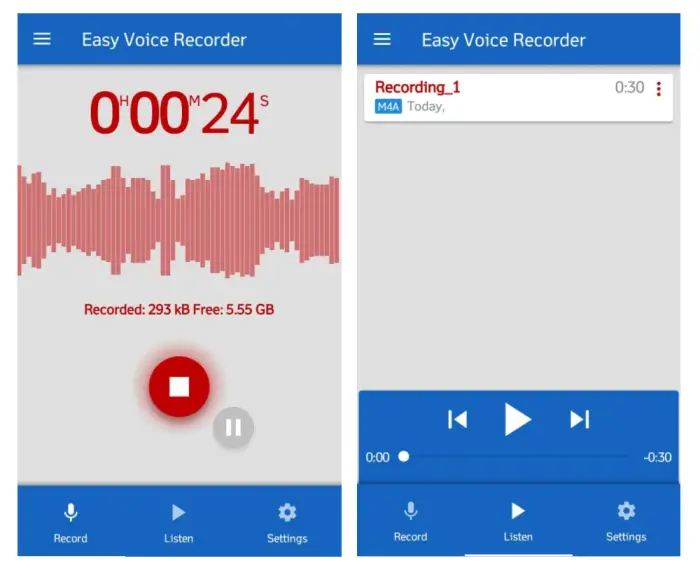 Easy Voice Recorder is made to solve the issues that your stock voice recorder has. It is a perfect app for recording. This app can record music, interviews, lectures, and everything necessary.
The app is super easy to use and has one tap to start recording. It supports many audio formats so that you can have high-quality audio with this app. This is many people's go-to choice for voice recording apps with easy sharing options. Although there is a free version of the app, getting the pro version unlocks many new features. It also gets rid of ads. 
Key Features
Easy to use
Easy sharing option within the app and via emails
Supports Android Wear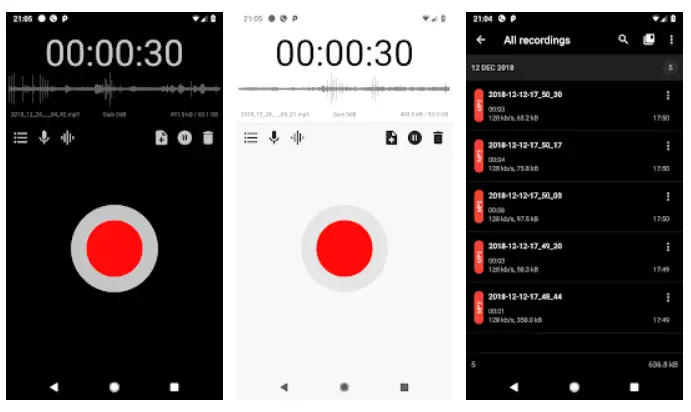 It is another popular voice recorder app for Android. It also provides many powerful options that the stock voice recorder doesn't. It supports various audio formats, including MP3, FLAC, WAV, OGG, and M4A.
The great thing about this app is that it offers cloud integration, so you do not have to worry about sharing options. Not only that, it comes with tons of cool features like playback speed controls, the ability to automatically skip silent parts of a recording, a gain switch, and support for Bluetooth devices
Key Features
Support for a wide range of audio formats
Widget support
Cloud sharing options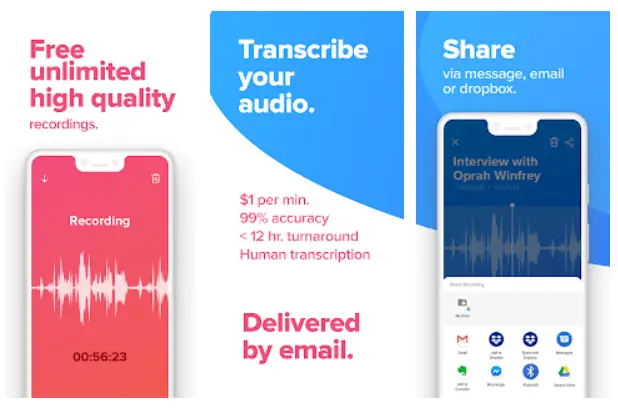 Simple yet effective is how I would describe Rev. It has a transcription service, but that is not what we will discuss. The voice recording app from Rev is just as effective as any app on the list.
The great thing about the app is that it can record audio in the background, which is really useful sometimes. You also get the option to edit and trim the audio recordings. The sharing options are great, and you also get the option to save your audio files to cloud storage.
Overall, it is an entertaining app to use, and if you want a transcript of your audio, you can get that too.
Key Features
Can record in the background
Easy sharing options and cloud storage
Audio transcription ability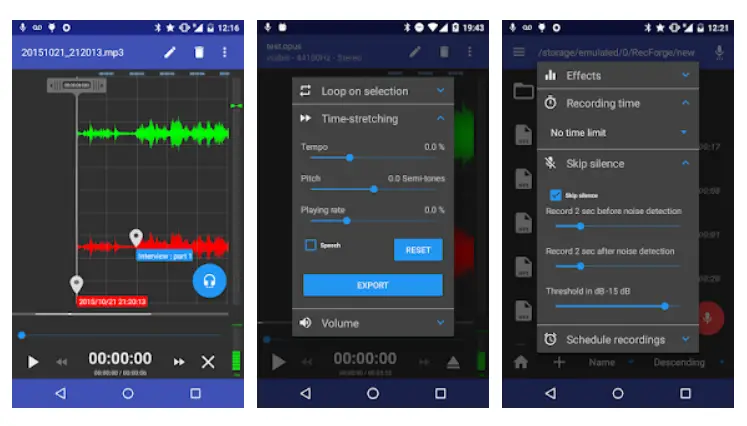 If you are looking for a more sophisticated operation from a voice recorder on your smartphone, then Rec Forger II is for you. As the name suggests, this is more of a voice recorder software giving you more control.
If you are a musician, this is a must-have app for you. It allows you to record audio in mono and stereo. It could save or convert your audio file into multiple formats if that weren't enough. Then there are the easy storage options with on-device and cloud storage. Overall, this is a powerful audio recorder app for Android smartphones. 
Key Features
Runs in background
Can record multiple audio formats.
Records in mono and stereo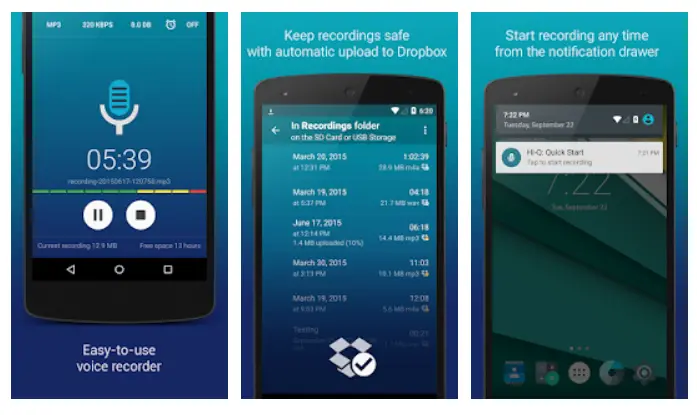 While most audio recorders are fighting to earn that number one spot with extensive features, Hi-Q MP3 Voice Recorder is just a simple and safe choice. It records audio in an MP3 format making it easily compatible.
The app is simple and fun to use, but don't let its simplicity fool you. It comes with some really great features. It has cloud support via Dropbox, widget support, WiFi transfer, gain control, and much more. Along with that, it also gives the option to choose which mic you wish to record from.
With a little charge, you can get the Pro version of the app, which will unlock more features than any free app.
Key Features
Gain control
Ability to select a mic(if you have multiple)
Cloud storage support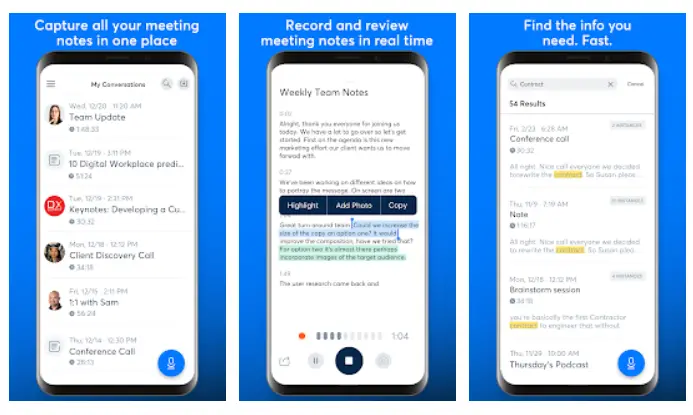 Otter Voice Recorder is excellent for you if you work in a professional setting. For any serious recording services, this is what you should go with.
It provides all the basic recording functionalities like recording, sharing, and playback. Leaving the funny and cute name aside, this app is powerful. The reason why it is great for professional settings is that it comes with a transcription service. Then there are other cool features like cloud storage, cross-platform support, and photos support.
Key Features
Great for professional settings
Supports transcriptions
Great user interface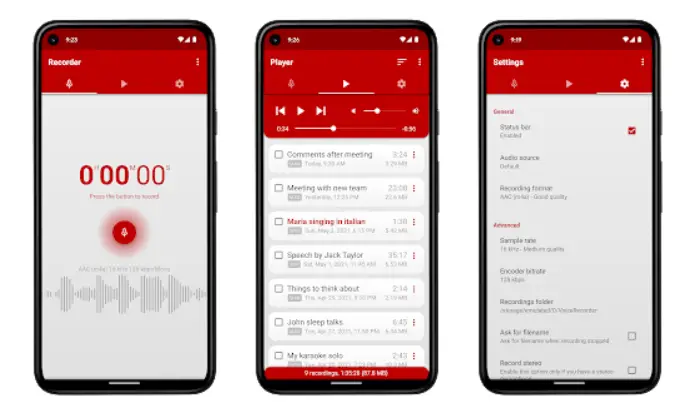 From the name, this might sound like a simple app, but it is not. It is a compelling voice recorder app with a very simple interface. The great thing about this app is that it also supports voice call recording.
It supports 4 Different audio formats: MP3, high-quality PCM (wav), good quality AAC (m4a/mp4), and AMR (3gp). Additionally, you can also change the bitrate of recordings.
Key Features
Easy to use and manage files
Variable bitrate option
Stereo and mono recording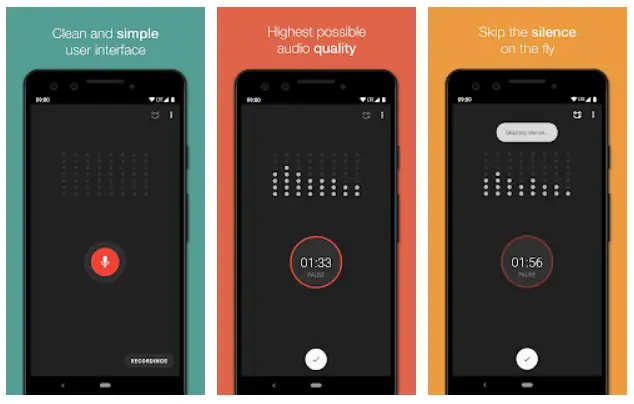 Last but not least, we have Smart Voice Recorder. Just because it is at the bottom doesn't mean it has problems. It is still one of the best voice recorder apps for Android, with 10M+ downloads and a 4.3 Star rating. If you have a smartphone storage issue, this app is for you. 
It compresses the audio files and saves a lot of storage on your smartphone. It has many features like sensitivity controls, adjustable sample rates, etc. The app gets regular updates making it a favorite.
Key Features
Live spectrum analyzer
Cloud storage support
Easy sharing options
So these were some of your Android smartphone's top voice recorder apps. You can use these apps to record yourself or someone else singing any lectures or an interview. Just remember that these are great apps, but the final and overall audio quality ultimately depends on the mic you use for the recording. 
Also, Read: