Is your Android smartphone running slow? Most android phones get slow by the time you use them, it happens due to junk files, low storage space, outdated hardware or software, and memory-intensive apps. You can optimize Android smartphones or tablets to make them faster again. What if I told you that you can download some apps to boost Android performance on your smartphone? That would be great, right?
In this guide, you will find the top 10 apps to boost Android performance for your smartphone. After using these apps, you will feel the performance bump and you will be able to get more tasks done.
Important Thing to Note
Modern-day Android smartphones are quite good at managing RAM and processes. New flagship Android smartphones have around 8-12GB of RAM and with popper optimization, you will almost never feel any performance issues.
However, the older Android smartphones and smartphones with average specs and low RAM are not that great when it comes to performance and memory management.
They often struggle to even keep more than two apps running. As a result, you might feel lag, and sometimes the phones even hang.
So I suggest that if you have a modern Android smartphone with 4GB of RAM or above then you should not install any cleaner or optimization apps on your smartphone. They will only hinder the performance and optimization by killing all the apps altogether.
On the other hand, if you have an old Android smartphone and you feel that it is not working as efficiently, you can use the apps listed below.
How Do These Apps Work?
Your phone will perform slow if its hardware is outdated or if the RAM and storage are too full. Now you can't do much on the hardware part but these apps optimize the storage and RAM.
They do it by killing unnecessary apps running in the background and by cleaning out the junk files from your storage. Once the internal storage is free and the RAM is well optimized, the performance automatically increases.
Top 10 Apps to Boost Android Performance
Try these apps to improve Android speed and don't forget to check the manual way to adjust settings for maximum performance.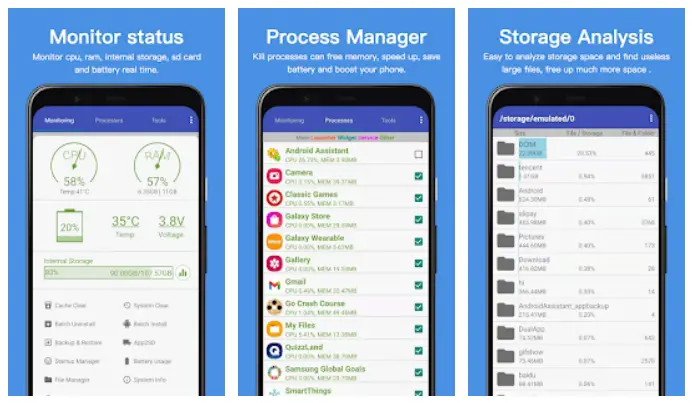 The number one on the list is Android Assistant and it is a very popular app. This app is quite powerful and helps the smartphone run fast and save battery at the same time.
It is one of the best optimizer apps that you can get on your Android smartphone. The app comes with features like app backup and restore, file manager, batch install, startup manager, etc.
Key Features:
Option to monitor the battery use
Comes with a built-in cache cleaner
System cleaner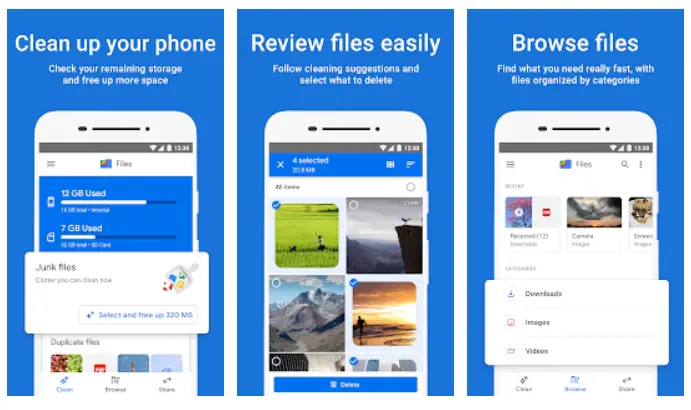 Files is a file explorer app by Google. However, it goes way beyond that. It is my personal favorite app to clean the junk files on my Android smartphone. It finds and gives you a list of the files that you can delete to clean up space on your smartphone. It also allows you to back up your files to the cloud easily.
Key Features:
Free to use
Ad-free
Easy options to clean junk files with just a tap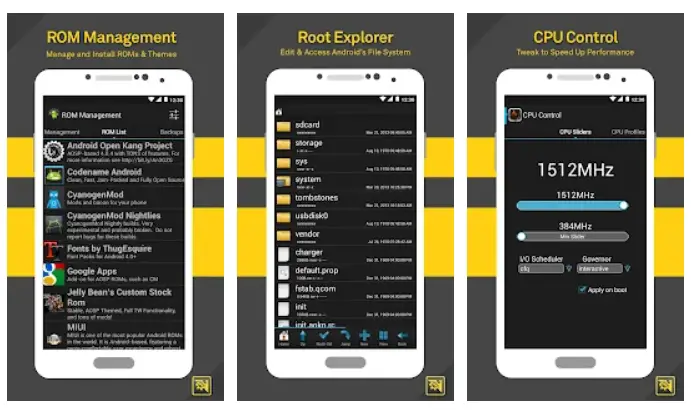 ROM Toolbox Lite is another popular app to boost Android performance. The great thing about this app is that it just combines some great features of all the different optimization apps to make one great app.
You can use the app to backup and restore applications, change system fonts, and manage files. There is also a paid version of the app that unlocks even more features.
Key Features:
Allows users to install multiple ROMs
Gives access to complete Android system
Easily create, manage and restore Android backups.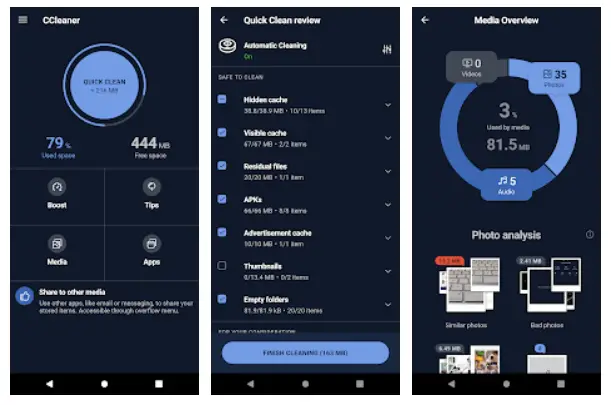 CCleaner is a cleaning software for Mac and Windows. It is available for Android as well and it works great. It cleans the junk from your Android smartphone and frees up the RAM as well.
By doing both, it streamlines the performance of your Android smartphone. The app also suggests what things you can remove from your storage.
Key Features:
Easy to use
Cleans the RAM effectively
Comes with the capability to analyze which apps are using more data, and RAM, and consuming unwanted space.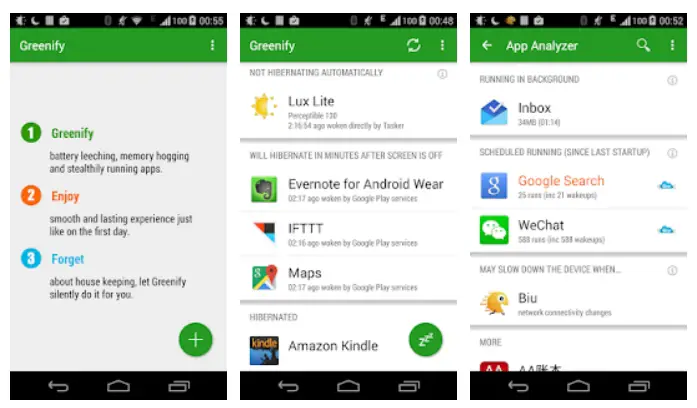 Talk about efficiency and Greenify is one of the top names that come to mind. By using this app, you can actually keep your smartphone usable for a very long time. If your device is really lagging and you can't bear it anymore, give this one a try. It boosts the performance by putting unnecessary apps into hibernation mode.
Key Features:
Very safe to use, collects almost no user data
Puts misbehaving and battery-consuming apps to deep sleep
Prevents apps from launching by themselves and working in the foreground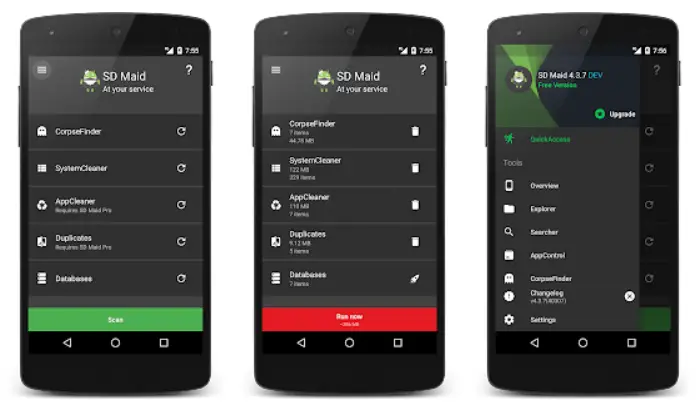 SD Maid is another great file manager and system cleaning tool. It can effectively clear out the storage space of your smartphone. It does that by deleting unnecessary logs, crash reports that are not needed. The app comes with a variety of tools at your dispense. It is definitely worth a try.
Key Features:
Works as a file manager
Deletes unnecessary files and clears the storage space
Can detect and delete files from superfluous apps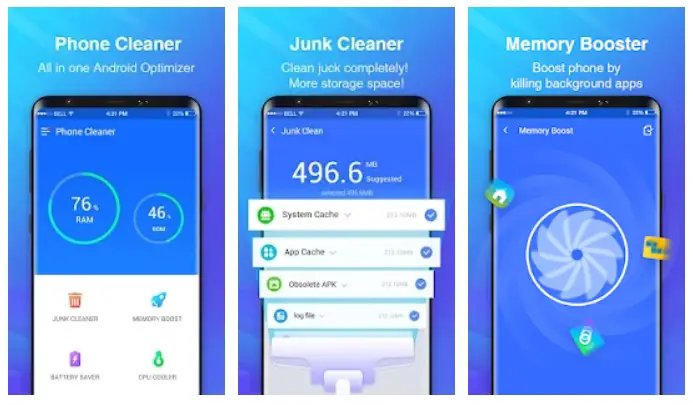 Phone Cleaner is an all-in-one solution for storage cleaning and performance boosting needs. It is quite popular and one of the main reasons for that is how simple it is to use. With features like junk files cleaner, antivirus, app lock, phone booster, app manager, CPU cooler, and notification cleaner, the app is a must-try. It is easily one of the best RAM cleaner apps in the market if that is something you are looking for.
Key Features:
Simple and easy to use
One-stop solution for storage cleaning and performance boosting
Shows all the big files on your phone. You can easily delete them.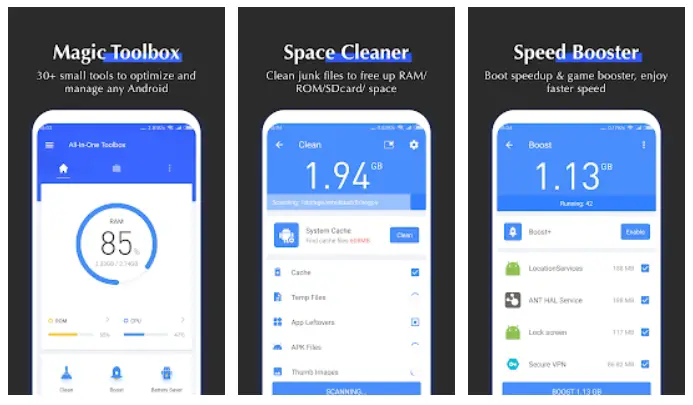 All-In-One Toolbox is one of the best apps to boost Android performance. As the name suggests, the app is your one-stop solution for everything you will need to boost the performance of an Android smartphone. It comes with a memory management tool, a cache management tool, a CPU cooler, a Game booster, etc.
Key Features:
One-stop solution for boosting performance
Cache cleaner
Photo compression feature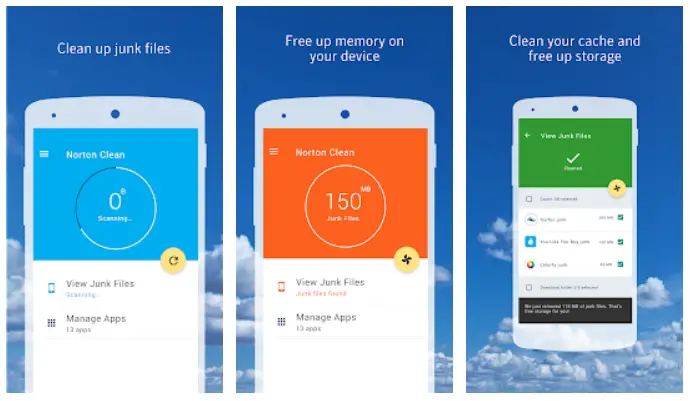 If simplicity and a clean layout are your priority then Norton Clean, Junk Removal is a must-try for you. It pretty much does everything you need for a performance boost with just one tap. In times when users are concerned for their privacy, this app does not ask for any unnecessary permission. It just shows you what can be optimized and you just have to tap.
Key Features:
Simple and easy to use
One tap operation
Doesn't ask for too many permissions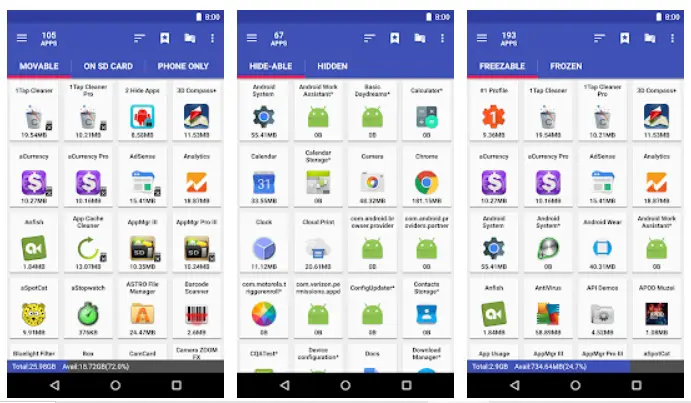 Finally, we have Appmgr III on the list. It saves a lot of internal storage for your phone which can be used for boosting performance. The app does it by detecting and shifting possible apps to the SD card. It just makes it easy to shift apps from the internal storage to the SD card or removable storage.
Key Features:
Easily move apps from internal to external storage
Can freeze apps to save memory resources
Comes with a single tap to clear the cache feature
Boost Android Performance Manually
You can change some settings on your Android device to get maximum performance.
1. You need to enable the Developer mode first, to do so, open Settings > About Phone > Scroll down to the bottom and tap a few times on "Build number" to enable developer mode.
2. Again open Settings > System > Advanced > Developer Options.
3. Find the Drawing section and select Animation Scale.5x to these settings – (You can try to turn off animation as well)
Window animation scale
Transition animation scale
Animator duration scale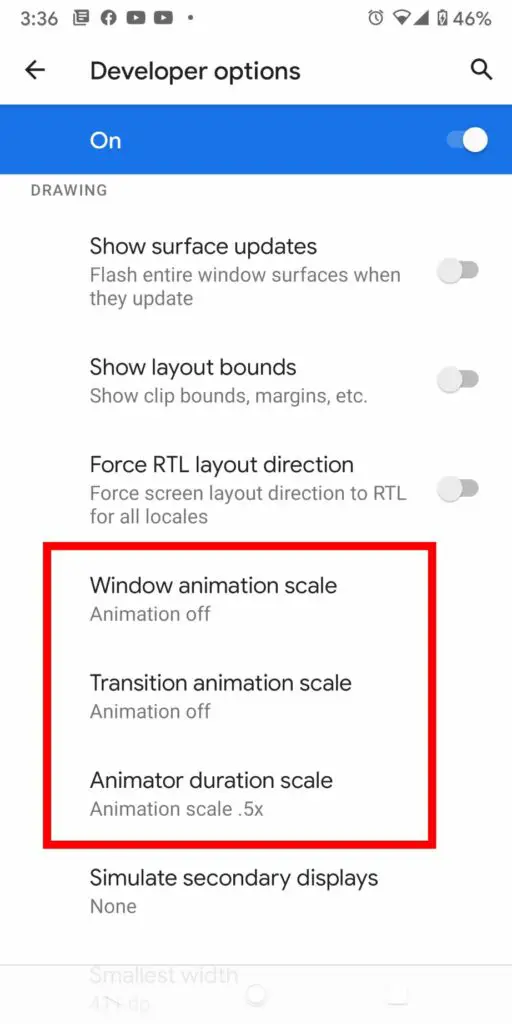 4. Find the "Apps" section in the developer section and select "Background process limit" to "At most 1 process" or you can select the minimum option.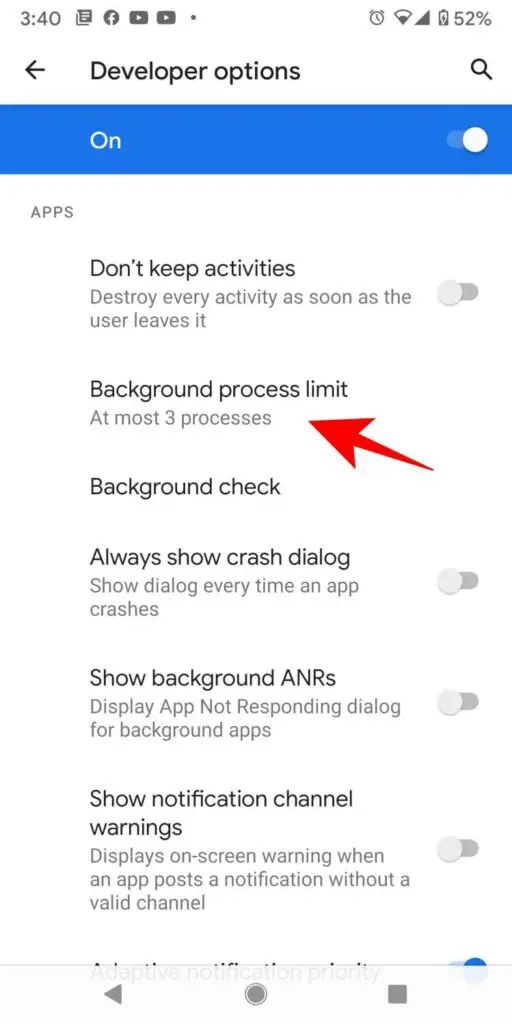 Conclusion
Android phones tend to get slow by usage, try to keep at least 20% storage free for better performance. You can use the above apps to boost Android performance on your smartphone.
The key takeaway is that you should keep your smartphone free from junk files. These apps will get you rid of the files that you no longer need and they will also put shady apps consuming battery and power resources to sleep.
Also, Read: