For any working professional password manager is no new thing it is something which they need at every point of time to secure the data and other login information that anyone uses to access applications and accounts on your mobile device, websites, and other services. But what are the best password managers where you can save extremely sensitive data without getting into any trouble?
It is very essential to secure all the sensitive data we have on our system to avoid leakage and tampering of important and sensitive data.
When in these recent times cybercrime and online theft have become a very popular thing so it should be our major priority to ensure that if one site gets hacked, your stolen password can't be used on other sites. 
So here we will be discussing some good password managers which you can use to secure your data.
Top Passwords Managers To Secure Your Passwords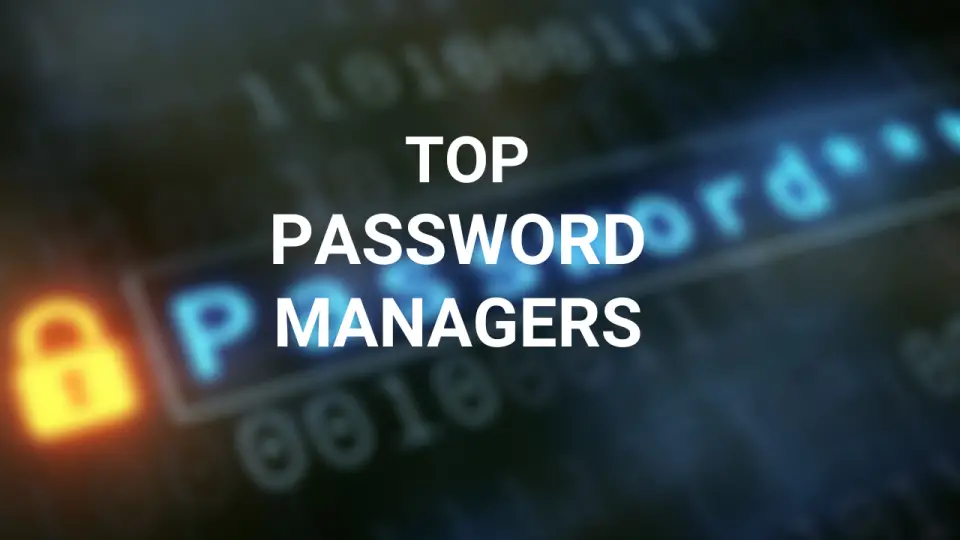 What you should look at while selecting a password manager? Security & Encryption are two important things you should check and the rest other features are optional.
We have tested multiple password managers and found some of the best of them. This list is based on the security, encryption, and features offered.
Lastpass came into existence in the year 2008 and is one of the password managers which has its extensions for browsers like Chrome, Firefox, Safari, Opera, and Edge as well as Android, iOS, and Windows Phone apps as well.
It is a freemium password manager that secures and encrypts the password online. By using LastPass you can easily manage your login credentials and can manage passwords for every account you have to improve online security.

Features
A top-end add-on of multi-factor authentication makes it apt for smartphones.

It comes with super-secure mobile app logins.

A very straightforward interface, it is user-friendly.

AES-256 bit encryption ensures security for all accounts, passwords, saved credit cards & more.
Unique and secure password generator to avoid password reuse.
Dark web monitoring for leaked passwords. (Available on the premium plan).
With Dashlane's free version you get to use it on one device and manage up to 50 passwords. It is basically a cross-platform password manager as well as a digital wallet that works both on Mac as well as android.
It is a secure password manager that helps you to store all the passwords and usernames in a safe place known as Vault. Moreover, it is the only password manager that gives users access to a VPN i.e Virtual Private Network.

Features
The ease of sync between multiple devices is a great feature of Dashlane.

VPN is included which makes the connection further secure.

It has very secure document storage that keeps all your documents spam-free.

DigiCert High Assurance CA-3 certificate on server-side to ensure secure communication from the user device to their server.
Dashlane offers 2-Factor Authentication that can be activated from the security settings.
Dark web monitoring for passwords leak.
Log me Once is a free password manager that has no limit on the number of passwords saved or the number of devices you use it on. The Log me once dashboard offers a simple dashboard with user-friendly access for each user.
You simply get an encryption key that keeps all your information secure and it even tells you about your password score that if it is weak or strong and accordingly allows you to modify it.
Features
It supports several cross-platforms which is great for usage in PCs.

Log Me Once has encrypted storage which makes it a safe place to store confidential documents.

It comes with biometric options that are much more inclusive.

No master password requires, it authenticates using your mobile device.
Dark web monitoring for stolen credentials.
Encrypts Google drive, dropbox, and one drive using AES 256 bit encryption.
It is a user-friendly password manager with a lot of features and handles all the basic password management tasks and includes advanced features like password inheritance and secured sharing.
Its free plan only offers limited features just as limited password storage and limited password sharing (up to 5 passwords) but its premium plan offer all the Password Boss's features such as multi-device access, auto logins, etc.

Features
It comes equipped with two-factor authentication.

It has role-based access which divides the responsibilities between the team members which makes it easier to manage all the passwords.

Remote Control Integration makes instant login possible from anywhere.

Multi-layer security allows you to store data using AES 256 and PBKDF2 encryption.
Dark web monitoring for passwords and email addresses to find possible security breaches.
This is a password manager developed by Agilebits which provides a perfect place for all the users to store passwords, software licenses, etc in a virtual vault.
It syncs all the passwords and personal data across all your devices. It has an easy, bright, and simple interface which is extremely user-friendly.
Moreover, it has the easiest way to manage the data by storing it into separate vaults which keeps all the login access separate and safe. For eg you can keep vaults for business and personal data separate.
Features
A very unique travel-mode feature that keeps spying foreign websites out of your password vault.

It has strong organizational tools that make keeping the passwords in place a hassle-free experience.

It has secret key encryption that helps in securing the super-private password.

1 Password keep your data safe by using AES-GCM-256 authenticated encryption.
Phishing protection allows you to log in to authenticated websites where you saved your password.
It is a basic password manager with various features such as local data storage and a portable USB version of the program.
With Sticky Password, you can choose a specific location whether you need to store it locally or on the cloud.
It comes with 30 days of trial and then you have to go for the premium version, also it provides a money-back guarantee in case you want to cancel the subscription.
Sticky Password can be used on your laptop as well as your mobile phone too.
Features
It comes loaded with local data storage and is unique in its interface.

Sticky password comes with a 30-day free trial ad on which lets the user understand the manager's interface properly.

A portable version of the program allows the transfer of files into a USB.
2-factor authentication, AES 256 bit encryption, and biometric authentication offer military-grade security.
Local Wi-Fi sync allows you to sync data over your local wifi and your data never leaves your device.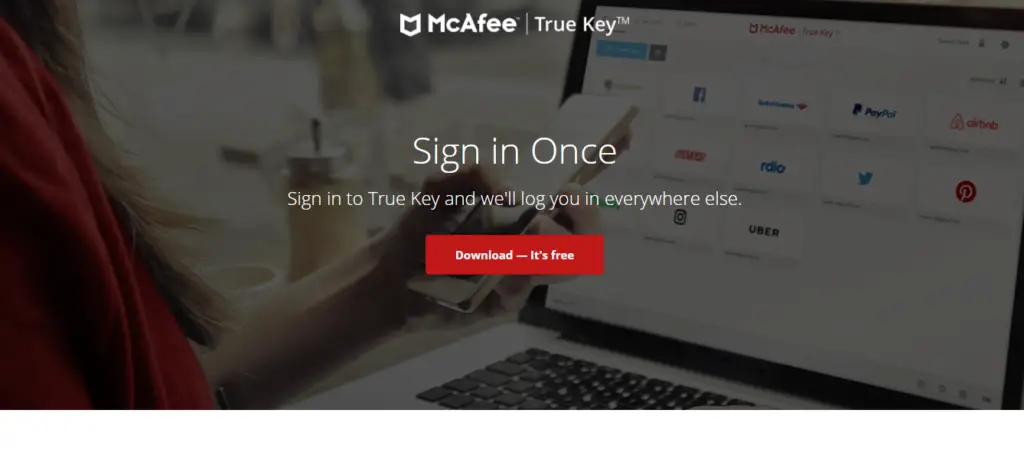 It is a good password manager with pretty basic features for you to use easily. It allows you to verify your identity using another device, email, fingerprint, and whatnot.
The most amazing method amongst all is facial recognition because without your face verification hackers will not be able to crack it with a photograph they would need your face or your presence to open it.
True Key free version is limited to up to 15 Passwords and after that, if you have to use it then you have to switch to the paid version of True Key.
Features
True Key has a very user-friendly interface and guides the user through every step.

It is pretty much inexpensive and can be used for advanced settings too.

It has a very extensive multi-factor authentication.

AES 256 bit encryption to secure your data.
This is another best password manager that you can access by your Windows, macOS, Android, and iOS devices. With the free version, you get an unlimited password.
You can store information like website passwords, sensitive documents, and other financial information as well. The most amazing thing about Keeper is that it uses zero-knowledge encryption and 256-bit AES encryption, your data and passwords are only accessible only by you.
This way there is no risk of data leakage and all the data stays secured and safe.
Features
It has very advanced security which is apt for both smartphones and PCs.

Password sharing is very secure and so is the inheritance of all the related passwords.

The manager maintains a full password feature and has a file history as well.

User's data are encrypted at the device level, not the keeper's server.
Secure cloud vault to save your data in an encrypted environment.
Multi-factor authentication including biometrics and Keeper DNA which utilizes wearable devices to confirm the identity.
NordPass is a very capable app for managing passwords and has all of the search engines as its interface supporters, like Chrome, Firefox, Edge, and Opera besides desktop apps for Windows, macOS, and Linux.
The password manager NordPass also supports iOs and Android mobile interfaces. You can also keep a documented track of all your stored encrypted passwords, besides the ones that the manager suggests and they are fairly strong and secure.
The information can be synced with 6 devices per acquired license, which is quite beneficial for an office system or even an at-home service portal.
Features
The free version is pretty good for advanced users as well.

It can import from all the possible browsers.

It has a 2-factor authentication option which makes it a secure password system.

Uses top-of-the-field encryption to protect your credentials.
Security is audited by Cure53 – A leading cybersecurity company.
Conclusion
Password managers are the best way to keep hold of several important apps that you have to use on a routine basis, no matter your profile. The convenience that is at hand thanks to these manager apps, saves much time.
Added to all the convenience, if you are a business owner or you run a mass network, the security of your users and devices is of utmost importance which is made possible with the usage of these password manager apps. They are basically lifesavers!