Would you like to earn free Google Play credits to purchase premium apps, books, music & movies from the Play Store? Then this guide is written just for you!
Google allows you LEGALLY to earn some extra credits that can be used towards buying anything offered on the Play Store. Isn't it delightful?
It's always a great moment when you are rewarded in the form of free credits.
None of this involves downloading third-party apps or partaking in sales funnels. Contrarily, you'll be taking Google sponsored surveys from the comfort of your Android device.
It's all authentic, so there's no catch!
These credits are similar to 'Pokecoins' in a popular Pokémon GO gaming app. Those who have played this game before would understand this post a lot better. Although these two aren't related, so that's okay if you are not into playing Pokemon GO.
We are talking about Google Opinion Rewards, which gives Google Play credit in exchange for taking surveys. All you ever need to do is give your honest opinions. Practical and objective!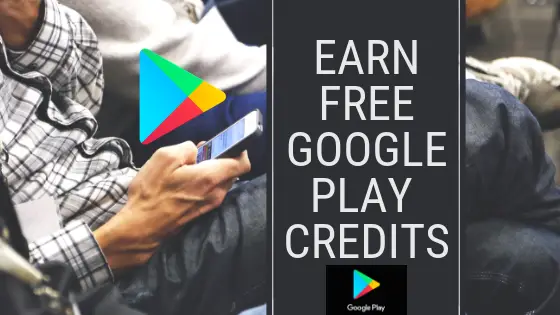 Leading the online market, Google once again plays smart by introducing interesting items and bets on an 'important role' to please loyal users and attract new buyers.
How To Earn Free Google Play credits Fast.
Here are some proven tricks that will earn you free google play credit with minimal work, and you will get frequent opinion surveys to complete.
Questions & Credits
Do not assume that it is gonna take a lot of your time.
Neither would there be a bank of queries available for quick answers at any time during the survey.
Everything is random here, and that's why it's so much fun.
Google Opinion Rewards will only send you a survey whenever it is required.
So, the key here is to be alert to not miss out on any opportunity. In return, you get back a pocket (virtually, anyway) full of free Google Play money.
Instantly, a message pops up in the Notification Center at a new survey released.
Unfortunately, you will have to rely on your luck a little bit.
The reason being some questionnaires might not give Google Play credit.
Meanwhile, you do not have queries to answer on a regular basis.
However, everything counts when it comes to earning free Google Play money.
There is another side to this story. The survey will map out the type of user you are so that the queries that are sent to you are more suitable to your profile.
The first action to take, obviously, is to download Google Opinion Rewards.
Downloading Google Opinion Rewards App
To install Google Opinion Rewards, access the Google Play Store, then download and install as discussed.
Insert your Google email address to register.
Then add "Google Wallet." This service will help you to retain your Google Play Credit inside a safe virtual wallet. It's where your "virtual money" will be deposited. Also, you can invest it later for other Play Store products.
Insert personal data such as name, zip code, and location.
Read and agree to the terms by responding to an initial questionnaire for Google to understand your profile.
Forward the tutorial, & answer another survey that merely analyzes your level of interest (it will not generate any points).
After you are done with these simple steps, wait for Google to address you with quick questionnaires as you gather credits into your virtual wallet.
9 Tips to earn free Google Play credits on 'Google Opinion Rewards
Several companies, including Google, decide which questions to send out. This is a way to conduct market research, and I wound up utilizing Google as a source to reach out to users.
It turns out to be a legit and safe manner to get free Google Play money and a harmless interaction between both parties.
Do not find it insulting if it takes a while for your searches to start coming up more frequently.
Google likes to monitor your search habits and then suggest a relevant survey for you.
Google always has plans to pay off for your time spent on answering its survey. It reorganizes your interests, and you can use it as an advantage to make your surveys more frequent.
To accomplish this and increase your chances, there are some simple tips.
Google organizes the world's information and makes it accessible and useful to users around the whole world.
However, it doesn't happen the same with surveys in some cases.
In other words, it does not matter how many people are on Google.
Sometimes, you may receive multiple searches in a week, while other people may get nothing, or it can occur the other way around.
1. Visit new places
Being in diverse places is a popular trick considering that your history gets repetitive after a while.
It would be interesting if you start taking new paths every now and then.
This might increase your chances of getting a few new surveys.
2. Always keep the app notifications turned ON
Android users have total freedom to control every notification for each installed app.
It's recommended to leave the notifications ON for this particular app.
This is the best way to know when you get the luck of receiving a new survey, and you'll be able to respond instantly.
Remember that this fast action of yours also counts and can make the company more interested in your profile.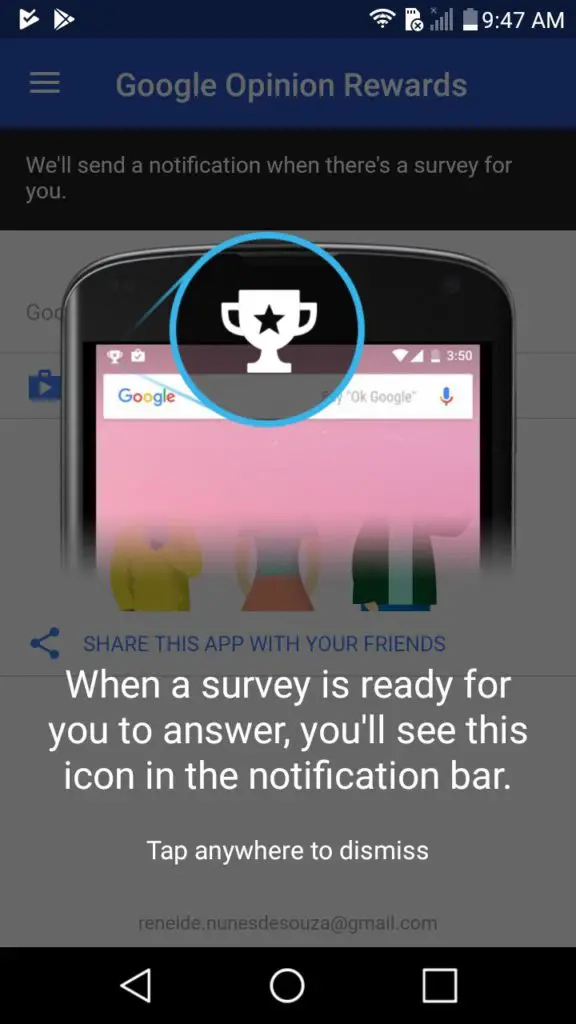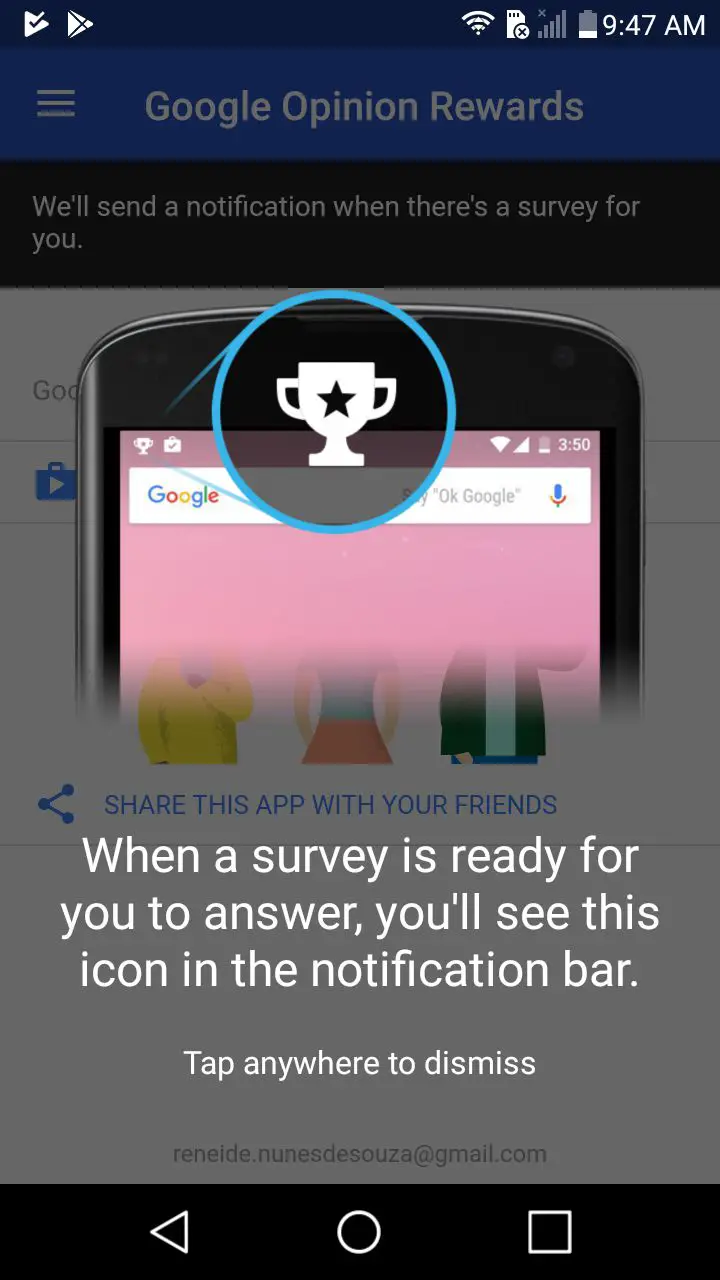 3. Location History
Google manages an enormous amount of data, including yours.
It is a positive aspect because it helps the company select you for a survey.
Therefore, they want to know more about you, and the more you follow their terms, the more chances you have to earn free Google Play credits.
Letting Google know your location history outstands your profile.
To activate and let Google know your location, go to "Settings," "Location," "Google Location History" and keep it ON all the time!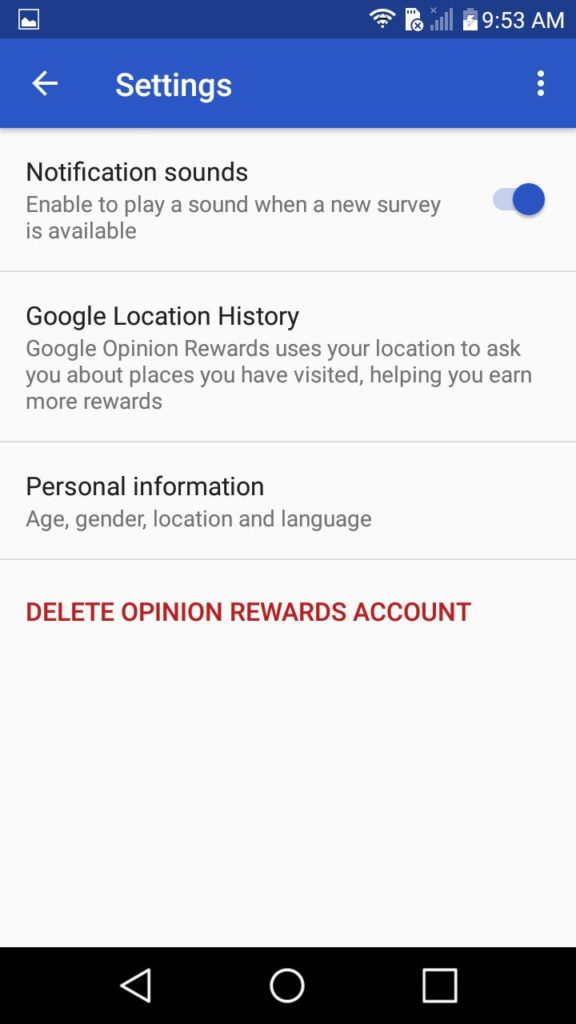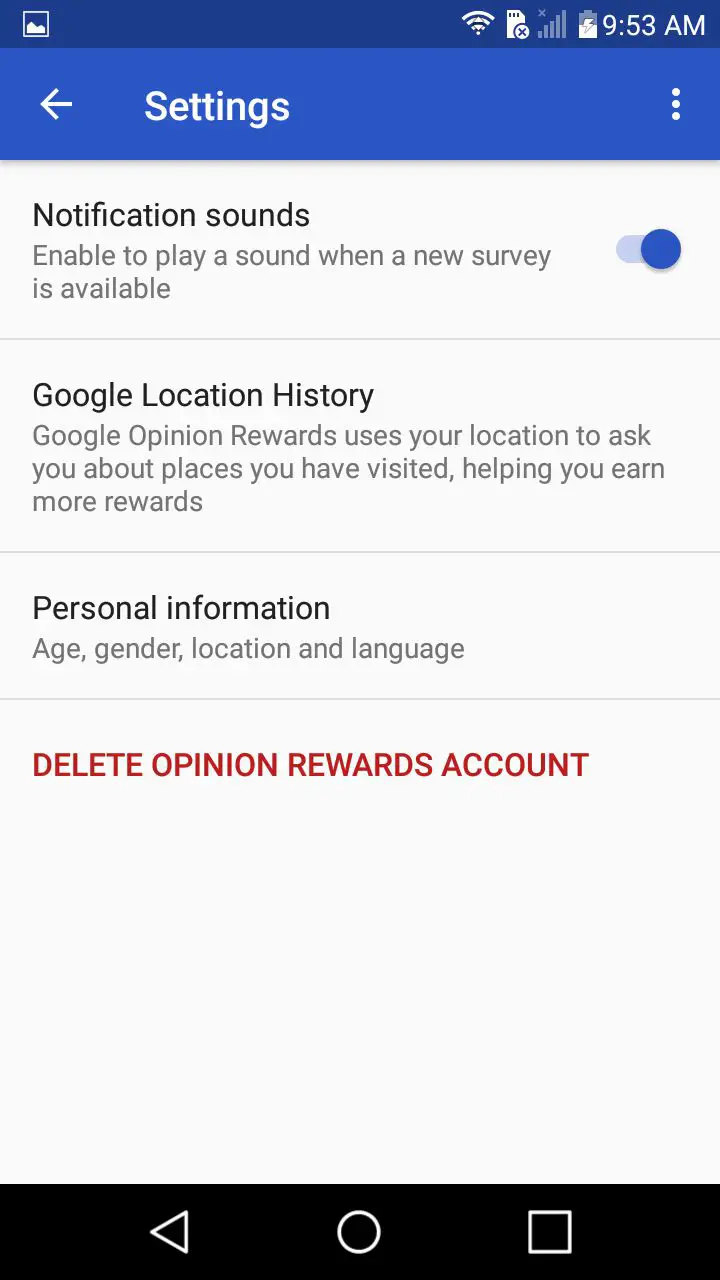 4. Provide honest answers to get more free Google Play Credits
Code of conduct matters a lot to Google. It is something that can determine your chances of taking more surveys.
Thus, being real and yourself at all times while answering questionnaires is mandatory.
Even if you do not realize it, Google can simply send you numerous similar questions on random days to check if you are actually being honest with your answers.
If the service raises any suspicions in your responses, you may no longer participate in the surveys.
However, it does not result in any kind of suspension. Google will cut you out from any future participation.
5. Turn On The GPS
Google collects your entire location history through GPS. This is one way to pick up potential survey candidates.
You can easily boost your chances by just going around with the GPS ON at every chance you get.
Avail and take advantage of this technology, so the device can monitor more precisely where you are at any given moment.
If you frequent malls, shops, and places that are known, that's even better!
Delivering data can be a full plate for both sides. You just have to give what they expect.
For instance, advertisers like to know if their customers really appreciate their services or offerings, if they are paying a visit to their stores, the reasons behind choosing an X store over a Y store, and what attracts you the most that made them buy from them instead of your competitor.
Every once in a while, Google generates queries that require answers from users from a specific region, but it is only possible if you keep your GPS ON!
6. Turn ON YouTube Watch History
YouTube is a product of Google, and they want to keep it relevant for their users. Whenever you watch any video on YouTube, it keep a record of it. To improve recommended videos for you, they would send you surveys on some videos that you watch from the recommended section or from YouTube notifications.
To get the surveys related to YouTube videos, make sure your watch history is turned ON on your YouTube App.
Go to the YouTube App and navigate to settings. From there, tap on "History & Privacy" and turn OFF "Pause watch history" and "Pause search history". Make sure both options are greyed out.
This way, you will get more surveys to complete.
7. Open the app once a day
Google monitors daily activity. If you access the app daily, it displays your interest in participation, and so Google will reward you by increasing your chances of taking surveys and eventually earning more free credits.
8. Objective answers equal higher profile
Interest is also reflected in the way you answer. You may consider skipping answers "yes" or "no" in open-ended questions. Try to add a more objective touch to them.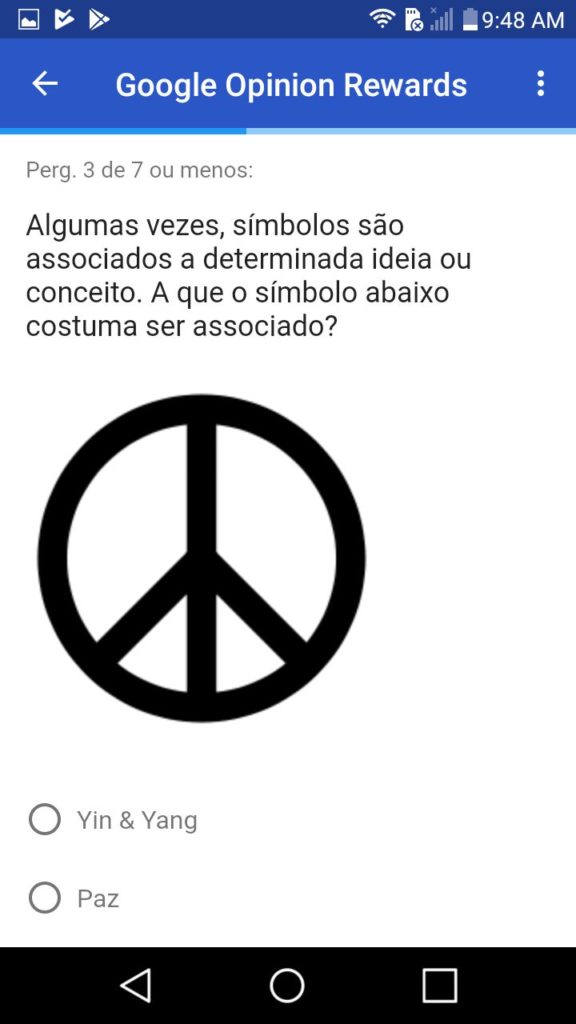 It is not required to write long texts. Just keep the answers a little spicy.
It's advised to let Google be aware of all your products and services when you receive purchase questions, as Google may have more questionnaires about it in the future.
These tips can be valuable and make the whole difference when it comes to using Google Opinion Rewards to receive credits in the Google Play Store.
Your progress can be more consistent once you follow these steps.
A steady flow of questionnaires might take a while or happen in a short time, but you should notice the rewarding difference more when you put together a good amount in your wallet.
9. Send feedback to Google
Surveys can be somewhat repetitive, or technical issues may occur.
If you notice any of these, access the system to send a report to Google.
This way, you will be boosting your profile and helping the company improve its service in one fine scoop.
NOTE 1:
It is worth mentioning that all the credits received are exclusive to spending in the Play Store, which means there is no association with banks or any possibility of transferring the credits earned to your bank account.
NOTE 2:
If you are sparing or accumulating your credits for future usage, please understand that all of your earnings carry a 1-year expiration date, unfortunately, even though one year is long enough to enjoy the best benefits that Google has to offer.
How to use the credits in your wallet?
Spending credits may not sound as easy as earning credits through surveys. As previously mentioned, you can use it all at once or little amounts according to your preferences.
To start using your money, just tap the "Spend your Google Play credit" button. Now, access the Google Play Store and pick an app, book, movie, or any other available product you are interested in.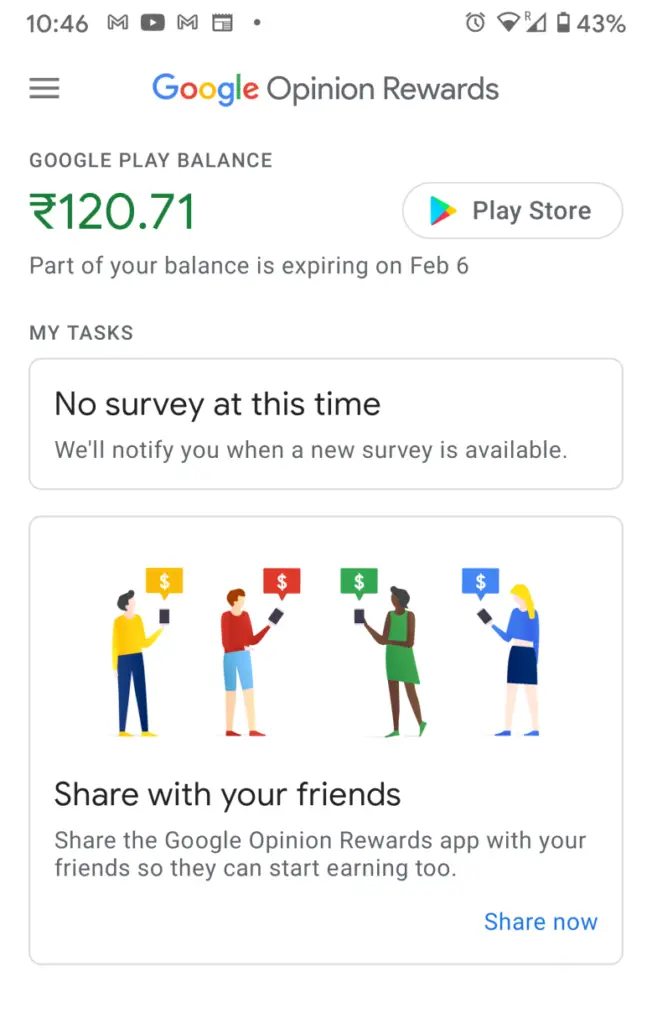 Conclusion
For newbies or frequent Google Play Store buyers, the application can come in handy for purchases by offering great credit advantages.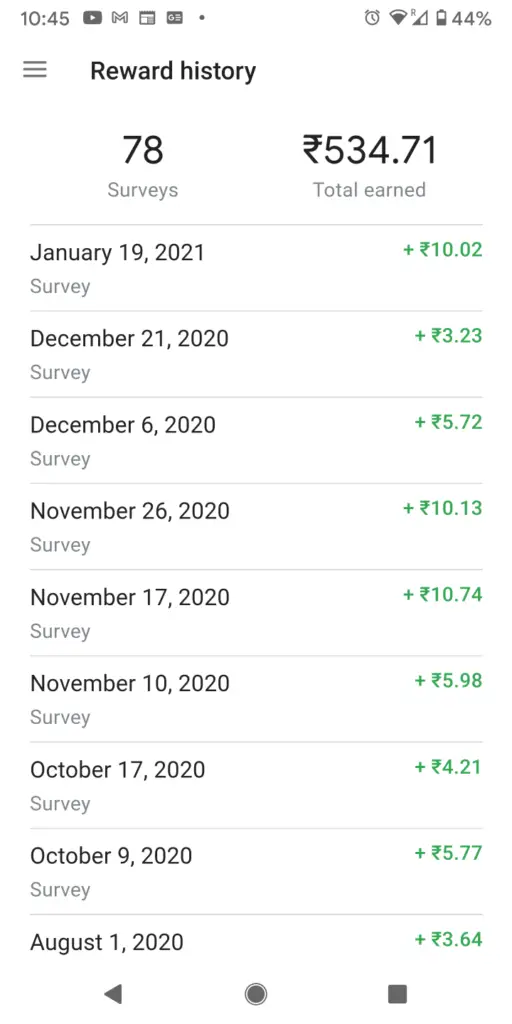 All you have to do is wait your turn, make your intentions clear, and pitch your interest in following the above-mentioned tips.
The application is very popular and has increased its potential to reach out to suitable candidates.
There should be a way to reward people for referring the service to other users as well.
In the meantime, we can only be looking forward to Google adding this Affiliate Program in the near future.
Not being able to transfer the earned credits to your bank account is a downside, and that is important to point out.
After all, it may count when users tend to analyze their own experience with the app before making it their frequent task.
Though, zero bureaucracy is the best thing about Google Opinion Rewards.
Also, there is no need to test any apps; just go for the surveys and start answering them to earn free google play credits today!
Also Read:-