Overview: An Email app is a necessity for this generation; in this article, we will cover the best Android email apps with pros and cons.
It is a headache when you have to sort all your daily correspondences manually. When a much-awaited goes straight to the 'Bulk email' or 'Spam' folder without your notice.
Email is a channel that connects people together. It is increasingly linked to the way we live our modern lives. In other words, the dependence on email is paramount.
Pre-configured email apps for Android simply cannot suffice. Considering that expectations from a generic email app in today's world surpass the needs of what was 10 years ago.
It needs to be more interactive. Perhaps something with an integrated AI?
The best email app for you is the one that learns to adapt to its owner, which is you. Moreover, it must be time-efficient and not otherwise.
With that said, let me introduce the 10 best email apps for Android that are a smarter choice among an ocean of email providers.
10 Best Email Apps For Android to Use In  2023
What could be the best email app out of hundreds of email apps available on the Google Play Store? In this article, I will discuss the top Android Email apps which can be used to enhance your productivity and overall experience. Without further delay, let's get started.
1. Gmail – Preinstalled Email App
This preinstalled application on Android smartphones contains everything to make your job easier; with 15 GB of free space, the service is modest and robust.
You can use this amount of memory between Gmail, Google Photos, and Google Drive.
However, if your daily usage demands more, you can simply upgrade which is available for a fair price. Gmail is not the most advanced, but it still deserves a top spot among the 10 best email apps for Android.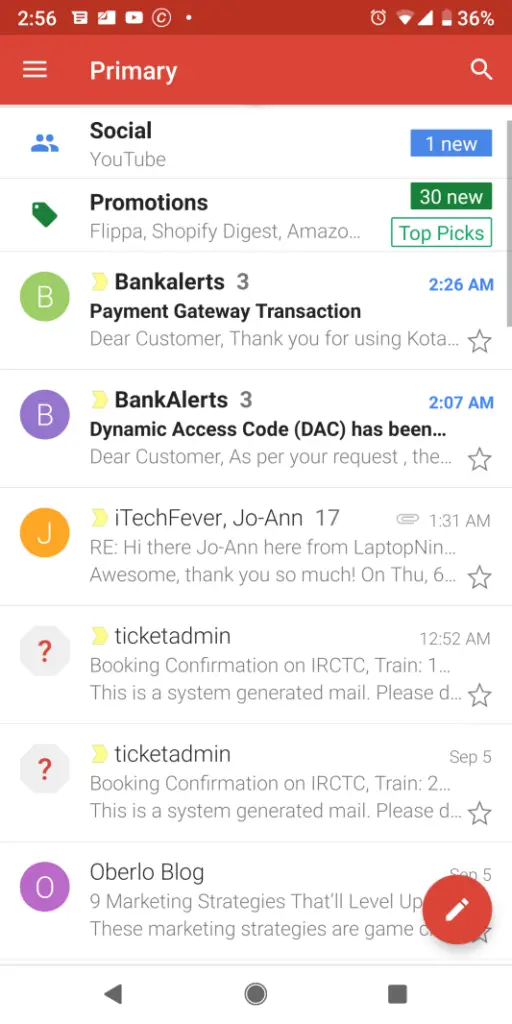 But other features of Gmail give this service a lot of credit, such as its interface, which is very easy to understand. You pick the recipients, type in the subject, and you are ready to compose a message.
You can also personalize your email with a pre-saved signature of your liking.
Users have reported that their Gmail personal account has misplaced a few correspondences in the spam folder. Other Gmail faults are regarding the constant lack of combination in your incoming emails from a target contact into the right folder.
Gmail is also considered the best android email app for multiple accounts. If you have more than one Google account, then you can add multiple email accounts and switch between them easily.
Also, it does not alert you when emails arrive from an important contact.
Yes, it allows you to tag an email as important but you cannot do the same with a contact.
Furthermore, you cannot access urgent emails in the priority inbox for non-Gmail accounts; that facility is only extended to '@gmail.com' accounts only.
TypeApp is a well-designed and feature-rich email app that offers a great experience for managing all your emails in one place.  With TypeApp, you can add multiple email accounts and manage them easily.
It does support IMAP, POP3 as well as exchange email protocols. If you are using popular email services, then TypeApp will automatically configure its settings when you sign in.
You can easily perform group mail by creating a shared group with your contacts at your work and personal email accounts. If you are using a domain email for your business, then you may need to manually configure the account.
The email app is feature-rich and offers instant push notifications, smart conversation, a rich text editor, a calendar, and contact sync, configurable menus as per your need.
It also supports dark mode and beautiful themes to make your inbox look beautiful.
When it comes to security, TypeApp takes user security seriously by utilizing high-standard encryption. Your email will be always encrypted.
Also, you can apply additional security by enabling passcode and fingerprint security, or you can set a timed lock screen to protect your private emails. Or enable 2-factor authentication using SMS.
Zoho is very suitable for small businesses.
Additionally, it has a conventional set of pre-configured folders that save up Notifications and Newsletters. Also, other content regarding account status, payments, etc., and there's one for 'Group' as well.
Add 'Tags' to quickly find your messages in the app. You can open calendars and access all events that you schedule.
You may also set the Zoho Docs to include as attachments to an email. Any email that you write offline goes into the 'Offline emails' tab, which improves your experience by facilitating the usage even further.
Unlike Gmail, Zoho mail allows you to add email accounts from other services.  Zoho does support IMAP. You can access your email by configuring the details provided by your email provider.
It can be used as an android IMAP email client to receive emails from your domain. Check with your domain/hosting/email service provider and enter the given IMAP server details on the Zoho desktop website.
You can set up multiple email accounts on Zoho and get an email address like <email@your-domain[dot]com>. You have to do this setup on the Zoho desktop site. Once everything is ready, you will get your email synced to your android app.
Outlook is familiar to many users and an excellent tool.
For office or personal usage, the channel offers the smartest approach by recognizing your Outlook email quickly, Exchange, and Office365. Aside from that, you can link it to your Gmail, Yahoo Mail, and even iCloud email accounts with this service.
Once you accomplish that, you have complete access to find any contact(s), attachments, or files from Google Drive, One Drive, and Dropbox.
Outlook uses an AI algorithm that tracks your moves smartly by automatically displaying important emails across all synced accounts. It does so based on the high technology that reads your communication patterns.
Take quick swipes in either direction to administrate the inbox with more efficiency.
Access Settings to integrate Add-ins such as Jira, OnePlaceMail, Evernote, Nimble for Wrike, Trello, SharePoint, Trello, and several others.
When it comes to anonymity, Proton mail is one of the best service providers. Proton mail does not track its users and doesn't let any third-party tool or service track the emails.
Hacker's favorite email service also offers an android app for anonymity. Proton mail offers encrypted email, which makes it impossible for anyone to read the email except the sender and receiver.
It is not an email client, which means you cannot add other emails to the proton mail app, but you have to create a new email address on Proton mail.
Proton was founded by CERN scientists in 2013 and is currently managed by a team of qualified professionals in Switzerland.
It enables you to stay private, and emails can't be intercepted or disclosed by third parties. It ensures an end to end encryption without user intervention.
All emails are stored in encrypted form, and even proton mail can't read your email. You can set a timer for messages to self-destruct after sending.
You can also send password-protected encrypted emails to non-proton email accounts. Also, you will get a well-designed app with an attractive theme, customizable swipe gestures, labels, and push notifications.
Nine is a strong competitor in the list of best email apps for Android, and it also supports Android wear. Its interface is close to perfection, considering that you can view any email 'Fullscreen' if you prefer.
You can add a task from within an email, an invitation, or an event to customize your composition further. Avail of several functions without leaving the confines of the platform to look elsewhere.
Nine supports Hotmail, iCloud mail, Exchange, Outlook, Office 365, GSuite, and others.
It also is suitable for 'Active Sync,' which means that it forms a secure and stable connection to the mail server rather than any available third-party server in the market.
Here's the exquisite feature, Nine is built more around security than any other email app for Android, which makes it one of the most trustworthy tools for all your email accessibility.
You can add 'Passcode Lock' at a user-defined time interval and choose for number scrambling, as well!
Nine's Setting is quite elaborate but has zero complexity that, gives the host a wide-range possibility to personalize the application as per its likes.
Use the 'Encryption' tab to add more security to all of the data stored within Nine. You can even manipulate the security level by changing it from the default 'Device-level' to 'Application-level.'
Unlike its competitors, Nine contemplates users by offering a 14-day free trial with full access availability. However, you can extend your experience for a lifetime with a one-time purchase of $9.99 to continue using it.
It is evident that Newton Mail was practically projected for business owners than the generic public since it is possibly the only popular email app alternative for Android that allows integration with well-known platforms like ZenDesk, SalesForce, and OneNote.
Newton Mail offers attractive host features such as mail scheduling, two-factor authentication, snoozing, and 'read receipts.' In-app animations are interactive, and the functions are fast and simple, which stirs the users into using them over and again.
Upon the first subscription, you can have 14 days of a free trial wherein you can evaluate each feature of Newton.
For one, it might not be long enough, but long enough to understand and stick to this appreciated tool. Thereafter, you can extend your subscription by paying a fee of $49.99 per year.
An important piece to complete the ranks of best email apps for Android, Blue Mail is a remarkable and straightforward service!
Although it's free, it does bring a multitude of customization options that include design, functionality, and the appearance of buttons at the fingertips, which makes it more practical for a single-hand purpose.
You can also search for 'All emails' & 'Only people' for incoming emails.
If you have a good internet connection, and not overload data, Blue Mail will certainly disappoint you, considering that it could take a bit of time to load up.
Otherwise, the odds will be in your favor to manage and bring complete solutions to a small business.
You can sync account emails such as Yahoo, Outlook, AOL, GSuite, Exchange, Gmail, Office 365, Hotmail, iCloud, and other POP3 or IMAP.
It connects instantly with the servers of the respective ESPs and does not lag behind when it comes to bonding with third parties, so you are assured of full security.
9. Spark – Email App by Readdle
Spark Email is the newest among these email apps for android. But the feature and positive reviews by users caught our attention. It has a beautiful design that supports most email services.
It does not act only as an email client, but you can also create readdle email accounts. Spark is a fast and smart way to manage your email from different services.
It has intelligent email prioritization which filters out essential emails from real people to the top. And the newsletters, promotions, and other emails are given less priority.
You can add a widget to your home screen for important emails so that you can directly check such emails without getting confused between tons of emails.
It includes the swipe feature to read, archive, delete and move all emails from the card. It has a beautiful interface that supports dark mode as well.
You can snooze emails, send emails to a later date, make reminders, follow-ups, pin emails, undo send, advanced search, and many other handy features.
It enables you to configure most email services like Gmail, Hotmail, AOL, or custom domain names using IMAP and SMTP. Many people have found it as a good alternative to Aquamail Pro and K9 Email.
MailDroid was created by Flipdog Solutions. It is a modern emailing app that brings all of the basic functions that users would expect from an email app for Android.
It is what you call a fully-equipped email service' for Android.
Its functionality goes beyond only receiving emails to organizing and archiving emails into folders. The users can also access multiple email accounts in a unified inbox.
But, it does support remote servers and a multitude of ESP as well – FastMail, Gmail, Hotmail, Yahoo, AOL, iCloud, Exchange, POP3 IMAP, and WebDAV.
There are swipe gestures in the inbox that almost every Android user has been accustomed to over the years. Set custom filters according to your preferences and avail all the organizational capabilities of this rich tool.
Then change between conversation views for email threads, specify rules for subjects or contacts, and even add a creative notification ring for each sender.
Work online or offline by searching your account mailboxes, so if you want to see emails on the go, MailDroid will do the job without crashing.
Unfortunately, MailDroid is ad-supported. But users can turn them off and give them a deserving chance by upgrading to the Pro version. The upgrade allows you to manage correspondence, add home screen widgets and answer your emails.
Extra support for inbox navigation through the Android navigation buttons. Nevertheless, MailDroid gets users deeply involved in its most attractive functions in no time.
Why not download these email apps today and see for yourself for free?
Verdict
After all, an Email app is necessary for your Android device these days in order to stay updated with your friends, family, or business; choosing the best android email app may be hectic since there are many apps with different features.
You need the one which works best according to your needs. For general purposes, you can use the Gmail app if you have an account on Gmail.
But if you are into business and always stay updated with your clients, colleagues, or other important people, then you can consider going with Microsoft or Zoho Email app.
This doesn't mean all other apps mentioned here are none of use. Every app listed above has its merits and demerits, and you have to test which is working for you as per your requirements.
Do you use any other email app on your Android device? Let us know, and don't forget to share your experiences with me in the comments below.
Also Read-