Have you ever wondered why cyberattacks are advancing at the speed of light? It's because cybercriminals aim for the smallest of breaches to break into your smartphone system. They prey upon your slightest of mistakes to initiate criminal action.
What makes it particularly worse is that your loss of privacy serves as a source of entertainment to many hackers. The reason is thieves are aware that Android users carry a significant part of their lives within the smartphone, from work-related data to personal photos.
The danger can arise from a harmless app download to rooting your Android device. So the key is to take precautions before such an occurrence happens to you.
To be one step ahead of criminals, bolstering your Android security is the best recommendation anyone can give.
Essential Android Security Tips To Consider
Applying these Android Security Tips to your smartphone and tablet will reduce the risk of getting hacked and data theft. It is better to be safe than sorry. Once your data get stolen or leaked, there is no way to delete them from the Internet.
1. Encrypt Android Devices
Encryption is a very complex process that encrypts all contents with a user-chosen passcode. So, during unauthorized access, a random code appears that is insignificant to a hacker.
The only manner possible to make the contents available is to insert the right passcode. Encryption offers a high level of security that is irreversible. In other words, it can't be undone very easily.
2. Use multiple passcodes
Using multiple passcodes is another important Android Security tip; some applications provide added security in the form of passcodes. These act as a security blanket to block unauthorized access.
Among other precautions, it is recommended to lock the home screen of your device when you are not close to the device. This way, you can safeguard any application that contains private data, such as Gmail or Gallery.
3. Keep your passwords hidden
Furthermore, you have the option to keep these passcodes hidden. It works for all installed apps and even screen lock, as shown in the images below.
You can deselect the option " Make All Passcodes Visible" under Settings, thus, eliminating the risk of some passcode being disclosed to strangers.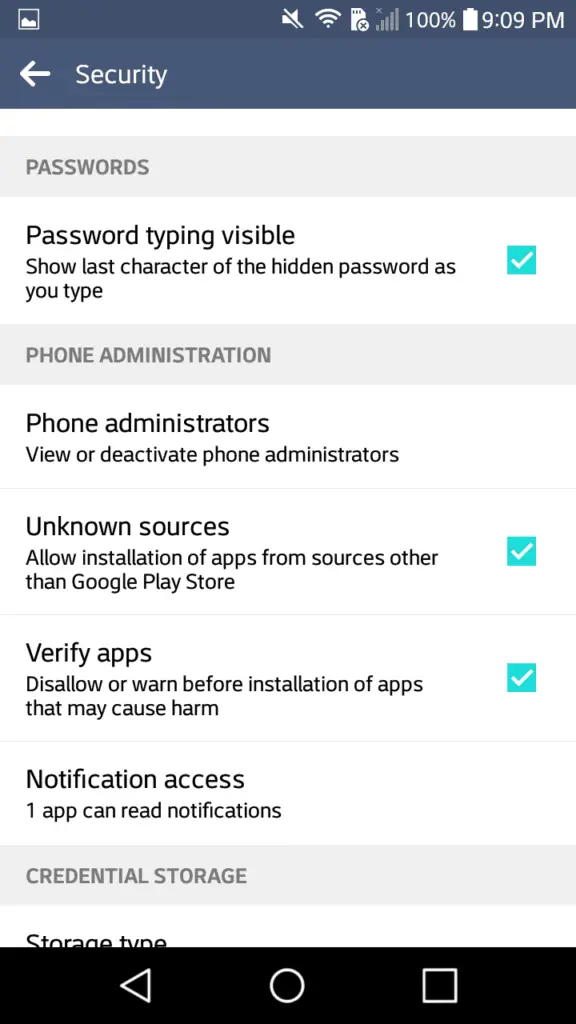 4. Activate two-factor authentication
The two-factor authentication is also called two-step authentication, and it is ranked as one of the most potent security tools against cyber attacks. You just have to pick a strong passcode which will be required and verified in two steps.
The two-factor authentication is available for WhatsApp, Facebook, Twitter, and Paypal, among numerous other applications.
In most cases, this service may require a phone number for further verification, which also applies to Google accounts. If you have services offered by companies that are associated with your Google account, be aware that it controls each one of them.
Therefore, it is one of the biggest targets for criminal activity. For instance, a hacker can remotely delete all your files without your active notice.
Hence, two-factor authentication could spare you from this harassment.
5. Be alert to the apps you download
Malware is not only employed in pages, pop-ups, and dubious emails. Constantly, Google has terminated more than 50 thousand suspicious elements so far.
The list just keeps increasing, which is a loud warning for Android users. This vulnerability is due to the surpassing flexibility that Google offers.
Each year it makes thousands of apps available to download on the Play Store without restrictions.
Although Google tries to prevent certain attacks, that does not imply that none of the apps can plant a rootkit virus or malware on the Android system.
It's recommended to check all the relevant information before downloading any sort of application, especially if you are downloading from third-party sources. Check for reviews, testimonials, surveys, and software status.
Related Article: Difference between Virus, Malware, Adware, Worm, Trojan, Rootkit Etc
6. Unroot Android
Rooting is a procedure that can unleash a host of options that aren't originally available on any Android system. This is both good and bad news but often time, it turns dangerous for your smartphone, even more so for inexperienced users.
On the other hand, this process should be regarded as harmless for those who are well aware of the consequences that may occur and possess the technical experience.
It is very common to find unhappy reports of rooting Android. Negative reports suggest that despite successful rooting, the Android system was never the same again.
Users affirmed that either the system slowed down or frequent Android updates would fail, among other glitches.
Downsides notwithstanding, it is a fact that having a gadget customized is an interesting attribute (as long as you stick to friendly apps before downloading). It should be executed by experienced technical Android users.
7. Run Android system update regularly
Android system updates are a solid weapon, considering that they bring important traits from fixing bugs to improving device security.
It may sound like an old trick but never ignore updating apps. Especially system-related apps.
Moreover, always keep the latest version of the Android OS received through OTA updates. It will not only keep your data safe but also improve your smartphone performance by installing new & interesting features.
8. Download only official applications
Whether you are conducting a financial transaction or checking your account balance online, always use your financial institution's official Android application.
In the Play Store app, you will find endless app alternatives to download that offers attractive features. Perhaps your personal bank doesn't do that yet. And to add more flexibility to manage your financial life, you go for an alternative. An example of this kind would be an application that consolidates various bank accounts under one roof.
As impressive (or convenient) as it looks, you could be exposing your bank account to the hackers out there. Another instance would be an application that facilitates payments and transfers' from various bank accounts.
However, the level of security that the official app offers is incomparable to a third-party platform. Thus, it's the most reliable you can count on. Almost all banks invest a fortune to deliver the strongest security system to keep everything safe and avoid glitches.
Related Article: What You Don't Know About Online Threats and How To Avoid It
9. Manage app permissions
You probably have seen some apps asking for permission to access some data on your smartphone.
Also, it is a common situation when you unintentionally tap to confirm this operation, especially when you are on a call or busy playing a game. Such slight mistakes could cause a security breach that may cost you a lot later on.
It is important to remember that you shouldn't just kill the app seeking permissions. Instead, read the nitty-gritty carefully and ensure that an app needs this info in order to function properly such as Google Maps that requires location and tracking access.
If you are doubtful, you better tap Do not allow. This option is easily reversed by accessing Settings and then choose Apps.
10. Always perform Android backup
It is common for users to just neglect backing up their phone data because most of them prefer to save in MicroSD. However, if something happens to your memory card, the backup can recover your information when accidents happen.
Google Photo is an excellent tool to save videos and pictures for free, and you can sync between all computing devices. To save and gain access to your files, you can activate the backup option manually. To do this, just hit Backup & Sync in Google Photos.
Google Drive is one of the most popular among Android users to keep their data safe. Also, it displays your documents offline on all synced gadgets. Generally, you can also backup automatically in other formats, such as pdf, word, etc, on Dropbox, Box, and OneDrive.
If you are concerned about backing up your contacts, e-mails & apps, you can rely on Android to save them. It offers a backup service that keeps data stored on Google serves, which can be exported to other smartphones.
The greatest advantage is that you can recover your files stored from another device which makes this process useful if you lose it or when you buy a new device.
Bear in mind that all emails and contacts must be exported to the internal memory.
11. Block Ad-tracking
To block Ad-tracking, activate it on "Android Device Manager." Alternatively, you can download its official app.
For further security, erase the stored data of your stolen or lost device remotely. Just remember to always leave the GPS activated.
This post covers just some of the basic Android security tips to safeguard your virtual life. With a bit of vigilance and smartness on your part, you can protect yourself from falling prey to cybercriminals.
Also Read-