In present days Microsoft Outlook has become a necessary software for many people and businesses, it is a personal information manager application  mainly used as Email application which synchronize your Emails from web server to your computer, it also has Calender, Contact Manager, Notes etc. Once you install Outlook and setup email account in your computer there is a  Personal Storage Table get created into Installation folder of Outlook or simply PST file like Email.pst, Personal.pst these PST files contains every information related to your email account like Emails, Calender, Contact, Attached images and other files from your Email.
By the time these PST files gets bigger and bigger in size starting from few MB to GB's due to tons of Email, also acquire huge storage space into computer which makes your computer slow and sluggish, large PST files causes different types of outlook error which leads to PST corruption, once PST file gets corrupt you may lose all your outlook data, to overcome this problem here comes a handy software  Systools PST Compress.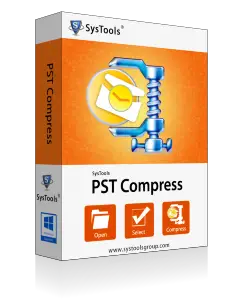 Analysis of PST Compress Software Application
This page may seem to be long enough, but certainly, it give you a deep scan of the PST Compress tool designed and developed by a pioneered a company, MS Outlook Tools.
Knowing this you would not find it troublesome to go through it as an assessment of the utility, because this would assist you in making an intelligent decision whether or not to make use of it. This page is a review of version 3.1 of the tool which is the latest release of PST Compress utility.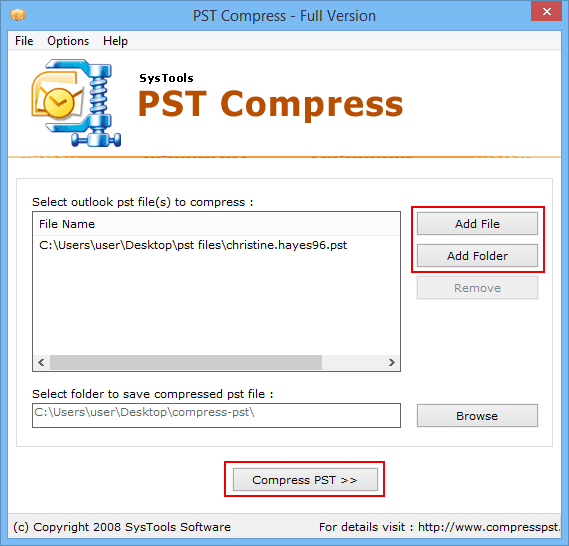 Any end-user like you and me seeks to attain all the benefits and facilities from the tool we uses. Therefore, its features and functionality should be well-evaluated so as to see if it is capable enough to compress Outlook PST file without loss of data. Moreover, the assessment becomes essential because the tool's aim carries a high agenda.
The main target of this tool is to lessen the size of a large Outlook PST file so to avoid corruption of PST file that are nearing the maximum storage capacity. If the Outlook PST files get corrupted due to large size – containing more data than what is recommended as the maximum storage limitation then the stored data items in it also get inaccessible. Thence, to evaluate the tool the first necessary step is to get acquainted with its characteristics as given below.
 PST Compress Tool's Features and Functionalists Listed –
After evaluating this tool on large PST files i concluded  some of the key and the basic characteristics of the compression utility.
Minimizes the size of large Outlook PST file by extracting and then saving the attachments.
Multiple Outlook PST file can be compressed at a time, i.e. batch compression is possible.
The compression utility can minimize the size of both of both ANSI PST file as well as a UNICODE PST file type that are large in size.
Compresses Outlook data file size to minimum possible size without loss of data.
It produces a log report showing complete details of the PST file compression process.
Provides three PST file compression options and they are 'Remove attachments', 'Extract and save attachments' and 'Extract, save and compress attachments.'
Renders easy and simple interface for reducing size of Outlook PST files.
 Particulars of the Compression Utility –
The essentials of the third-party tool are mentioned here so that public at large can get to know the system requirements of the utility. This section also focuses the point as to how well-protected is the compression utility.
Size of Software – A very small size of 3 Mega Bytes only.
Hard Disk Space required on the Machine – 5 Mega Bytes.
Processor Required – Only 1GHz, though frequency recommended is 2.4 GHz.
Random Access Memory (RAM) – 512 Mega Bytes only. However, RAM of 1GB is suggested for use.
Operating System – MS Windows OS only, regardless of version.
Anti Malware Utilized – Secured with Norton & McAfee
Licensing Keys Available – Personal, Business and Enterprise Editions.(Three in total)
Comment – It can be said that the machine requirements so as to use the software are minimum. Nothing extraordinary, out of the way process is required on the system so as to use the software to compress the Outlook PST file.
 Pre-Requisites of the Software Application –
To be able to use the tool successfully and get assisted with it, two things that are quite necessary are mentioned below as follows:
Microsoft Outlook for Windows platform should be installed and properly configured too for any legitimate profile or dummy account.
The tool 'Run as Administrator' should be executed on the machine if the operating system being used is Windows version 8.1, 8, 7 or Vista. It is not necessary in the other available editions of Windows OS.
 Supported Editions of Windows & Outlook –
As the name of the software is PST Compress, it is clear that tool deals with Outlook desktop based mail program and also Windows based OS. Therefore, it is essential to know as to which release of the two are required so as to execute the software successfully without any limitation.
Microsoft Windows – Almost all editions like Win 2000, 2003, 2008, XP, Vista, or Windows 7,8, 8.1 and 2008/2012 (both 32-bit and 64-bit). Check your System type here.
Outlook Program by Microsoft – Outlook 2000, 2003, 2007, 2010 and also 2013 which is the latest. (But 32 bit only and not 64 bit).
Free & Full Version Available of the Utility Available.
The developer Company provides both demo version and the full release to users. The demo is provided free of cost so as to get an idea as how the software functions in compressing the size of Personal Storage Table, commonly known as PST file. However, the limitation is that only the first 5 emails per folder can only be compressed. Another disadvantage is that the items cannot be compressed in bulk. Only one item can be compacted at a time with the free edition of PST Compress tool. However, there is no restriction imposed on Compress Outlook Data Files.
Finishing Lines for PST Compress Utility
Almost every outlook user faces different kind of issue starting from account connectivity to PST file corruption, this tool offers PST file compression which secures your Outlook PST file from being corrupt and several errors due to large PST files, also lets say you are changing your computer and need same outlook installation on new Computer then you can easily transfer PST file once it is in compress form, I recommend this tool to frequent outlook users because once PST file gets corrupt it is really hard to get it recovered, don't wait to get in trouble, simply use this tool and play safe to your important mails and business.
Here is my final thought about this tool after testing it –
Download Compress PST Software
The tool is reviewed on the basis of its features, size, system requirements and its compatibility with latest technologies. In no aspect, it has been found that the tool lags behind in any way. Hence, it can be said that the tool excels in almost every aspect without any drawback.