As fitness trackers and smartwatches continue to garner the attention of Indian consumers. Many tech companies have stepped inside the Indian market with their budget-friendly smartwatches that not only deliver but also look good. If you're out there looking for a decent Smartwatch in 10k INR, then search no more, you've come to the right place. In this article, we shall be looking at the best Smartwatches Under 10000 Rupees for men.

A Smartwatch is a small smartphone-like computing device worn on the wrist. It offers several functionalities that validate its huge market: GPS tracking and maps, notification access, voice commands, reminders, and of course, fitness tracking. All these features make it an indispensable part and parcel of a person's life.
How To Choose the Best Smartwatch?
Well, there's no specific answer to this. There is no size that fits all, it depends as much on the specs as it did on your needs. What do you want to get out of the smartwatch? Is it to track your health? Or for being more efficient with handling notifications and calls on the go?
Or is it too track your morning run?  First and foremost, be clear on your expectations. Decide what you want from the device. Do it now. We'll wait.
Done? Okay then. Now onwards to some technical jargon.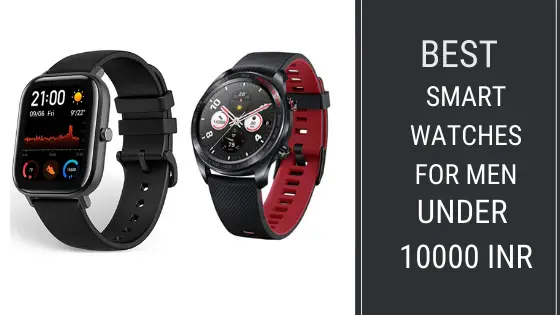 1. Compatibility
Your smartwatch will probably not be a stand-alone device. It will be dependent on your smartphone for several functions. Thus, it becomes of immense importance that you check whether a smartwatch is compatible with your smartphone.
The smartwatches running on Google wear OS is most functional with Android phones. While the apple watches only work on iPhones. The Samsung Tizen OS works on both Android and iOS devices.

No matter what smartwatch you choose, be sure to check its compatibility with your phone.
2. Heart rate sensors, GPS, Sleep Trackers, and everything else
Remember the expectations we asked you to set, two paragraphs above? Well, it's time to use them. When buying a smartwatch, check whether it supports the features that you would want out of it.
If you're buying it for fitness tracking, make sure that it has a 24/7 heart rate sensor, activity tracker, sleep tracker (a good one!), or calories burnt. If you're buying it for tracking your run, then GPS tracking is a must.
Whatever the reason you're buying a smartwatch, check in advance, all the features. A great way to know whether the features of a smartwatch are functional is to read a lot of customer reviews.
Check out the Amazon or Flipkart page for that smartwatch you're planning to buy and read the reviews. Make sure that you read the ones from verified buyers.
3. Check the rated battery life
A Smartwatch must have great battery life. Period. No need to say anything else. Make sure your watch has that. Check the specifications of the battery type used and the capacity it offers. Check the reviews to know whether the watch stands up to the advertised battery life or not.
4. Don't forget the band
A common mistake noobs make is that they concentrate so much on the dial and the technical specifications that they forget all about the band. A good band can create a comfortable wearing experience and don't underestimate its importance.
Make sure to check what type of band is available, its material, strapping mechanism, and whether easy replacement is available or not. Trust us when we say this—you don't wanna be buying a smartwatch to later realize that there is no replacement available.
5. Display
Most watches offer either LCD or AMOLED displays to offer vivid images to users. As great as it sounds, this has a potential downside, it takes a toll on the battery. Although, to be fair, companies are continuously finding new ways to increase battery life.
Still, if you're looking for the longest battery life for your bucks prefer a black and white display.

Summary of How To Choose the Best Smartwatch
Decide for what purpose you're buying a smartwatch
Check if the smartwatch is compatible with your phone
Don't forget to check the various functions offered and whether they comply with your expectations.
Check battery life
Decide the band type you want, check easy replacement availability and material quality.
Decide the display you want.
Now that we've seen all the criteria that one needs to check before grabbing the sleekest watch from the nearest outlet, let's have a look at our list of best smartwatches for men under 10000 INR.
List of Best Smartwatches For Men Under 10000 INR In 2021
We've compiled an exhaustive list of some of the budget-friendly smartwatches that truly serve the user's purpose at or under the 10k budget. We tested all these watches on the different criteria we mentioned above. It was a difficult task but we did it all so that you don't have to waste your time (you can thank us later). So without further ado let's get started.
Product Description
The Amazfit GTS boasts a 1.65 inch OLED display with a square screen and Gorilla Glass 3 protection. The key information like time, heart rate, and calories burnt are shown centrally.
This smartwatch is light on the wrist and the screen is visible in daylight. There are 12 sports modes offered along with customizable watch faces. It has a PPG (photoplethysmography) sensor for heart rate monitoring, GPS, and the latest Bluetooth V 5.0 making it worth the price of Rs. 9999.
Highlights
341 PPI 1.65 inches AMOLED display.
Ambient light sensor.
Water-resistant up to 5 ATM.
Customizable watch faces.
Slim metal body.
It weighs only 25 grams.
Works with Android and iOS.
What we loved
Amazfit GTS is the perfect combination of quality and affordability with an almost perfect UI experience.
GPS GLONASS, PPG Sensor for Heart Rate, Accelerometer, and Gyroscope sensors.
The amazingly consistent battery life of 14 days. This is great for a smartwatch at such a price
Looking at the available features in this price range AmazeFit GTS is our top pick for smartwatches for men.
Cons
The only problem we had was with the strap which feels a bit cheap.
Product Description
Weighing only 31 grams, wearing the Huami Amazfit BIP feels like wearing a sports bracelet. The 1.28 inches TFT display doesn't leave your sight even in the harshest daylight, thanks to the reflective screen.
The PPG sensor for heart rate monitoring works pretty well. The dual positioning feature provides an accurate GPS location utilizing GPS and GLONASS. Huami claims that the watch's battery life can run up to 15 days with typical usages. That's pretty impressive considering its price of Rs 4,999 only.


Highlights
It has a built-in GPS & GLONASS.
Always-on display.
1.28 inches TFT display.
10 Sports Modes, Sleep Monitor and Activity Tracking with Distance, Heart Rate, etc
Built-in Editable Dials and 40+ Watch Faces
Music control, smart notifications, weather forecasts, and many more.
What we loved
The long battery life of up to 15 days and can be seamlessly synced across Android and iOS devices.
Also, it has a Minimalistic UI.
Cons
The screen size is a bit small.
If you're more into analog watches, then Noise Fit Fusion will instantly mesmerize you. With its classic analog design and customizable faces, we can say this is the most stylish smartwatch on our list.
With a 1.22 inches TFT LED display, Bluetooth V4.2, water-resistance, and complete health tracking, all at just Rs 5999, this will be a treat to watch lovers.
Highlights
1.22 inches TFT LED display.
14 digital watch faces.
Water-resistant up to 50m.
Bluetooth 4.2.
What we loved
It has a battery life of up to 30 days

Cons
For a person accustomed to a capacitive screen, the experience won't be great.
There is no feature of blood pressure monitoring.
Amazfit is another great smartwatch from the folks at Huami. A stunning 1.34 inches ceramic bezel always-on display looks great from all viewing angles. The Sony GPS Chipset used consumes fewer resources and saves battery. Our overall UI experience has been glitch-free and we loved the IMU sensors and the GLONASS and GPS Integration for accurate location tracking makes it another top smartwatch for men.


Highlights
1.34 inches always ON display.
IP67 certified water-resistant.
Gorilla glass 3.
Works with iOS and Android.
2.45 GB internal storage for onboard songs.
Receive smart notifications for incoming calls, messages, weather, and more.
What we loved
With just one hour of full charge, you can run Amazfit Pace A1612 for as long as 11 days. It hosts advanced features and sensors not seen in many watches at this budget, like IMU sensors, optical heart rate sensor, and GLONASS.
Cons
The smartwatch is glitchy with iOS devices. So it won't be a great experience for iPhone users.
We were surprised by the lightweight stainless steel cased Honour Watch Magic. Boasting a small but clear 1.2 inches AMOLED HD display, this smartwatch comes with 11 workout modes, a real-time heart rate monitor, a sleep monitor, and several other features. At a price range of 6999 INR, it offers three satellite positioning systems—something which we haven't encountered in any other device in this range. No wonder it has magic in its name.

Highlights
The battery life of one week
11 sports mode
1.2 inches AMOLED Display.
7 days of battery life on a single charge.
What we loved
The stylish leather strap and the stainless steel dial makes it suitable for all occasions. Accurate GPS tracking with the help of three satellite positioning systems: GPS, GLONASS, GALILEO.
Cons
The display screen seems a bit too small.
Battery life could have been extended.
There is no Android Wear OS installed. This you can't install any third-party apps.
The stylish aluminum cased smartwatch offered by Fossil looks good on the wrist without being too bulky. The 1.39 inches AMOLED Display is expected at the price range and is good.
The 512 MB RAM asking with the Snapdragon 3100 processor is fast and we experienced no lagging during our heavy usage. The rotating crowns were our favorite and the poor battery was something we absolutely hated about this smartwatch. Still, at a price of Rs 9999, this is features-packed.


Highlights
1.39 inches AMOLED display.
512 MB RAM.
4GB Internal storage.
Built-in GPS.
Snapdragon 3100 Processor.
Charge up to 80% under an hour.
What we loved
We fell in love with the UI design which is minimalistic and highly customized. The fast processor and 512 MB RAM provide a lag-free experience when seeking through maps or performing any resource-intensive processes.
The rotating crowns add to the rich look of the watch. You'll grow used to it in no time. Coming from a great brand like Fossil with a 2-year warranty, one can be sure of its durability.

Cons
The battery life is poor with a standby time of only 2 days.
Sleek and stylish, Huawei Watch GT2e, is the complete fitness tracking package for health enthusiasts. With a Kirin A1 Chipset, you can expect blazing light speed with no lagging.
The 1.39 inches AMOLED Display, though a bit bright, is highly customizable and smudge-free. A great thing about this smartwatch is that it offers spO2 level, a feature that isn't present in any other smartwatch in this range.
Though exceeding our budget with a price of 12000 INR, you can invest in this watch if you're looking for a premium smartwatch experience.

Highlights
1.39 inches AMOLED display.
Bluetooth V5.1.
GLONASS.
SpO2 levels tracker.
Water and sweat-resistant.
Powered by Kirin A1 Chipset.
ALS ambient light monitoring for automatic screen brightness adjustment.
What we loved
This smartwatch sports a long list of 100+ workouts with intelligent tracking for 6 workouts. The Kirin A1 Chipset makes performance on this smartwatch lag-free and super fast. 4GB of internal space and Bluetooth V5.1 ensure that you can listen to your favorite music even when you don't have your phone.
SpO2 levels can be measured by this smartwatch. This is the only device in this list that supports this. The battery life of 14 days is above average.
Cons
The SpO2 levels aren't accurate.
Price is a little outside the 10k INR budget but totally worth the features provided.
Coming to our last but not the least smartwatch on our list, we have the Mevofit Thrust. It has a 1.3 OLED display and is IP67 certified water-resistant. Mevofit is an advanced fitness tracker with 4 workout modes, ECG, PPG, heart rate, BP, activity, and sleep tracker. The price of this smartwatch is Rs 5999.
It supports Samsung, Xiaomi, RealMe, One Plus, Vivo, Oppo, Honor, Motorola, Lenovo, Huawei brand smartphones.

Highlights
1.3 inches Display
IP67 certified water-resistant
4 workout modes
What we loved
The display screen has thin bezels making the colors more vivid. There are numerous diet plans provided in this making it great for those looking to lose weight.
Cons
Though loaded with features, the smartwatch lacks GPS. Thus it won't be great for trekking and outdoor sports.
Conclusion
So these are some of the best smartwatches for men under 10000 INR in India. Smartwatches are edging their way further and further into the general population—and not just the elites—thanks to these budget-friendly brands. This industry and the devices it offers will only grow more and more in the coming future.
So expect more integration, more apps, more tracking, and more functions. We hope you find it helpful. If you have any questions or suggestions, feel free to leave a comment in the comment box below.
Also Read –