If you are managing public computers or there are multiple users of a computer, then you probably want to give them a welcome message or any kind of warning message before they log into the System. Or you want to show a message or last login details like last login and login time, this all can be done by editing few registry values, which will customize windows logon screen in any version of windows like Windows XP, 7 or 8.1, 10 & Windows 11.
Before editing any value in the registry, it is advised to back up your system or create a restore point and take a full backup of the registry; this will help you in any case when the system fails by any chance.
 Adding Message to Windows Login Screen.
Follow these simple steps below to add a welcome or warning message at windows logon.
Step 1.  You must be Login to your computer as Administrator to make any changes in Registry.
Step 2. Go to Start Menu and type regedit and click on it,  and Registry Editor will open.
Step 3. Navigate to –
Computer\HKEY_LOCAL_MACHINE\SOFTWARE\Microsoft\Windows\CurrentVersion\Policies\System by expanding the folder tree in Registry Editor. Here on the right pane, you will get different registry keys, look for the key "legalnoticecaption" and "legalnoticetext".
legalnoticecaption – Double-click to open this registry key and write the Header of your message in the Value data field. You may write anything here whatever you want like Welcome, Warning, etc, and hit OK to it. You can use up to 80 characters, including spaces, for the title.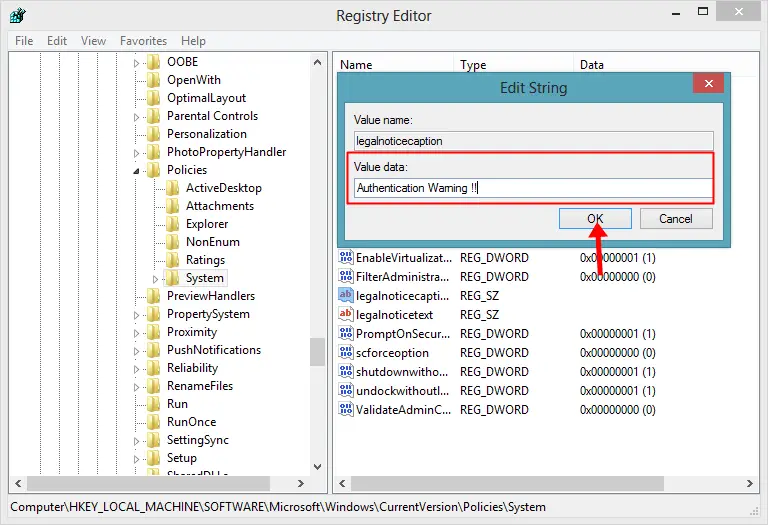 legalnoticetext – Now double-click on legalnoticetext and enter the body of your message in the Value data field, which you want to show during login, and Click on OK. You can use up to 16,383 characters, including spaces, for the message text.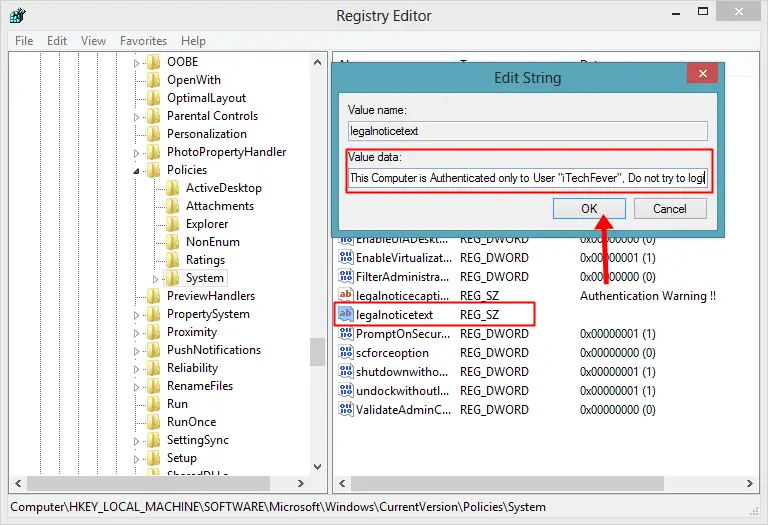 After Restarting your computer you will get the Message Header and the Message body.
How to track the last logon.
The above registry edit will show you a Welcome/Warning message with a message header and body, but you can also track the last login details like login time, date, and successful/unsuccessful logins.  Configure the registry to display login statistics as-
1. Click on Edit on the Menu in the registry editor.
2. Now click on New it will give you different options, and click on  DWORD (32-bit) Value.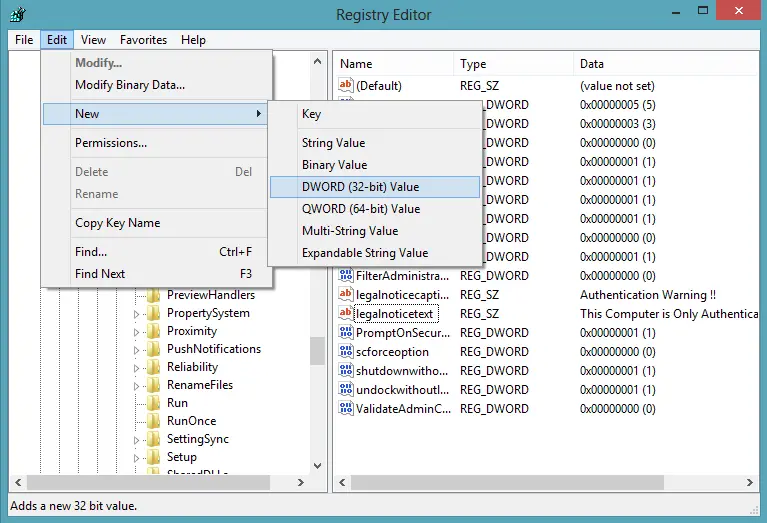 3. Now you will get a new registry key with the name  New Value #1 change it to DisplayLastLogonInfo and press enter.
4. Now Double click on it, type "1" in the Value Data field, and Click on OK.
 That's All; you are done.
New Logon screen with your message and login info
Now restart your computer, and you will see the logon message as shown the below picture. Click on OK, and you will get your user icon and continue to log on.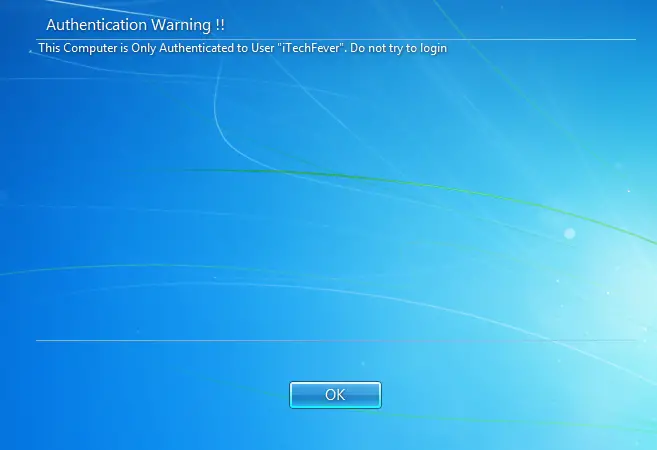 Once you hit OK here, then you will get the Last Logon Information as shown in the below picture. Now click on OK, and it will take you to your desktop.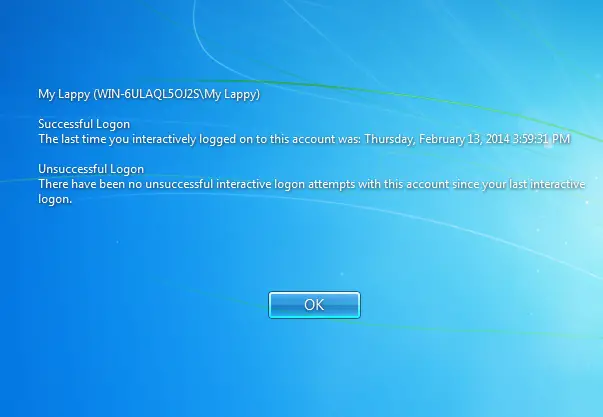 You can change the logon screen for any purpose, write any message here, or you can also Prank someone by writing any legal message or hack, or you can use it as your work. If you have any trouble, please comment below and share this helpful information.
Also Read: