A smartphone is a personal gadget for everyone, and no one wants to share their personal information and messages with any other person.
There are banking apps also that contain lots of sensitive information about your bank account. Besides this, a ton of photos, videos, social media apps, and many other things are available on a person's smartphone that requires proper protection and safety.
Unlike iOS, Android features lots of cool and amazing App Lockers that let you lock your apps with a password, fingerprint scanner, PIN, or other unique ways so you can keep your information safe.
8 Best App Lockers For Android devices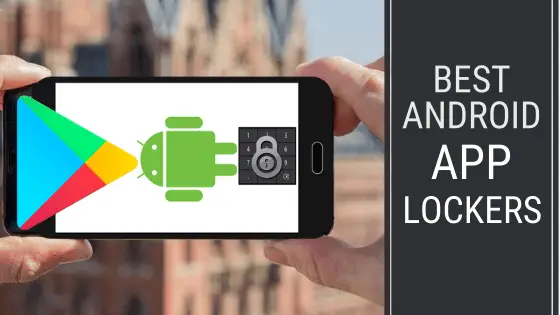 To protect your Android phones from different types of malware, you can use android antivirus, but how would you protect your private data from your friends and family who sometimes use your phone? You need to have an app that can lock specific apps and files.
Most Android users are looking for a reliable and trusted app that can keep their data and information safe always.
It becomes difficult for them to find a good app locker on the play store if they do not know what the best app is for them. Here are some of the best Android app lockers available that can help you to make the right decision.
AppLock is one of the most popular and best Android app lockers on the online platform that offers you high-quality protection and security for your data.
By using AppLock, you can easily lock your apps and your Android toggles, such as Bluetooth, mobile data, WiFi, and many more. The app also allows you to lock your incoming calls and other Android elements in a complete, easy method.
The user can also set up different lock profiles for home and work. Besides this, there are also options to ensure that the app locking triggers at a specific location and time.
You can also hide the app or set up a delay for re-locking the app. The app includes a power-saving mode so you can save the battery of your phone in case your device's battery is draining.
Features:
Power saving mode
Bring a photo and video vault
Pros:
The app provides a high level of security to your device.
Contain several amazing features.
Support for plugins
Choose to hide the app
Prevent your data and information
Cons: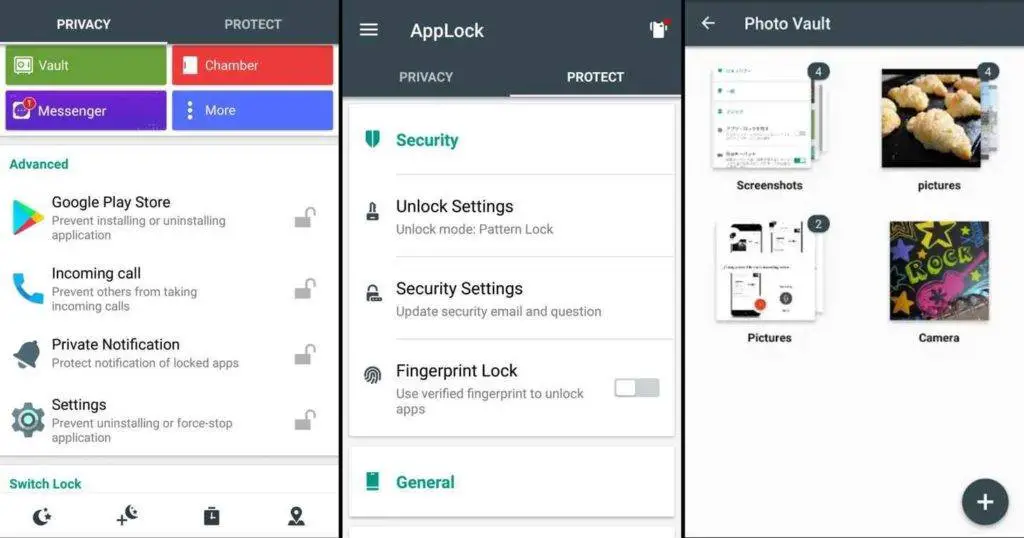 Smart AppLock is another popular app for locking your Android device, folders, images, videos, social media apps, and many more that keep your data safe.
It asks users to enter a password, PIN, or fingerprint scanner for proper protection of their apps, and you can choose the best password according to your convenience.
You can use the toggle button to enable Smart AppLock protection. The app also includes the option to prevent your device from rotating the screen of turning off at the time when you are using a specific app.
It includes a settings panel that allows you to have effective control over all its features in the best effective manner. The app is also compatible with the fingerprint sensor of smartphones and provides effective support for multiple passwords.
Features:
Support for remote locking
Compatible with the fingerprint sensor of smartphones
Pros:
Allow you proper control over features
Proper protection for your images, videos, and files
The app protector allows you to hide selected apps.
Include an option to prevent your device from turning off
Cons:
The app display ads if the internet is on.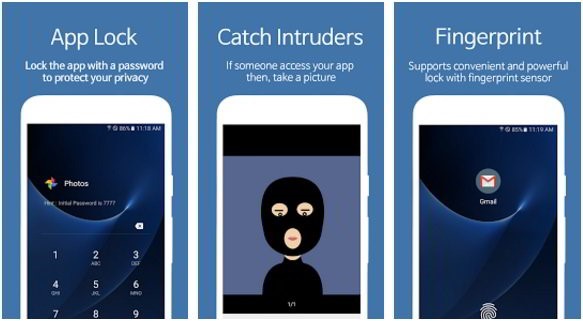 Privacy Knight App is designed by the Alibaba Group, and it is a free app that provides you with enough protection for your apps and data.
The app is completely ad-free, so you can enjoy the features of the app without any issues or hassle. The app lets the users lock their apps in different methods that include fingerprint, PIN, Password, face tracking, or with a disguise cover like shake, crash message or blow to unlock.
Apart from this, you can also lock your incoming calls and other apps on your Android device. There are also options to hide notifications from apps like WhatsApp. The app also captures a photo of the intruders who enter the wrong password so you can easily find out the person who is using your phone in your absence.
Features:
The app includes a photo and video vault.
Click the picture of the intruder
Lock your files, apps, and notifications
Pros:
It is free to use this app locker.
You do not have to face advertisement issues.
Unlock your phone by using various password methods
Cons:
Sometimes, it becomes difficult for people to understand the features of the app.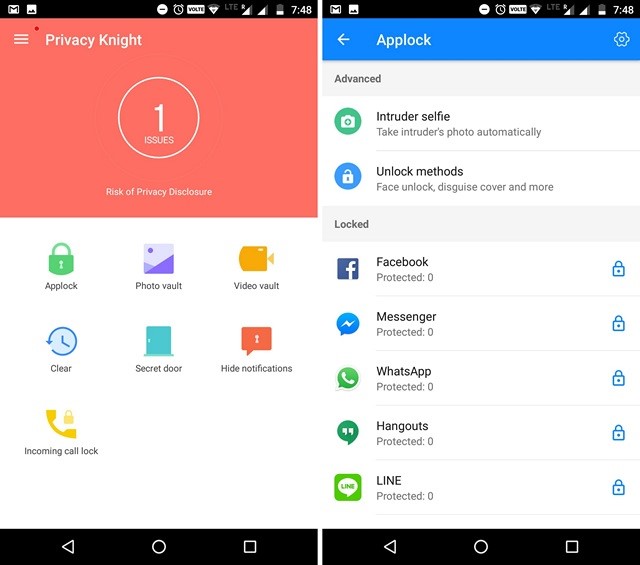 You may have heard of Norton App Lock, which lets you prevent your data and sensitive information in your Android from outsiders. The Norton App Lock is very easy to use and a simple app that can be a good choice for anyone looking for an ad-free and free app locker for their Android device.
With the help of Norton App Lock, the user can unlock their Android device by PIN, password, or fingerprint. There are a few options not available, but you can prevent uninstalling the app by giving it admin privileges.
The app captures the photos of anyone who enters the wrong password three times.
Features:
Capture a Photo of the intruder who enters the wrong password three times
Sneak peek feature
Options for recovery email
Pros:
Do not charge money to use the app
Ad-free app locker
Simple and easy to use
Effective privacy protection methods
Cons: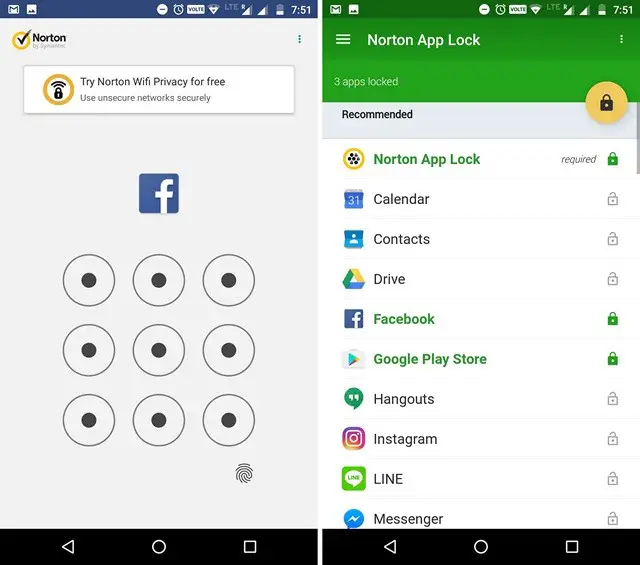 App Locker is not a very popular app, but it can provide you with effective protection to prevent your data and information from stealing by others. The app has some amazing and unique features that make your usage satisfactory.
Rather than usual app locking features, the App Locker allows users to set custom lock settings on a per-app basis so you can enter your password, PIN, or fingerprint for proper protection of your app. The app also allows the users to select a crash over and many other features for high protection.
Features:
Custom lock setting on a per-app basis
Allow you to choose a crash cover
Pros:
Easy to use the app
Lock your private data and other sensitive information
Cons:
Pretty outdated UI
Contain lots of ads
Require full version to remove ads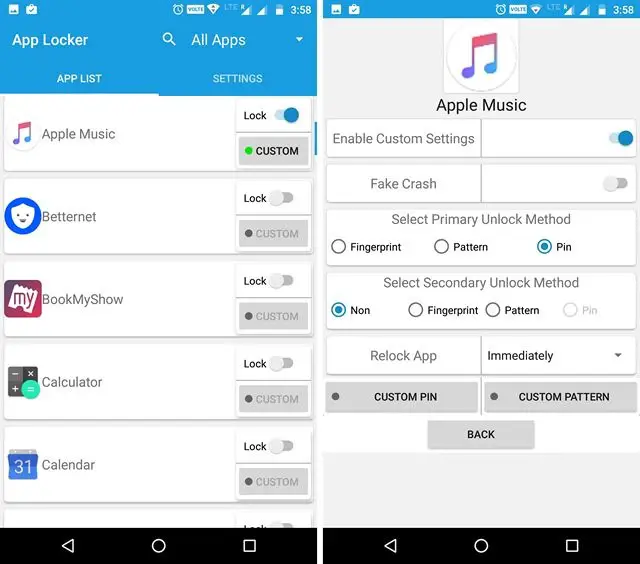 Keepsafe is one of the top Android app lockers that are very simple and easy to use. The app supports fingerprint, pattern, and PIN methods and features a Material Design UI.
The app locks also have the delay option that you can use when the apps are re-locked. You can also find options to hide PIN touches and to prevent uninstallation.
Features:
Set delay when apps are re-locked
Features a Material Design UI
Support PIN, pattern, and fingerprint security method
Pros:
The simplest app locker
You can get it free of cost
Effective functioning
Cons: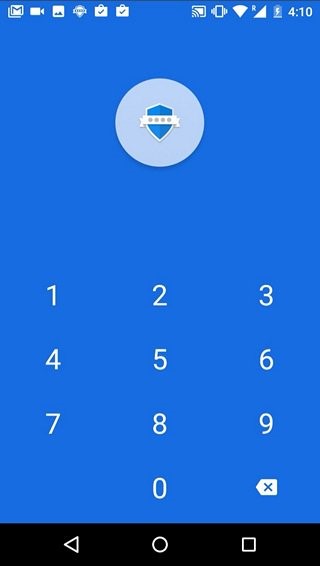 Hexlock is a new app that gains high popularity due to its amazing features. The app has a beautiful interface that makes you satisfied while using the app.
The app allows users to lock apps trough PIN, Pattern and fingerprint. Besides this, there are also different pre-set profiles for Party, Work, Home, School, etc. that you can apply as the theme.
You can also edit these profiles or able to create your profiles in the best effective manner. The app can also capture the photo of the intruders who try to unlock apps on your Android and also save the location where this happens.
In the app, there are also lots of options like app re-lock delay, set up for uninstalling prevention and many more.
Features:
Handy features and beautiful interface
Various profiles to choose
Pros:
The app captures the photo of intruder and saves the location
Users can enjoy several handy and amazing features of the app.
Available free of cost
Lock your data and apps
Cons:
Include non-intrusive advertisements
With 50M+ downloads, AppLock – FIngerprint is another beautiful app for android available on the online platform that comes with amazing features to keep your data and information safe.
The app lets you lock your apps, photos, videos, and many other files through fingerprint. It comes with improved protection features, and its data are not visible in the recent screen. This app also has an advanced security option that prevents uninstallation.
Features:
Set safe locations
Detect intruders
Set up a fake crash
Improved protection features
Pros:
Optimal performance that allows high-level security to your Android device
Tons of features
Available in a free version
Allow you the ability to change the background of lock page
Cons:
Limited features in a free version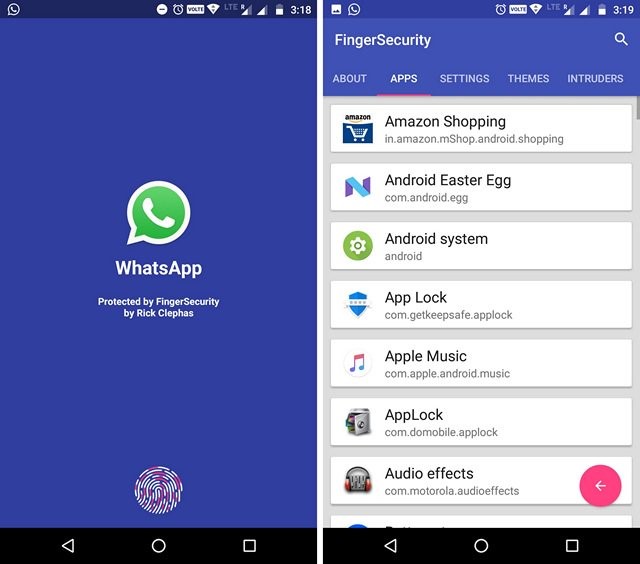 Conclusion:
There are lots of android app lockers are available on the Play Store that keeps your data and information safe and secure from any third person. Choose the app suitable for your needs and allow you lots of benefits.
Apart from App lockers how do you keep your data safe on the Android device? Let Us Know in comments.
Also Read:-