Google Chrome is one of the fastest browsers to surf the internet and download stuff online; sometimes, you may get an error when you try to download anything from the web that is "Failed- Virus Scan Failed."
This error occurs when Google Chrome can't check for the security certificate of the downloaded files from their publisher and Chrome just can't scan the program or file.
This happens due to malware in your computer, which may be a virus, adware, or browser hijacker. Or there may be some conflicting programs.
Sometimes, when you uninstall a program, its registry entries remain active. If you uninstalled an antivirus like McAfee, there is a high chance of a download fail error since the antivirus overtakes Chrome to scan downloaded items.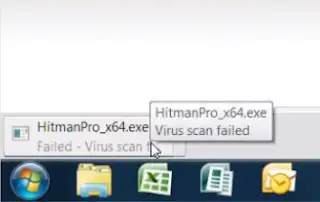 This is annoying when you download any antivirus to scan your computer, but you can't download the antivirus itself.
How to Fix Virus Scan Failed Error On Windows 10, 11, 8.1 & 7
To fix the Virus Scan Failed error, we need to make some changes to the Windows registry. Since it says Chrome cannot scan the downloaded file for possible viruses or malware, we will change the registry value so that it won't try to scan the downloaded files. This will apply to all major versions of Windows, including Windows 11/10 and older.
After that, we will fix the root cause and revert the changes. Follow the below steps –
Step 1. Press the Windows + R keys together.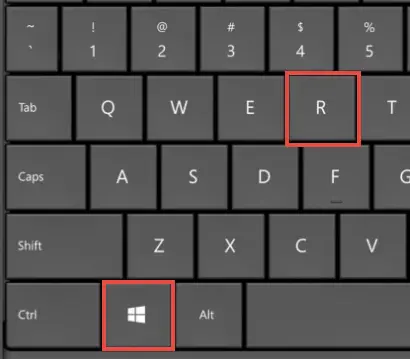 and you will get the "Run" dialog box.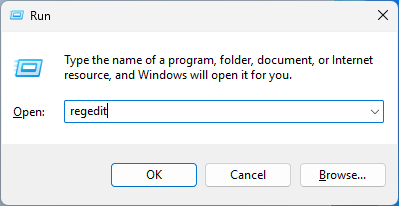 Step 2. Type "regedit" and hit OK. Now, you will get the registry editor window.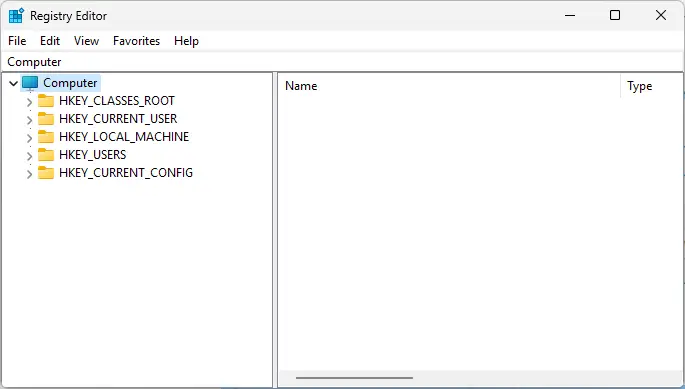 Step 3. Navigate to HKEY_LOCAL_MACHINE >SOFTWARE >Microsoft >Windows >CurrentVersion >Policies >Attachments by expanding the folder tree.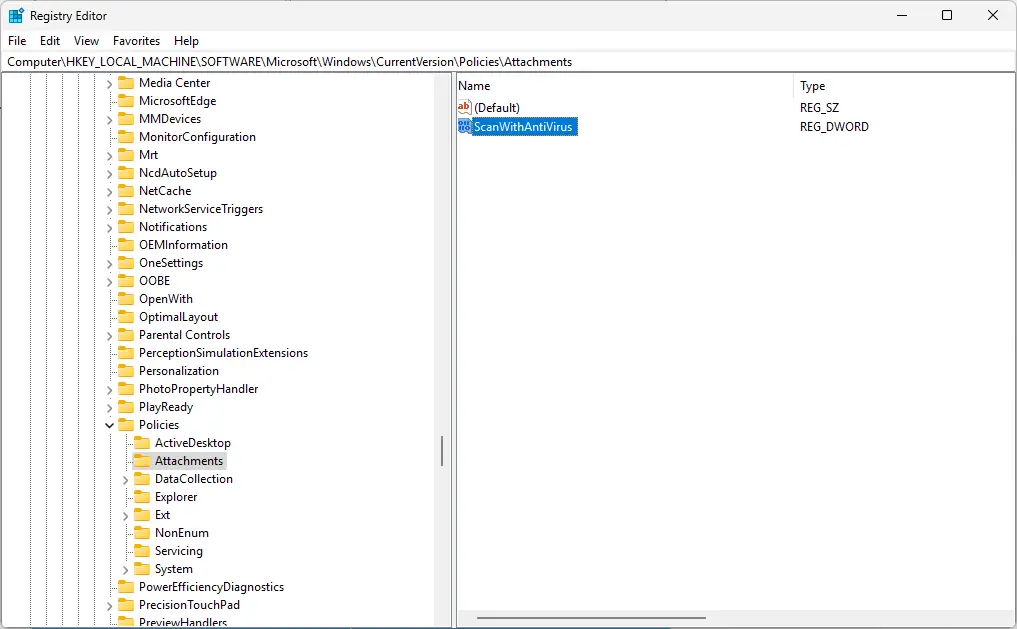 Step 4. Now double-click on the "ScanWithAntivirus" registry key and change its value to "1," which is by default "3". Changing the key value to "1" actually instructs the browser not to scan the downloaded program or files.
Watch This Video Tutorial For More Explanation
After doing the above steps, you will be able to download it from Google Chrome. If you have the same issue on other browsers, download and install a good antivirus on your computer and scan your computer.
Once the scan is completed, you can download programs and files in all browsers. Change the registry key value to its original value, 3, to avoid malicious downloads.
Every Chrome user should check this:- Reduce High RAM usage with Chrome
Another Method to Fix Virus Scan Failed Error.
If the above method is difficult to perform or you are unable to locate the correct registry key, then here is a simple method available. All you have to do is download this patch and run it.
Download this file and extract it. Now open the file "Virus Scan Fix," and you will get a warning message: click Yes.

After running this Registry patch, you will get a success message and click on OK.

In most cases, the above 2 solutions work pretty well, but if it is not working for you, try to reset Google Chrome.
By any chance, if the above solution does not work, then you can try to scan your PC.
Turn Off Safe Browsing to Allow Downloads
The safe browsing feature will block all malicious downloads, but sometimes it might block valid files like some PHP codes, RAR files with passwords, and exe files. You can disable the Safe Browsing feature if you are downloading known files from a valid publisher.
1. Open Google Chrome and go to the hamburger menu.
2. Go to Settings and Privacy & Security option.
3. Choose Security and you will get the option to turn off safe browsing.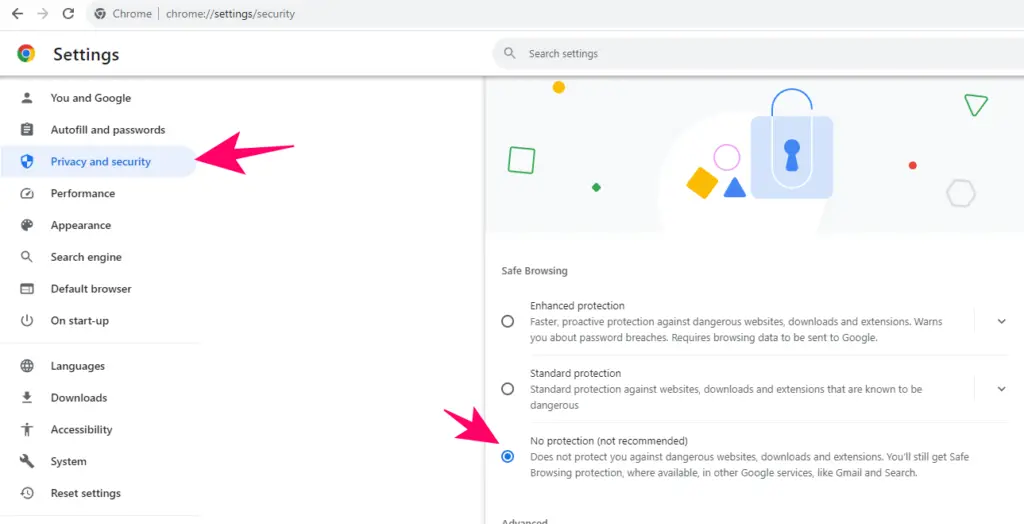 4. Click on the Turn off option the the confirmation popup.
Try to download the file and it might work. Once you are done, it is recommended to enable safe browsing and set it to the Standard protection option.
Antivirus Scan to Fix Chrome Download Error
There may be malware on your PC. If you are getting this error repeatedly, you can scan your PC with the Antivirus you may have.
But if your antivirus is unable to detect any possible malware, then you can download Hitman Pro for a quick scan that comes free for the first 30 days.
Download Hitman Pro and perform a quick scan.
Hitman Pro is best for the flash scan and a second opinion to your existing antivirus, but it is not that good for the real-time scan.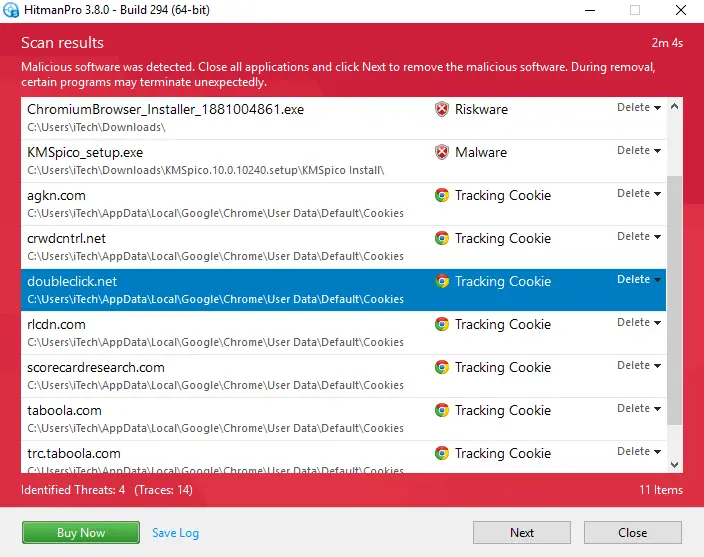 Delete all the found malware and restart your computer. Do check all the found malware before deleting them; this antivirus may give you a false positive result, like marking some DLL files as a virus; make sure you uncheck them.
Registry Scan to Fix Corrupt Entries
I am sure the above method will help you to fix the Google Chrome download error, but if you are unable to fix it, then you can try to scan your registry and repair the corrupt entries; to do so, you need to install the registry cleaning tools like Ccleaner or IObit Advanced System Care.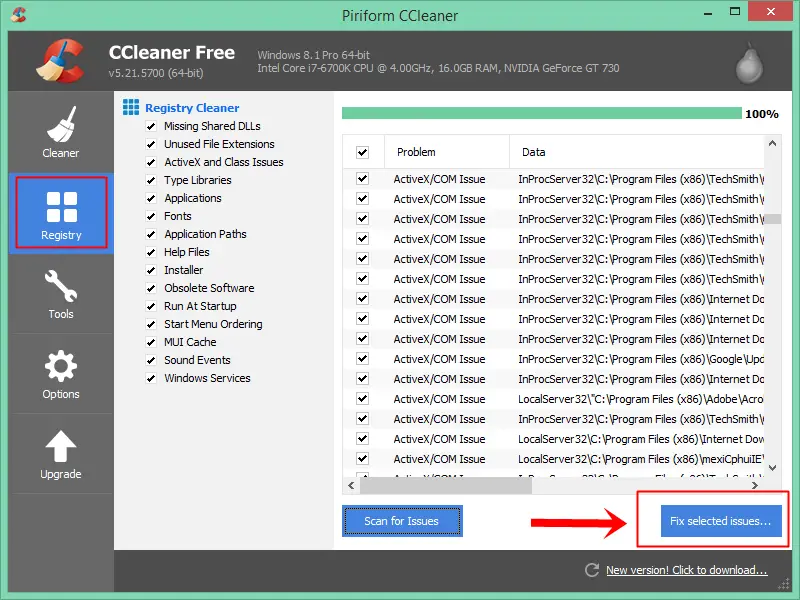 Once you install it, just optimize the registry from several options.
Restart the PC to make changes effective.
If your downloads get interrupted across all browsers, including Firefox, Opera, or Edge, you should follow the same process and reset the browser's settings to default.
To Conclude
That's All; you are done. Now, the downloads won't get errors like, couldn't download virus scan failed or search failed. Make sure your computer does not have any viruses. Install a good antivirus and remove the different types of malware, such as viruses, adware, trojans, rootkits, etc., and any conflicting programs.
Or you can install a free antivirus, but having a full version of an antivirus gives you peace of mind.
Don't Miss-
FAQs About Virus Scan Failed
Why does it keep saying virus scan failed?
When the browser cannot scan for the downloaded files it will result in into Uninturrepted: Virus scan failed error. This might happen if the file is infected or built in antivirus fails to detect the malicious codes.
How do I turn off virus scan in Chrome?
You can disable the Safe growing feature and it will turn off the virus scanner.
1. Open Chrome.
2. Click on the 3 little dots at the right top corner.
3. Go to Privacy & Security then select Security option.
4. Check the option reading " No protection" and Click Turn Off on the pop-up message.
Does Chrome remove viruses?
Google Chrome scans for all malicious websites, URLs, and downloads. If it finds suspicious files it will remove them before such viruses hard your PC.
How do I fix failed virus detected?
You might be downloading infected files if you are getting a failed virus detected message. If you believe the file is safe, try to disable Windows Defender and your antivirus. Read the full guide to fix virus detected error.