Sometimes you are trying to download a valid file on Google Chrome but get an error "Failed Virus Detected," even if you are downloading from a reputed website. This is a common error if you are trying to download a software crack, patch, or keygen due to Chrome security policies.
It is not recommended to download cracks or patches since they can seriously damage your PC. However, if you are sure that you are downloading a legal and safe file, you can try disabling the security settings on your Windows device.
Windows 10/11 and Chrome have aggressive security policies that may give false-positive results, marking a valid file as a virus.
PHP files, compressed source codes, project files, unknown but valid .exe files, or utorrent downloads may fail and get blocked by Windows security.
Fix Download "Failed Virus Detected" Chrome Error on Windows 11/10 & 8.1
When the target file is infected, Chrome won't let you download and remove it from the downloads folder. You can bypass the Windows security checks by disabling the security features for particular downloads.
It is recommended to enable the security setting after downloading the files.
1. Disable Windows Security
Follow these steps to turn off the Windows 10 security features-
1. Go to Start and open Settings.
2. Click on the "Update & Security" option.
3. Choose "Windows Security" from the left pane.
4. Now click on "Open Windows Security," and you will get another window.
5. Select "Virus & Threat Protection" from the left pane on the new window.
6. Click on "Manage Settings" under Virus & threat protection settings.
7. Now you need to "Turn Off" the following settings –
Real-time protection.
Cloud-delivered protection.
Automatic sample submission.
Tamper protection.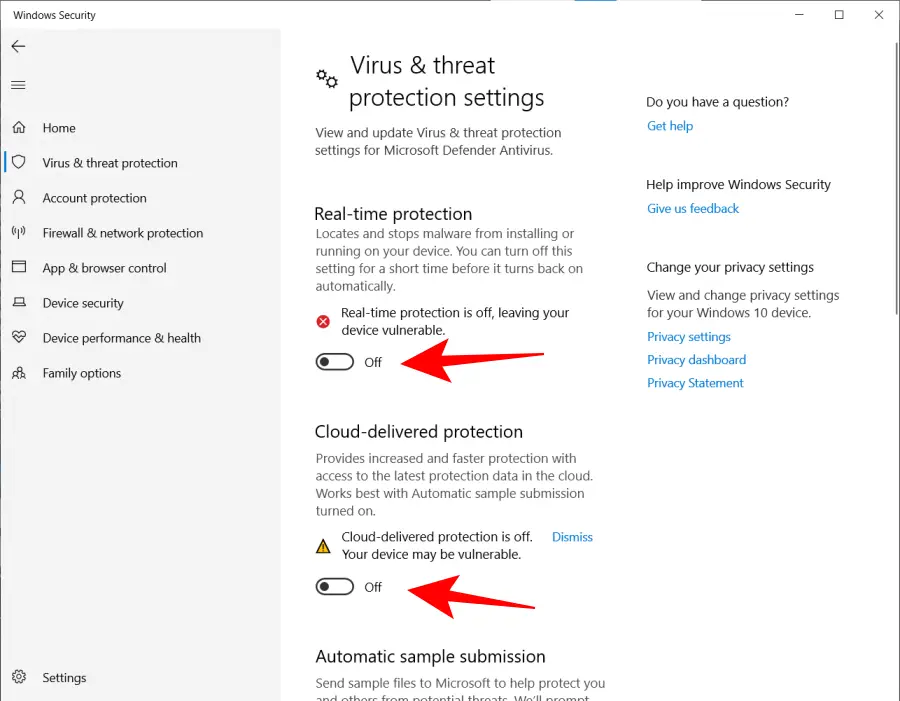 Once you turn off these settings, you will get a UAC prompt; click on "Yes" to confirm.
If you are using any third-party antivirus, you need to turn off the real-time protection from the Antivirus settings.
After disabling the Security, try to download the files and check if you can download them. If not, follow the next method.
Chrome users should check this:- Reduce Chrome RAM usage up to 90%
2. Allow Downloaded File From Security Settings
If disabling the Windows security doesn't work, you can allow the downloaded file from the list of blocked files.
1. Again, open Settings on Windows 10/11 and go to "Update & Security."
2. Click on Virus & Threat Protection and click on "Protection History."
3. You will find your downloaded file on the list of blocked files.
4. Select your file and click on Allow under the Actions tab.
Now go to the Downloads folder and check if you can find the file. If not, try to download it again.
3. Add Exclusion to Microsoft Defender
The default security by Microsoft, known as Windows Defender, scans every downloaded file. You can exclude certain files, folders, processes, and file types from the Windows Defender scan.
Since the file is unable to download, you can't keep it in exclusion, so you can exclude the entire download folder and instruct Windows Defender not to scan any files in the download folder.
Follow these steps-
1. Go to Settings and then "Virus & Threat Protection."
2. Select Manage Settings under Virus and threat protection settings.
3. Scroll down and find Exclusions options. Then click on Add or Remove exclusions.
4. Click on Add an Exclusion and select Folder.
5. Browse the PC and select the Download folder.
6. Click on Select Folder and then Yes on the UAC prompt.
After these steps, MS Defender won't scan any files inside the download folder. Try to download the files and check.
3. Turn Off Google Chrome Safe Browsing Feature
If you are still getting Failed Virus detected error even after turning off the Windows security, then you need to turn off the Google Chrome Safe browsing feature at the same time.
Google Chrome employs additional security along with Windows default security features; if the downloads are failing, you can try to turn off the Chrome security from the settings.
Follow these steps –
1. Open Chrome, go to the hamburger menu, and select "Settings."
2. Select the "Privacy and Security" option from the left menu.
3. Click on the Security option.
4. On the "Safe Browsing" options, select "No Protection" and click on the "Turn Off" option on the confirmation pop-up box.
5. You need to relaunch Google Chrome and proceed with the download.
Turning off the Safe browsing feature will instruct Chrome not to scan for the downloaded files using Chrome smart filters.
4. Fix Virus Detected By Disabling Scan From Windows Registry
If the above 3 methods didn't help and you are still facing the virus detected with your downloads, then you can disable the Antivirus scan for downloaded files from the Windows registry.
1. Go to Start and search for "Regedit."
2. Open the "Registry Editor" and navigate to the following path by expanding the folder tree –
HKEY_LOCAL_MACHINE >SOFTWARE >Microsoft >Windows >CurrentVersion >Policies >Attachments
3. Click on the Attachment registry key to find the sub-keys on the right side.
4. Double-click on "ScanWithAntivirus" and change the value from 3 to 1. Click on OK.
5. Restart Windows to make changes effective.
Open Google Chrome and try to download the file. Now it won't show Failed virus detected error message while downloading. The Windows registry method will also fix if you are getting the Virus scan failed error with downloads.
Revert the Changes
Once you are done with your download, it is important to revert the changes you made to avoid different types of malware on your PC.
If you don't revert the changes, you risk your PC and important files since it may lead to viruses.
Open Virus and threat protection settings and enable all the features that you disabled.
Remove the Download folder from Exclusions.
Enable Chrome's safe browsing feature again.
Change the registry value back to 3 from 1.
Restart the PC before proceeding further.
Verdict
Windows 10/11 and Google Chrome employ top security features to protect you from malware but sometimes treat a valid file like Java, VBS files, and Source codes as malware. You can fix Failed virus detected error and force download the files by disabling the security as mentioned.
Be sure that you are not downloading fake apps, cracks, and patches since they may contain malware. It is true that all cracks do not contain malware, but it is better to be safe than sorry.
Also Read-
Faqs
What is failed Virus detected?
Failed virus detected is an error message you might get when downloading some suspicious files on Google Chrome. Chrome security might block the unknown file types and even may give false-positive responses with valid files.
How do I bypass failed Virus detection?
You can try to disable Windows Defender security, third-party antivirus protection and turn off Google Chrome protection for a temporary time. This will allow downloading the files; if it is still getting blocked, check the "Protection History" in Windows Defender settings and allow the file.
Why can't I download utorrent?
Windows security is blocking Utorrent; however, you can still download Utorrent on your PC.
1. Go to Windows Settings.
2. Access update and Security option.
3. Find and open "Virus and threat protection settings"
4. Find and allow the "utorrent" app from the list