The M1 chip has taken the market by storm. It was introduced with MacBook and now M1 MacBooks are some of the best laptops in the market. However, the transition from Intel to M1 brings some compatibility issues on the M1 Macs. Some software does not work with the M1 chip. In case you are looking for the top Android emulators for MacBook M1 then you have come to the right place.
In this guide, you will be getting a list of some of the top emulators to run Android apps on MacBook M1. All of these emulators are compatible with the M1 chip and macOS Big Sur. 
What is an Emulator?
When we talk about Android emulators for MacBook M1 then it is software that can simulate Android OS on your Mac computer. It means you will be able to use run Android OS and apps on Mac.
By that definition, an emulator is software(or custom hardware) that can enable one computer device to behave like another computer device. 
Main Uses of Emulators
Although the developers' community was the target audience for emulators back in the day, now a lot of people use emulators for many reasons. 
For Testing Apps: App developers use Android emulators to design and test their apps before launching them to the public. Testing on emulators can save a lot of time and resources for developers. Emulators allow developers to emulate multiple devices using a single computer. So they can test apps across different Android smartphones using a single computer which saves time and money. 
For Gaming: Many gamers use emulators too. It allows them to play games from different devices right on their PC. 
Advantage of Big Screen: Things just look better when they are on the big screen. Gamers use emulators to get more screen real estate. It helps them in gaming and streaming as well. Having a big screen is also useful in the overall immersive experience of gaming. 
Top Android Emulators for MacBook M1
Now once you have an idea about emulators and their working, let's find some of the top apps that can simulate Android on Apple's new ARM chip.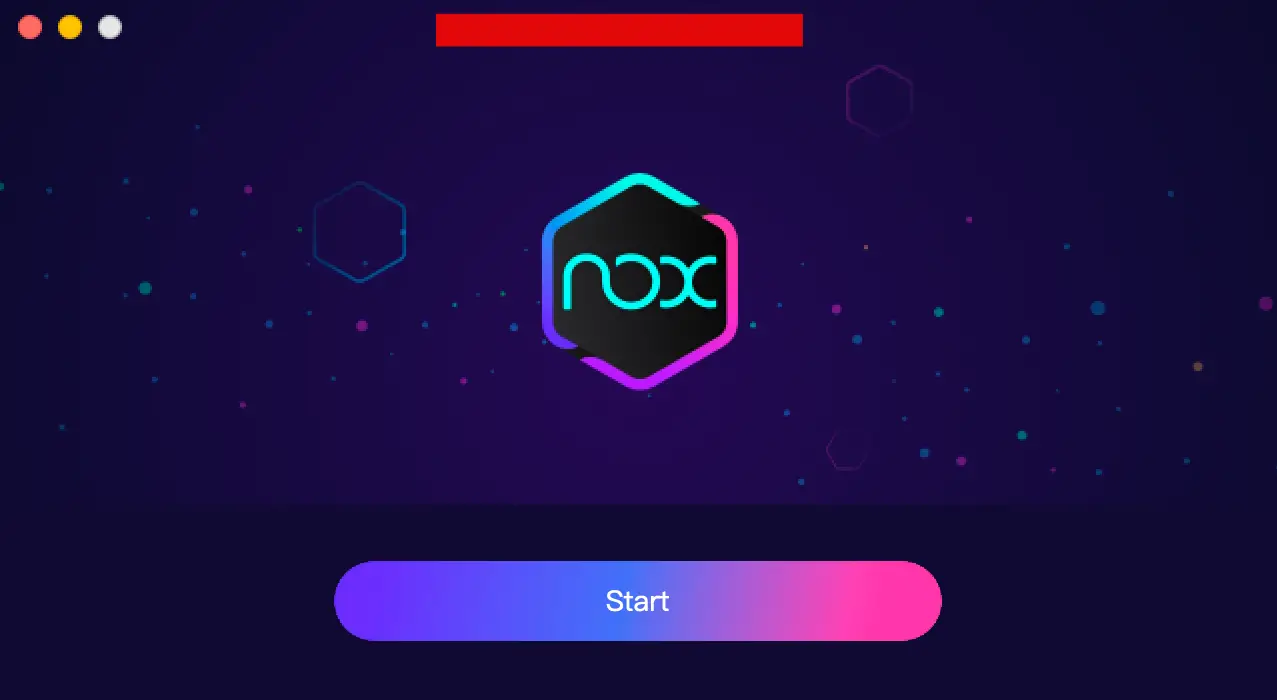 If you are a mobile gamer and looking for an Android emulator just for gaming on your M1 Mac then Nox App Player is easily one of the best options for you. 
It is a lightweight and very smooth app, that is specially designed for gaming. The user interface is quite effortless so anyone can install it on their M1 MacBook. Also, the emulator itself is quite easy to use. 
Nox app player gives you some great features for gaming including the option to use a gamepad, screen recording, and many multiple tasking features to enhance your workflow. Another great thing is that it gets regular updates so you will not face any problems using it in the long run. 
It is one of the top emulators to test Android games and apps. 
Key Features:
Easy to use
Lightweight 
Well-optimized for Gaming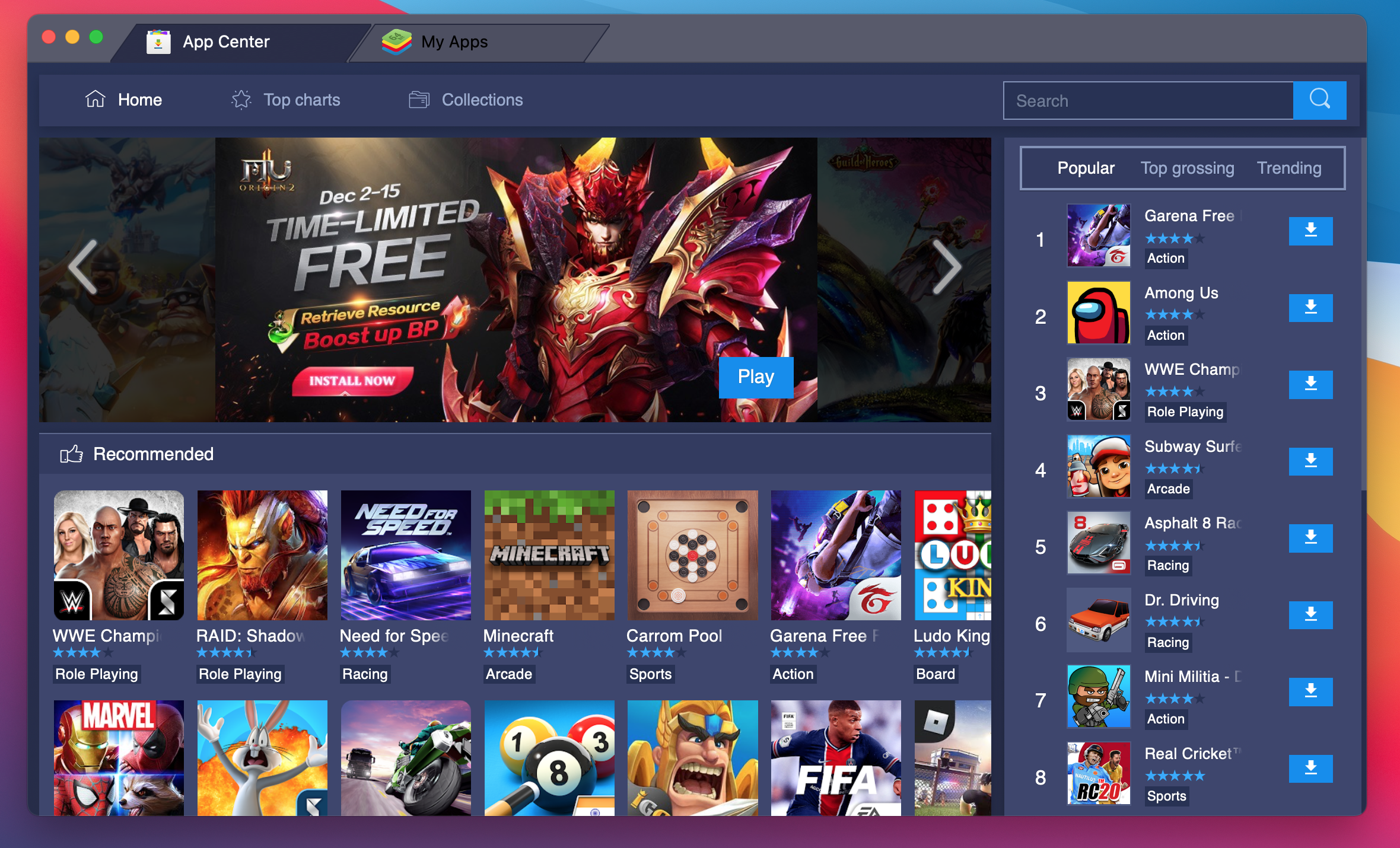 Bluestacks is one of the most popular and go-to Android emulators for Macbooks. You just can't go wrong with this one. It works on both Windows and Macs. The new version of Bluestacks is said to be 50% faster. If you wish to run heavy apps on your M1 Mac then this is the one to go with. 
The emulator supports 2 million games and consumes very little RAM. Combine the efficiency of this emulator with the performance capabilities of the M1 chip and you got everything you need. It is great for both running apps and playing games on your Mac. 
Key Features:
Extensive Game Library 
Very Efficient 
Great Security Features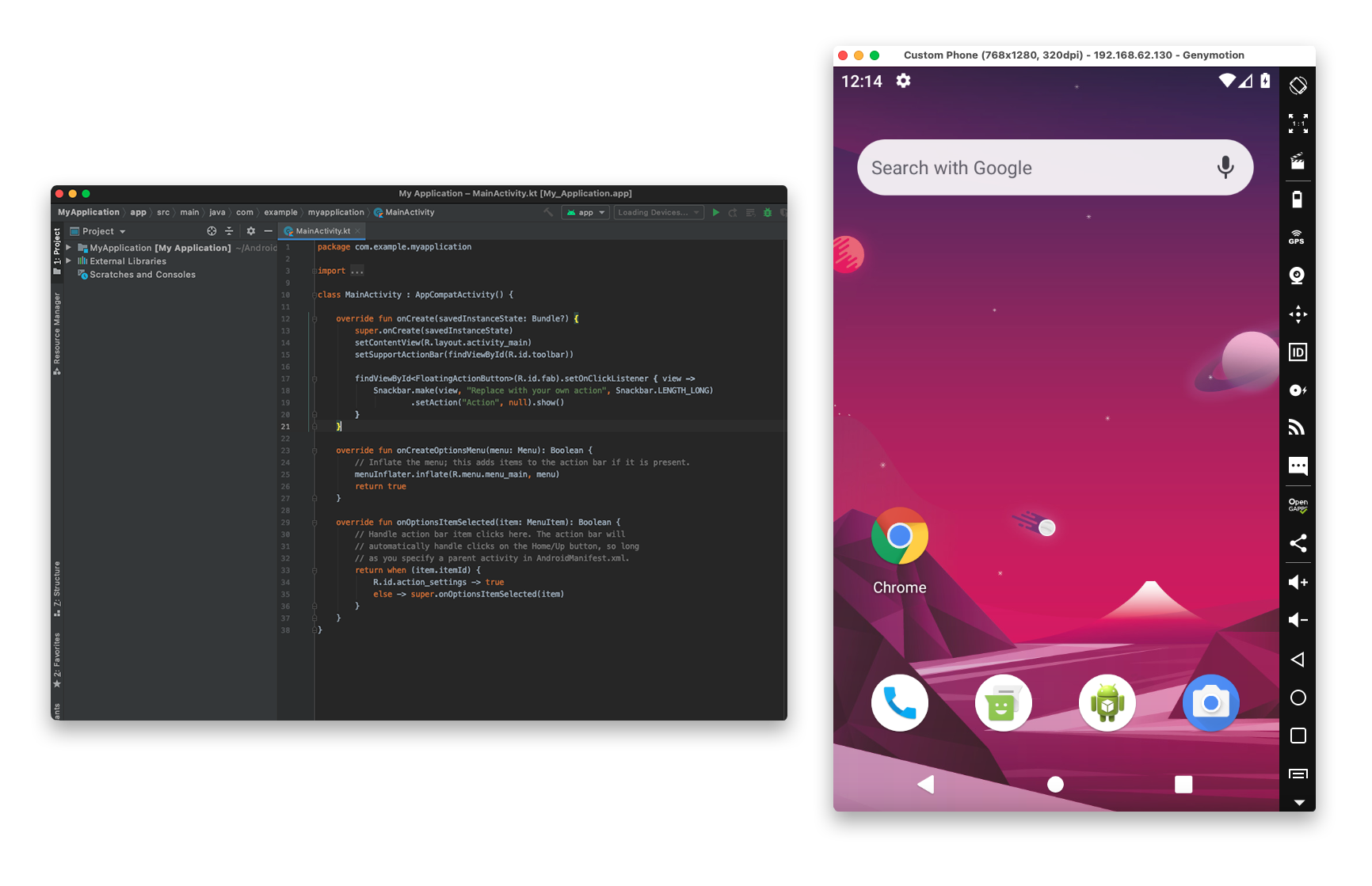 Cloud computing is gaining a lot of popularity these days. The reason for that is: first, the internet speeds are quite fast these days, and second, the servers can process complex requests much faster without delay. 
Genymotion could be your choice if you are looking for a cloud-based simulator. It offers you a cloud-based modal for you to test Android apps. With the cloud solution, you can directly access the Genymotion Android emulator. There you can easily test your apps. 
It comes with features like compatibility with CMD, the Java API, and many such applications. 
Key Features: 
Cloud-based Solution 
Great for Testing Apps
Available from Android 4.4 to the latest Android versions, in all screen sizes
Android Studio is a great Android emulator but it is definitely not suitable for everyone. First of all, it is strictly for app development and testing. Moreover, it requires a lot of technical skills to set it up and use. 
From the makers of Android itself, Android Studio is Google's own platform for app development on computers. It is aimed at people with a programming background who want to develop Android apps.
The installation of the emulator can be a bit complex for an average user. So unless you are a programmer and want to develop an app, I suggest that you try other emulators on the list. 
Key Features:
Great for App Development 
Come with Tools to Develop Android Apps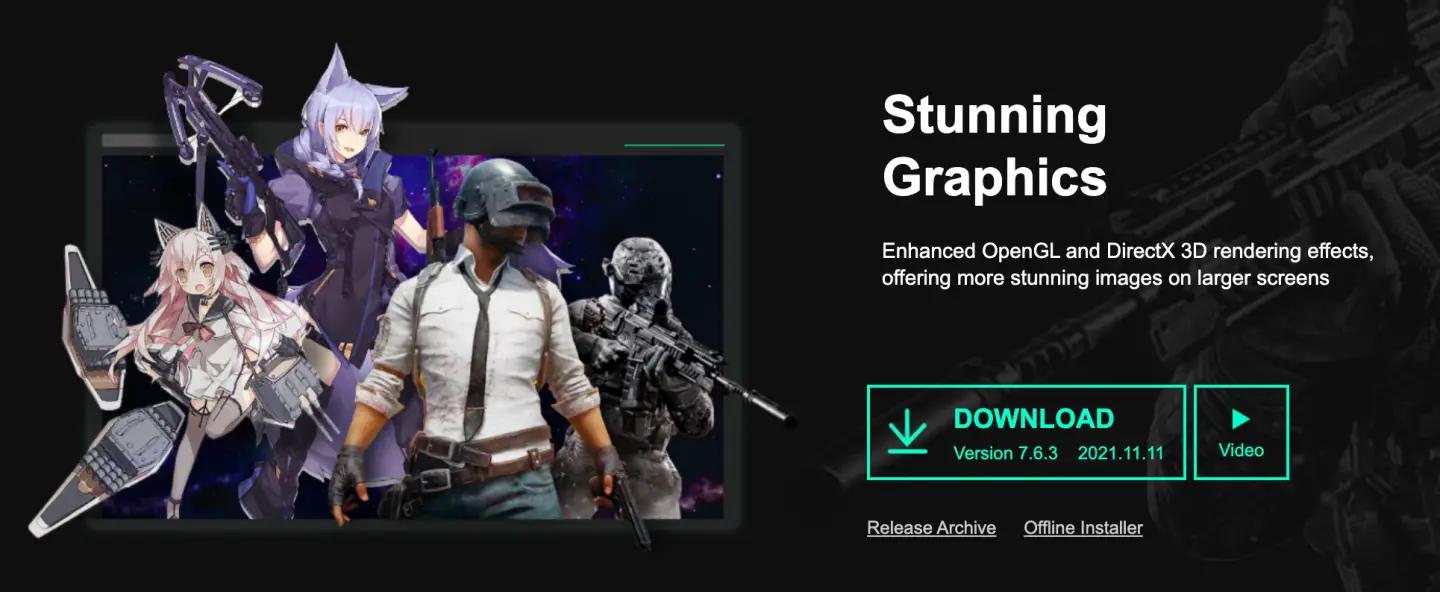 MEMU Play is another popular Android emulator for the M1 Mac. It is mainly designed for gaming. The emulator effectively provides you with higher frame rates and a better gaming experience overall. 
It utilizes OpenGL and DirectX 3D rendering effects to provide you with better images on the screen while you play. If you are primarily focused on gaming then this is an emulator that you can definitely try. 
Key Features:
Great for Gaming 
Provides Better Frame Rates and Image Quality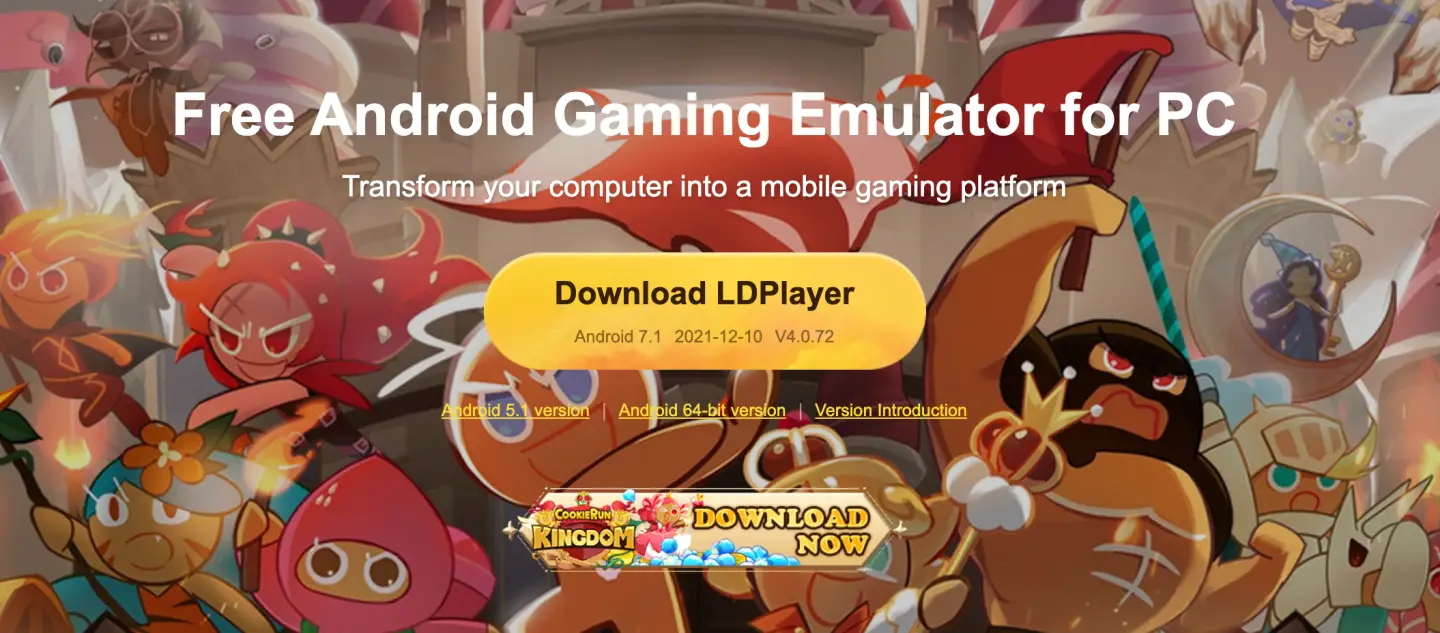 Last but not least is the LD Player and it is a great emulator if you want to play games on your MacBook which is free to use. With this, you can play games like PUBG, FreeFire, etc. with ease on your MacBook. 
Key Features:
Great for Gaming 
Smart Key Mapping 
Note: Some of these Android emulators might give you some problems while installing on your M1 MacBook. I suggest that you read their blog first to know any new updates or versions. 
Emulators are there for a long time since the ARM-based Macs have a different architecture than Intel-based Macs you have to install the compatible apps.
Above are some great Android emulators to simulate the Android environment on the new M1 Macbooks. All of them are compatible with the M1 chip. As we progress, there will be more emulators that will be compatible with the M1 chip and I will be updating the list accordingly. 
I hope that you find the emulator which works the best for you. Make sure to write a list of things you need from your Android emulator. Then select the best one for yourself. 
In case of any difficulty, feel free to reach out to us anytime. 
Read Next