Looking for some of the best Android Games to play with your friends? Well, search no more. If you have made it to this page, it's safe to assume you have a good internet connection and a smartphone or PC. There are many multiplayer games available in the market. You can use online multiplayer to play with your friends.
They are fun and exciting as most multiplayer games have quick sessions where you put all your energy and effort into a short session. However, finding the best ones takes time and effort.
Lucky for you, you have landed on the right page, as today we will be showing the best multiplayer games. Gather all of your gaming buddies and go on a fun gaming adventure.
Best Android Games To Play With Friends Online
A game may get boring playing alone; you don't have to challenge your friends or real people if you play against the bots and algorithms. So here is a list of Android games that you can play with your friends without losing interest.
These games offer immersive and real-life experiences with great graphics and audiovisual effects.
Available: Android, iOS
Modern Combat 5 has immersive graphics, powerful weapons, and thrilling maps to intensify your gameplay. You can create a squad with your friend to fight back the enemy team and complete the mission.
Multiplayer mode has all the basics for every player, like capturing the flag and team battle joining up with VIPs. The squad system allows players to team up and participate in squad-based team battles. The game is quite popular among players, and you will surely love it.
Available: Android, iOS, PC, Xbox, PS
We can't talk about the best Android multiplayer games without PUBG. The game has all the elements to make a perfect first-person shooter battle royale. You choose the map, and then the action begins.
The game has shooting, driving, dancing, and whatnot. Players get various guns and ammo to kill their opponents. The game is thrilling overall, and you can play it with your friends by forming a team of up to 4 players. So make sure to check it out.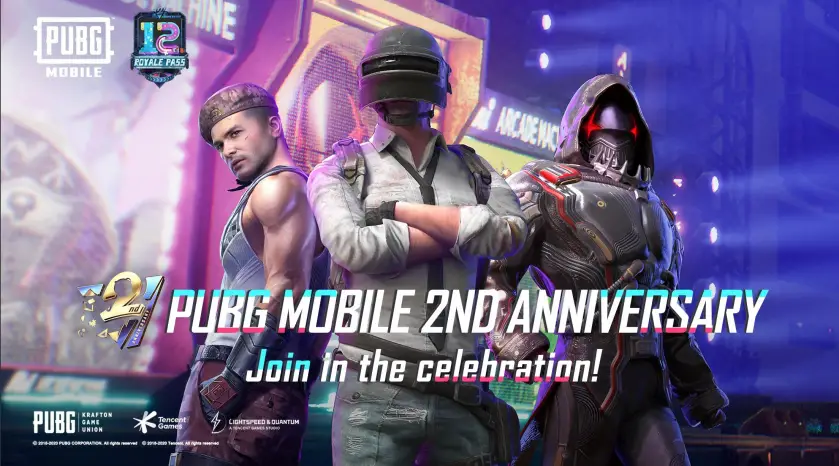 Developed by Tencent, PUBG is insanely popular among mobile gamers. The popularity of the game has risen exponentially due to its design, maps, features, and many more.
Once you download the game, you can play with random players in the selected region or create a duo or squad with your friends to play against enemies. The game will land you on the selected map where you want.
You must find guns, ammo, helmets, vest, grenades, and other tactical weapons in the different areas of the map.
Once equipped with guns, Ammo, armor, and other tactical weapons, you must fight against the enemies to survive. The one who will survive till the last wins the game while escaping from the blue zone.
There are vehicles available to go through the different parts of the map. You can get special weapons and vehicles by shooting the flare gun in the sky.
You can customize your avatar, clothes, emotes, etc. There is an option to unlock better skins, clothes, and tons of other things after earning the game coins.
The fascinating thing is that you can voice chat with your squad in real time to make a strategy for the game. PUBG is one of the best Android games to play; you will get real-life battle experience.
Available: Android, iOS
Popular among desktop gamers, Call of Duty needs no introduction. After the massive success of the desktop version, COD was released for mobile on October 1st, 2019. It is a solid multiplayer game where you can play with friends or other people.
The game has immersive graphics and smooth controls. You will love this game if you are a big COD fan. So gather your friends and go on a mission.
Available: Android, iOS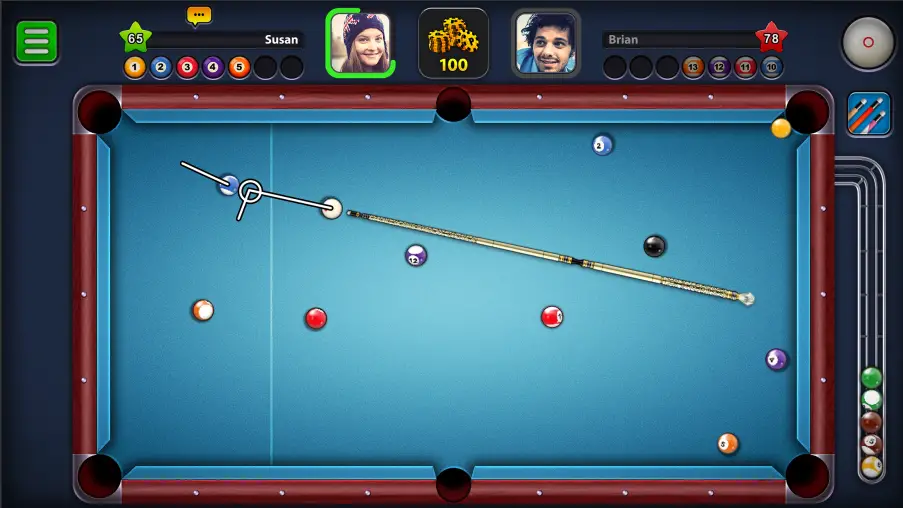 If you don't like playing first-person shooter games like COD and PUBG, then 8 Ball Pool is a great choice. Unlike royale battle games, which take time to learn the game, map, weapons, and strategy, 8 Ball Pools is a simple pool game to play with friends.
After installing the game, you will have a pool table. The game employs graphics and physics to make it realistic. You will feel like shooting balls in real life.
You can play pool games with your friends or against players around the world as well. There are options to customize your cues and controls for better gameplay.
The 8-ball pool allows you to join millions of other players around the globe. Challenge your friends, play pool tournaments, or play against other players worldwide in 1v1 pool games.
You can earn game coins or win pro pool rings, pool cues, and other giveaways. You can unlock premium cues with unique power and style by earning game coins.
Available: Android, iOS
Do you love racing games? If so, Real Racing 3 is a feature-rich game you may want to play with friends. You can experience the ultimate racing, including Formula 1. The game has over 500+ million downloads on the Play Store, which speaks about its popularity.
The game is heavy due to its graphics and features, so you need to have a good Android phone with at least 4 GB RAM for smooth gameplay.
Real Racing 3 offers 250 vehicles from popular manufacturers like Ford, Aston Martin, McLaren, Koenigsegg, and Pagani. It has 19 real tracks in multiple configurations.
You can race against your friend or the Global-8 players. Or race to challenge their AI-controlled versions in Time-Shifted Multiplayer.
The game has over 4,000 events, including Formula 1, Grand Prix, and Cup races. This is a super exciting game to play with your friends or with global players; you will never lose interest.
Available: Android, iOS, PC, Mac, Xbox, PS, Switch
World of Tanks is a unique online battle game. Unlike most battle games that focus on a character, this one focuses on tanks. This game will take things to the next level for the boys, as tanks are always fun.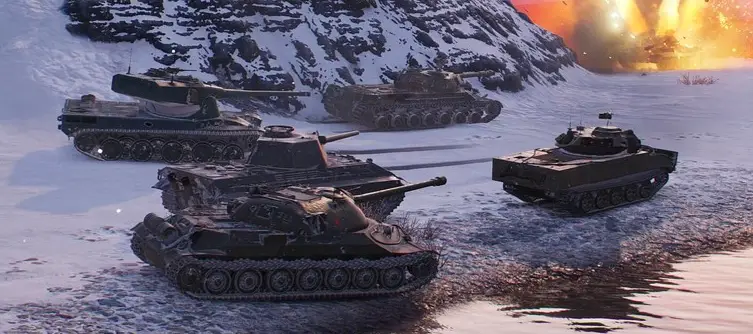 In this game, you must control a single tank in a large strike force and go to war. The game has a learning curve as you learn how to handle a tank. But in the long run, it is a great multiplayer game.
Available: Web, iOS, Android
Uno is one of the most iconic card games. You can invite your friends to play online or play with them in person. That makes it a perfect multiplayer game you can enjoy with friends.
Then, there is the online random matchmaking option where you can play with other random people and have fun. Overall, there are many options for you to explore. So next time you are out with your friends and don't have Uno cards, just use the app. 
Available: Web
This game is truly a parody of the classic old board games. If you like humor-filled games, this one is a good option. In the beginning, you might see it as a classic board game, but that is where all the fun starts. The game has many odd elements, and the developers don't shy away from them.
You will not get bored of this game quickly as there are many events to complete and items to find. The game can accommodate a maximum of 16 players at a time, so there are no issues if you have a big group.
Available: PS, Xbox, Android, iOS, PC
Over the past few years, there's been a dramatic rise in battle royale games, and Apex Legends is one of the finer products of it. The game is free to play and one of the top multiplayer games for people who want a thrill. The reason why you will enjoy it with your friends is because of the gameplay of the game.
It forces you to be in a group of two or three. So, for small groups, this game is ideal. Then, players pick a character from Legends that has unique abilities. This is the one for people looking for a free game! 
Available: Android, iOS
Now and then, there is you and your friend, and since you interact daily, there is not much to discuss. So you need something to keep the awkwardness away. This is where Dots and Boxes can come in handy. It is a game that you can install on your phone. 
You must have played dots and boxes in your childhood in your school at the back of your notebooks. Well, this is just the digital version of the fun game. It has been tried and tested for many years and remains one of the best games to play with friends. So make sure that you play this game.
11. Glow Hockey 2
Available: Android, iOS
Belonging to the arcade genre, Glow Hockey is one of the simplest yet best multiplayer games you can play online with a friend. You must have played air hockey or seen it in an arcade zone. This game is just a digital adaptation of air hockey. It works perfectly fine on smartphones, but if you have a tablet, you can get the best out of it.
The gameplay feels the same, and the neon and glowing aesthetics look appealing. So again, if you are with a friend and want to be competitive, you can play this game. 
12. Among Us
You might have heard about Among Us as it became wildly popular in 2020 and 2021. While the game might not be as popular as it used to be, it still has a large user base. Moreover, you can play this game with your friends, which is pretty exciting. The game has a lot of suspense as one player becomes an imposter and has to kill all the remaining players. 
Other players must protect themselves from being killed and guess who the imposter is. There are many great customization options available in the game. Overall, it is one of the best games to play with friends.
Available: Android, iOS
There's always a group of people who love cars and racing, and for those people, Asphalt 9: Legends is one of the best multiplayer games. With this game, you get multiple gaming options. You can play with AI and other players or use the online multiplayer mode. It works decently and allows you to have car races with your friends.
The race usually finishes quickly. What's best is that you can also create your progress in the game in the non-PvP mode. It has room for multiplayer and single-player, so you never get bored.
Available: Android, iOS
Just after the launch, Pokémon became one of the most popular online games ever. However, it has seen a steady decline in popularity since then. But if you are looking for an excellent multiplayer game, then Pokémon isn't going to disappoint you at all.
There are always new events and tournaments being organized by the developers and the community. Then, the developers also keep adding new Pokémons to keep everything exciting. So you can check out this game if you want to get that nostalgic feeling and wish to become a Pokémon trainer.
Available: Android, iOS, PC, Xbox, PS, Mac
There are only a handful of games as popular as Fortnite. It has dominated the battle royale section for a while now and is easily one of the best multiplayer games available. The fact that it is part of pop culture speaks to its dominance. Besides the influence on the culture, the game is solid inside out. 
Unlike other battle royale games, you don't shoot players and kill them. Here, you also use your skills to build things to protect yourself. So, it requires more strategy than a standard battle royale game. 
Available: Android, iOS
Words with Friends 2 is a popular board game that Scrabble inspires. To kill time, you can enjoy this fun game with your friend at a cafe or after a class. The two-player board games are always fun, and this one is no exception.
It is simple yet engaging, as the game's difficulty depends on the people playing it. You can play this game with your friends or other random people.
Final Words
So these are some of the top Android games you can play online with your friends to stay busy while you are locked down in your house. Gaming is an easy way to kill free time if you are not working online.
Ensure you have an Android phone with good RAM, enough space, and a fast internet connection for a seamless gaming experience.
What other games are you playing right now?
Also Read –
FAQs
Can I play these multiplayer games with more than one player?
Yes, most of the games on the list can accommodate two or more players in the multiplayer mode. 
Which are the best battle royale games?
PUBG, Fortnite, and COD Mobile are some of the best battle royale games.
Can I play multiplayer games in offline mode?
There are certain games like Uno, Words with Friends 2, and Dots and Boxes that you can play in offline mode.
What are the best multiplayer racing games?
Asphalt 9: Legends, Real Racing 3, and Mario Kart Tour are excellent multiplayer racing games.