Are you getting a "software update available" message on your smartphone? But you updated it a month ago, right? That is how fast the technology world is changing.
In the last century itself, mankind has invented mobile phones, television, computer, internet, digital cameras, 3D printers, LED bulbs, and flash drives, also went to space, set up the space station, and landed on Moon.
The processor of the new computer you have brought today will be outdated in a couple of years; the android system of your phone will have its next version ready in just a few months. 
In this ever-changing world of technology, how to keep track of all the latest technology news from around the world? Here in this article, we will discuss 10 tech websites that will keep you updated with the latest ongoings in the tech industry.
Top 10 Tech Websites To Follow For Latest News
We have compiled a list of top tech websites considering their popularity, content frequency, Alexa ranking, and trust factor. You can go through these tech websites to see what's happening around the globe, and most of these news magazines cover stories from around the world.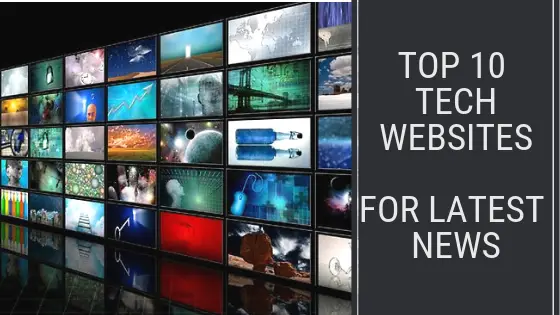 Apart from the latest tech news, some of these sites provide guides to fix your PC, android, iOS problems that turn to lifesavers if you face any such issue.
Here is the list of the top 10 tech news sites in no particular order.
With almost 70 million visitors per month, Gizmodo is one of the top tech websites on the internet. They have a device-based section so you can easily follow the technologies related to a particular device. Gizmodo talks not only about upcoming technologies.
In its "Paleofuture" section, Gizmodo discusses the history of the technologies that might come up. The io9 section will keep you updated about science fiction movies.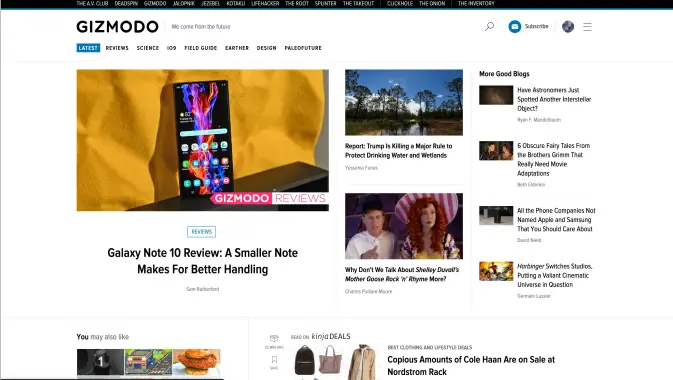 Good
Gizmodo has a clean interface with minimal ads.
They talk about both the future and past of the technologies.
Free to use.
Bad
Too much emphasis on Apple products and their shortcomings.
If you are someone who only seeks advanced technical news, then the other section, like "Earther," may annoy you.
Created in 2004, Bleeping Computer was the first news and support site that partnered with the "No More Ransom Project." Bleeping computer mainly reports security threats, both online and offline, tech news, and also the basic knowledge to run your computer effectively.
The website has over 11 million visits per month and also hosts over 700000 registered users. It has an extensive guide for different virus removals free of cost. If you want to take your technical knowledge to the next level, you can opt for Bleeping computer's specialized IT certification courses.
Positives
Registered users can enjoy ad-free content.
The contents are suitable for both novice and tech experts.
Provides an unbiased review of the products.
Negatives
The vast number of ads makes the interface a messy place.
The utilities and programs used in the free virus removal guide are not always free of cost.
The registration process is not streamlined.
Mashable came to the limelight in 2009 when Time magazine reviewed it as one of the best 25 blogs. The website has 45 million views each month and a whopping 9.3 million Twitter followers, only second to the TechCrunch website.
Mashable posts about entertainment, digital culture, and its empowering effects on society. The website is great for gamers and movie buffs. They have a dedicated section for the same. Another great feature of Mashable is the videos related to each technology, which helps understand the ideas.
Good
The contents are easy to understand.
The interface is straightforward and provides an optimized reading experience.
Bad
The website takes more than the average time to load.
Sometimes they publish incorrect and biased information.
Customers face difficulties when they buy products from the Mashable website.
It is a multilingual tech website that covers the latest technology news in its daily blog. The innovative contents of the website have earned them 2.4 million Twitter users and an average of 45 million monthly visitors.
The "Buyer's Guide" section provides helpful reviews of the gadgets, including their pros and cons. The "Tomorrow" feature will tell you about the upcoming technologies and their effects on society.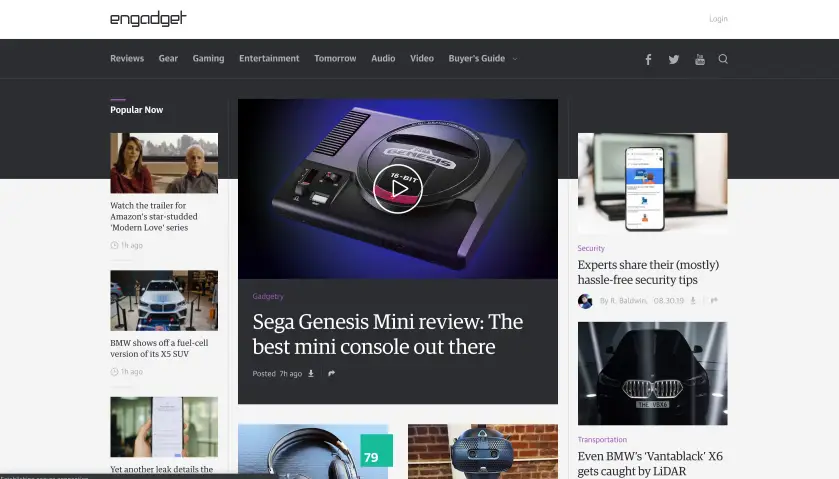 Good
The accurate information of Engadget is their strongest asset.
The website is multilingual. It has 10 blogs- 4 in English and 1 each in Chinese, Japanese, Spanish, Polish, Korean and German language.
Features podcast for weekly tech review.
Bad
Accused of favoring Apple products with high ratings.
It takes more than the average time to load.
Sometimes they divert from tech news to diplomatic and political news.
With nearly 160 million readers per month, CNET is the highest-read tech website on the internet. CNET provides reviews, podcasts, articles, blogs, and news on trends and gadgets.
The download section of CNET, download[dot]com, has over 400000 titles, which provides almost all the popular software. It also features a "how-to" section for tutorials on new products.
CNET has region-specific and language-specific editions too. It is available in Chinese, French, German, Korean, Japanese and Spanish.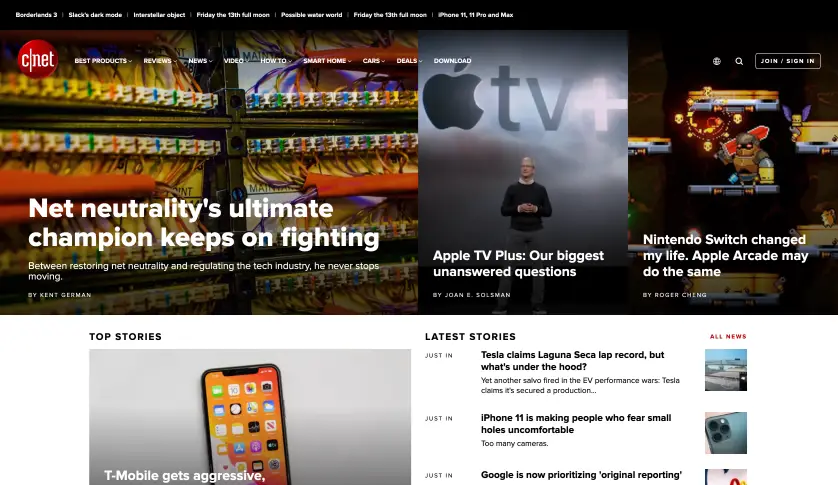 Positives
It has a user-friendly interface.
The reviews of products are accurate.
Registration is free of cost.
Negatives
The website contains too much of ads. It takes up a lot of memory and data on the CPU.
The articles shift their position on the screen. Users may end up clicking on something else rather than the intended one.
The downloads from download[dot]com may contain unwanted software, such as malware and spyware.
Founded in 2005 by Archimedes Ventures, it is one of the leading websites dedicated to technology. It has over 25 million readers per month and over 10.2 million Twitter followers.
TechCrunch mainly focuses on profiling and reviewing tech start-ups and the latest tech product.
Good
TechCrunch is easy to use and a free website that can be viewed by anyone, not just the experts.
It holds various community events, like the Crunchies Award, which helps the community meet and grow.
It is available in various languages, English, Mandarin, Japanese, and French.
Bad
TechCrunch has been called biased by several people. It is said to only post articles about the start-ups that would bring it profit.
TechCrunch mostly leans towards the business side.
It is also said that TechCrunch is not so strong on analysis.
Since 1993, Wired has been publishing both offline and online monthly Tech magazines. It is owned by Condé Nast.  It has 20M Readers per month and over 10.2M followers on Twitter.
Wired focuses on the technological effects of products on culture, economics, and politics. One of its sections, "Ideas," discusses the future of technology and science.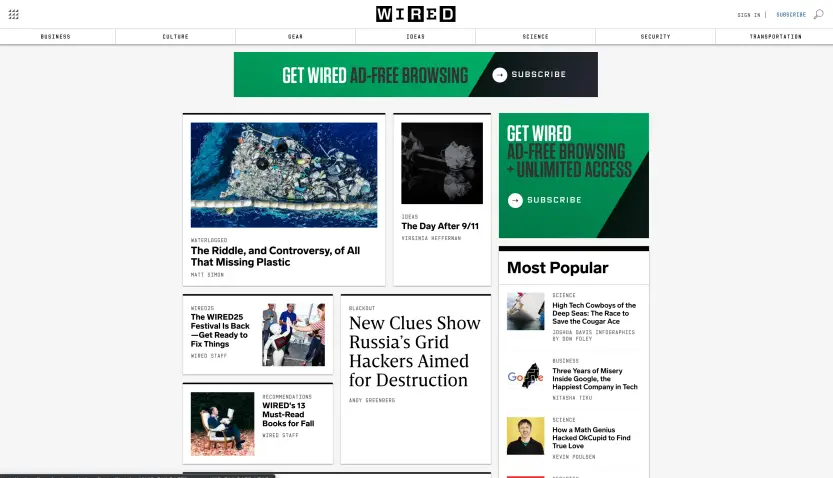 Positives
It is a free website for everyone to enjoy.
When one registers to it, 20 reward points are given. Once enough reward points are accumulated, one can choose several other magazines for reading.
It is very user-friendly and easily understandable by any common man with minimal tech knowledge.
Negatives
It has some issues with censorship. But almost every website has the same issue.
It doesn't discuss the topic.
In Latin, Ars Technica means "The art of technology." It is owned by Condé Nast. With 1.17M Twitter followers and 35M readers per month, Ars Technica is one of the most followed Technical Websites by Tech-Nerds and technology experts.
On this website, you can find Tech News, Technological impact on Science, politics, and society at large.  There are a lot of articles regarding the news and reviews on software, Tech Policies, gaming, etc.
The Good
It is one of the topmost websites that is tailored to fit the technological update requirements of the experts and Tech-nerds.
Ars technical will give you full facts and details of the product in question.
Bad
Since this website targets experts and geeks, it does not dumb down the reviews and articles for the common man.
With 355K Twitter followers and 40M readers per month, TechRadr.com is one of the best websites that one should follow for the latest technology news and updates.
It mainly focuses on the latest gadgets like phones, laptops, TVs, and various deals available on them. It also has a section based on photography.
Positives
The site provides various buying guides on devices.
One of its sections, "How to," delivers tips and tricks for efficient uses of your gadgets and tech.
It is a website that can be beneficial for most photographers, as it has a lot of articles, reviews, and comparisons regarding photography and cameras
Negatives
It focuses mainly on Gadgets rather than software.
The popular tech website contains a lot of Ads and Pop-ups, which makes the website hard to navigate.
It is slow and keeps timing out.
With 1.9M Twitter followers and 21M readers per month, it is a reliable and easy-to-read website for all your tech and gaming requirements.
Digitaltrends.com is a website that posts tech news, guides, and reviews on electronic products. It has several how-to articles and videos. It also has several original tech series.
Good
Great reading experience with an easy layout with a great picture-to-content ratio.
It is also available in Spanish for all its Spanish readers, Digital Trends Españo.
Bad
It charges for views if you have an ad blocker on.
Mostly when you try to view the original series, it shows the message "Error 404".
So, what are you waiting for? Bookmark these top tech websites now to stay updated with the awesome world of technology.
Also, don't forget to check our website for the latest tech tips and tricks.
Recommended Reading