Syncing devices on Mac is a pain-in-the-you-know-what!
So many Mac & Windows users hate to depend on iTunes to sync their iPhones/iPods. It's a hurdle and it must go away! And the struggle of syncing any device with Mac is really annoying and time taking, to overcome this problem here is a software by Eltima named SyncMate.
SyncMate Review – What is SyncMate?
In simple terms, offers a drag & drop, one-stop solution to synchronizing a variety of physical and virtual devices with Mac.
These devices can be Android, iOS, other Mac computers, virtually mounted cloud storage services like Dropbox, Google Drive, etc., MTP devices, and much more.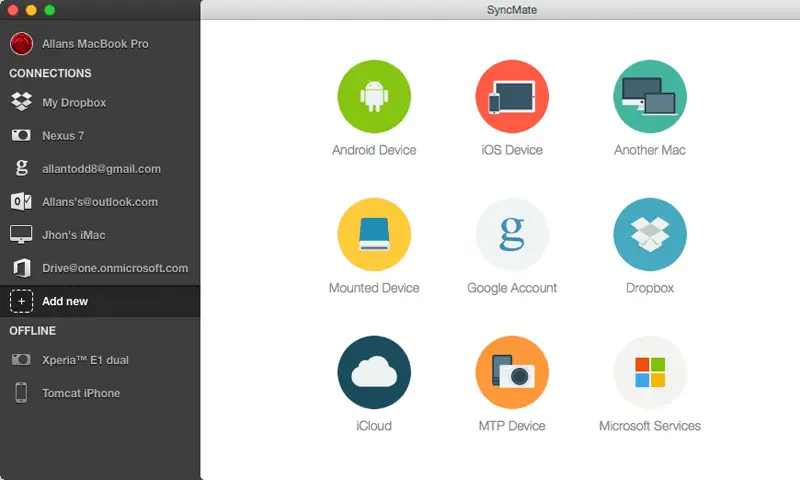 Without SyncMate, you would be looking at several untrustworthy "free" solutions on the internet to link these devices with Mac that does not depend on using iTunes.
Another alternative to this would be spending at least $100 or more on all of the individual services combined to achieve the same result. SyncMate Expert Edition (a premium version of SyncMate "free") costs only $39.95 on the Mac app store.
How does SyncMate work?
This software packs an intuitive UI that is capable of syncing calendars, reminders, contacts, bookmarks from Safari, iTunes, & iPhoto. Moreover, it copies SMS messages that you can read and search through.
Another great functionality it brings is the ability to delete all contacts, calendar events, to-do's that is on an iOS device or another Mac computer.
Lastly, you may flip through iPhone's call log directly on your Mac.
Besides iOS, SyncMate's functionality extends to Android devices too.
Once synced either via Bluetooth, Wi-Fi or USB, you can read, create, send, or delete Android messages via Mac. Think of all the file transfer possibilities that you will unleash with the simple "drag & drop" feature.
With SyncMate 7, you can get more done through this software in a hassle-free manner. SyncMate for Android allows you to access personal data, media files, folders, & bookmarks via Mac.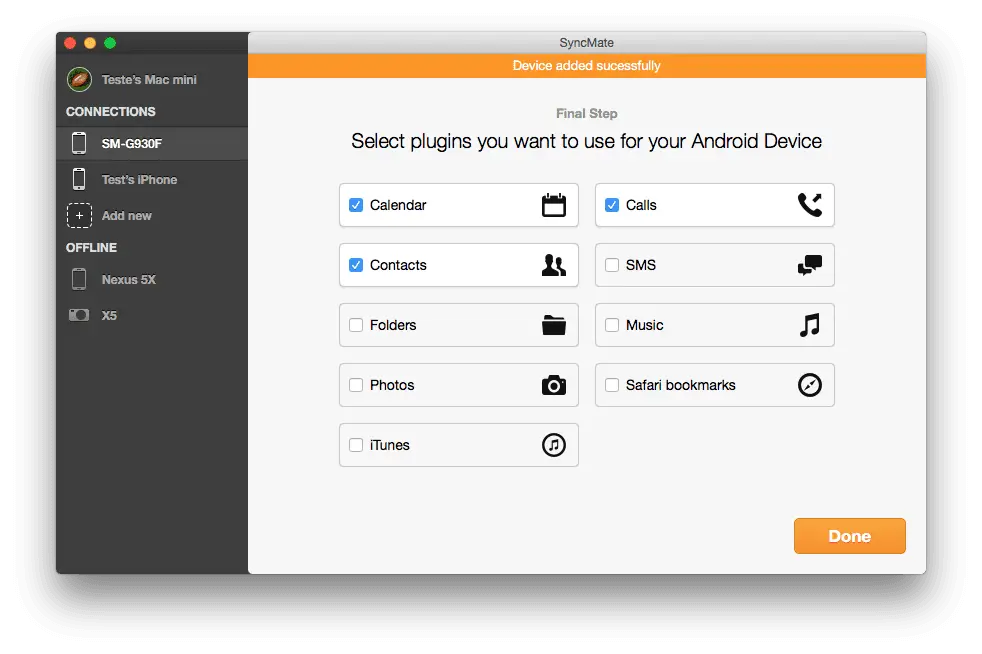 Furthermore, Android devices can be mounted as Mac disks that facilitate browsing its contents as if it were any local disk. In other words, SyncMate is an Android file transfer alternative for Mac.
Which Android devices can be synced using Android SyncMate?
The compatibility of SyncMate extends from an older version of Android that is Android 4.x to the newest Android 8.x OS versions. The following brands and devices can be synced using this Android file transfer alternative.
Huawei
Samsung
LG
Sony Xperia
Pixel
Android Blackberry
Android Nokia
HTC
Asus
Android Dell
Archos
OnePlus
Android Acer
Lenovo
Meizu
Motorola
Nexus
Oppo
Vivo
Xiaomi
Who is SyncMate useful for?
Pretty much everybody. As stated before, Mac does not particularly make it easier for iOS devices (iPhone/iPod) to transfer data between Mac and the device. So, even if you have devices synced to Mac, SyncMate lets you "mount" Apple devices as a local disk and avoids the use of iTunes, which is always a great thing!
Besides, acknowledging that the Android market is huge and most of the work gets done on the phones anyway, SyncMate for Android is pretty handy to have for freelance professionals, small business owners & entrepreneurs, or even enterprises.
Which to pick: SyncMate Free or SyncMate Expert?
As the names suggest, the Expert edition unleashes a host of options that boost SyncMate's usage and gives you a lot more in return for the $39.95 that you spend on it.
With the free edition, you get to-
Connect multiple devices
Sync Contacts
Sync
Calendar
Background synchronizing
Activity log
Read SMS
With the Expert edition, you do everything included in the free edition, and sync-
Videos
Folders
Send SMS from Mac
Export SMS backup
Call history
Multiple devices
To-do and reminders
Convert media files to popular formats
Mount device as a disk.
Backup data & much more.
You can see an entire list of synchronization options for your Mac with multiple devices.
Final verdict
SyncMate is an easy-to-use and easy-to-setup software for all age groups and offers a hassle-free, quick solution to syncing devices of different make and models with Mac computers.
Currently, there are not too many solutions like SyncMate that work seamlessly and yet remain affordable. For the price of only $39.95, you can use this software on up to 2 Macs.
Hope this Syncmate review article will help you to decide and make your purchase.
Also Read-