Android OS has introduced several personalized options to its users worldwide. There is a full plate of iOS launchers for Android out there that could come in handy. They switch the seamless interface of your device to a stylish and sophisticated UI. Apart from regular launchers, you can use iPhone launchers for Android to enhance the visuals and get different types of icons like iPhone.
iPhone launchers for Android can give you a look and feel of Apple's iPhone on your Android device, don't matter if it is Samsung, one plus, oppo, Vivo, Google Pixel, or any other Android phone. These launchers would work without any issues.
If it is not visually pleasing, you can opt to install some of the appealing custom ROMs to swap the skin of your stock OS.
With that out of the way, amazing times begin when you add some iPhone-Esque attributes to Android, mainly to boost its visual appeal.
Surprised?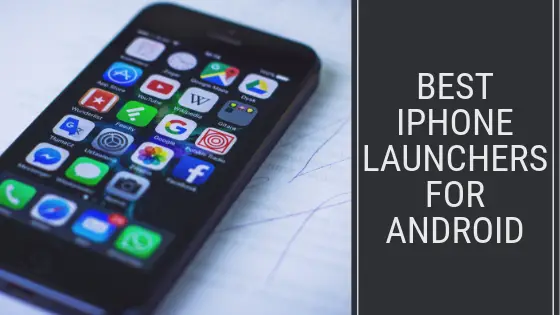 Yeah! With some tricks and services available out there, you can have a User Interface, animations & transitions, and icon packs in Android that are identical to iOS. We call 'em 'iPhone Launchers.'
But the fun does not end there. There is even an alternative to add iPhone apps to Android! With that in mind, let's start to savvy the iPhone launchers for Android in 2021.
Best iPhone Launchers For Android 2022
Here is the list of best iPhone launchers for android, which can completely change the look and feel of your android device. You can use any of them as per your choice. Some of them are ad-supported, so you have to bear with it or go for the paid version if it is available.
Not all of these apps may run on your device, so check which one is compatible with your device.
Don't be fooled by the simplicity of this iOS Launcher for Android. Quite attractively, it integrates iOs icons into your Android smartphone. Nonetheless, it misses out on a few customization attributes that could make the whole difference to your home screen.
Most of the system icons are replaced with iOS icons either to make a temporary change or for as long as you wish.
Once you install the app, provide the floating window and notification access. Once installed, it does look quite attractive like iOS 14; you get similar icons, 3D touch like iOS 14, a control center, blur effects, widgets, etc.
You need to install the control center, lock screen, and notification apps separately by the same developer to get the exact UI and control center as iOS 14.
Launcher for iOS 14 has the potential to become a strong competitor and one of the most desired in this market if the developers add more & more customization options.
The downside is that it is also ad-supported, considering it brings income to the developers. It leads us to no option but to put up with annoying ads on the full screen.
The ad pops up often when you try to set up the app. However, while using it, there are fewer ads.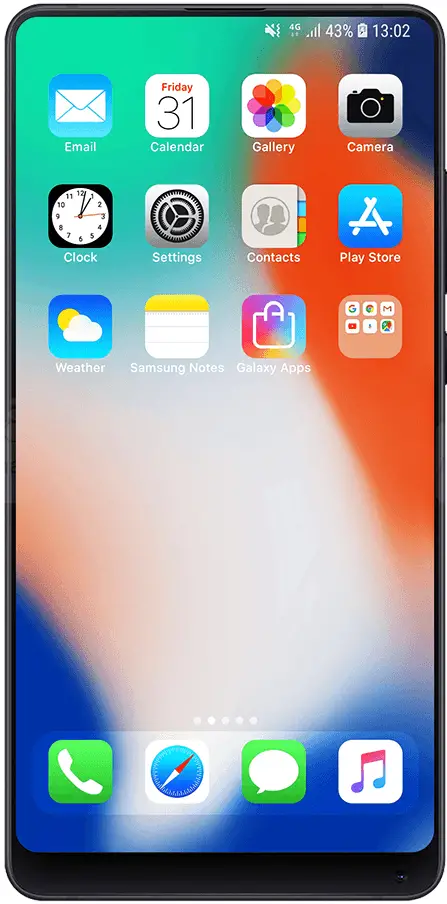 Price: Free
One Launcher is the classic launcher that deserves a top position in the list of iPhone launchers that one could get for Android. It comes close to simulating the iOS icon packs and transition effects as well.
Likewise iOS, all the app icons are spread out on the home screen with a precise touch experience. It is an excellent way of keeping your apps more organized, considering that most of them are grouped based on their category for easier access and a cleaner look.
However, the system may require some permissions on the Android Marshmallow for other features to be available such as gesture support and unread message count, etc.
One Launcher may also be applied to later versions of Android as well. There are a couple of extra themes integrated to add a cool look to the Android home screen.
Exploring options are very limited for customization in the area. You can turn on/off a few functionalities like newsstands. Undoubtedly, mixing and trying some tweaking options would have far better usage.
One Launcher makes it possible for everybody to get high-quality resolution synonymous with the iOS ecosystem.
Price: Free
With some unique touches and an out-of-the-box customization option in the background that resemble the user interface of Apple iOS, iLauncher ascends in many fine details.
It breaks the boring look and docks less where all apps you have is listed on the home screen itself, like iPhone. If you didn't find it much more practical in your day-to-day usage, you could easily flip it back to how it was before with a tap.
Icons are injected with superior looks. So, you may download and install it from the Play Store. Most importantly, gestures and transition effects are available in the free version, which should suffice for most Android users.
It is worth mentioning that Google Now integration offers another convenient feature that works like Siri for Android, which is a bonus!
This unlocks a few more gestures and transition effects. Plus, if you crave eye-catching detail, add the unread badge count of iOS.
Make your screen more vivid with robust animations and easy infinite scrolling to help you explore your smartphone screen without any annoyance.
Edit and dislocate icons with a long tap to place each app according to your liking anywhere. Alternatively, you may drag and drop them over others to create new folders and name each folder for better organization.
Drag your screen down to bring up the search menu, as well as several other delicate features.
Price: Free
The stunning UI of the iPhone 12 is no longer an exclusivity from Apple, thanks to Phone 13 Launcher, which is the newest best iOS launcher for Android.
After installing Phone 13 Launcher, you have to provide access to floating window management and access to notifications.
It contains a few limitations, but overall the iPhone lock screen should run without further hassles on your device. You have the option to choose the full-screen mode, where it will hide the bottom navigation bar like iOS 15.
You can also activate scroll effects, dock, swipe actions, X home bar, assistive touch, and annoying iPhone X notch.
This option is only activated on Android after the smartphone is unlocked. But it nails it! After you unlock the android device, it will show you a lock screen like iPhone. You can read the notification and swipe up to see the home UI. However, considering other lock screen apps is optional if you face any issues or require more improvements.
Aside from that, the UI can deliver what you exactly need but without a fancy touch. It is not a disappointment either and gets the job done without any customization options. The service is ad-supported, and sponsored posts might also pop up.
Price: Free
5. iLauncher X
Cloning iOS is an art that behooves OS 14 Launcher to fulfill flawlessly by presenting some energized icons and theme packs at zero cost for Android owners.
The system icons are replaced with fresh ones from Apple. Even the non-system apps have been improved to match the iOS design.
It catches most of the looks from the transitions to the app opening styles.
Each change adds different customization in the way you need it. With a few taps, drags, and drops your home screen easily, adjusts to the horizontal & vertical app counts, and it offers smooth transitions and cool effects to make your android look like iPhone.
Expand and continue the style of your app icons- name, size, color & other peculiarities.
Try the iPhone themes on android phones by employing the 6 Plus launcher and many others without crashes.
Also, you will experience that this iPhone launcher for Android makes your smartphone a real clone of an Apple device.
After all, it all comes down to user preference. Add your City & you'll get an Apple-like weather widget for Android. If you had a change of heart about any choice, feel free to check some of the clock widgets that may assist your personalization alternatives.
Apart from iOS UI it also offers a smart boost app, quick app menu, and 3D touch on your android.
Price: Free+
6. iLauncher10
iLauncher is the ultimate theme & icon pack when it comes to iPhone launchers.
Tagged as the smartest choice for a home screen replacement, the app makes your smartphone free from lag and gives it a conventional look.
It is a fusion of the new iOS and the older version.
This creates an entirely new usage environment.
One of the outstanding advantages is that it contains no limitations regarding the widgets that you can add. Despite your choice, ensure that it doesn't slow down your Android smartphone.
iLauncher 10 just brings out the utmost technology for better personalization. Users will experience the most realistic iPhone UI on their Android without any detail missing.
It offers widget features that can be accessed by just the right swap; widgets included are favorite contact, recently used app information, important note, and digital and analog clocks.
You can categorize your apps using folders, drag and drop tiles wherever you want on the screen, control center, zoom in and zoom out animation, blur background, and several other features are offered.
Furthermore, it adds potent customization over the layout followed by the icon.
It allows you to change your smartphone look successfully. The enhanced visual design makes it easier to pre-define according to your preferences such as re-projecting your app drawer and calibrating it for a specific trait.
Broadly speaking, UI isn't uncoordinated at all, but just a captivating appearance and one of the best iPhone launchers for Android in 2021.
Conclusion
iPhone is no longer so private or exclusive thanks to these Apple iOS launchers For Android. They add the staggering iOS launcher user interface on Android in a few steps.
There are tons of apps out there, including iOS 9, iOS 10, iOS 11, iOS 12, iOS 13, iOS 14 & iOS 15 launchers for Android, and so on, which bring the respective UI changes & wallpapers. Better you download these iPhone launcher APKs full versions and browse through the interesting Apple ecosystem.
Also Read-