While there are several paid screen recording apps on App Store, there are only a handful of FREE & screen recorders for Mac. As you continue reading this post, you will discover several apps and cross-platform software (open-source software that functions on Windows and Linux) that will make it relatively easier to record your Mac screen.
Before we get to all the nitty-gritty, let's discuss the most popular circumstances where you will need to use a screen recorder app.
Why do you need a "screen recorder for Mac" in the first place?
Well, the most popular reason to record your computer screen is to show someone how to accomplish a particular task.
Maybe this involves fixing something within your Mac system or perhaps it's a video project that you are editing.
A Mac system is mostly used by educators & UI/UX designers who need to regularly record their Mac to do their jobs well.
You might also want to preserve a FaceTime call for future use, especially if that's related to your work or business.
Either way, your tech life depends on the screen recording apps for Mac.
An ideal screen recorder for Mac would grab your Mac screen at a minimum of 720 pixels HD resolution up to 4K Ultra HD. It would also capture your audio and keep it crispy.
Generally, after recording your Mac screen, you would proceed to edit the video. Thereafter, re-recording some parts that need better audio or fixing a video clipping would eventually entail.
Though you cannot do all of this within a screen recorder, it should, however, allow you to break up relevant portions of your video into PNG or JPG image files and transcode in the most popular video formats like MP4, 3GP, WAV, MPEG, etc.
15 Free Screen Recording Software for Mac
After thorough research, I was able to find some interesting options for you. To keep things easier, I decided to mention in this list what is FREE from premium, so you aren't confusing the screen recording apps.
Note: If you run into the need for a screen recorder for Mac on a frequent basis, it would be productive to buy one of these screen recording software.
Some of the programs allow you to share images and videos on the web, such as Jing and iShowU. Check out the list and choose the one that best suits your needs.
If it ever seemed impossible to find these apps before, it's not anymore. These options will give you quality audio and video recording.
Camtasia Studio is a well-known mac screen recording software that captures and records in HD. Besides this feature, it lends an extended functionality for editing videos.
It is ideal for creating video tutorials and slideshows. Ease of use, neat and simple interface allows users to identify its main features upon the first launch.
To start a new video, you must select the "File" option and click "New Project". You can either start by editing a video after importing content or you can start recording the Mac screen right away.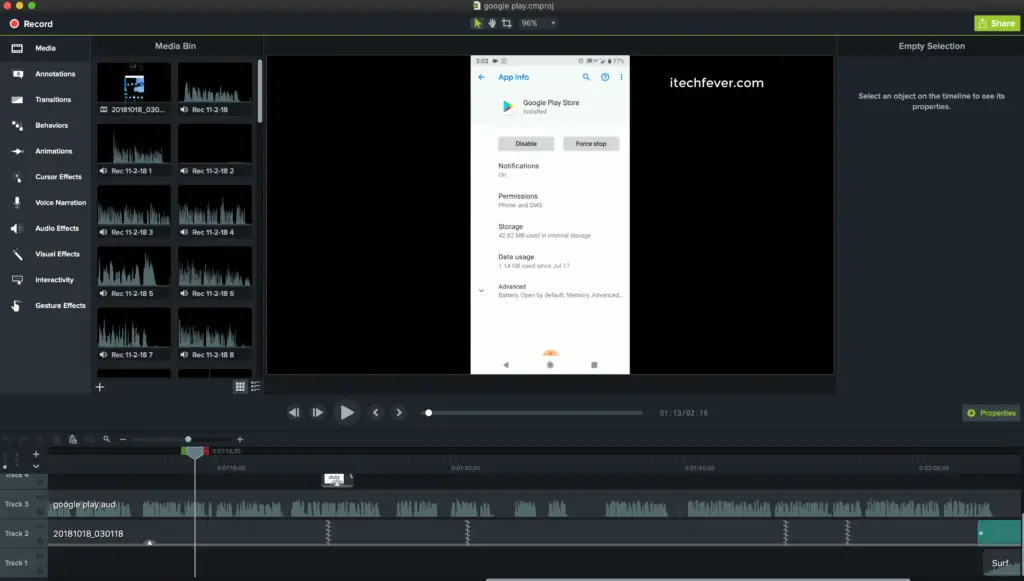 To capture everything that goes on the PC screen, the user must tap on the "Record Screen" button. After this selection is made, a panel showing all of the options for Mac screen recording will start. In the "Select Area", you can define whether you want to capture "Full Screen" or a portion of it.
The "Recorded Inputs" function is used to select which devices will be used during captures, such as sound and webcam.
When you finish with the Settings, press the "Rec" button to start recording.
If you want to stop everything, however, just press the "F10" key on your keyboard.
Quality Videos
Camtasia Studio is liked by many with an online business primarily because it lets them choose the resolution of the captured videos without losing quality. In this way, it reduces the final output file size to suit the needs of the user.
This Mac screen recording software understands that the videos vary according to circumstances. Thus, it offers effective and intelligent ways to create multimedia files.
After all, a video that will be shared on the internet does not need the same resolution as a video that will be presented at an event.
Narration
Another interesting feature offered by Camtasia Studio is the possibility of inserting an audio narration. This feature is interesting that lets you explain to the audience video about what is happening on the screen. This serves as a way to guide the user through some process, even if it is to comment on something related to the video tutorial.
The possibility of inserting audio into the videos created allows more possibilities of diverse types of videos. For example, it is possible to create videos with analysis of games captured on your Mac; comment on various footage with personal impressions, and interesting information, and what else the imagination allows.
Editing
In addition to the features mentioned above, the application has great editing tools that can make your video even more enlightening or interesting. With Zoom, you can zoom in on specific points.
The Photos and Music tool adds this media to your videos without difficulty. The Webcam adds the image of your webcam to the video being captured. It can also add captions to the video and include graphics and arrows to highlight certain points in the presentation.
Finishing
After the video creation and editing are finished, it is time to save the project. To do this, simply go to the "Produce and share" option at the top of the interface and choose one of several available predefined profiles.
The options are Web, Blog, CD/DVD, HD, iPhone, iPod, Screencast.com, and YouTube. Choose according to the purpose of the project created and give it a name. In the end, choose the destination folder and wait for it to complete.
Demo
The demo version of Camtasia has no limitations but can only be used for 30 days. After this period, the purchase of a license is required. Download Camtasia Studio 8 and let your creativity fly!
Verdict
Camtasia Studio is a complete tool for creating video tutorials. It has the most attractive visual aspects and functionality besides being really easy to use.
One of the reasons behind this ease of use is the interface that helps guide the user where to go and what to do to make fantastic videos.
If you still have any questions about how to use the program, its tutorial will teach you the ropes through several explanatory videos. You can quite easily learn more about any feature by clicking the "?" tooltip option adjacent to it that will illustrate what does a certain thing do basically.
Camtasia's popularity is the reason why you won't have a hard time surfing on YouTube to learn how it works.
This Mac screen recording software has advanced features such as manual choice of video resolution. In addition, there are themes readily available to make your creation look professional with awesome visual effects.
One of Camtasia's best performances, however, is to allow a portion of the video tutorial created to gain prominence on the screen. This is where you enter the feature to zoom in only some area of the video. It is a great option for those who need to highlight certain explanations within a video lesson.
Although the chief complaint against this screen recorder is the weight of the program file. Users have experienced crashes on computers with basic configuration. You might want to upgrade your computer hardware or get one with the latest processing speeds at least.
Another issue is the demo version that lets the user try the program for only 30 days, which is fair enough but some don't like that. But if you feel like buying, prepare your pocket to shed $250.
Pros
Brings together fun and usefulness to educational videos or tutorials.
Shows zoom to highlight only a certain part of the video if required.
The best screen recorder for Mac for editing and creating most videos & for teaching purposes.
Cons
The demo is only good for 30 days and the paid version may be a bit expensive for some.
Heavy file size won't work well with old-generation computers.
2. QuickTime – An inbuilt Mac screen recording tool
QuickTime is the official multimedia player from Apple.
Unfortunately, over the last few years, it has been discontinued for Windows.
This built-in Mac screen recording software is used to view different types of files including video, audio, images, graphics, and virtual reality (VR) films.
Although it has a simple interface with just a few buttons, the program allows its user to control various aspects of the playback video. Moreover, the quality of videos can be altered by accessing the options available in the app preferences.
You can control bass and treble, enable subtitle display, set the player's screen size, and a number of other options.
QuickTime also sports a multimedia architecture that can be leveraged by other applications such as some of Apple's most popular software like iTunes, iMovie, and Final Cut Pro.
Because it is compatible with popular formats, this screen recorder for Mac lets you watch videos, HD movie trailers, and media with stunning quality.
When you playback pictures from the internet, the player automatically determines the speed of your connection and, from there select the best transmission for your computer.
Even when the connection is dropped while watching a video, the program reconnects automatically.
QuickTime is more than just a media player featuring video, audio, and live streaming, it also supports images in BMP, GIF, JPEG, PICT, PNG, SGI, TIFF, Adobe Photoshop, and FlashPix formats.
To further extend its usefulness in the most current times, QuickTime has been always offered FREE with the Mac purchase. So, download your latest copy and enjoy it.
Verdict
Apple's sleek look makes the QuickTime interface one of the most enjoyable to work with & ultimately the best screen recorder for Mac.
Its organized and clean interface that is expected from Apple's user-friendly finishing does not diminish its inner charm.
This Mac software is intuitive mainly because of the unique menu and tools located in all the conventional places that most of us have come to expect from our ancient times using the Windows 95 & XP!
Its quick install is even nicer in that it does not suggest adding toolbars to the Safari browser. On the other hand, it turns QuickTime into your standard video/audio player if you are not too careful.
QuickTime's Achilles heel is the less number of features in the free version compared to Pro.
Another drawback is that it does not take include all of the programs during initial installation. So, even with reliable software like that, you will often have to install third-party codecs to open certain file types.
Another software deficiency is that the player cannot open multiple files simultaneously. To compensate, Apple gives you the ability to adjust the playback speed of audio and video, which is music to the ears.
That being said, it is impossible not to highlight the quality of the QuickTime image. Coupled with its full-screen playback capability, this feature makes watching movies a truly enjoyable experience.
Pros
Free
Sophisticated interface
Easy to use
Full-screen playback
High picture quality
Cons
Fewer resources compared to the paid version
Need to install codecs to open certain files
Do not open more than one file simultaneously.
APowersoft is an innovative Mac screen recording application that allows you to capture screens. It is an easy-to-use Mac Screen Recording Software that also captures your audio.
For various reasons, making video recordings directly from the computer screen has become an important feature. Right from signing up for a service to creating an hour or even 3-hour long video tutorials on YouTube & Vimeo has become the norm today.
With this application, you can create those videos quickly and without hassles.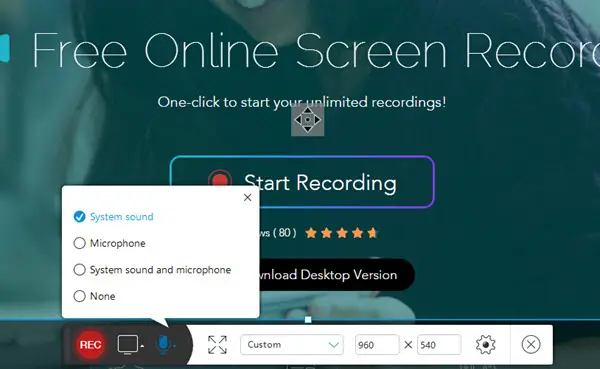 With this screen recorder, you can capture videos from your webcam with high-quality, record videos from external devices, capture videos from your games, record streaming videos from any web browser, publish videos HD on YouTube and make demos on videos to your liking.
As important as recording are the formats you can use for this. Apowersoft Desktop Screen Recorder allows you to save your video as a WMV file and using the integrated converter, you can convert WMV files to AVI, MP4, FLV, SWF, 3GP, MKV, MPEG format popular formats for iOS, Android, and Sony devices and more, without loss of quality. Then you can upload the files directly to YouTube.
In addition to offering a wide range of formats, the built-in converter allows you to process dozens of videos in batches at the same time.
Click Edit on the converter and crop your videos, and thereafter, you can still merge them into one file.
If you need to create activity videos on your computer, Apowersoft Desktop Screen Recorder is the tool you need. The program can be used for free, but the paid version brings much more sophisticated features.
Download Apowersoft Desktop Screen Recorder and try it out. Your life will never be the same!
One of the most important features of this application is the one that allows you to create scheduled tasks. Once you set the start time and duration, you can record videos without being in front of the computer at all times, which saves time and effort.
The application's video converter is very complete and supports a wide variety of formats, which is important and gives users flexibility when it comes to producing their videos.
But the main feature of the program is the customization and use of shortcut keys.
It is possible to configure various details of the behavior of this screen recording app and choose the keys for various operations, which gives the user a very strong control over the use of the program.
A good example of this is the converter option that lets you choose how many processor cores will be used.
It may be a little disappointing, but the free version has limited recording time and because of this, you can not make videos in the size (and time) you want. There are other limitations in the free version, which obviously serve to force the user to buy the full version.
Pros
Allows you to create scheduled tasks.
The application video converter is quite complete.
Allows you to configure various details of application behavior.
Let's choose the keys for the various operations.
Cons
The free version has limited recording time.
Only the full version unlocks most features.
Recommended Reading:- SyncMate Review – A Multisync Software to Sync Mac, iOS, Android, and Much More
4. SnagIT – A quick screen recorder for Mac
SnagIT is a program developed to capture images and record the screen while demonstrating a significant tutorial video.
This Mac screen recording software offers several editing features. In addition to shooting or filming the Mac desktop, this application has several extensions that trigger from the "Print Screen" key.
In addition, it has its own editor with an image storage area & many options to save your final productions, and good alternatives to send the final results.
How to use
Aimed exclusively for capturing and editing photos, videos, and texts of activities performed on the desktop of your computer, SnagIT is a simple yet practical screen recording app that carries various intuitive controls.
After its quick installation, which can include add-ons for Microsoft Word, Excel, and Explorer, among other programs, the software works almost like a native application.
It can be accessed through a small transparent red flap that will float on the side of the screen.
This kind of button triggers the various SnagIT capture modes and also has shortcuts to your image editor. Overall, it's a handy wizard for application registration modes and a series of options that allows you to configure your preferences and hotkeys.
While it is running, the "Print Screen" key can also activate your capture process making it possible to choose through selection boxes manipulated by the mouse and which parts of the screen you want to record in images or videos.
Once this is done, SnagIT will run its image editor while displaying at the bottom of a library with all the previously stored files. Whereas in the upper bar there are several tools to highlight parts of the photos, include text boxes and apply various FX effects.
The software's own editor allows you to save your image and video files in a variety of formats, including SWF, PDF and a file type called SNAG, which allows you to change edits.
In addition, the SnagIT editor facilitates sending files directly via e-mail and FTP or directly to programs that have the recommended add-on packs installed.
Verdict
Extremely easy to use and with a number of tools to work images and videos captured, this Mac screen recording software is a great tool.
With a nice look and intuitively arranged commands, SnagIT is a program created specifically to make it easy to capture images and videos of activities on your desktop, but it has editing capabilities and many options to send the created files.
After a simple and quick installation operation, the program will start to operate in a resident mode, with the main functions being activated by a small and practical button that floats on the screen or, more directly, by the "Print Screen" key.
When activated, Snagit allows you to select specific areas with the mouse to capture images and videos from the desktop interface, allowing you to place filters, schedule delay times, and include time and date.
With an efficient built-in editor, this screen recording app offers numerous features to change your images, highlighting parts including texts and applying various color effects and cutouts.
In addition, Snagit also has several ways to send your image files, allowing you to send it to other users via email and FTP, or insert them directly into your add-on programs.
Pros
Beautiful and objective interface
Quick access
Easy and intuitive commands
Different capture modes
Multiple editing features
Sending files in different formats, email or FTP.
Cons
The trial version comes with a few limitations.
5. Filmora SCRN
The screen recorder Filmora SCRN blows the age-old Wondershare out of the water.
Filmora brings a good level of screen recording and video editing capabilities aimed at simplifying video production. Therefore, a user with zero video editing education can easily learn the ropes without breaking a sweat.
Filmora scrn is notable for its compact interface and features set that enable videos to be streamlined for easy time sharing videos on the internet.
These features contain effects to append. There are tools to improve the presentation quality of videos recorded on smartphones and non-SLR cameras.
Filmora has useful presets for exporting videos in an ideal format for social networks, websites, YouTube, and so on.
It is offered in a free trial mode for 30 days where all features are available to the user (but videos exported with this version carry watermarks, so you need to buy the premium version).
It is valued at $59.99 for a lifetime license on Mac for an individual and $139.99 for a 1PC lifetime license for a business.
Filmora Video Editor is a great video editor for those who are looking for a good-looking, handy application that is not as intimidating as Adobe Première, Final Cut Pro.
It's an interesting program because it gives users the ability to create good quality videos, using filters, effects, and various features more simply than professional editors.
The evolution from Wondershare to Filmora caused a very positive change in the editor that gained a better graphical interface. Regardless of the version that the user decides to run, whether simple or complete, the interface is friendly and easy to understand.
In terms of performance, Filmora does not disappoint either. Far from the demanding profile of professional editing software, the application behaves well even on Mac systems with insufficient RAMs and lower video cards.
Filmora Video Editor is one of the best Mac screen recorders that money can buy. The seemingly simple application that does not make a commitment to not compete with the most powerful names on the market hides a well-balanced, modern, and easy-to-use editor.
For those who usually record a lot of videos with their smartphone or an action camera out there and need a competent and accessible platform to edit, Filmora Video Editor is a good option.
Pros
Easy to use by beginners
A large number of filters and effects ready
Presets to export videos to specific devices and social networks
Cons
The free version imposes a watermark on videos generated by Filmora
6. Voila
Voila is a program developed for Mac that allows users more control over the screenshots and the recordings of their own Mac screen.
For those of you who are not familiar with OS X, the ⌘⇧3 and ⌘⇧4 keys allow you to take a snapshot of what's happening on the screen right now (just like the PCs' Print screen button). Voila adds dozens of new options to perfect this action.
Mac users usually feel compelled to share their workings through a screenshot. Perhaps it's a work-in-progress, prep for a seminar or something more sophisticated happening in Adobe Photoshop, screenshots make the whole project fun.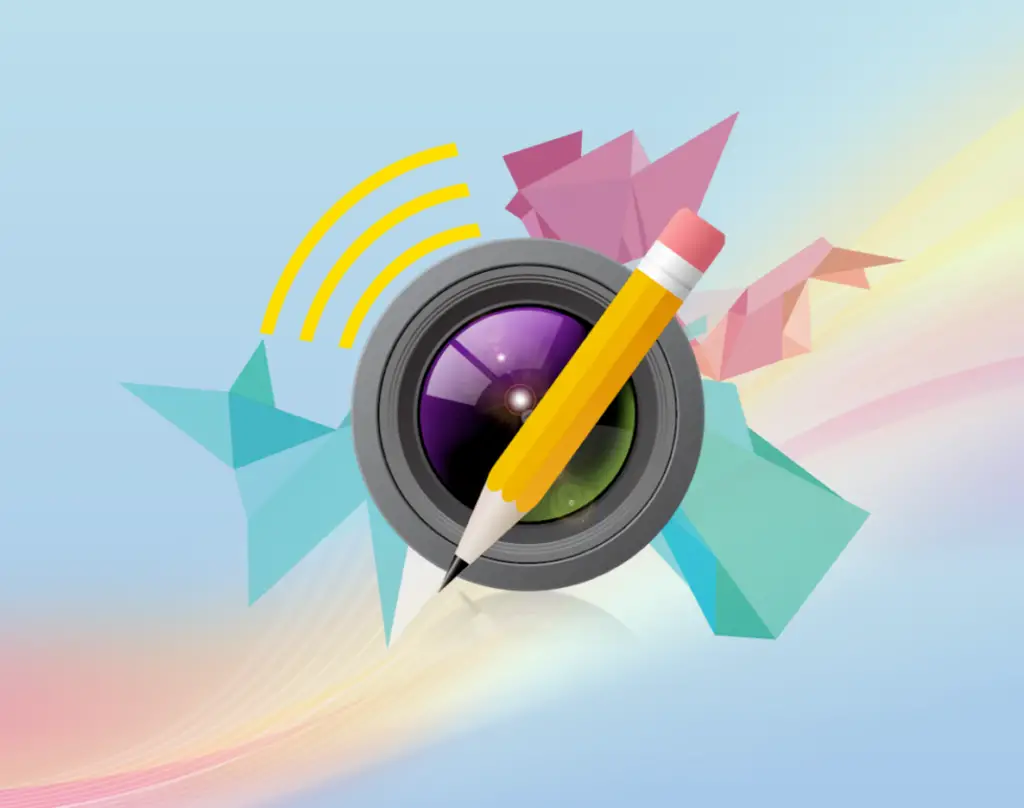 Although Mac OSX allows you to take a screenshot of the entire screen or a certain portion of the screen, it also saves the image automatically to the desktop and does not give you any further editing options.
To make this process comfortable just use Voila. It will give you the tools needed for more advanced applications.
To begin with, when creating images of a predetermined size; this Mac screen recording app gives you a grid display to help define the area. This way your image editing will be more precise.
If you want to go beyond the 'square and rectangular shapes for the grid, you might want to check out the round capture, polygon, and even separation custom spacing created by you drawn with the help of the mouse.
Capturing objects from Voila's menu will automatically recognize different sessions on your screen, taking only the coherent and desired elements of you, separating different programs, images, or text sessions.
Verdict
Voila is definitely one of the best screen recorders for Mac that captures excellent screenshots & full-motion videos.
Video recording captures either the entire screen or a selected rectangular region.
Unlike others, Voila is a fully capable audio recorder as well that allows you to pick your frame rates that come in handy when you are editing it. The same concept is extended to video editing such as clip trimming, splicing, and pasting as you see in Camtasia.
It contains all the functions to record awesome videos. You could learn to use one of the best Mac screen recorders of all time through well-crafted video tutorials.
All the sound played during the recording time is also captured, so you can do things like editing certain images in Photoshop as you comment on your actions and choices in the microphone.
Once captured, Voila offers dozens of editing tools so you can easily erase or edit your screenshots.
A good example of this function would be to erase certain personal information, such as the name of a friend, from a screenshot of a social networking page or hide the contents of your page from files highlighting only those that are part of your goal.
Another highlight of this application is its beautiful organization, with smart folders, tags, and a good search system that makes it much easier to find the desired screenshot.
The program also features sharing functions where images can be automatically sent to social networks, blogs, and other websites on the internet.
Voila is an excellent Mac screen recording software and certainly an enriching tool for those who need to take many screenshots.
Its design is simple yet consistent, and the wealth of options put it as an option well beyond the applications that try to offer this service.
Voila's performance is flawless, and there do not seem to be bugs or other similar issues with this beautiful platform.
This program seems ideal for all those who need to develop tutorials and the like connected to your computer, from capturing video and game images to complex programming, maintenance, or drawing processes.
The various editing tools provided by the program are another great advantage of Voila compared to its competitors, with them you can create quality screenshots and properly edited without any compromising content.
It will be possible to take a picture of your desktop without the risk that certain icons or personal files may end up appearing.
The main problem with Voila is its high price. Paying almost thirty dollars to have a better tool for taking screenshots is more than most users interested in this program could afford.
This way it's only really worth it for people who work with screenshots daily, and who are not going to waste big money on something that will be underused.
Despite the expensive price, Voila is certainly the best program on the market when it comes to taking screenshots and filming the contents of your PC screen. With dozens of capture and editing tools, and a robust filing and sharing system, there are no programs on the market that address the amount of content Voila offers.
Pros
Very intuitive program with dozens of options.
Take screenshots of all types and formats.
You can edit your videos and photos with it.
Cons
Very high price for the general public.
7. Screencastify
Screencastify is a Google Chrome extension that allows your users to capture videos of the current tab. It is practical and it can record videos at a predefined resolution. Moreover, it allows you to store the recordings on Google Drive.
Our opinion
Screencastify is an excellent alternative for Internet users who need to capture the screen of their computers on video. It can collaborate with the production of video tutorials, recordings of live-action games, etc.
Its simple operation should please people who have problems using technical software with many functionalities. And the best part is that this extension is totally free for Mac!
The tool that records the current Chrome tab is very functional for anyone who records video tutorials. In addition to providing automatic and selective capture of the page, it has options to change the dimensions of the tab according to the main video formats used on the internet and also creates an animation indicating that the mouse was clicked.
The user can choose to record the audio through the internal microphone of the computer or leave the video completely muted. These options are ideal for small demonstrations of applications and games.
The recordings are presented clearly in a specific location on the extension interface that keeps the created files well organized. By clicking on one of these screenshots, it will automatically open in a new tab with a unique player. On this page, a user can download MP4 recordings to their Mac.
Pros
Easy to use
Records videos from the current Chrome tab
Captures audio from the Mac microphone
Cons
Requires internet connection to work.
Not available as standalone software.
8. iShowU
iShowU is one of the best screen recording apps developed for Mac. It allows the users to make a screen recording while offering several selective features so that they can show exactly what they want. Also, it's a great tool for vlogs & recording gameplays.
In addition to simply recording the Mac screen, iShowU allows the user to make the recording of a certain part of the screen or all of it.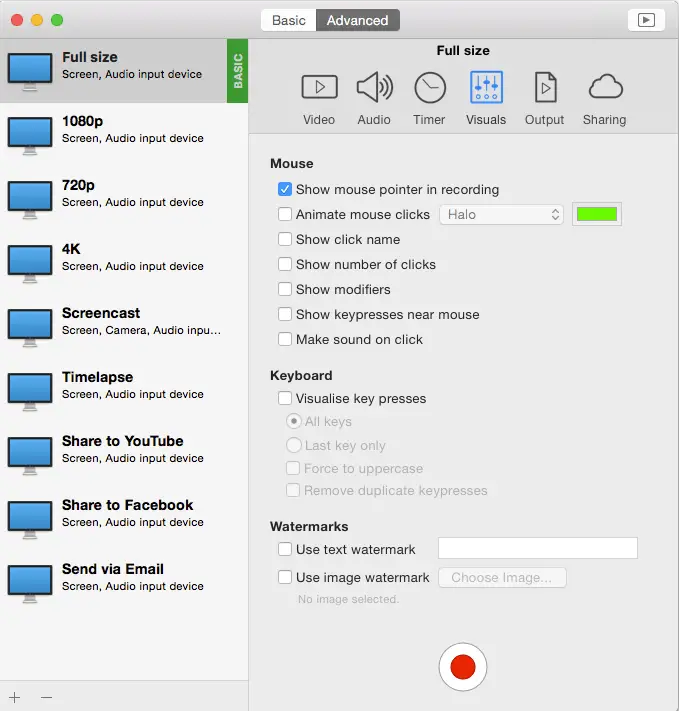 This makes it much easier to work at the time of final editing of the video, thus making it a really great Mac app for users who have video blogs.
Of course, nothing good comes for free, but iShowU has a paid version that you truly want to get.
Some of the coolest features include displaying the keyboard & mouse on the screen and replaying the video down to the last millisecond to show exactly what the user was doing at that moment.
It is just one of the best screen recorders for Mac that the Pro version gives to a user.
Our opinion
iShowU is very useful software, developed for an audience focused on the realization of video tutorials or simply streaming through the internet, with a range of features to make life easier for the user.
The application interface is friendly and intuitive, making it hospitable to configure the parameters required for video recording. In turn, streamlines the process, saving the user's time and increasing your productivity quite efficiently.
The tools offered by the application are very useful, including features such as the brilliant display of the keyboard and mouse on the screen, as well as export to YouTube or real-time preview, which makes the application more user-friendly and essential.
However, the software carries a big cross in the back because there is no built-in video editing tool. This means that iShowU only performs the rough work of writing content, thus requiring a second program to take that "raw material" generated by the application and transform it into a usable product.
Pros
Well-crafted and intuitive interface.
It has many useful editing tools.
Cons
You need a second program to finish editing.
The best tools are only available in the paid version.
9. ScreenFloat
ScreenFloat is one of the best screen recorders for Mac which is exclusive. It allows you to take screenshots of your screen and make them more accessible through a small floating window that can be viewed next to any other program.
ScreenFloat helps you keep relevant information visible at any time. When you turn on the program, you press the key combination when you want to take a screenshot (cmd + shift + 2) and then use the mouse to determine the area of the image you want to save.
When the choice is made a new window will appear with your captured image. It will always be open in front of other programs, even if you open new applications, including those that require full-screen resolution.
All images captured with ScreenFloat are saved and can be opened later for further queries. Just open the program and look at the saved screenshots tab. You can organize them by name, category, and keywords. This way, even with the continuous use of this program, it will be easy to find the desired content.
Finally, the last function of ScreenFloat is to send the captured images to any other program that works with visual files. Just double-click the floating window and determine the destination application to import it into it.
Our opinion
ScreenFloat is a simple and easy-to-use program that will help you keep all your references handy while you work in other applications. Even so, the program's functions are severely limited, which makes the program very useful for those who do not need to consult sources frequently during their work.
To further explain the usefulness of ScreenFloat, it is important to demonstrate its use through concrete examples.
When writing a text, it is very necessary to return to references all the time, either to find out facts or correctly spell the names of people and places.
Even faster than copying and pasting this scattered information, you have access to a small floating tab that contains a perfect screenshot of what you need for reference, so you do not need to minimize and access your browser or a PDF reader all the time, thus making writing simple.
A programmer can also take advantage of Screenfloat by keeping an open window with several reference codes for what they are currently programming. This application boils down to this need to keep references handy and in evidence, making your query easier.
It is difficult to recommend ScreenFloat for people who do not have the need for this type of consultation on a day-to-day basis. It is a very specific program for people who need to keep information accessible at all times and has no other relevant function.
ScreenFloat has excellent performance, although the price is a little high for such a simple service. Recommended only for those who have many problems in organizing the windows so you can use more than one reference.
Pros
Simple and very intuitive program
The new window is an excellent reference tool
You can save and export your screenshots
Cons
Limited feature application
High price for the simplicity of Screenfloat options
10. ScreenFlow
Invented by Telestream LLC, ScreenFlow is the only Mac screen recording software on this list that deserves a standing ovation for all intents and purposes.
ScreenFlow lets you record the Mac screen so you can create the videos the way you want. This software carries huge fame among the Fortune 500 companies that use ScreenFlow.
The pricing for this unique screen recording app is more than justified. For merely $129, you get the dual combination of a video editor and a screen recorder. What it means is that you won't ever have to leave this Mac app and port over your recorded MP4 or WAV video to a different application to edit and get it ready for publishing.
ScreenFlow is chiefly used by the following professionals:
Educators
Marketers
Vloggers
Online Trainers
You might want to use the post-production tools to cut undesirable pieces, improve the appearance of the videos taken, and add visual effects to your production like text boxes, shadows, and the possibility of highlighting colors at different locations of the video.
ScreenFlow settings allow the user to choose to record videos from two different sources. This software can capture what happens on the Mac screen and creates fully editable videos.
Audio from videos can be captured from two sources. These are: audio played by the system or a built-in microphone.
In this way, users can record the Mac screen while using the microphone to record their audio observations. Another possibility is to record the audio of the system while creating videos through the webcam.
ScreenFlow editing tools have several types of effects that can make your videos look professional. Users can use various types of filters and correct or hide portions of videos.
They can also use sepia, black and white filters, phase inversion, and control the saturation, brightness, and contrast settings.
In the post-production phase, the user has some tools to customize the mouse pointer present in the recorded videos.
These include increasing the pointer size, adding effects to the click, and increasing or decreasing the opacity of the cursor.
If you want the mouse pointer to disappear from the video, just uncheck the "Show Mouse Pointer" option.
With the finished video, ScreenFlow allows it to be shared automatically with YouTube and Vimeo or even create a Flash video to be added to a website or blog.
There is also the option of exporting the file in several formats compatible with most of the devices and tools online in the market.
Download Screen Flow and check it out!
Our opinion
Screen Flow is software that can help people who need to produce video tutorials, record webcasts, or even perform post-production of professional videos using Mac OS.
Directed to producers of videos for the web, this Mac screen recording software has tools that allow enriching small productions.
Whether it's adding visual effects or editing parts of footage to remove imperfections, ScreenFlow is an excellent tool that can professionalize small productions.
Screen Flow allows you to do virtually anything on the post-production side. Simple videos, created from the recording of the computer screen, can gain various visual effects and also professional air.
However, the software does not offer any options for editing the audio, and in case there is a problem, the user will have to resort to some other sound editing software.
Another negative point is the sizing of the videos in the screen captures.
At the time of recording, the user cannot select a specific point on the screen to start recording. It would be useful for many users to resize as soon as users start a recording.
Sharing options can privilege users who have accounts on YouTube and Vimeo.
With direct sharing of these social video networks, software becomes an excellent choice for anyone who wants to quickly share their productions with the world.
Another interesting option is the possibility to save videos in Flash Player compatible format, which is very interesting for bloggers and site administrators.
Videos can also be exported in the most common formats on the market and have the option of being saved according to the device where they will be played. Among them: are Apple TV, iPod, iPhone, and iPad.
Undoubtedly, Screen Flow is an excellent choice for taking screenshots and recording videos from your Mac's camera.
Easy to operate and with useful tools, this is software that can be an alternative for people who need to record these types of videos and need an intuitive and effective program.
Pros
Easy to use
Various effects
Share videos with YouTube and Vimeo
Cons
11. Screencast-o-Matic
Screencast-o-Matic is well-known in the sphere of screen recording. Mac users can finally relax because this screen recording app offers the user a very interesting option for screen capture.
Instead of simply taking screenshots with static images, users with Screencast-o-Matic can record videos of whatever is happening on their Mac screens.
Screencast-o-Matic has a simple enough execution- there is a large rectangular dotted screen around it, which demarcates the area from which the images will be captured.
At the bottom, the user can configure the resolution with which they want to record. In the dotted line, the options for moving and resizing the window are also available.
To record, just touch the red button. Click 'Done', and your video will be displayed in a preview window.
From here, a user can save the video to the Mac or upload it to YouTube & even publish it on the Screencast-o-Matic server.
In addition to the free version, the program has a premium edition; there are no maximum limits for uploads.
There are editing tools, password-protected uploads, and save screenshots, there is no watermark, and it is also possible to record webcam videos.
Our opinion
Capturing videos of what is happening on your computer screen is not an easy task.
In many cases, there are users filming with normal cameras, but the quality is usually very poor. With Screencast-o-Matic, you can overcome the problem.
This Mac screen recording software is an excellent option for this type of case and aids in creating awesome video tutorials.
The free version is already very interesting, highlighting the ease of capture, with a simple click to start and another to pause.
Besides being able to customize the size of the window to be recorded as well as the resolution of the video.
These are the main features and functionality of the application. After all, they allow the total customization of the images to be captured.
When you run it, it opens in a standard dimension, but you can only change it by dragging the mouse by pulling it horizontally or vertically to leave it at the default size.
After that, just tap the record button, and the capture is done. In the tests, it was possible to capture images from both the desktop and running apps, which is crucial for a good app evaluation.
To finalize the work, the menu for editing and uploading the video to the Internet is quite simple, functional, and attractive.
The publishing options appear on the right side of the screen, with the user being able to either send the direct capture to YouTube or save it only to his computer.
Pros
Various recording resolutions
Customizing the screen size to be captured
Simple to use
Publishing to YouTube
Cons
The watermark in the free version
Many features are available only on unpaid
Web-version did not work in the tests
12. Screenflick
Screenflick is a Mac screen recording software that is extremely powerful minus the bloatware. This resource magnet is so loaded that you can create informative and eye-catchy content day after day, non-stop!
This screen recorder for Mac also uses a captive UI/UX formula that we have seen in quite a few Rising Apps on the App Store lately.
To perform even a basic recording of your system screen, you must click the "Start Recording" button located on the "Recording" tab of the tool. When a square with blue borders is displayed, you need to expand it to define the region of the screen that will be captured. Finally, just click the "Record" button to start recording.
Screenflick is quite customizable too! It allows you to make several configurations. The user will be able to set parameters that control the positioning of the camera to the number of frames per video. The shortcuts will be responsible for interrupting, pausing, or continuing a recording.
Also, in the preferences of the tool, it will also be possible to inform if the video will capture some type of audio, which can be either of the system or of the environment (through the microphone).
After capturing a video from the computer screen, Screenflick will allow its users to save the file in several known formats. For example, you can export videos in MOV, MPEG-4, WMV, Flash, iOS compatible, and more formats. In each of the chosen formats, the user can also define parameters such as video dimensions, compression quality, number of frames, and several other options.
Download Screenflick and check it out.
Our opinion
Screenflick is the ideal tool for anyone looking for a simple way to capture what is happening on the screen of their Mac OS X. Such an application is highly recommended for creating tutorials. However, the same will also be useful for those who like to record their game performance.
Through a very beautiful and elegant interface, Screenflick is also simple to operate. Through the default configuration of the tool, the user will be able to capture your videos very quickly. Just start the application, delimit the region of the screen to be recorded and click the "Record" button.
In terms of functionalities, the tool also leaves nothing more to desire. Through it, you will be able to define parameters that will influence the video quality, resolution, file size, and output format, among many other options. The software provides everything from the most basic configurations to the most advanced ones.
By generating videos that display great quality and performance, the Screenflick application has the potential to be the ultimate solution for those looking for a way to capture videos from their Mac screen.
Pros
Intuitive and beautiful interface.
Great settings options.
Very efficient.
Export videos to various formats
Cons
13. Jing
is an application that allows you to capture images and videos of everything you do on your computer and share them on the web.
The ability to capture screens from Windows and Mac is very useful, but they lack additional features when capturing.
With Jing, you have the same feature and many other functions, which will help you capture images and videos straight from your computer without any complications.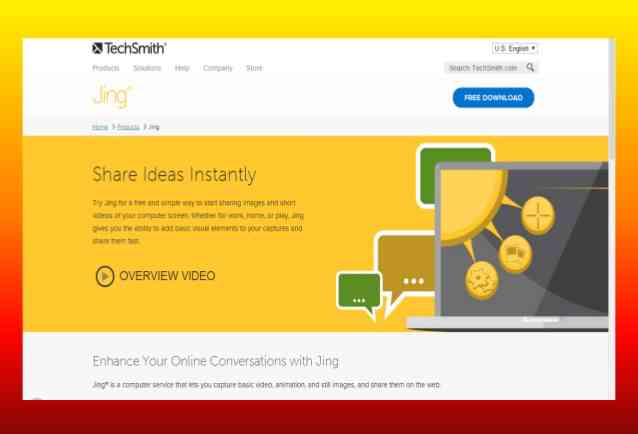 The program has a differentiated interface; all you see is a small ball at the top of the screen.
When you move the mouse pointer near it, the available options are displayed: Capture, History, and More.
To capture an image of what you see on your computer screen, just click the "Capture" option, select any window or region you want to capture, choose whether you want a video or image, and start.
Select any window or region you'd like to record, and Jing will capture everything that happens in that area.
From simple mouse movements to a fully narrated tutorial, the program records everything you see and do.
After capturing an image, you can make the appropriate adjustments using the tools on the left side of the screen.
They allow you to insert some elements like arrows, and pictures, write texts, and highlight something in the image.
To save, just click "Save". You can also just send the image to the clipboard, and if you want, you can upload your images and videos to the web.
To do this, once you're done with your capture or screen recording, upload it to the Screencast.com service and share it via instant messaging, email, social media, and more.
Remember that to use the service, you must have an account with it.
Jing is a very interesting tool that allows you to make captures in a very simple way, but with important resources that help the user to put all their ideas in one place.
To complete, you can use the program for a limited period of time (with limitations), so download and try this small and powerful grabber.
Our opinion
Using Jing is an extremely easy task because its approach and interface are very simple, intuitive, and easy to use. In addition, the program takes up very little memory of the computer and therefore does not detract from its performance. And you can even configure whether or not it should open when Windows starts.
The image editing tools are very practical and allow the user to do whatever they want with the capture (within the limits of the application), without having to understand much of the editing of images.
Leaving some of the original functionality, the app is a great option to capture images that are coded to not be downloaded, of course, provided they respect the copyright.
Unfortunately, the program only records up to 5 minutes, which can limit productions that exceed this value. Another downside of the program is that it prompts users to log in to an online service, which can annoy many people.
The "sun" activation icon at the top edge of the screen sometimes gets in the way, particularly of tabs in web browsers. This behavior forces the user to keep the program closed most of the time.
Pros
Easy to use.
It takes up too little computer memory and therefore does not detract from its performance.
Image editing tools are very practical
Free
Cons
Only record up to 5 minutes
Need to sign in to an online service can annoy many people
The activation icon "sun" may be disrupting other applications
14. Monosnap
Monosnap is a Mac app that offers users the ability to capture screenshots of their screen, share generated files, record, and still stream live videos. It also supports Evernote and Dropbox, allowing you to save content directly to the cloud.
The screenshot capture tool offers a very large Zoom function, which allows you to show detail without distorting the image. You can insert text, arrows, and shapes into your images. There are still ways to capture multiple frames within a time frame, that is, timed.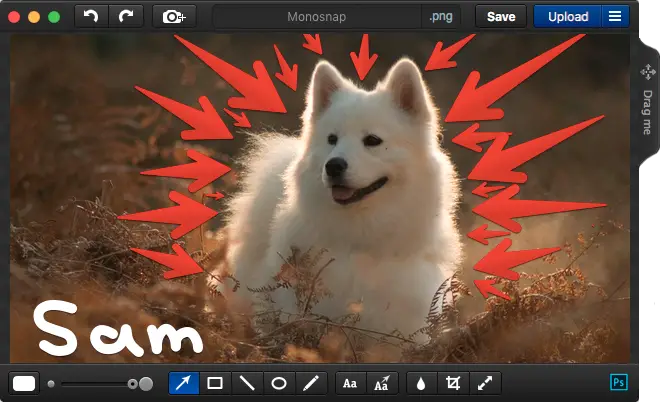 The Monosnap application interface is simple and has intuitive usability. The image capture tools are located at the bottom of the screen, while the video recording is shown at the upper. And they are basically the same, reserved proportions.
Basically, you can upload to any cloud storage service you created with the application, and in the issue of the video, you can upload directly to Youtube.
The application also provides that you do not want to show certain areas of the video or screenshot, and for that, it offers the blur tool to disguise what you want to keep away from the looks.
Monosnap is an effective solution for capturing screenshots and making small edits directly from it or to record screencasts simply and quickly. It is available in English, is free, and is compatible with Mac OS X 10.6 or higher (and the 64-bit processor is required).
Our opinion
Monosnap's proposal to capture your screen in pictures or videos can be essential for anyone. He can deliver his propositions with quality. With a simple interface and usability tuned, practically anyone can use it without problems.
The Monosnap base that is image capture offers a good editing tool where you can underline, mark, insert arrows, and others in your capture to better illustrate what you want to demonstrate. The ability to share content directly to cloud storage services or social networks complements their role.
Screencast capture is the icing on the cake of the application, as it records what the user is doing on the screen and at the same time, on a smaller screen, teaching himself or demonstrating what he wants. An essential tool for those who make videos and the best, totally free.
The Monosnap editing tools are really good but basic, it would be interesting to offer more features to the user. There is no translation into Portuguese, which can make it difficult for some and neither version for other platforms.
Pros
Organized interface
Intuitive Usability
Capture images
Screenshot and user simultaneously
Sharing content
Cons
Basic Editing Tools
This version has a long list of corrections.
There is no translation into Portuguese.
So far, you've only had the privilege of knowing the best Mac screen recorders, but there are a few more that deserve mention. Take a look.
15. Movavi Screen Capture Studio
Want a quick editor and that will allow you to record the screen of your Mac in minutes?
So you have to get to know Movavi. With this application, you can record your screen with enormous ease. And better: you can record the screen and appear at the same time if you want. With Movavi, you record your video and then edit it in one application! You can trim your video, insert sound, insert other videos, add effects, and more! On this list, it undoubtedly deserves to be at the top.
Movavi screen recorder is an effective tool for capturing mac screens in different resolutions, easily records with movavi and the editing tools are easy to use. You can trim, add, and merge the clips as you want.
Conclusion
All of the apps shown above have their advantages and disadvantages. If time is a limitation for you, it may be best to opt for Quicktime or Hangout. On the other hand, should you feel like recording a quick video, then it might be best to choose Quickcast, RecordIt, or Jing.
Let me know in the comments which ones you like the most.
Also Read:-