Do you have a YouTube channel and want to make it more popular by Livestream computer screen on YouTube or record a nice tutorial while you're 'live', share ideas & reviews with video capture?
YouTube allows you to share screen on YouTube Live and record the computer screen in the simplest way. This also makes it a sharp tool to record special moments in a conversation via video conference.
Live streaming on YouTube is now a trend to interact with your viewers and subscribers. You can stream almost any video which follows the YouTube guidelines whether you want to stream from your phone, camera, or desktop you can do it in simple ways.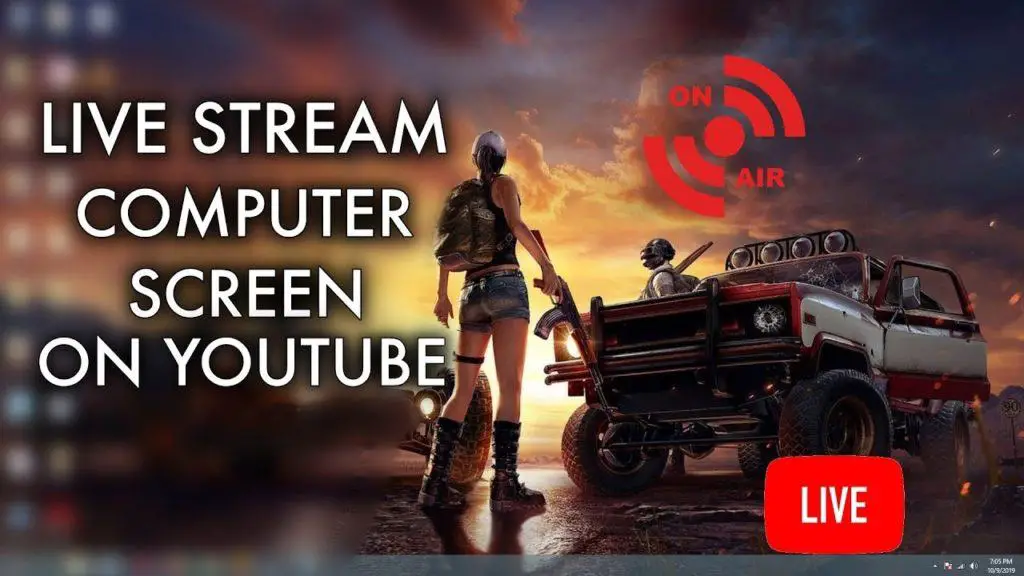 Streaming from your phone is easy because you don't need an additional setup. But if you want to stream a professional conference, tutorial, gameplay, or pre-recorded videos then you have to stream from the desktop.
There is different software available for the Livestreaming PC/Mac screen on youtube. Most of them are paid but there are some free software to live share desktop screen.
With basic technical skills, any user can create an event and choose if the video is private or public by going to the Live Streaming option on YouTube.
So, let's start to begin by making the most out of this platform for either business or personal purposes.
Start to Live Stream Your Screen on YouTube
As mentioned above, there is some third-party software available that can help you to share your screen on youtube. Earlier using hangout on Air was quite easy and effective but it is no longer available.
I have tested some of these apps and the only best free software for live streaming available is OBS (Open Broadcaster Software) which can enable you to live stream not only the computer screen but you can stream almost anything.
In this detailed guide, I'll explain how you can easily set up OBS and stream on YouTube, Twitch, and many more.
[This article may look long but I've explained everything with easy-to-follow steps]
Livestream Your PC / Mac Screen Using OBS
After taking away the hangout on air YouTube has replaced classic live streaming with YouTube Studio. So this guide will walk you through the streaming on the newer version of YouTube Studio.
Before we start setting up YouTube Live Control Room, let's set up the OBS for streaming first. [It's easy]
1. To get started you need to download and install OBS on your computer. OBS works on Windows 11, 10, 8/8.1, Windows 7, Mac osX, and Linux computers.
Once you open the OBS for the first time you will get an Auto-configuration wizard, just select Yes.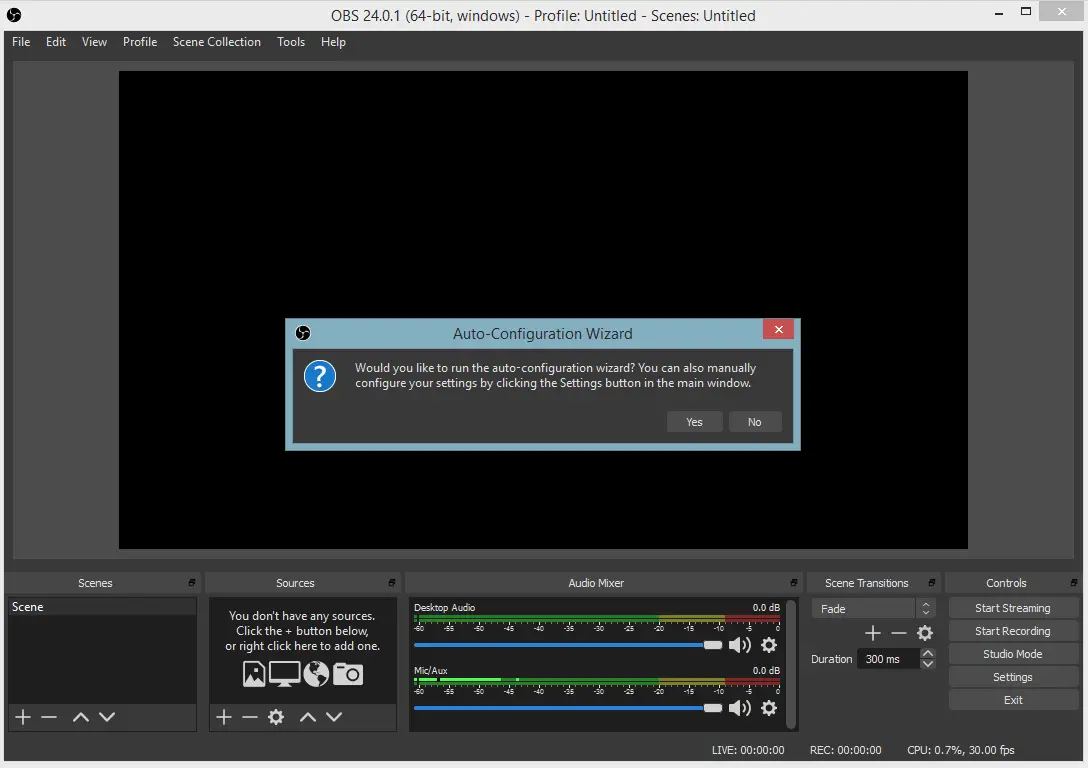 2. In the next window select "Optimize for streaming, recording is secondary" since you are going to Livestream your screen on youtube.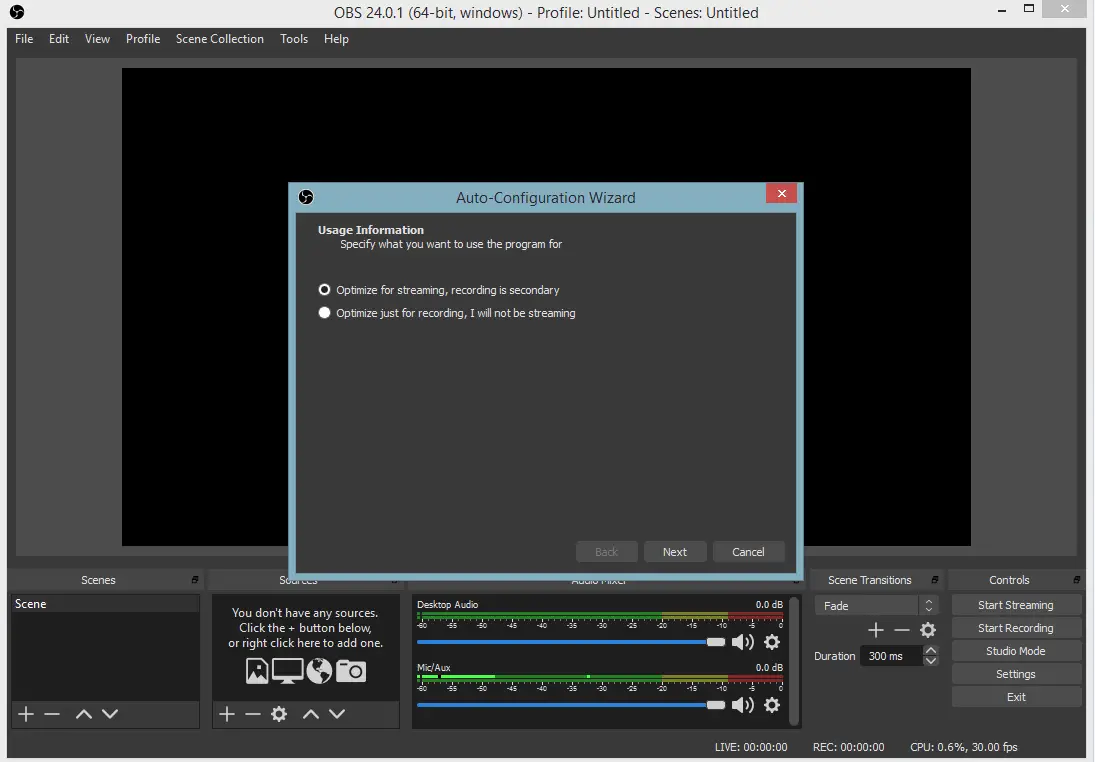 3. The next step is to create a scene in OBS, click on the + button, and add a new scene. You can name this screen anything you want. After the scene is created click to highlight it.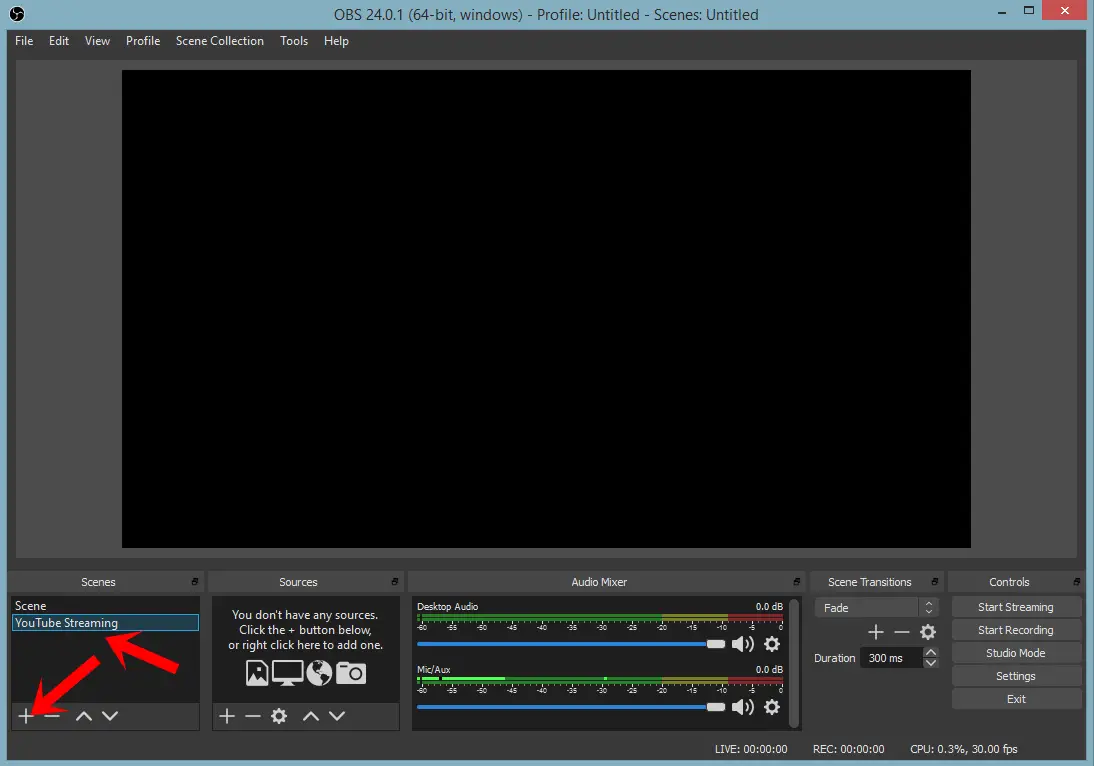 4. Now click on + sign in the Sources option and select Display Capture to live stream computer screen.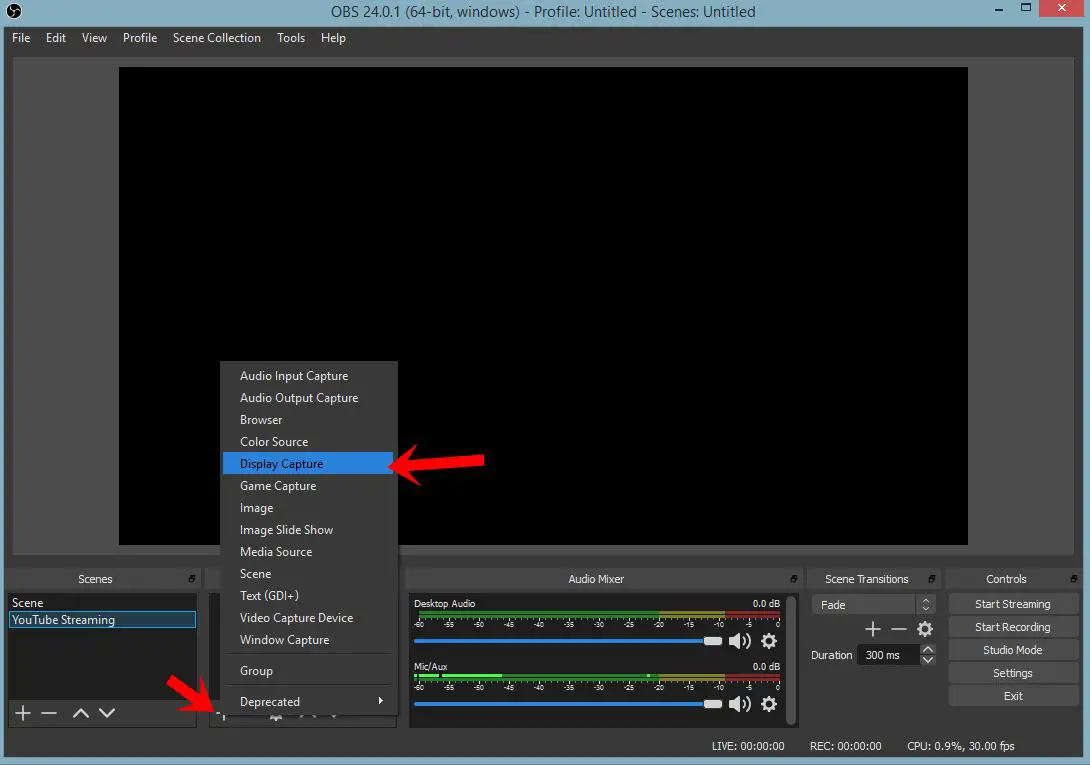 5. Inside the Create/Select Source window you can assign a name to this source, be sure that the "Make source visible" option is checked. Now hit OK.
Inside the audio mixer, there are options to select the computer audio as well as the mic audio. You have the choice to adjust the volume using a slider, up and down mic volume, or mute them completely.
If you want to speak and make your tutorial or any other content more interactive for your viewers. You can enable the microphone to capture the audio or turn it off as well.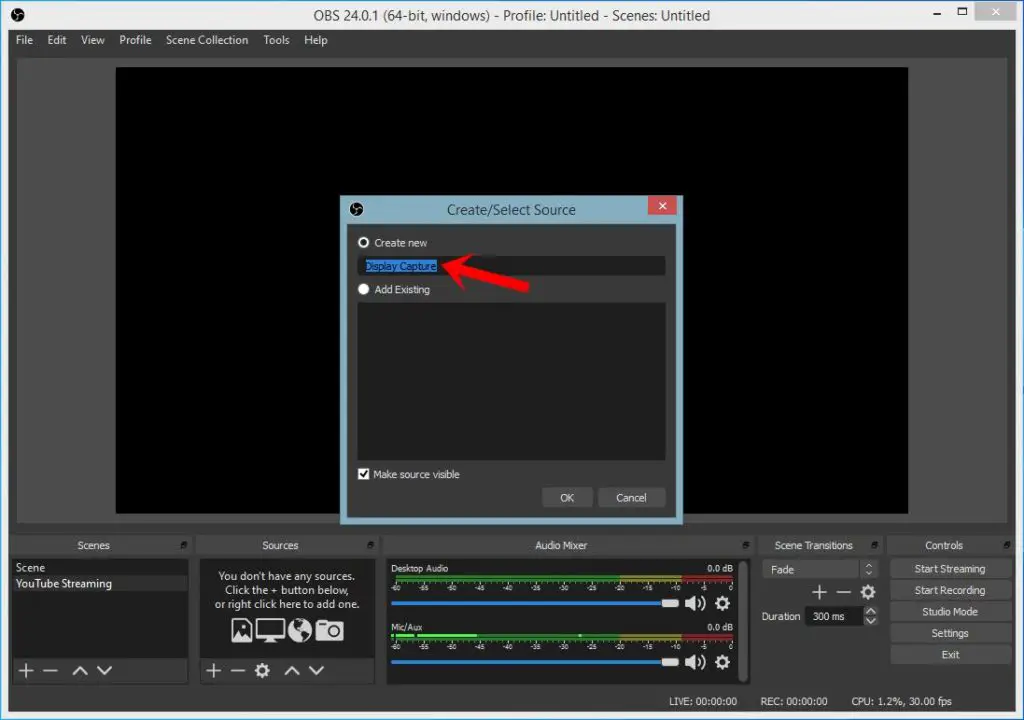 Now you would be able to see your computer screen live inside the OBS window. You will get an Inception-like effect since everything is showing live. Like windows inside the window.
It will automatically select the display and the resolution. If you want to show your mouse cursor as well then check the option "Capture cursor". Now hit OK.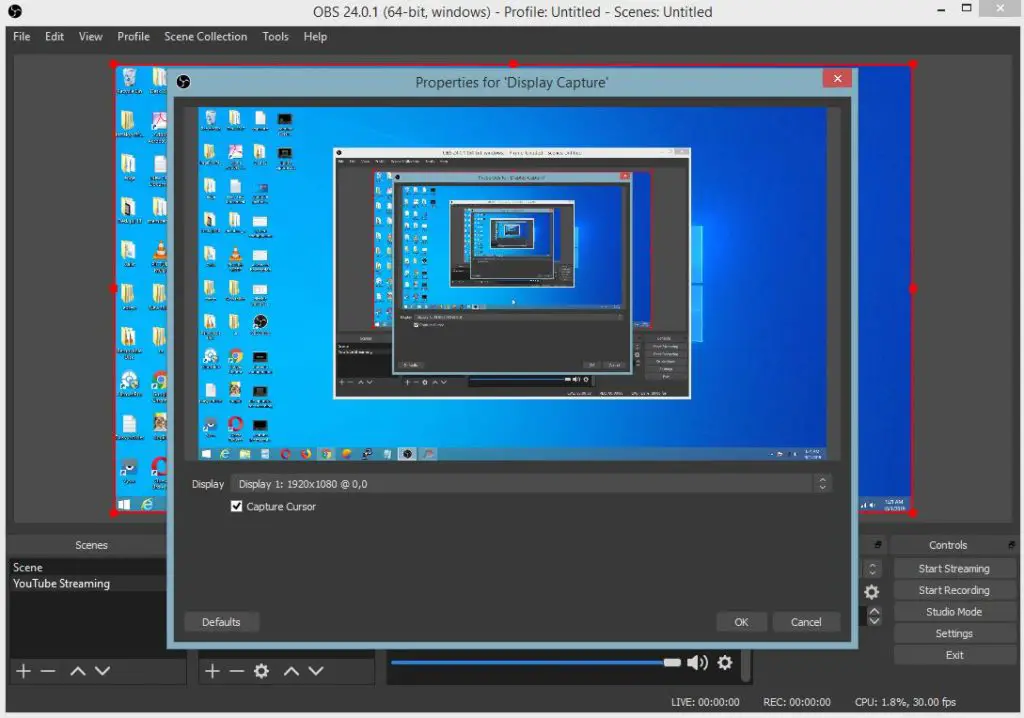 The basic options for screen sharing are now set on OBS. Before we head up to the streaming settings we have to set up the YouTube live dashboard inside YouTube Studion Beta.
Setup YouTube Live Control Room For Streaming
1. Access your YouTube account from your computer and click on the icon where it says upload video or create a post.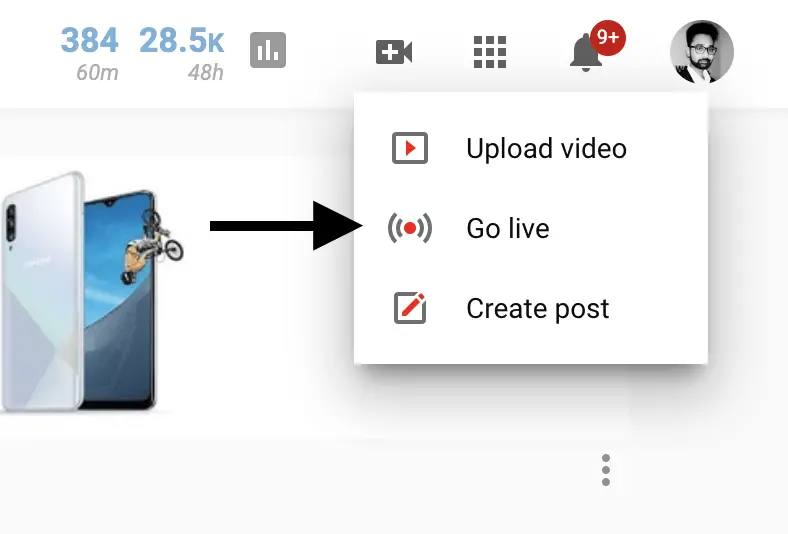 From there click on Go Live.
Or you can directly visit the live streaming dashboard via this link for YouTube screen share – https://www.youtube.com/my_live_events?o=U.
You need to verify your YouTube account using a phone number to enable the live streaming feature on YouTube.

You can select Streeam, Webcam or Manage option from the left pane.
The link will take you to manage and schedule a new live stream and you will see the below screen. Now click on 'Schedule Stream' to create a new live stream event.
Inside the New Stream option, there are the following options-
Details Tab
Title – Add a title to your video.
Description – Add the description of your video
Category – Choose the appropriate category.
Thumbnails – Upload a custom thumbnail for the preview.
Monetization Tab
Monetization -Turn ON or OFF Ads
Type of Ads – Select between different types of Ads formats available.
Customization Tab
Enable/Disable Live chat.
Participant mode – Anyone or Subscribers only watch your live stream.
Message delay – Ads a time duration for chat delay.
Visibility Tab
Visibility – It can be public, private, or unlisted. To present to your audience select Public.
Schedule – If you want to schedule a live stream.
After you click on "Done".
2. The next pop-up of Stream Setup help would appear. Here you can find some guidance to get started with streaming (Which you don't need). The second option will show you the stream key. This is a very important and secret key.
Just copy the stream key and keep it for further setup on OBS. Click Done, and leave the stream URL as it is.
4. Understanding the Live Control Room
Before you hit "Go Live" let's understand all the features of the live control room.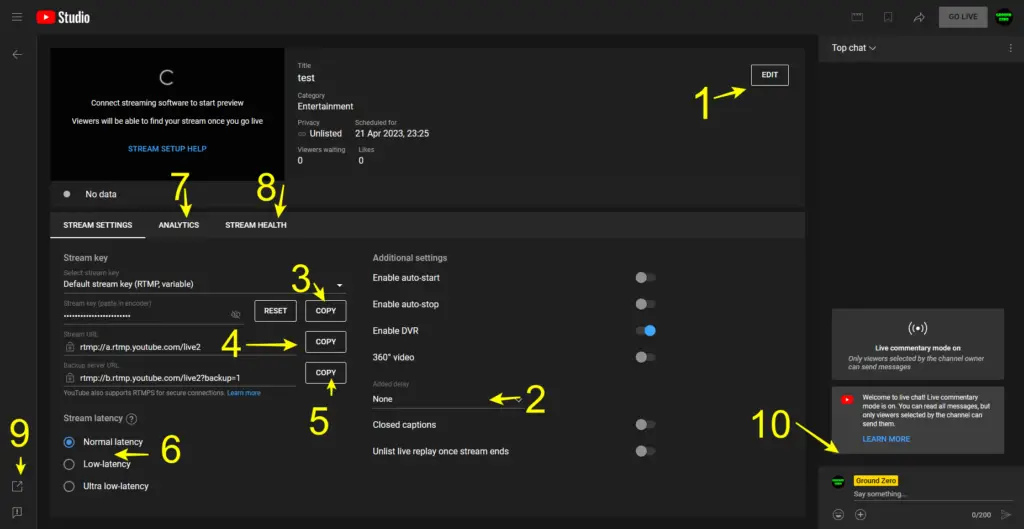 Edit – You can edit the video title, description, category, and thumbnails.
Delay – Assing some delay to your streaming.
Stream Key – Your unique Strem Key.
Stream URL – This is the URL where OBS will send the streaming. Don't worry OBS has this URL inside.
Backup Server URL – If you are streaming something 24/7 then you can create additional streaming. If the first one fails it will start streaming from the backup stream.
Stream Latency – Choose between Normal, Low, and Ultra-Low Latency. It will decrease the quality and improve the interaction time respectively while you livestream the computer screen.
Analytics – Live video analytics. Concurrent user, chat rate, etc.
Stream Health – Health of your stream.
Pop Out Dashboard– Manage the live dashboard in a new window.
Live Chat – Interact with your audience on live chat.
5. For additional details about your video click on the profile icon and then select YouTube Studio.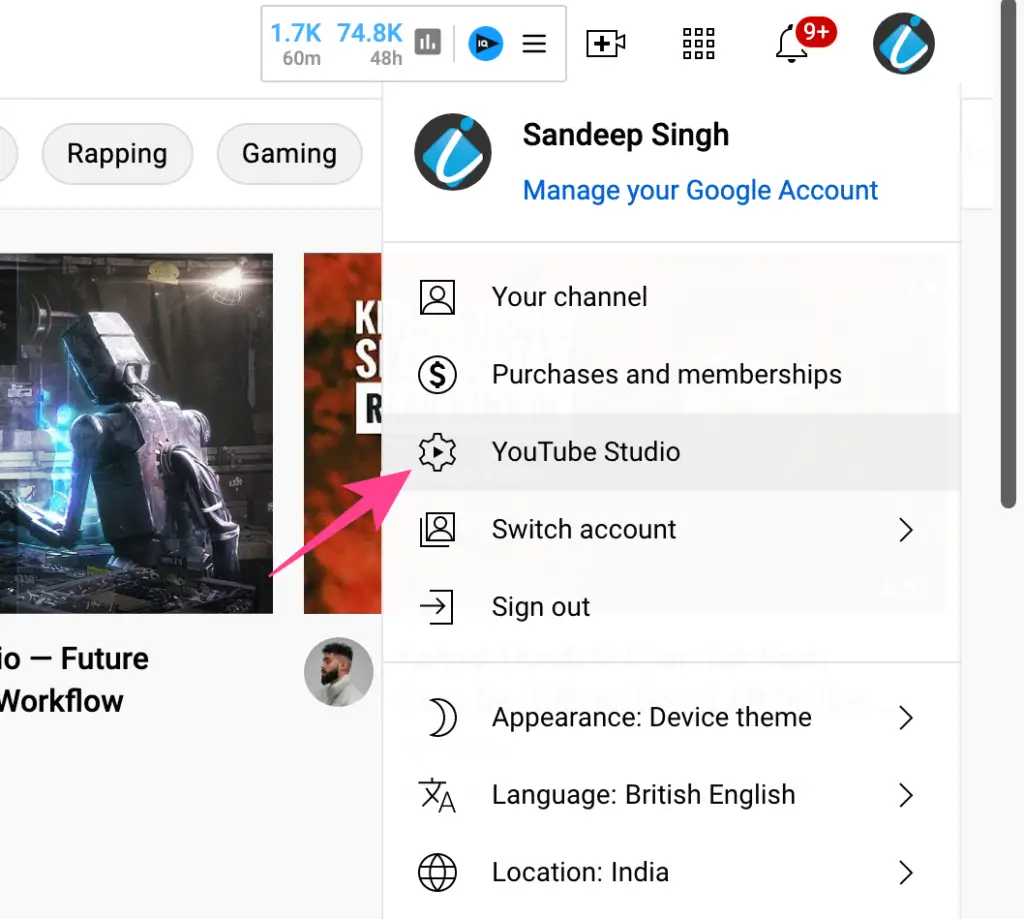 Or you can open YouTube Studio, Click on Live then you will see your video which would go live.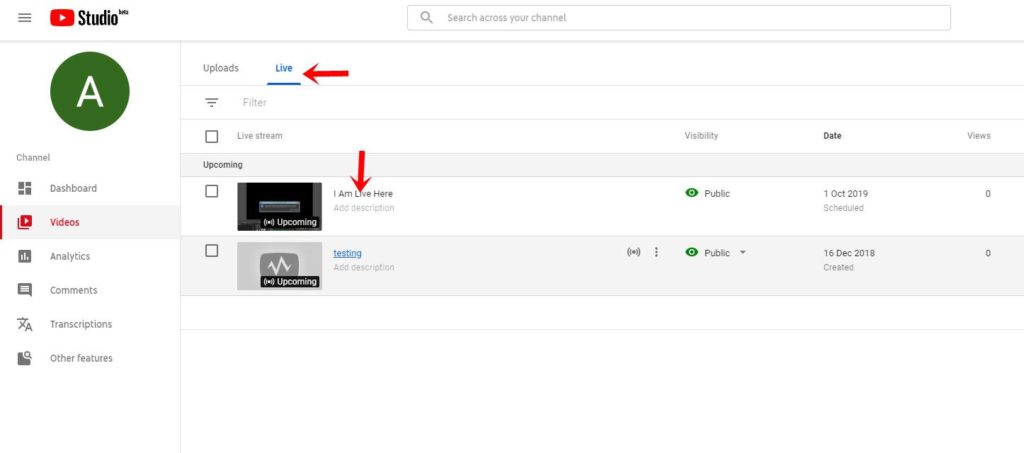 6. Inside the Live Control Studio, you won't be able to add tags and change some Advanced options. You can go to the Studio on another tab of the browser.  Click on the video title and you will get the editor.
Here you can edit Titles, and descriptions, add tags, select playlists, and add cards to your live streaming in the Basic tab. In the Advanced tab, you would be able to set everything like you do during normal video upload. And Save the changes.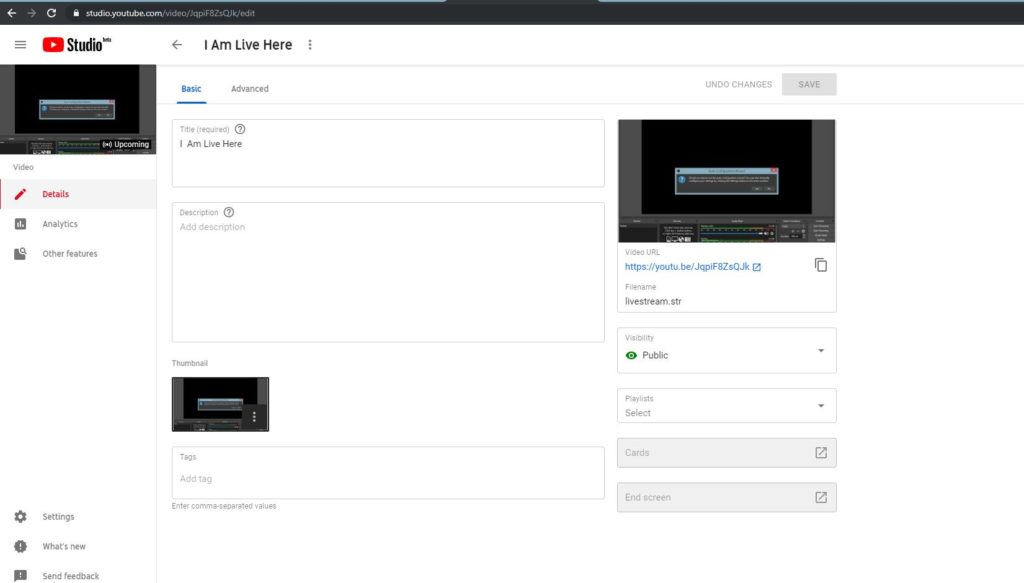 Once you are done adding titles, descriptions, tags, etc you are good to go. Now you need to enter the stream key inside OBS.
Start Live Streaming Desktop Screen on OBS
1. Head back to OBS and click on Settings under the controls section on the right bottom corner.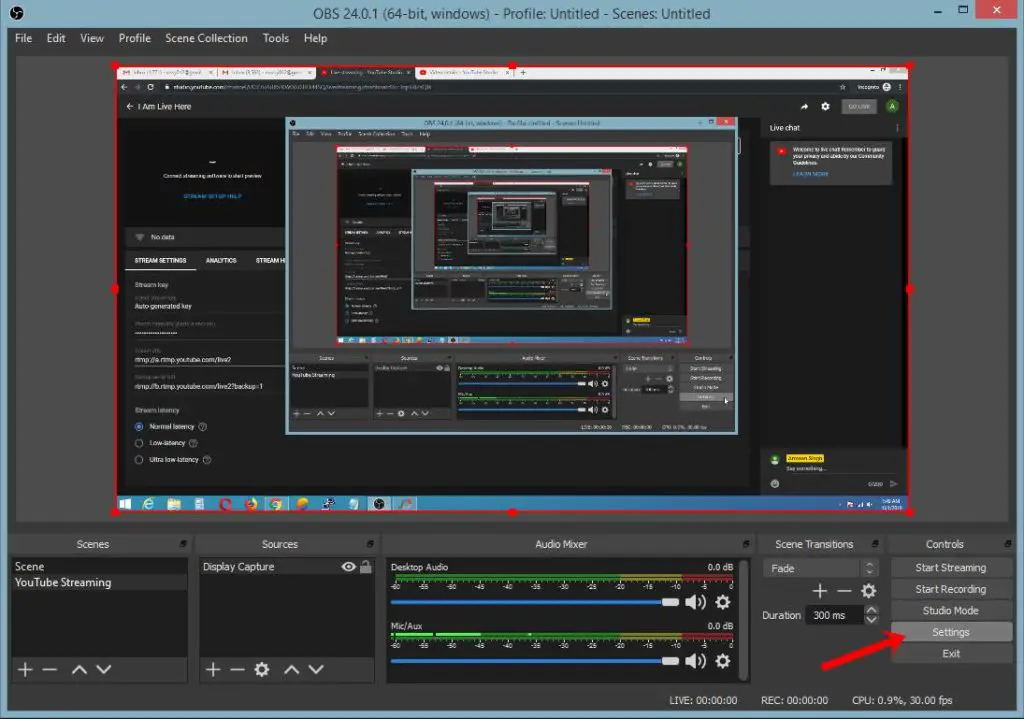 It will take you to the OBS settings window.
2. Select the Stream option from the left pane and choose the service where you want to stream, in this case, we will select YouTube/YouTbue Gaming. The server would be the Primary YouTube ingest server.
Now paste the stream key which you copied from the Live Control Room. Hit Apply then OK.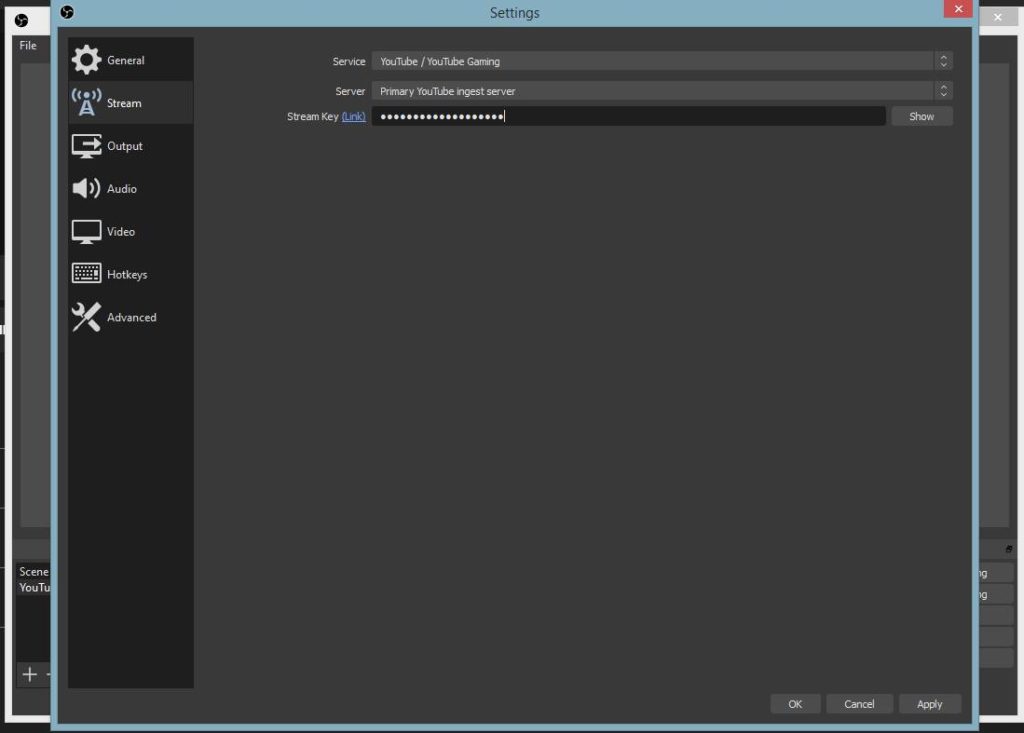 3. Now select Output from the left pane. Here you can select the video bitrate, audio bitrate, and encoder.
Bitrate – It can be adjusted according to your internet speed. For a slow connection select the lower bitrate, with a higher speed connection you can increase the bit rate. If you are unsure then leave it as it is.
You can play around with Bitrate later on while testing your streaming.
Encoder – You will see both hardware and software encoding options in the drop-down menu. If the computer has a dedicated graphics card then you can select the hardware encoding, but make sure the graphics drivers are updated to the latest version.
And If the computer does not employ a graphics card then you can select Software (x264) encoding. If not sure then select software encoding. Hit Apply and OK.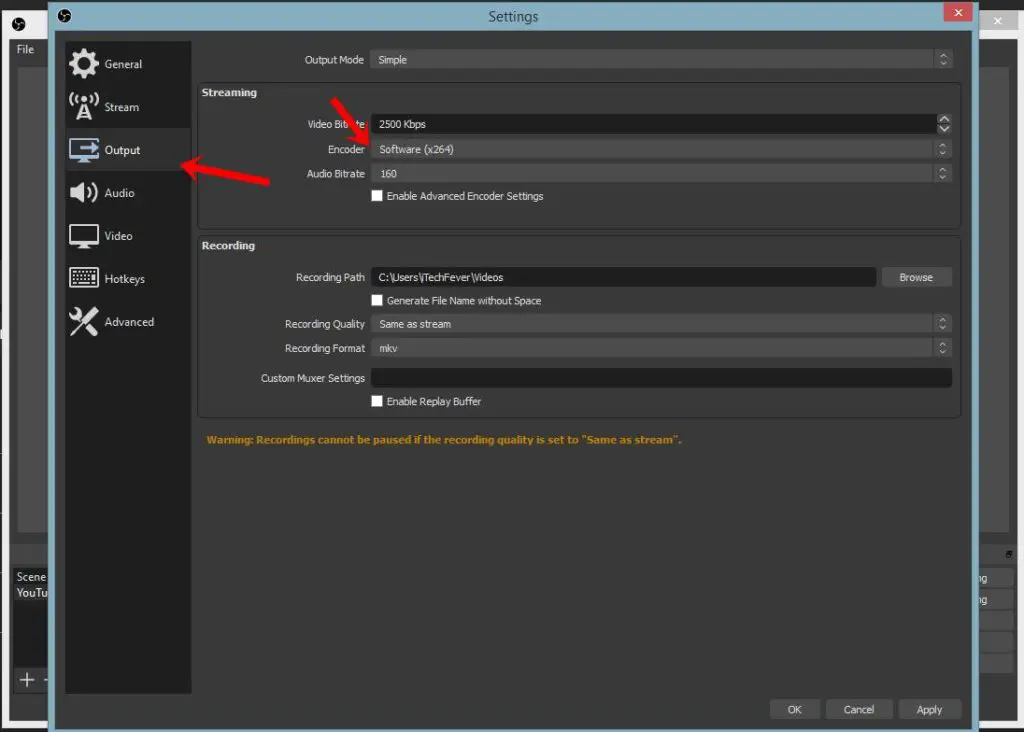 4. Time to go live now, under the controls section of OBS click on Start Streaming. Check the live control room you will see your computer screen showing live.
Streaming is started you can preview the video in the control room if everything is fine then click on "Go Live" to present streaming to your audience.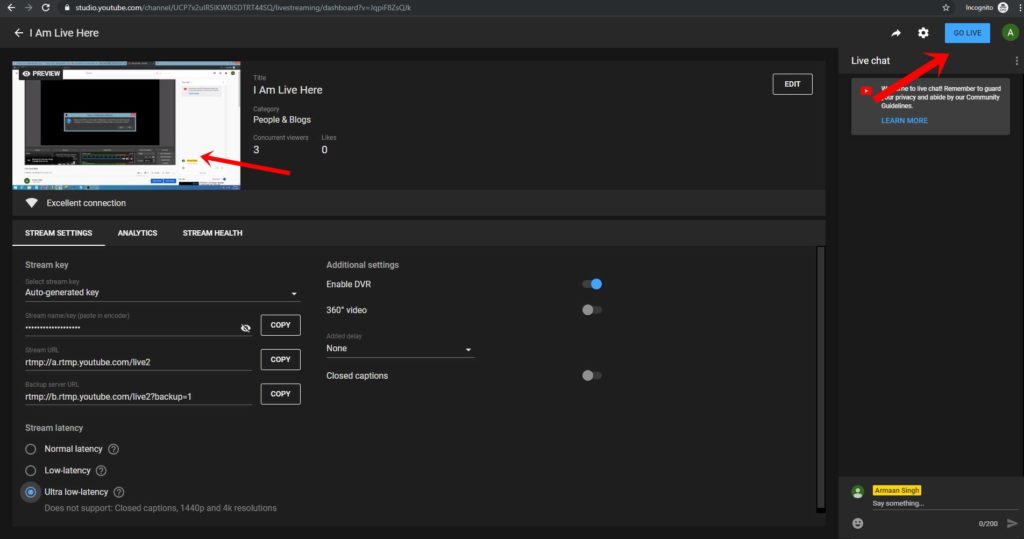 YouTube Studio allows you to double-verify before you go live using third-party broadcasters. Earlier if someone steals your stream key then they were able to broadcast on your channel using OBS but not now.
You can now minimize the OBS to present your computer screen to your viewers, you can stream gameplay, live tutorials, and any other thing you can do on your computer.
5. To stop the streaming you can Stop Streaming from OBS or stop it from the live control room.
Tips:- If you are skeptical about the above method to Livestream computer screen on YouTube then create a test account before going live on your main YouTube account, this will give you peace of mind if you do miss something or to avoid any embarrassment in front of your viewers.
If everything is working as expected on the test account implement the same technique to go live on your main YouTube account.
Watch Video Tutorial
Locating Your Saved/Recorded Videos After Livestreaming
Live streaming via OBS also works as a screen recorder for youtube, if you prefer to save and stream your video later or do not know where to find your content, follow these steps.
It is worth mentioning that the greatest advantage of streaming on your Youtube channel is that the platform saves it all automatically, so you can only focus on keeping up your performance and producing consistent results.
1. Once you have finished streaming, access your YouTube account on your computer and click the "Profile" icon at the top right then select "Creator's Studio".
2. Access "Videos" on the left-side menu then hit "Live". Your screen recording will appear at the top of the list, with the title you chose.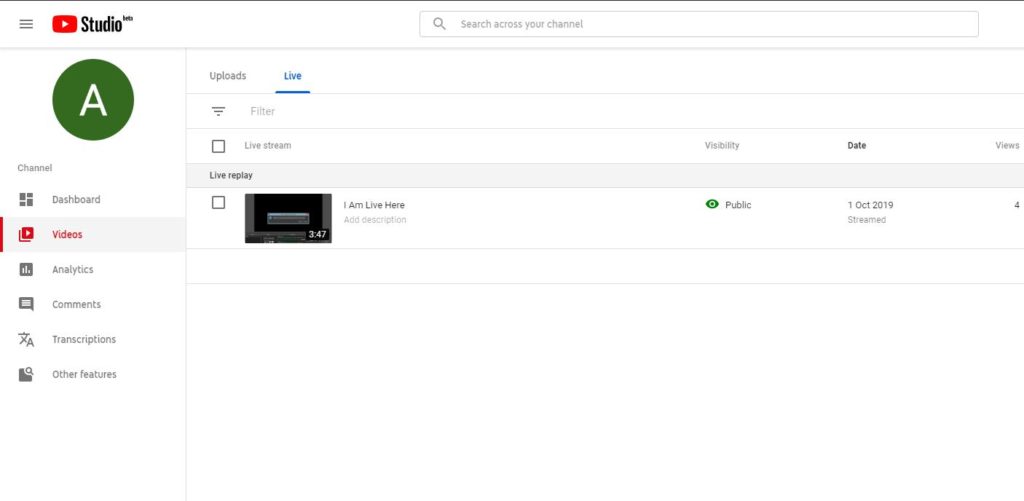 3. Click "Edit" to check or add further details. You can manage the type of privacy. To download the video for external websites or show it to friends, but without leaving the public, with the "Not listed" option.
If you want to collect the link to share with friends on your social media, blogs, and several other digital platforms, you can find the link (URL) on the right side, or if you just want a quick check on the overall video presentation and the outcome of the recorded video.
That is it! You've made it through this process in just a few seconds. Now, if you prefer, you can just download the screen recording or choose one of the many other options available in the "Edit" tab.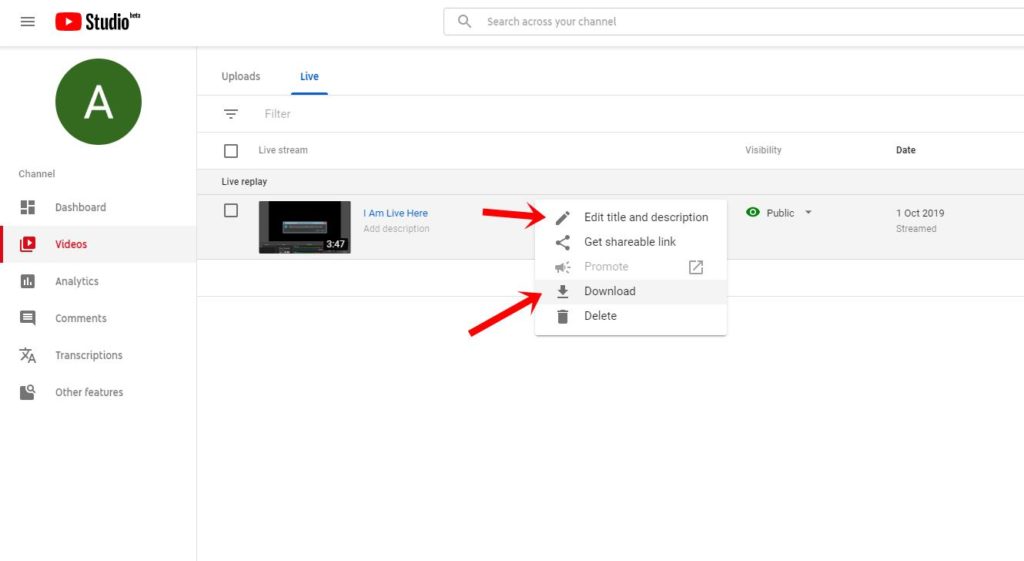 During the streaming event, you can add more options to interact with your viewers by enabling chat and creating cards. In addition, promote your video content and increase user engagement by adding subtitles.
More About OBS
Using OBS you can not only livestream computer screen but can do many more.
OBS enables you to select a particular window, like software, game, etc.
You can use flyers, banners, and animations to make your streaming looks professional.
It can add multiple scenes.
Inside sources, you can select tons of other sources like browser, URL, Text, image, slide show, etc.
You can stream a live event using the URL.
There are tons of other options you can explore, you can watch some videos on OBS to learn more.
Overall, streaming via OBS is much better and more professional than using hangout on air, it is gone for good.
Tips:
Bear in mind, it is essential that you download and install an audio and video encoder on your computer to perform the Live stream computer screen on YouTube. This software is responsible for encoding media files, compressing the original format, and uncompressing when you play.
In the case of live broadcasts on YouTube, the encoders are entailed to compress the videos in the proper format.
The available encoder alternatives will depend on the configuration of your system. Generally, there are four programs that YouTube accepts: Wirecast, Game Capture HD, XSplit Gamecaster, and XSplit Broadcaster.
But, what is the major purpose of installing them? Programs can capture desktop, camera, and microphone content. After downloading and installing the software of your choice, you will need to configure it so that you can then perform live videos with quality.
When everything is set, connect the encoder to your YouTube account to perform a live broadcast. This way perform YouTube screen sharing and teach or show whatever is on your computer screen.
Must Check These Amazing YouTube Tools- 
Also Read –
Faqs about YouTube LiveStreaming
How do I stream my computer screen on YouTube?
To stream computer screen on YouTube, you need a streaming app like OBS that can produce live screen videos.
1. Set up OBS on your device.
2. Now, create a stream on YouTube to get the "Stream Key".
3. Enter the stream key on OBS, and start streaming the screen.
OBS offers multiple customization options to make your stream better.
How do I enable streaming on YouTube?
Live streaming is enabled for all the accounts, you need to verify your account with a phone number. It can take up to 24 hours to enable the streaming after verification.
Is YouTube live free?
Yes, YouTube live is free for everyone, just verify your account with a valid phone number to get started.
What is streaming software for YouTube?
The streaming software is a gateway between your device and YouTube. On computers, you need a streaming app to share your screen on YouTube live.
OBS, Streamlabs OBS, Restream, OneStream, Dacast, Wirecast, and XSplit Broadcaster are some of the top streaming software.
What do you need to Livestream on YouTube?
If you want to live stream using the camera of your device then you don't need additional setup, just hit the "Go Live" option and fill the basic details.
To stream the PC screen, you need the following things –
1. A streaming software
2. PC/Mac of course.
3. Little skill to create basic live events.

Install the software on your device.
Create a live event on YouTube, and fill in the basic details.
Get the stream key and enter it into the streaming software.

Go live anytime.