Do you want to record the audio that is coming from your PC speakers? Not only will that let you record computer audio, but it will let you save music from videos, games, or even online streaming audio of various types.
While technically, you could hold up a microphone right next to your speakers – that is far from the best option, and the audio quality will not be good. Instead, you'd be far better off using tools capable of recording system audio directly from your sound card.
With the right tools, you'll find that it is really relatively easy to record system audio. More importantly, the quality of the clips that you capture will be much higher.
You may need to record computer audio for various purposes. Like if you want to record and save podcasts or want to save any music which is not downloadable. Using audio recorders you can save any type of audio playing on the computer.
5 Awesome Tools to Record Computer Audio
If you want to know the top tools that you can use to record system audio on a PC, just refer to the list below.
Movavi Screen Recorder
Although it may be a screen recording software first and foremost, the features in this tool allow it to capture the system audio and save it as an audio file. To learn how to use Movavi Screen Recorder to record internal audio on your PC visit the Movavi site.
The main advantage of this software is the fact that it is exceedingly easy to set up and use, and will take a few minutes at most. On top of that, you can also record audio from other sources, adjust the volume levels of each source, and schedule recordings to automate them.
As a screen recording software, you'll also be able to capture video footage from your screen or webcam. After recording an audio or video clip, you can trim it and discard any parts you don't need before saving it in the format you prefer.
Overall it is the most versatile option available should you want to record your system audio and possibly video footage to accompany it as well.
One of the more capable audio recorders and editors for PC is definitely Audacity, which is a top-rated free and open-source tool. It has numerous features to record and edit audio tracks.
But the one that is relevant in this case is its WASAPI loopback feature that will let you record the system audio from any PC.
The audio quality of the recording in Audacity is excellent, and its multi-track audio editing capabilities can be very useful. It supports the most common audio formats, including MP3, WAV, and AIFF.
Generally, the only drawback you should be aware of is that its interface can be clunky and unintuitive. It may take a bit of a learning curve to determine how to use its features.
After Installing audacity choose the option to record the audio from the computer, you can also find the user guide if you are unaware of audio recording.
Unlike most other options, SoundTap is designed specifically to capture and convert any audio that is playing on your PC into MP3 or WAV files. That singular focus makes it a very easy-to-use option and can be set up to start recording quickly.
The software's features are limited, however, as you can see on the website. It can record audio from a microphone, but has no editing features and relies on integration with other popular audio editors to fill that gap.
In short, this option is best suited solely to record clips of system audio, and you will need a different audio editor if you want to make any changes to it.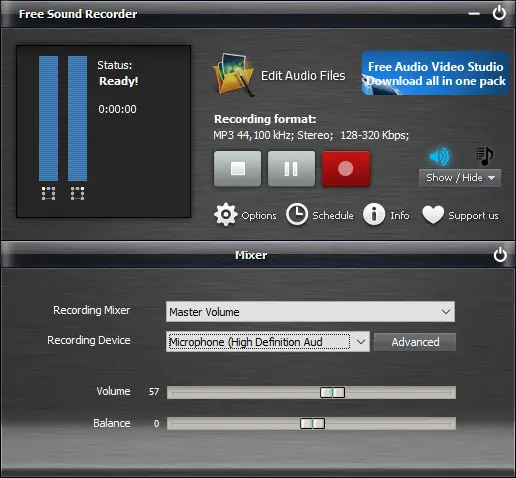 Another option that is designed primarily to record system audio is Free Sound Recorder. As you can see on its site it has several other features as well to record microphone audio and edit or enhance the quality.
Using this lightweight tool you can record computer audio with ease.
It will let you schedule recordings and even set it up to record daily or weekly at a specific time.
The editing tools in the software are limited to the basics, but its interface is not exactly easy on the eyes. Still, it is a solid option for casually recording internal audio of any kind or even basic microphone recording.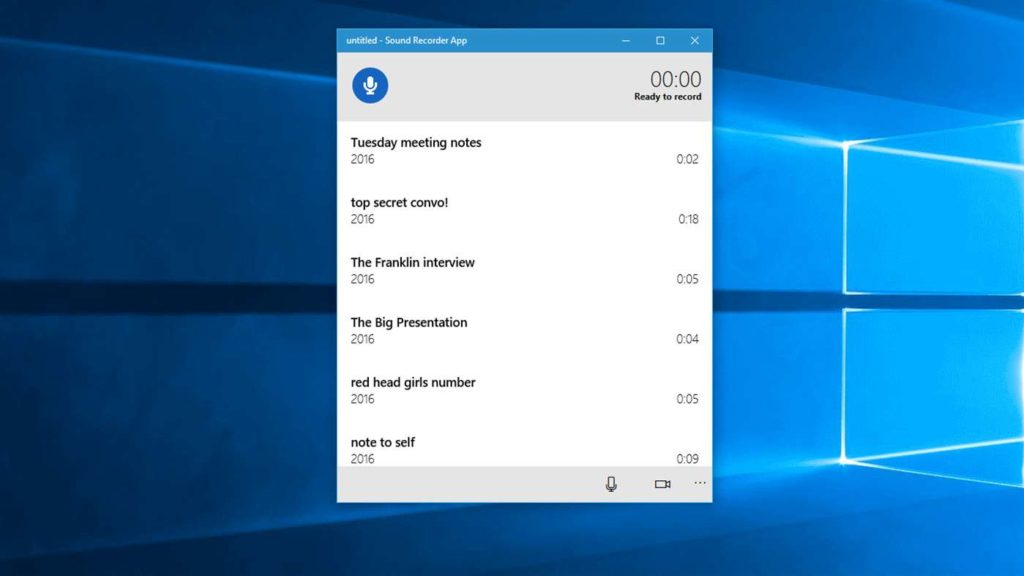 Technically Stereo Mix is not a system audio recorder but is a recording option that some sound drivers provide. It is also known as 'What U Hear' and will essentially record the sound that comes from your PC Speakers.
The reason this option is noteworthy is that, if you can enable Stereo Mix in the Sound settings of your Control Panel, you can record system audio using any software you choose.
That includes the Windows Sound Recorder app that you can click here to download but is probably already installed on your PC.
Although it is an excellent option, many newer sound drivers don't support the Stereo Mix feature. Sometimes you may need to install older drivers that do support it. But that is inadvisable for other reasons, and you should be sure to set a system restore point if you try it.
Final Words
As you can see, plenty of good options are available regarding tools that will let you record the system audio from your PC. Each will let you record any type of system audio, whether streaming music, game sounds, podcasts, background music in videos, or anything else.
The difference between the tools that are available is pretty significant. However, you will need to decide whether all you want to do is record computer audio, or if you have other plans in mind.
Per the list above you should note that some tools have other helpful additions such as audio editing tools or video recording features, but others do not.
Suffice to say it would be best to choose a tool that can fit your requirements specifically. If you're unsure what those are, it may be best to opt for a versatile option at first and then look into other options later.
Also Read –