Overview: In this article, you will find ways to avoid data loss and data recovery using the EaseUS data recovery Wizard.
Losing your important data by accidental deletion is really painful, or you may have deleted some files and later realized you needed it.
You can lose data on your hard disk and other external storage devices like a flash drive, external hard disk, SD card, or Camera Memory Cards. Imagine losing an important PPT file you have created for the presentation or it may be any other important file.
We may lose data accidentally or someone may delete it intentionally. In every case of data deletion, your hard work may go into vain. Now you would have to look for possible ways to recover lost data.
What if I tell you that can avoid losing your important data, but before losing the data you can follow these protective measures.
How to Avoid Losing Your Important Data
If you no longer need some of your files like music, movies, videos, or your ugly photos then you intentionally delete them but you don't want to delete some important data like your best memories, important office files, pdf documents with signature, company excel sheets or anything you consider important.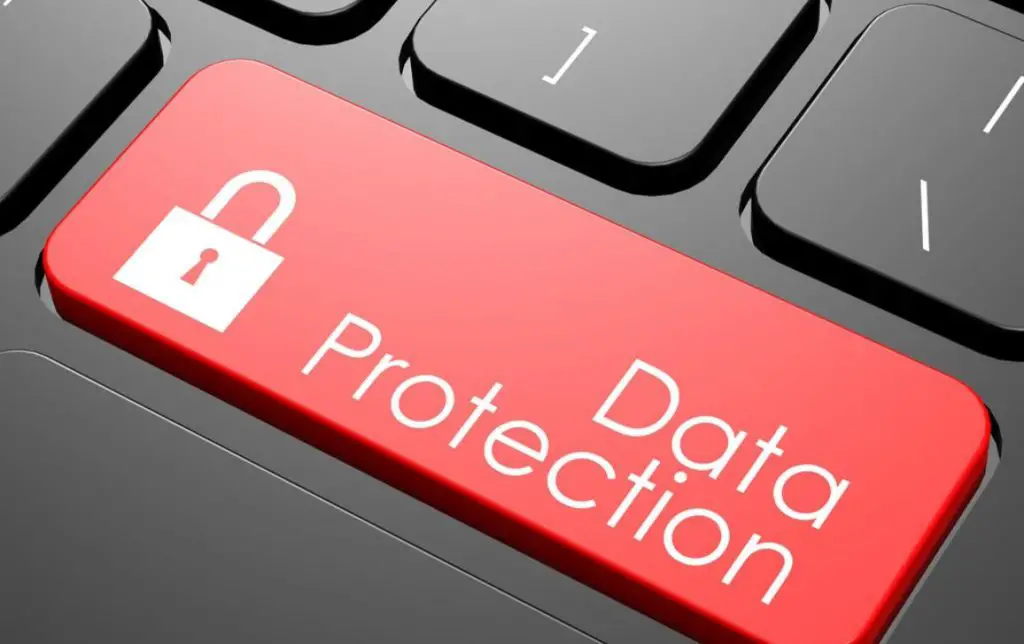 Here are some tips to avoid data deletion-
Always backup your important files to external storage.
Make multiple copies to the different hard disk partition.
Install good antivirus to protect your data from ransomware which may encrypt your files.
Keep your confidential data to secure cloud storage.
Going for a presentation then email that PPT files to yourself. (In case if you lose your device on the way)
Password protect your device or encrypt the disk partition containing important data.
These are the protective measure which you should follow but data can be deleted by any means then you want to recover it.
What to do after losing the data?
Before proceeding to recover the lost data make sure you do not copy additional data to that device.
If you put new data then you are decreasing the chance of getting your data back, when a file gets deleted the first thing you lose is the index of that file on the hard drive, your data is still there without any index.
Copying additional data will create a new index and may replace the old data if there is limited space.
Now you can proceed to recover lost data using several tools or software available. There are many data recovery tools are available in the market but in this article, I will discuss EaseUS Data Recovery Wizard.
EaseUS Data Recovery Wizard Review
If you recently deleted the data then data recovery is not tough, but if you want to recover old data then there are fewer chances since old data get replaced with a new one.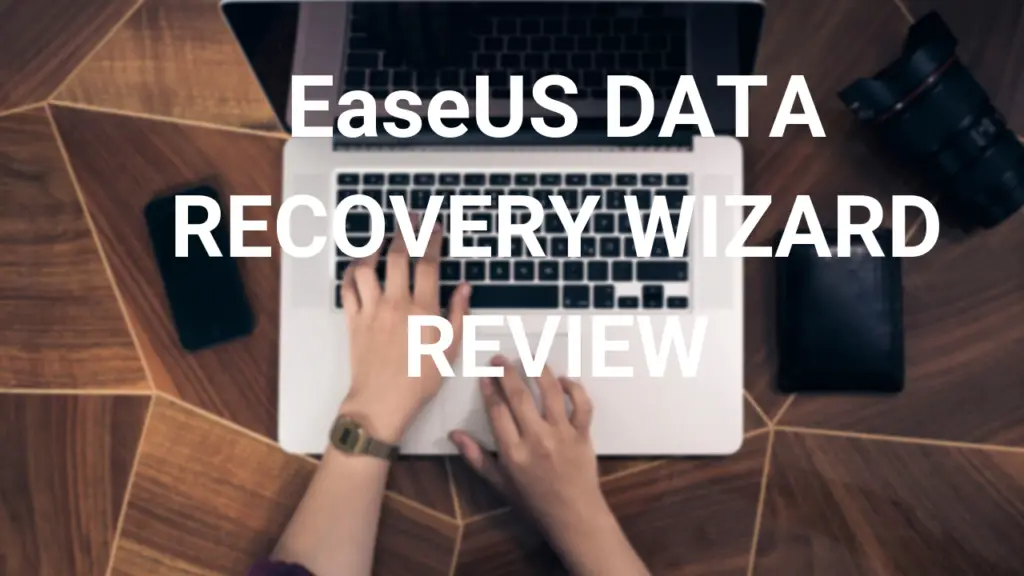 It also depends on the storage device you are using, you can easily recover data from the Hard drive and Flash Drive but recovering data from SSD (Solid State Drive) is a little hard.
Out of different data recovery software available EaseUS has developed an effective data recovery tool known as EaseUS Data Recovery Wizard. It is available for free and also has paid version.
EaseUS Data Recovery tool is available for both Windows and Mac, it does work with Windows 7, 8/8.1, and Windows 10, on macOS it does support OS versions to the latest macOS Big Sur.
Features of EaseUS Data Recovery Wizard
EaseUs Data Recovery Wizard is one of the best data recovery tool available which can recover data from almost every storage device which can be connected to the computer.
Let's have a look at the features offered.
[su_table]
| | | |
| --- | --- | --- |
| Supported Device | Operating System | File System |
| Laptop/PC/MacBook/iMac(Internal Storage) | Windows 10/8.1/8/7/Vista/XP | FAT(FAT12,FAT16,FAT32) |
| External Disk | Windows Server 2016 | NTFS |
| Hard Disk. | Windows Server 2012 | exFAT |
| Solid State Drives (SSD) | Windows Server 2008 | NTFS5 |
| Flash Drives | Windows Server 2003 | ext2/ext3 |
| Music Players | Mac OS X 10.6 (Snow Leopard) | HFS+ |
| RAID | Mac OS X 10.7 (Lion) | ReFS |
| SD Card | Mac OS X 10.8 (Mountain Lion) | APFS |
| Digital Camera | Mac OS X 10.9 (Mavericks) | HFS X |
| Camcorder | Mac OS X 10.11 (El Capitan) | |
| Micro Cards | Mac OS 10.12 (Sierra) & 10.13High Sierra | |
| Other Storage devices. | Mac OS 10.14(Mojave) | |
[/su_table]
If you are a business using RAID then EaseUS can be run on it.
In case if you have a computer that is crashed and won't load the operating system then EaseUS has a tool to access your data through bootable recovery media (WinPE). You can recover your data without loading the operating system.
If you have a non-mounting corrupted or deleted partition, EaseUS Wizard will display that too by getting information from the partition table.
How to Recover Lost Data Using EaseUS Data Recovery Wizard Free
To recover deleted data from the computer Download EaseUS Recovery Software and install it.
Once downloaded install this small 32 MB of software on your Laptop/PC or Mac; installation is quick and straightforward.
After installation, open the Wizard it will list all the disks and disk partitions, now select the drive where your deleted files existed.
If you want to recover data from external storage the plug it in then open the Wizard.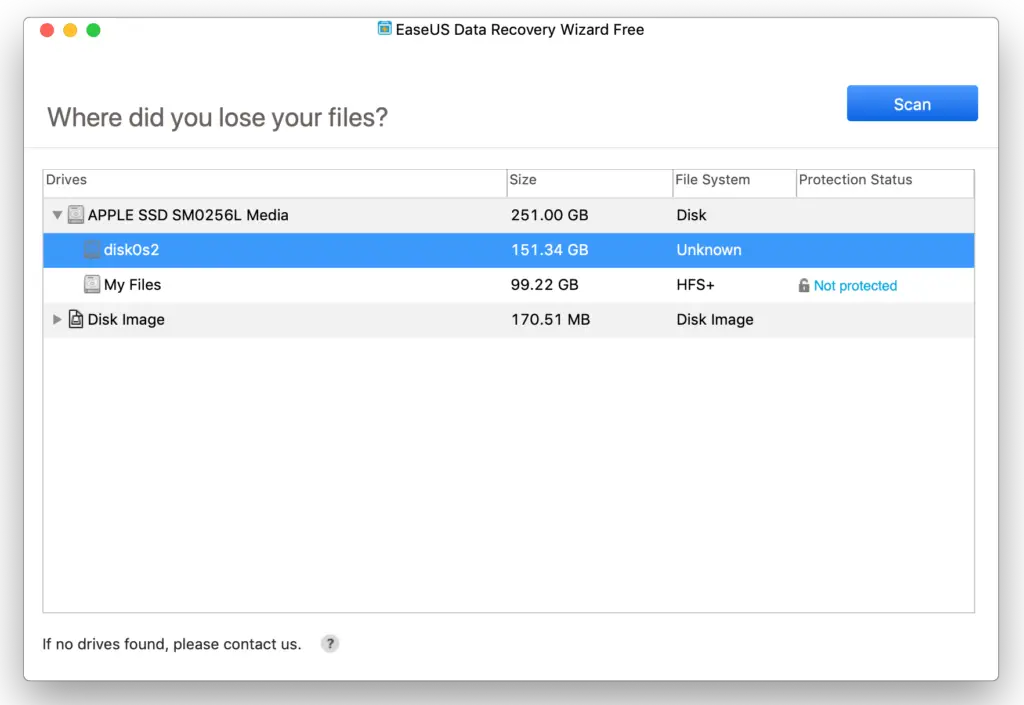 Once selected the disk hit the Scan button, the data recovery wizard will automatically run a quick scan. There is only one scan mode that does a quick scan then a deep scan to find all the deleted data.
While scanning it does show a progress bar at the top and a countdown of the remaining time along with a count of files found.
It may take some time depending on the disk size to scan through all the deleted files. If you have tons of files deleted into that disk partition then it may take a longer time.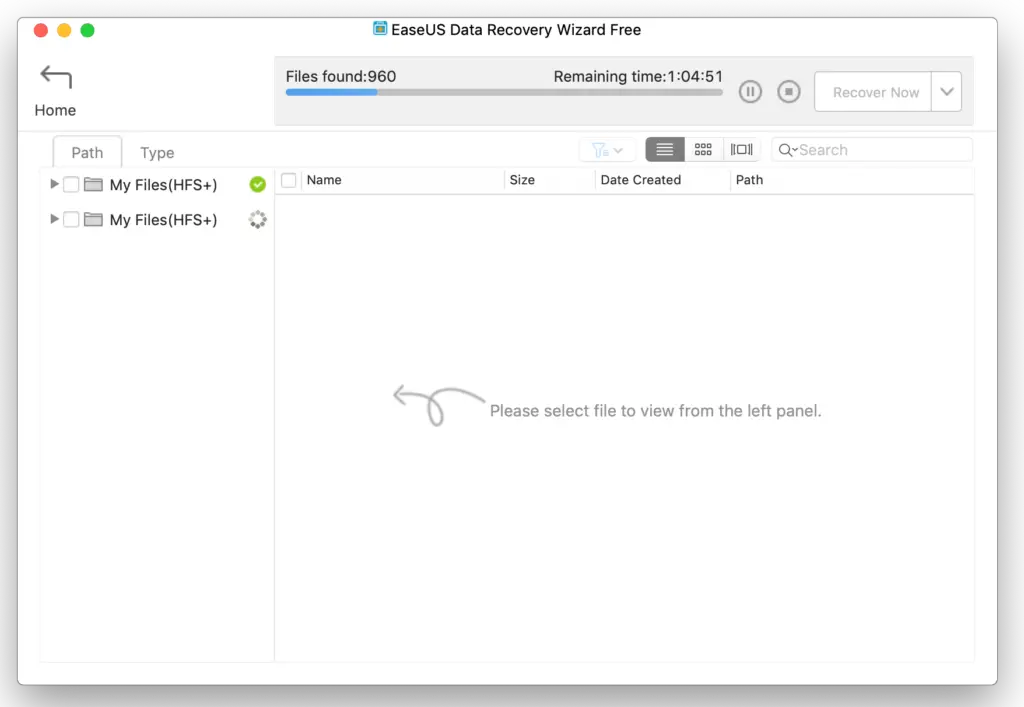 Once the scan is completed you can browse all the found files by file tree and will show you where they belonged before, like if your file was into subfolders then it will show you those folders.
You can also find your files in the subfolders created with different file formats. If you want to recover a particular file format you can choose it from the subfolders.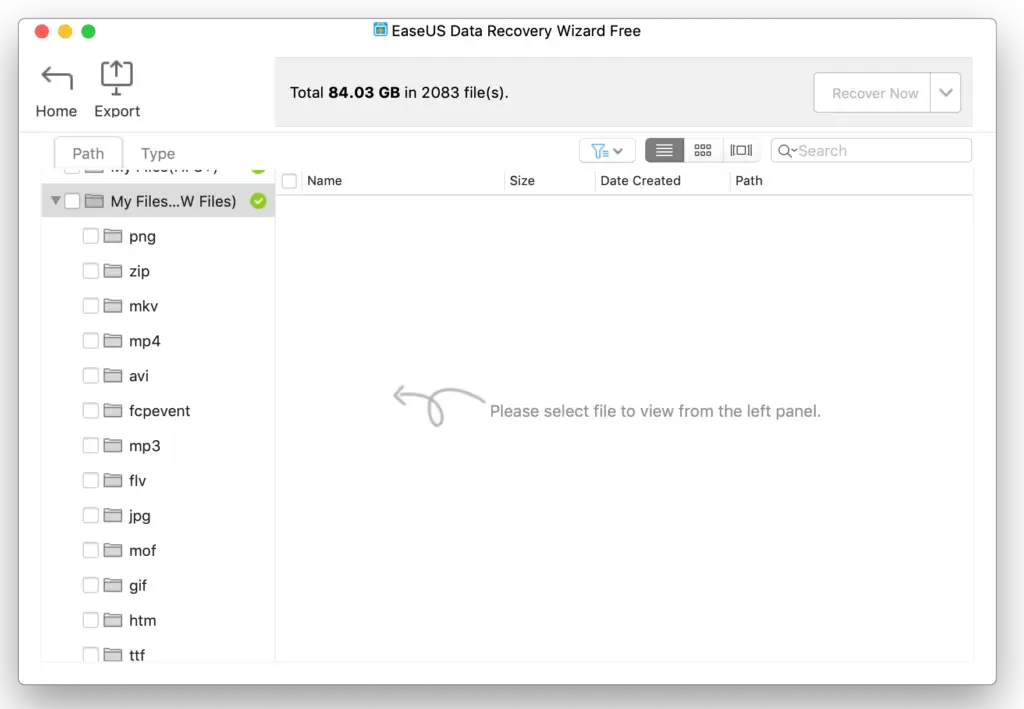 This tool also offers you a list of all recoverable file categories. These files may be Graphics, documents, audio, video, and different other file formats or you can search the specific file.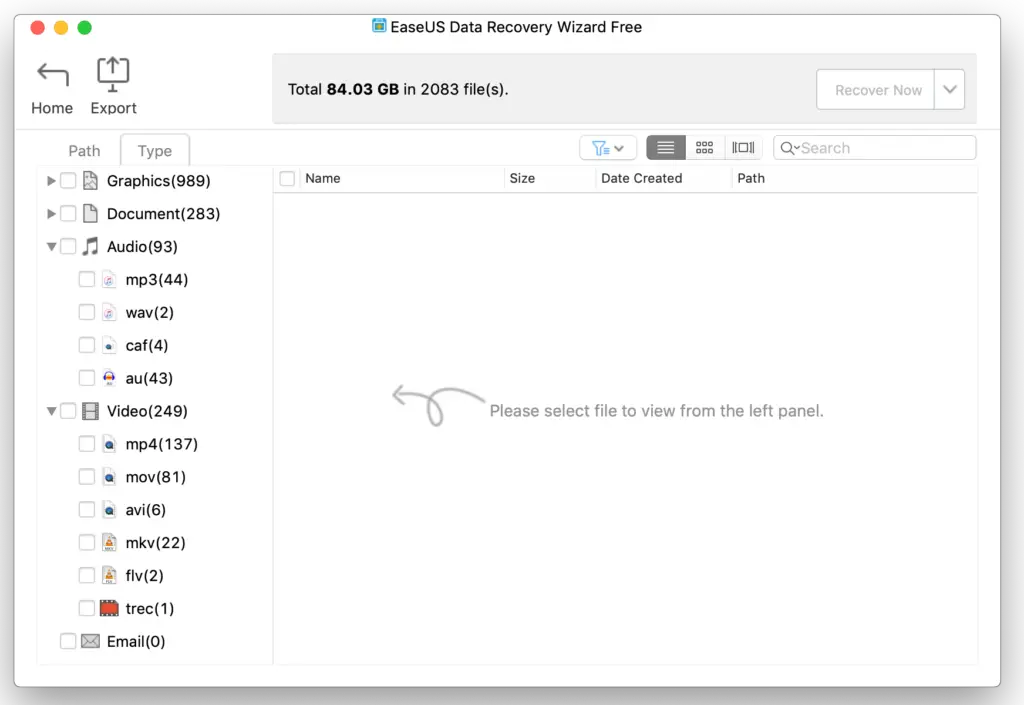 Once you select the file type or folder it will show you all the recoverable files into that disk. Now select the files which you want to recover and click on the "Recover Now" button.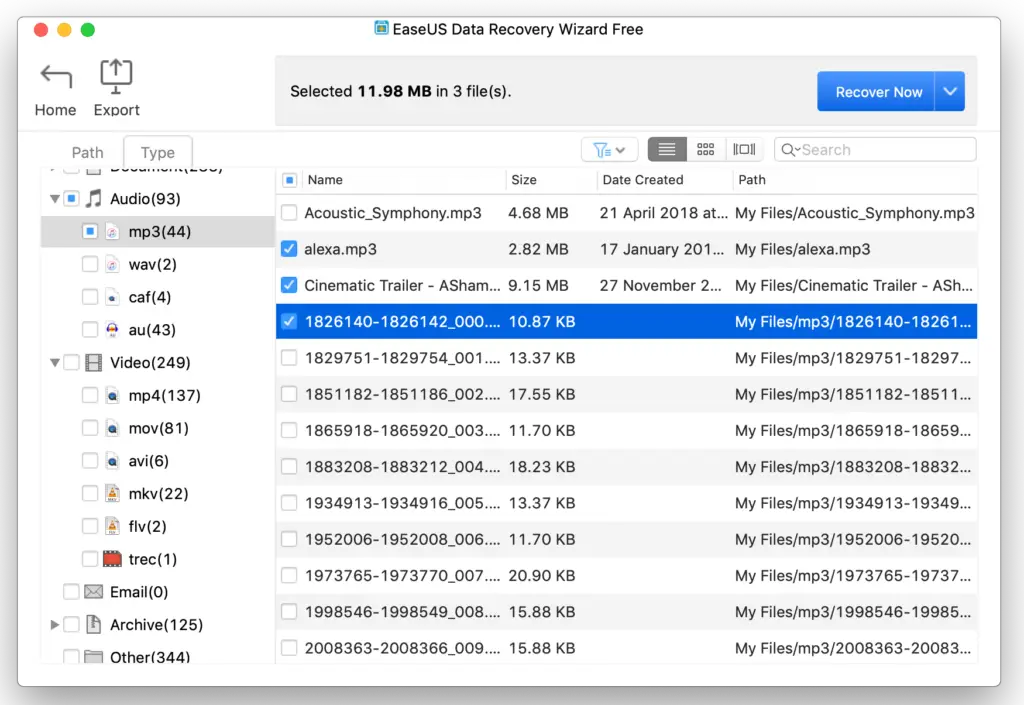 EaseUS data recovery wizard will recover your files and you have to select the location where you want to save your data, this location must be a separate partition/drive or an external drive.

Data you have deleted manually will be in the "Recycle Bin" folder. All the data which was deleted by any other program can be found on "More Lost Files".
More lost files include all the files deleted by malware or any other third-party programs.
Finally, you will get your files back located into the recovery folders, these folders may name as the file extensions.
I have tested this data recovery tool both on Windows and macOS and it worked really well. Data scanning and recovery are pretty fast. EaseUS seems to be an impressive hard drive recovery software.
In my test, I tried recovering data from MacBook Pro 2016 and Windows 10, which worked like magic. Although running the scan on a 500GB disk took around 45 minutes to find the files.
I was skeptical that it may not recover old data from the SSD of the MacBook Pro but it did work.
The free version will allow you to recover data up to 500MB but you can unlock an additional data recovery limit of up to 2 GB by sharing this tool on social media.
Pricing & Licensing
If you want to recover more than 2 GB of data, you can purchase the full version for the one-time payment.
The full version of this software is available for $69.95 for Windows and $89.95 for the Mac version.
The Windows version comes with a free lifetime upgrade and technical support. For the Mac version, you have to pay an additional $35 for a lifetime upgrade, and the technical support is included in $85.95.
You have to pay the additional price for bootable media for an emergency named WinPE.
They accept payments in 60 different currencies so you don't have to worry about additional charges on currency conversion.
Customer Support
EaseUS does offer support services through the knowledge base, user manual, tutorials, blogs, video tutorials, and support articles.
They also provide live chat support during business hours. The rest of the time you can send an email and they promise to get back to you within 2 hours.
The customer can also contact them directly by clicking on the Contact option provided on the tool itself.
Live chat and great customer support keep them ahead of their competitors.
Final Verdict
Take protective measures before losing your important data, and make backups on local storage devices and cloud storage.
Recovering lost data through the EaseUS data recovery wizard is easy and quick. The robust scan algorithm can recover data from almost every storage device.
Bootable media for the emergency can save your data during OS failure, it can be used for both personal and professional needs. The service and support offered by EaseUS make it stand out from the crowd.
IT support professionals can use it for their customers.
Also Read:-