A Data recovery software comes in mind first when we lose our important files from internal/external storage device.
We all keep important data into our Computer, Smartphone, External hard disk, Flash Drives and other storage media, these data varies from photos, videos, documents and many types of other file formats.
Sometimes we suffer data loss due to accidental deletion, formatting the drive, losing photos and videos from Camera memory cards, or someone intensely delete data from the computer, SD card, and other storage media.
In such cases we try our best to get our those back, many times you get successful many times not it all depends on how you are trying to recover lost data and what is the time span between data loss and recovery.
How Data Recovery Works?
Well, I am not talking about data recovery from broken hard disk and computers, this is all about data recovery on working computers and storage media.
Whenever you delete a piece of information from your computer and mobile device, the thing that gets deleted is Index to that file, but the file remains into your computer till the time it gets overwritten by another file.
if your computer has large disk space then deleted file may not get overwritten by new files but if you have low disk space then certainly whenever you put the new files into it, deleted file will get overwritten.
So if you just lost your data OR didn't put new files into the computer then there is a high chance of data recovery.
To rebuild the index for deleted files there are 100s of free and paid data recovery software available, below is the list of 5 best free data recovery software which comes handy to recover almost every file formats like Jpg, png, mp3, mp4, and many more.
5 Best Free Data Recovery Software
This list is based on popularity, recovery rate, file quality, and features offered. Download and use any of the below data recovery software to recover lost data from your Hard drive, CD/DVD, Smartphones, USB flash drive and other storage devices.
Recuva is one of the best free data recovery software available developed by Piriform which has developed most popular cleaning tool Ccleaner, it does support the recovery of Pictures, Videos, Music, documents, compressed files, emails and many other file formats.
Recuva offers decent wizard where you will be prompted to select your device location, file type you want to recover, and area to be scanned and it will find and recover files from selected location within few clicks.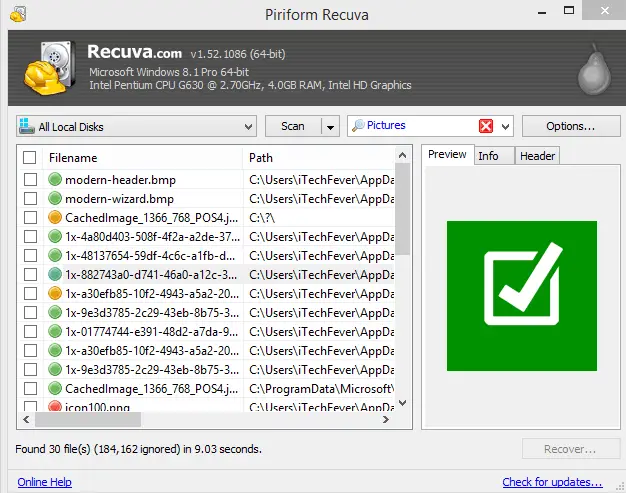 Recuva can recover data from Computer hard drive, CD/DVD, flash drive, Memory cards, Android phones and even from iPad. It also has a portable version where you can recover data without installing it.
It works well on Windows XP, 7, Windows 8, Windows 8.1 and Windows 10 without any problem, a normal scan can undelete most of the file, but it has a Deep Scan feature also which perform in-depth recovery from storage devices.
Wise data recovery claims to be the fastest data recovery tool, during my test it did a great job, it was able to recover files from hard drive within seconds, but their free tool doesn't have the option to select other storage devices, all you need to do is open this tool select the disk partition and data type then click Scan.
It will instantly find the deleted files and offer you to recover them, click on the file to preview select and recover desired files.
Wise data recovery has portable version also, where you don't need to install it into your computer.
A portable version of  data recovery software comes handy when you lost data from the drive where the operating system is installed, mostly C drive, there are chances that the file you are trying to recover may get overwritten by the software files itself, to avoid this use portable version.
You may find many sites featuring totally free data recovery software which offer unlimited data recovery but are you really looking for bulk data recovery? Generally, we worry about important documents and personal images rest music and movies you can re-download from the internet. So why go for such tools which do not provide good data recovery rate?
EaseUS data recovery software is one of them which offer limited data recovery in their free version, but the data recovery rate is way too good from other free tools.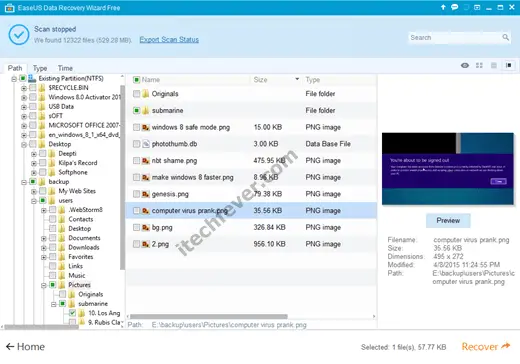 This data recovery software is able to recover deleted, formatted or lost data from PC, laptop, Smartphones and music players. EaseUS support a wide range of file types like Images, Music, Videos, documents, Email, Archives and more.
You will get 1 GB of data recovery in their free version also yo can unlock 1 GB extra by sharing them on social media like Facebook, Twitter and Google Plus, means 2 GB free data recovery which is sufficient for your important documents.
Any data recovery by Tenorshare is one of the feature rich data recovery tool which is able to recover data from any device whether it is Computer, CD/DVD, flash drive, android phone, iPhone or iPad, this tool is can recover more than 90 types of different file format.
They have different versions for Windows and Mac computers, where you can specify what kind of files you want to recover, it also offer timestamp feature where you can specify the date to recover the deleted file.
Deep scan feature performs an in-depth search for deleted files and shows you the health of deleted files, it takes time depending on the amount and size of files.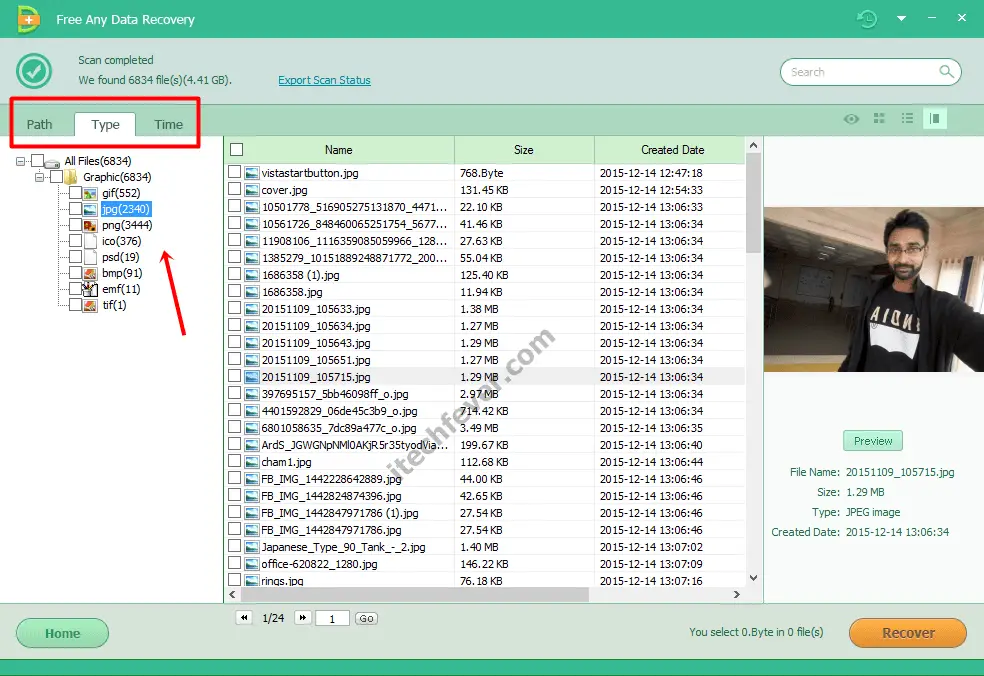 Like EaseUS, Tenorshare any data recovery offers a decent wizard which is very simple to use and recover most of the lost data within few clicks.
It has one major drawback that it offer only 500MB of data recovery in their free version but looking at their feature and recovery rate it totally worth your time, if you have lost important documents then you should go for this but if you need to recover music and videos having file size more than 500 MB then it isn't a good option.
MiniTool Data recovery is another excellent tool with a simple and attractive interface which is capable of recovering files from Hard drive, Digital media, CD/DVD, lost and damaged partition with very effective results.
Their free version is limited to 1 GB of data recovery, after that you have to upgrade to their paid version.
During my test it also did a great job and recovered around 20% more data than other tools listed here, it has advanced filter option where you can filter search result based on file size, file name and date also you can search for the file name which saves times while recovering a particular file.
It also has Deep Scan feature which perform in-depth analysis for deleted files and shows you their health whether they are recoverable or not. The deep scan takes time depending upon lost files but gives you a very good result.
All tools listed above are useful  based on how many files you want to recover and the device itself, recovering data from external drives may take extra time depending on read/write speed of the device.
None of the above free tools is able to recover data from SSD (Solid state drive) because SSDs are developed to provide high computing speed.
Once a file gets deleted from SSD gone forever, however, there are few advanced recovery tools (paid ) available that can recover lost data from SSD.