Microsoft has added various valuable features to Windows 11 since its launch in 2021. These features include improved visual designs, better system security, windows management, and several others. However, all these features are sufficient and reduce the need for third-party apps. Yet there are many ways wherein users can efficiently select several apps in search of a better experience and improved performance.
The elongated list of apps available on the Microsoft store makes it very difficult for the user to select an appropriate app that is suitable for meeting their needs. Thus, we have curated a list of the 10 best apps for Windows 11 that will save you from the dilemma of choosing an appropriate app for your device.
10 Best Apps For Windows 11 To Enhance Your Experience
This comprehensive guide includes a list of useful apps for all Windows 11 devices. These apps can conveniently be downloaded either from the Microsoft store or directly from the developer's website.
1. CCleaner
This Windows optimizer app is undoubtedly one of the essential third-party apps for your device. It helps in improving or maintaining the speed of your Windows 11 PC. CCleaner helps you to eliminate all the temporarily created files, logs, and caches with a single click. Using this app will even save much space on your PC.
Some of the main features:
Cleans efficiently: It cleans up space in your device by eliminating unnecessary or duplicate files.
Analyses the device and recommends quick fixes: It examines your device, then tunes and updates it to the latest versions of the drivers and software.
Provides protection: Using this, you can quickly get rid of cookies, search history, and other compromising data.
Boost speed: This application freezes unnecessary background activities and increases your device's speed and battery life.
It is available for free.
Rating: 3.5/5
2. Microsoft PowerToys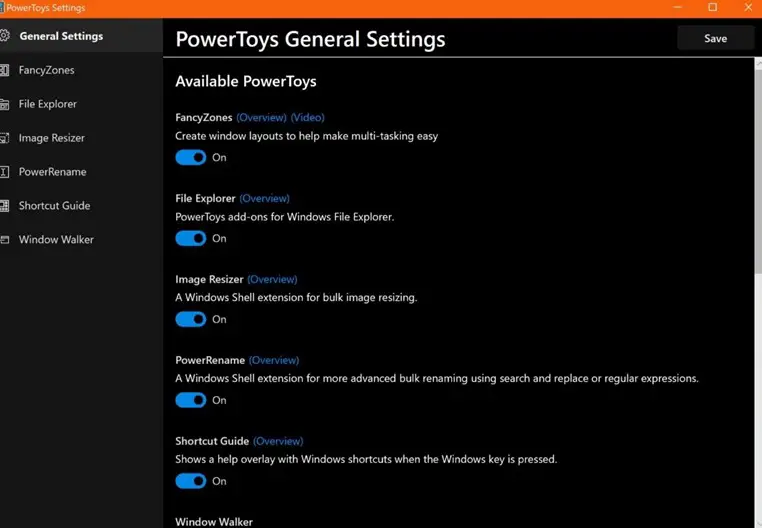 All your Windows experience can be streamlined with improved productivity with the help of utilities from the Microsoft PowerToys application. Some of the available sets of utilities are:
PowerToy Awake: It keeps your computer awake without you being required to manage its sleep or power settings. This is helpful while running time-consuming tasks.
Color picker: Using this, the users can pick any color from the currently running applications and automatically copies it into their clipboard. Color Picker even contains an editor that displays the history of previously used colors. The users can activate it by pressing Windows + Shift + C keys.
File Explorer add-ons: It enables the Preview pane to display SVG icons, PDF file previews, and Markdown.
FancyZones: It helps users to create complex window layouts easily.
Hosts file editor: It is a convenient way to edit Hosts file that contains the domain name and matching IP addresses.
Video conference mute: Shortcuts can be set up to disable the camera or microphone both individually or simultaneously with a single shortcut.
All these utilities can significantly alter your Windows experience. This fantastic app can easily be downloaded from the Microsoft store for free.
Some of the main features:
Keyboard manager.
Convenient image resizer.
Shortcut guide.
Rating: 4.6/5
3. BeWidgets
Widgets are one of the most popular features among a variety of them attached to Windows 11. However, there are a limited number of widgets available with Windows 11. The users can swiftly select BeWidgets for easily customizable widgets for their Windows desktops. Personalize All these widgets with the following:
Photos
Weather information
Date
Time
App shortcuts
The best part about this amazing customizable widget app is that it is an open-source application. The developer of BeWidgets even ensures the coming of text widgets, reminders, and custom icons soon.
Some of the main features:
Availability of a large variety of widgets: Suitable to create application shortcut widgets for weather information, photos, date, and several others.
Easy customization of every part of your widget: It has an easy-to-use user interface that allows the personalization of width, height, background color, and font size.
It is available for free.
Rating: 3.8/5
4. ThisIsWin11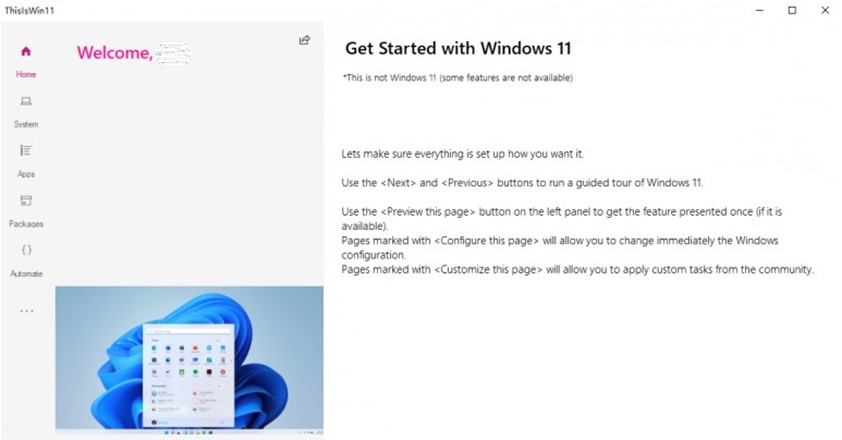 ThisIsWin11 is another top app for Windows 11 if you wish to customize it using a single interface. This free application can provide you with the most common changes for your device solely based on automatic scans. You can conveniently select suitable changes from a variety of these and apply them to improve your Windows 11 experience.
Besides this, the users can even use the ThisIsWin11 app to delete unnecessary inbuilt Windows 11 apps. They can even select and download several third-party apps using ThisIsWin11 from its Packages section. Most of the apps from this section are free.
Some of the main features:
Improved OpenTweaks module: Allows easy customization of obscure settings of Windows 11's user interface.
Easy personalization of Windows 11 device: It supports removing unwanted features and apps; these may even include preinstalled bloat.
Allows the user to create their custom install packages.
Rating: 4.9/5
5. Adobe Photoshop Elements
An apt photo editing suite capable of transforming memories into photographs. Though this app needs to be purchased yet, it offers a free trial. Adobe Photoshop Elements provides easy and quick ways to create, edit, or organize memories. Using this app, you can even combine various photos and videos using its Sensei AI technology. The best part of this app is that it is user-friendly and does not require expertise.
Some of the main features:
Powerful AI for easy editing.
Can add motion to photos.
One-time purchase.
Rating: 4.6/5
6. WhatsApp Desktop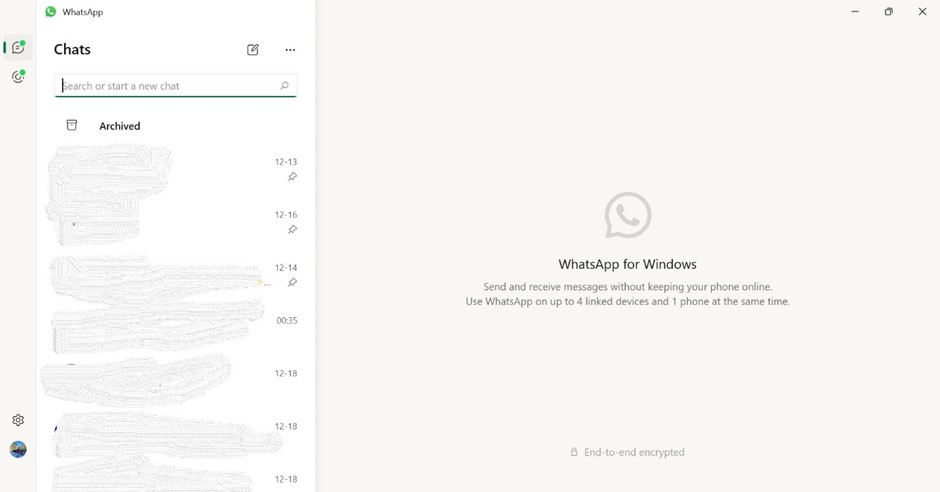 WhatsApp is undoubtedly one of the most used messaging and video-calling apps. Though WhatsApp is a web app, yet users can easily download its Desktop version for a better and more convenient experience. This Desktop version is built on the UWP framework and is considerably faster than the web version of WhatsApp.
A list of other reasons makes WhatsApp's Desktop app a better choice when compared to WhatsApp web. Some of these reasons are the availability of dark mode, which takes up less RAM, provides notifications even if the app is closed, and several others. Above all, it is a free-of-cost application, making it a better choice.
Some of the main features:
Private messaging.
It can work on slow internet connections.
No subscription is required.
Rating: 4.3/5
7. VLC Media Player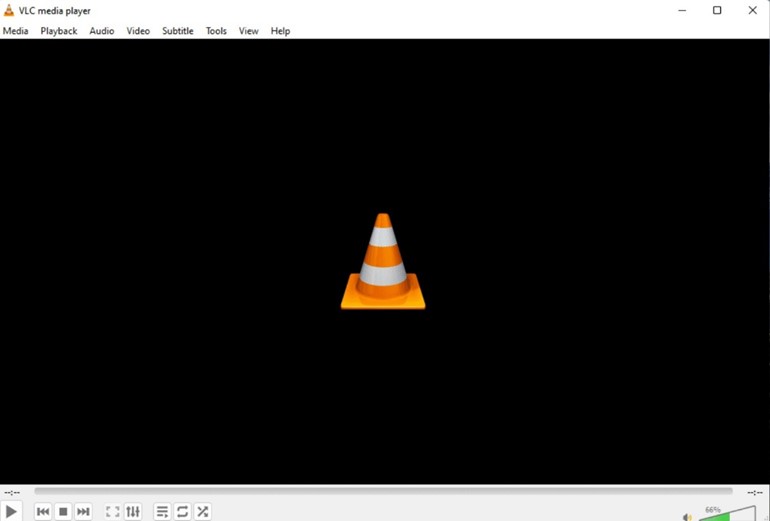 An appropriate app like VLC Media player must manage and support a massive list of video formats on your Windows 11 device. The users can choose this app for playing both local media and streaming videos from the VLC interface. This amazing free-of-cost media player is now available on Microsoft Store for easy access.
Some of the main features:
Efficient multimedia player.
Suitable subtitle synchronization.
File transcoding.
Rating: 4.3/5
8. ShareX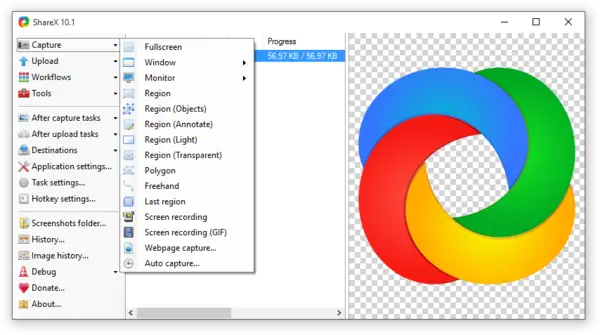 An amazing open-source application that lets the users record or capture any area of the screen with customizable hotkeys, OCR, automation, and several others. ShareX takes all the screen capturing needs to the next level as the recordings via this app can conveniently be shared with merely a few clicks.
ShareX even allows the uploading of a variety of files (be it images, screen recordings, or texts) to several supported destinations. This application comes with a variety of productivity tools:
Color picker.
Image effects.
Image combiner.
Video thumbnailer.
QR code.
Directory indexer.
Some of the main features:
Provides customizable workflow.
Easy screen capture sharing.
Ad-free application
Rating: 4.7/5
9. 7-Zip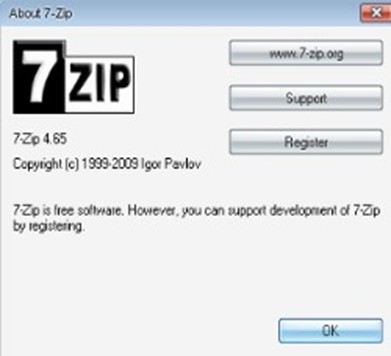 Windows 11 includes very basic functions to compress or depress files natively. But an app like 7-Zip is a suitable choice if you deal with zip files regularly. Using 7-Zip, the user can even zip or unzip multiple files together by selecting their desired compression levels or methods.
Though this app is not yet available on the Microsoft store, it is still best known for its commendable compression technology and file format support.
Some of the main features:
High compression ratio.
Powerful file manager.
Self-extracting capability for 7z format.
Rating: 4.2/5
10. LibreOffice
However, new Windows 11 devices come with a Microsoft Office bundle, or else the users may have to pay for their subscription. If you want to avoid spending your money on a Microsoft Office subscription, then you may easily select LibreOffice. It is a free and powerful office suite based on OpenOffice. This application helps users to create PPTs, documents, and spreadsheets.
The best part about LibreOffice is that it is very similar to MS Office as it includes almost all the features of the latest versions of PowerPoint, Excel, and Word. All these features certainly make LibreOffice a suitable office suite for Windows 11.
Some of the main features:
Include good presentation tools.
Easy image editing.
Convenient and quick file conversion.
Rating: 4.3/5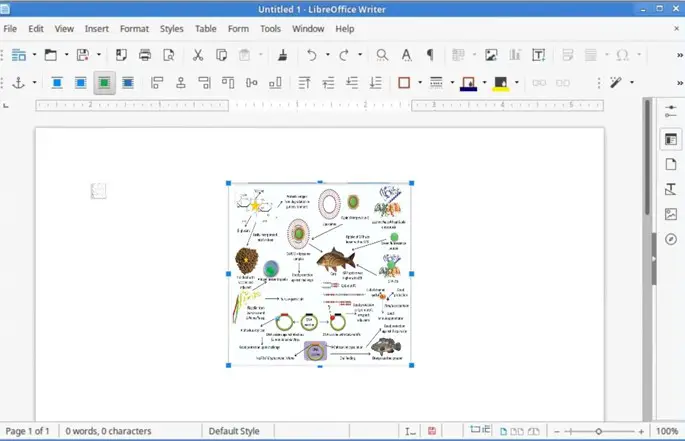 A better Windows 11 experience with these apps
This list of the 10 best apps for Windows 11 will save you from the trouble of finding an appropriate app from a sea of third-party apps available on the Microsoft store or web browsers. The selection of any of the apps mentioned above will not merely improve your experience but also boost the performance of your Windows 11 device.
Frequently asked questions
Best Windows 11 app for productivity?
The best productivity app for Windows 11 users can be Adobe Photoshop Elements, WhatsApp Desktop CCleaner, Microsoft PowerToys, ThisIsWin11, LibreOffice, and others. The selection of these apps is dependent on the requirement of the user.
What apps should I have on my laptop Windows 11?
Various apps can be selected for your laptop. The choice of the right app for you can be solely based on your needs. Thus, you can choose apps like Adobe Photoshop Elements for photo and video editing, WhatsApp Desktop for messaging, VLC Media Player for managing and supporting various video formats, and CCleaner for cleaning the RAM and boasting your device.
Best editing apps for Windows 11?
One of the best editing apps for Windows 11 is Adobe Photoshop Elements. This app can be used for transforming and personalizing both photo and video content.
What are the best windows 11 customization apps?
Some of the most commonly preferred customization apps for Windows 11 are CCleaner, ThisIsWin11, Microsoft PowerToys, and LibreOffice.
How do I Customize my Windows 11 aesthetic?
A variety of changes can be made to your Windows 11 device to add an aesthetic feel to it. These changes can be made using apps like BeWidgets and ShareX.
Also Read:-