In short: We have compiled the 10 best Android Antivirus Apps for your Smartphone for better safety and security.
Gone are the days when we used to have a PC or Mac as our primary computing device; smartphones are now the basic need of a person to stay updated in the current world; as of 2023, mobile devices are the primary device to connect to the internet.
Out of several smartphone platforms, the most popular is the Andriod Operating system and the major target for hackers and malware.
Investing in device security is also the responsibility of every smartphone owner in the world. That involves much more than physical care and keeping your information confidential. Cyber attacks don't only occur on MAC or PCs.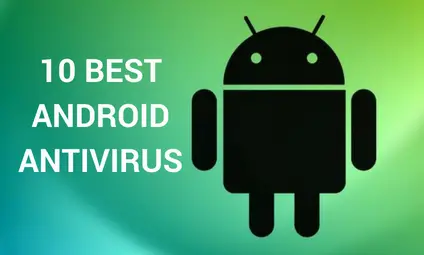 Trojan viruses, phishing, rootkits, etc., are constantly compromising our personal data and putting millions of smartphones and tablets at risk.
Besides the bold privacy breach from criminals, you might even encounter bugs that can seriously damage your system, like the most recent bug on iOS that was known to slow down iOS-run devices.
Android is one of the most popular mobile platforms and is open-source. But it also comes with certain challenges to keep it safe. If left unchecked, it can become a fatal vulnerability on the system if you don't shield it with the best Android antivirus.
In addition, a few services may offer essential security protection, from old to recent versions.
Top 10 Android Antivirus Apps To Secure Android Devices
To boost and render your device protection from cyber attacks and the proliferation of virtual online plagues, do not miss our list of the top 10 Android Security Apps of 2023.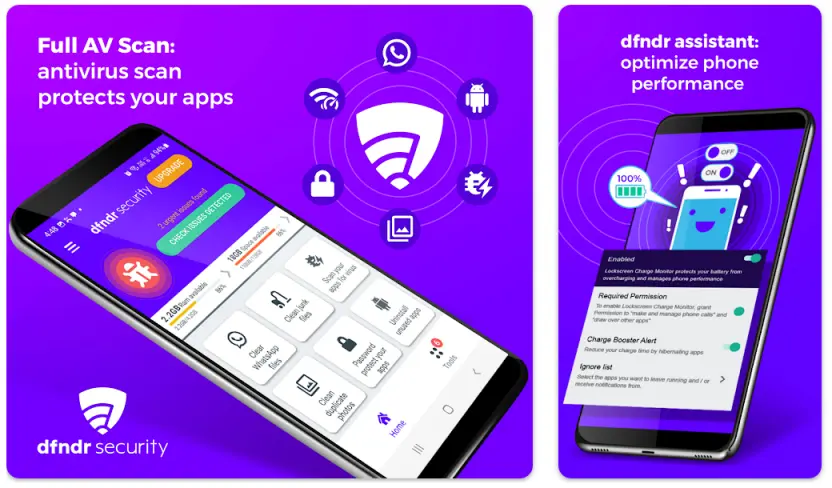 DFNDR is short for "Defender." It has scored more than 130 million installs globally by delivering the best security for Android since its launch in 2017.
It is considered one of the best Android Antivirus App in the Google Play Store; whether your phone is rooted or not, the platform stays light, and it is available even for the oldest Android versions. Hence, its popularity in downloads is justified.
DFNDR is safe, free, and fully packed to defend against hacking, virus, malware, etc. It also performs cleanup, tracking, and quarantine, among other services.
Anti-phishing protection keeps you alert at all times from suspicious activities from apps such as WhatsApp, SMS, Facebook, Chrome, etc. The superior antivirus automatically functions to manage your Android.
This varies from freeing up RAM space on Whatsapp or Facebook cleaner that notifies you when the battery is fully charged. You may also kill and remove apps you no longer need.
Boost security on Android by inserting either a passcode or a fingerprint scan for already installed apps.
It provides strong Virtual Private Network (VPN) protection, and you can get up to 50MB of data daily.
Another privilege is the "CPU Cooler" that prevents your smartphone (or tablet) processor from overheating.
The exclusive "Anti-Theft" feature automatically takes a photo of any curious person trying to access your device.
Remote lockdown, call blocking, and a useful virtual DFNDR assistant is readily available features to guide you through every step.
With the premium version, you can combine other advanced peculiarities, remove ads, add personalized notifications and enjoy unlimited VPN security.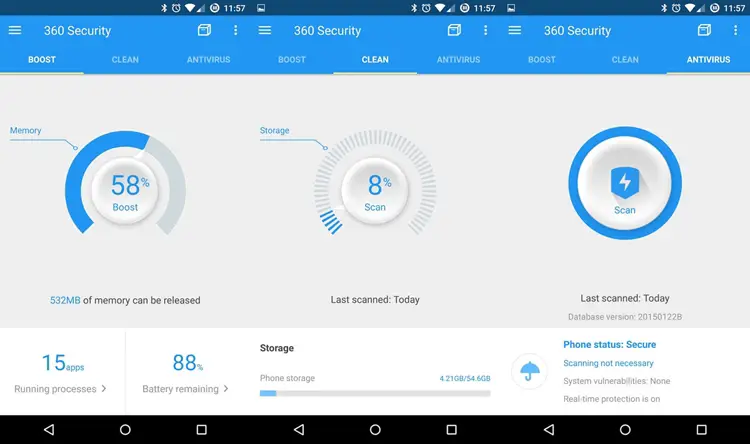 Free & heavily equipped with excellent features to defend and optimize your Android system, the 360 Mobile Security strikes even the most rigorous kind of viruses, such as a rootkit and malware.
It monitors downloads and app installations from the get-go. Furthermore, it cleans device storage and frees space in the RAM. This antivirus includes a verification protocol for all virtual threats. Thanks to the cloud update of 360 Mobile Security.
Another golden functionality is that the software kills all apps you are not using.
It offers periodic guidance with excellent tips on improving your device performance.
Top-ranked free Antivirus Avast Mobile Security is another top android antivirus app that strikes at the heart of infections with plenty of high-functioning tools.
One of the biggest advantages is that Avast scans not only files but also your router, seemingly suspicious permissions from installed apps, and non-authorized settings.
It offers the option to create and manage multiplatform passcodes to protect your apps.
Also, you do not have to worry about updating Avast all the time since it uses the cloud system and a rich base of information online for an auto-update.
Avast firewall can block a potentially harmful wifi signal detected by the device antenna.
The apps that consume hefty bytes of the internet are identified for further remediation, especially if that is causing an overlap in the memory.
Track your gadget with Avast, send commands offline, disable it or format the system completely.
Features:-
Antivirus engine.
File scanner
Privacy  permissions
RAM BoostJunk Cleaner
Web Shield
Photo vault
App Insights
Wi-Fi Security
Mobile Security
Virus Cleaner
Wi-Fi Speed Test
The vulnerability is no longer a threat to Android with one of the fastest mobile antiviruses in the market. CM Security is free and highly recommended.
The antivirus is free and captures spyware, adware, virus, and other threats quickly. It also contains cloud functionality, keeping CM updated all along.
To shield your Android and keep the integrity of your IP connection, this service uses multiple actions such as scanning and monitoring new apps, files, updates, previously browsed internet pages, etc.
CM delivers a simple interface and organized functions which also allows removing unwanted files.
In addition, the antivirus automatically rings alerts that it is necessary to run a scan on Android or you can simply schedule a day and time.
Depending on the size, scanning may consume a bit of time, sometimes it can be up to 5 minutes or longer.
Additionally, you may block unwanted calls with one-click and browse the internet safely by blocking suspicious URLs.
Extra security is assured with regular updates and a database that is stored via the cloud to complement this primary mobile antivirus.
Operating 24 hours, it cleans all content that compromises Android performance.
It does so by effectively eliminating unnecessary files, scanning, and killing threatening apps during the download process.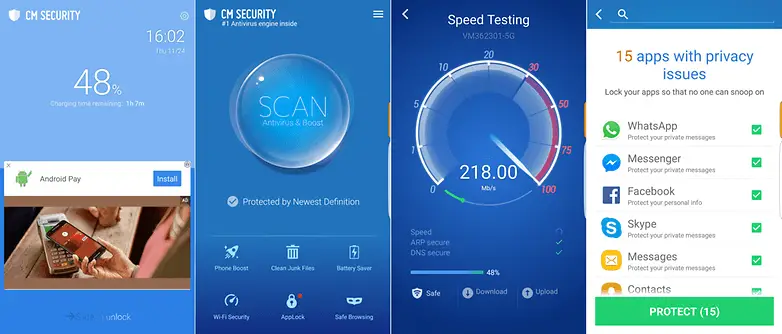 An antivirus that consumes very little of your RAM memory and offers cloud scanning. It does not store the antivirus engine on your device, rather it scans the files in the cloud.
It runs while you are downloading apps or any other files, protects, and stops the process before any virus infection takes place. Have extra control over installed apps and supervise unusual behavior from them with BitDefender.
Taking into consideration that numerous apps are projected to spy, steal data, or access your internet, this antivirus eliminates this vulnerability right away.
Another way to gain the best security for Android is by choosing the premium plan. It offers extra features for web protection, like "Find Device" and "Anti-Theft" functions.
Key Features-
Fast scanning process
Detects suspicious activities
Minimum impact on battery life &system performance
Autopilot mode
Cloud  scanning technology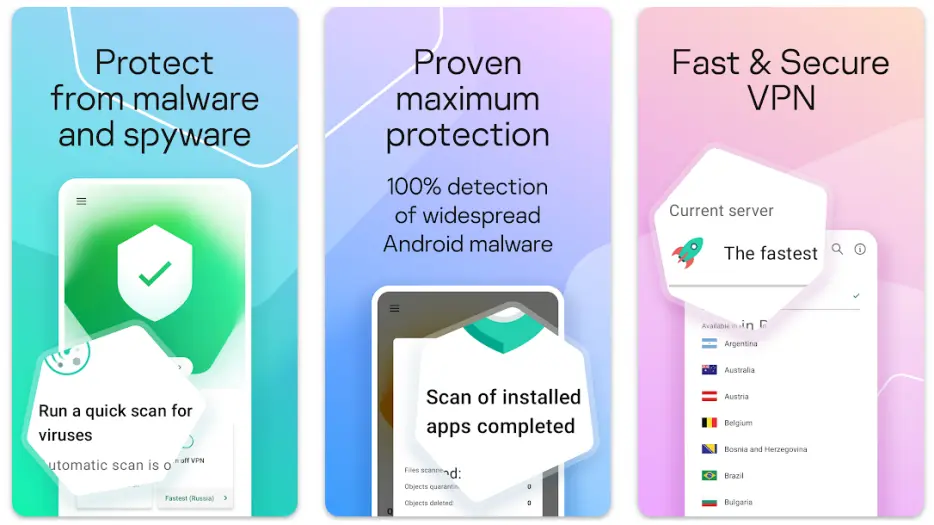 Popular among desktop users, Kaspersky comes with a higher level of virus immunity for the mobile versions as well. The free tool offers automatic cloud updates and anti-theft protection.
You can activate Safe messaging, which filters malicious links on received texts & instant chats.  Antivirus protection doesn't allow any malicious apps, files, or websites to keep you safe from different malware.
The VPN by  Kaspersky encrypts all incoming and outgoing traffic, including emails, video calls, chats, and online transactions; it also masks your IP address to keep you private.
Data leak checker detects compromised passwords and emails.
Key Features:-
Background scan
Reliable antivirus engine
Where is my device – To find a lost or stolen phone
Anti-phishing
Safe browsing
Safe messaging
Social privacy
The only catch is most features are available for premium users.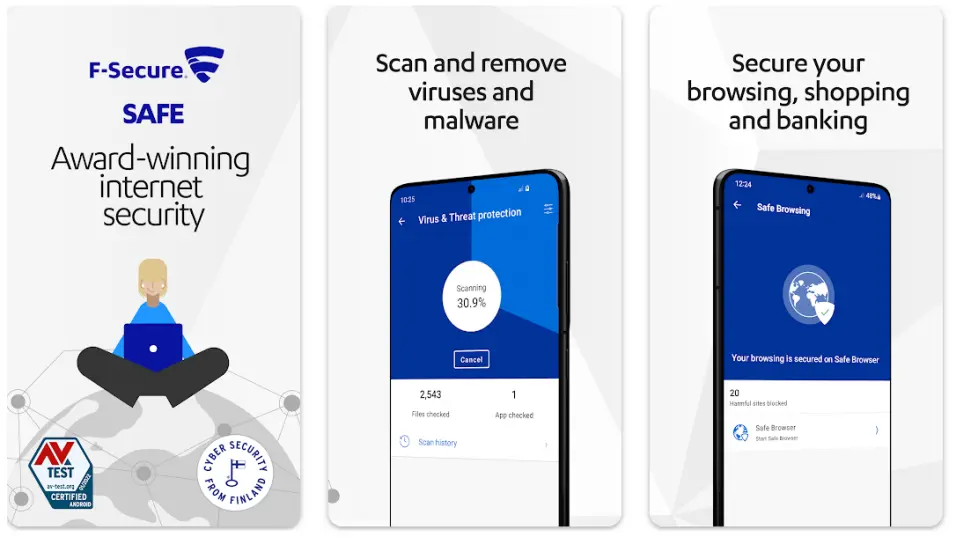 Modernity is what ranks F-Secure as a well-defined tool for online banking transactions and shopping with extra security for users to reliably browse the Internet.
Antivirus protection detects viruses, cyber attacks, spyware and identity theft. The Anti-Theft allows you to remotely control your device to delete data, blocking, and tracking in the event of loss or theft.
The antivirus blocks dangerous pages automatically and protects your ID from spyware, hackers, viruses, etc.
Furthermore, parents can monitor kids' online activities with the "Parental Control" option. Safeguards children feature can protect them from unwanted content. Even manage their social network, and block access to improper content online.
Moreover, you can supervise game downloads, set permissions, and eliminate risky apps.
Key Features:-
Block harmful websites and apps
Privacy protection
Safe browser
Parental control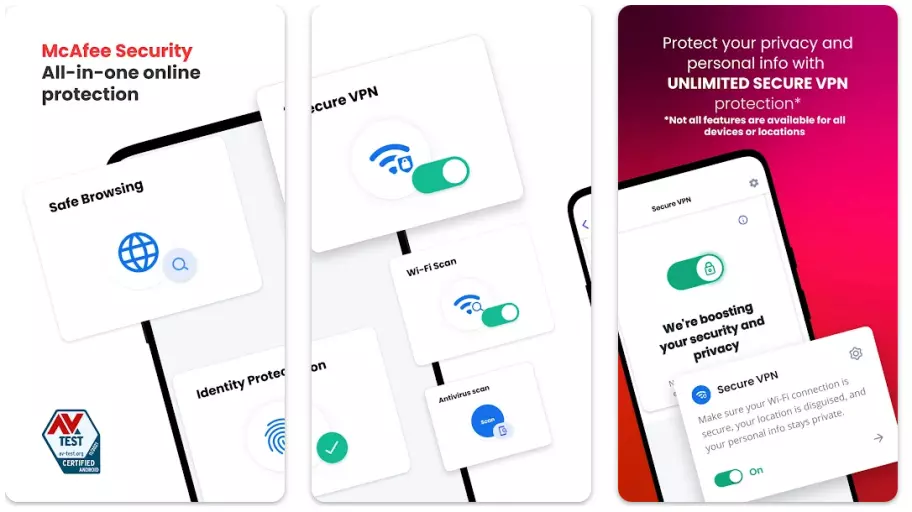 McAfee was created by Intel Security, and it seems to have been designed mainly for Android fans who can rely on a very robust security mechanism.
The platform is more than just android virus protection. It brings wondrous characteristics to allow Android users to have total privacy control, system improvement, file backup, battery saving, and much more.
It is a truly valuable resource for intensely clean, strong protection, accurate tracking, and infection warnings. You can restore your contacts with this advanced antivirus anytime.
Also, implement cryptography to make your captured photos more private and safe with McAfee. All the features provided by the service are visually well-explained via messages which makes it easier to understand.
As antivirus security, McAfee scans precisely web pages, and blocks undesired calls, messages and texts. It hides or uninstalls unused apps, and optimizes battery, RAM, and trash cleaning.
Thanks to the anti-spoofing protection, which comes into action promptly, you do not have to fear spyware attacks from third-party WiFi networks no more.
Integrate McAfee with Android Wear, and add a widget on the home screen for further interaction and quicker access to the software.
Depending on the smartphone, you can get the mentioned functions that take only 15MB with this lightweight and one of the best Android antiviruses when it comes to protecting your privacy.
Key Features:-
Advanced privacy protection
Unlimite secure VPN
Mobile safety alerts
Iddentity protection
Wifi scanner
Safe browsing
A pioneer security company, Symantec made sure to introduce in the market something remarkable with high-quality for Android to shield your device with proactive capacity when downloading apps.
Remotely, you can block your smartphone or tablet via SMS.
The service eliminates spyware, scan at full speed with a discreet touch so the user feels free to do another task without crashing while it runs.
Plus, you can schedule a more flexible date to scan or just set it as a reminder.
Get quick alerts from malware, virus, and other threats via a flawless mobile monitor on your smartphone or tablet.
Use the "Bandwidth Management" to update and manage data of your modern 3G- another clever feature that makes Norton a strong competitor in the market and one of the most downloaded antivirus worldwide, the popularity and features offered by Norton makes it another best android antivirus in the industry.
If you have lost your device or it got stolen then Lookout should be your next investment. Keep your gadget protected once and for all.
With the "Missing Device" you can track and have the exact position and have access to a complete backup of your contacts and email, just go on the Lookout web page to find your lost or stolen device.
Lookout assures automatic cleaning on your apps and notifies you of each result. Practical and light, this fast antivirus is available for free for download.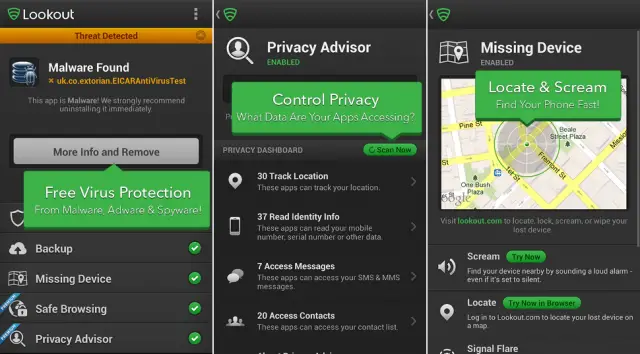 Verdict
Generally, people don't opt for antivirus for android smartphones but the time has changed and the malware got modern and strong along with hackers who always look for security bugs to exploit smartphones.
These hackers may steal your data and sell it to other third-party companies to make a decent amount of money.
There are hackers on the Dark Web who looks for private photos, chat history, and credit card details of users, after gaining access to your private photos or chat records they may blackmail you for money or they gonna publish your photos on public platforms like Facebook, Twitter or sell it to other users in the dark web.
Getting credit card info allows them to make unauthorized payments not just buying any product or services but it can be used to do illegal transactions like buying drugs, weapons, or other criminal activities.
There may be tons of consequences of malware and hackers, it is completely your responsibility to make your device safe.
Having an antivirus app in your smartphone provide you complete security from the different type of malware that may cause damage to your phone or may steal your private information like photos, videos, contact list, SMS, and other information.
Now that you know the top 10 Best Android Antivirus of 2022, which one are you going to download (or have downloaded) and why? Let me know your thoughts in the comments.
Also Read: