From un-boxing to the first touch, owning an Android gadget is more than just an investment. Therefore, it feels awesome to transform a gadget to suit our own standards, likes, and personalization.
That is when users opt for Android rooting which is an invasive process. But it exposes Android to multiple risks. Consequentially, you would want to protect that as strongly as you can.
It is a fact that rooting gives users complete control over the phone. What aids in accomplishing it is the TWRP custom recovery for Android, a necessary tool for rooting your smartphones or tablet.
In this case, a warning is the best precaution. Beware that if you insist on using TWRP Custom Recovery App or Android without technical knowledge or experience, you could permanently brick your phone, so be alert!
What is TWRP custom recovery for Android?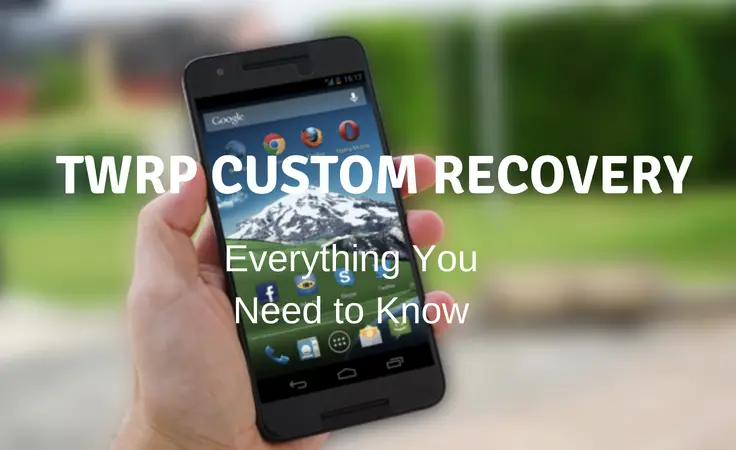 TWRP is an open-source community that provides custom recovery for various Android devices. It offers touch-enabled recovery that is simple to operate even by users with little to no technical skills.
Comparatively, a custom recovery is similar to Windows Recovery. It runs within the recovery partition & allows you to boot from it.
Additional advantages include accessibility of device files on a PC, rather than just using your phone.
For a better understanding, every OS which receives a system update goes through the booting process that updates the OS in the stock recovery. You can't dominate such a process since it is set by default.
In addition, the stock recovery is inaccessible by the user on un-rooted devices. However, you can take another direction to surpass this issue.
You may consider using a custom recovery that gives you access to a part of the device that was inaccessible previously. The TeamWin Recovery Project (abbrv. TWRP) offers an amplified support community on forums such as XDA, which makes the service a superior custom recovery for all Android devices.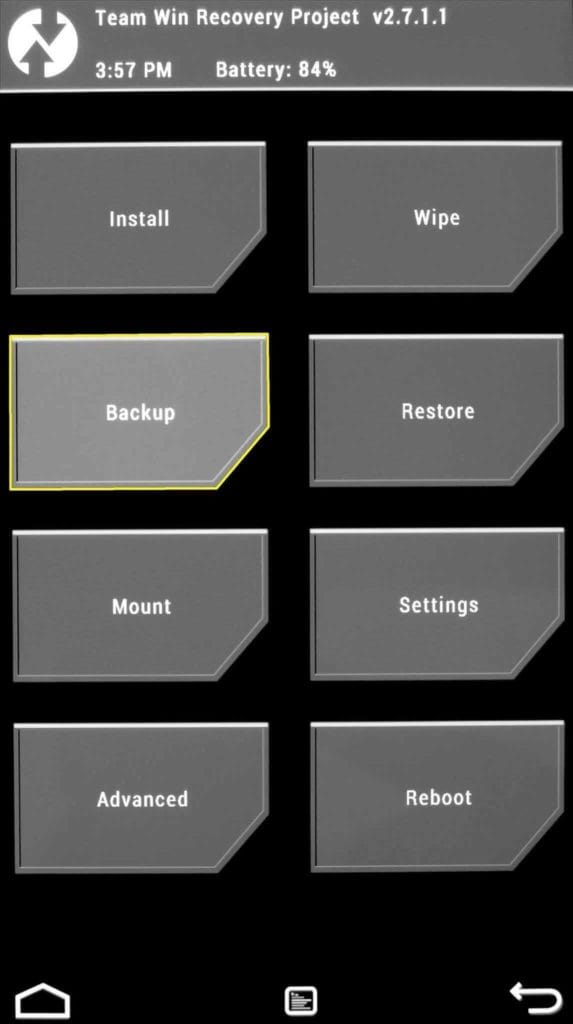 Notable features of TWRP Custom Recovery for Android
NANDroid backups & restores
File managing capability
Flashing ZIP folders
Installing Kernels, SuperSU & G-APPS
Installing TWRP using Android App
Optional OTG mounting
Terminal console
Compress backups
Themes support
ADB sideloading
TWRP team developed an app exclusively to install TWRP custom recovery for Android only. But to employ, a rooting must be placed on your device to be able to use it.
Installing TWRP Custom Recovery using ZIP File
You need to download a ZIP file that is TWRP from here.
Then, unzip this file and connect your phone to a PC using the USB cable.
Now, put the phone in 'fastboot' mode. Use specific key combinations advised for your device
Open the folder where TWRP is downloaded on your PC.
Hold down the shift key & right-click on the mouse to reveal 'Open command prompt here,' click on it.
To test if you are in the fastboot mode, type adb devices in the command prompt window. It should display your device model number in the terminal.
Go back to the folder and open the Flash.bat file. Read all the instructions.
This process takes only a few minutes to conclude.
Then 'press any key to continue' message designates that you have finished flashing TWRP custom recovery onto your Android.
Reboot into Android
Once you start the TWRP app, you will see on the main screen the option 'Reboot', then press it to restart the system or Power Off to reboot Recovery and to boot to the Bootloader.
Done! Now, you are allowed to access even a bricked device when you connect it to your PC with a USB cable. Although there won't be any OS installed.
Making a Nandroid backup
Nandroid backup is a type of backup whatever file you had on your device from designed files to the entire system. However, it is crucial to employ it before tinkering with the new custom recovery.
Access the home screen of TWRP, and tap 'Backup' to start and leave the pre-selected folders for backup, and swipe the slider towards the bottom to begin the process.
Backing up your entire system determines the following attributes
DATA
SYSTEM
BOOT
MISC
CACHE
EFS
RECOVERY
MODEM
FIRMWARE_ROM
FIRMWARE_EMMC
CUST
PERSIST
Make sure you keep each partition mentioned on the list above. Because these customary system files are accounted for the integrity of the system functionality, regardless of the OS.
In simpler words, it designs a stack of image files for the system to be able to read and draw an inference from during a recovery process on your device.
Nandroid offers further safety to the system through the aforementioned gallery of snapshots created. One of the disadvantages is that this trick eventually consumes a lot of space, just like your PC recovery drive does.
As the saying goes when it comes to Android 'Safety first.' Seeing how this is Android, you might consider having an extra backup copy saved on your computer too using the USB cable. Assure that you name the folder "TWRP/Backup" and save it individually.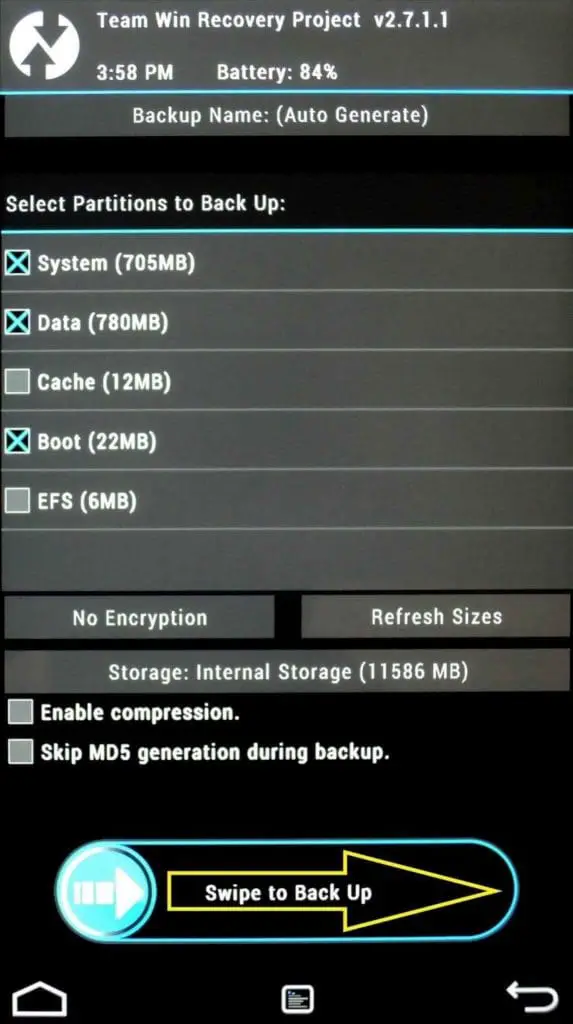 Other backup options
You will find a few alternatives for backup next to the backup tab such as 'Encryption' and 'Options''. The Options tab contains three boxes to check-
Enable compression- To decrease the space consumption, you can compress your backup file by checking 'Enable compression'.
Skip MD5 generation during backup- this adds MD5 hashes for each file. It's an extra feature but not required. Thus, you can discard it because your backup is local on the system storage.
Disable free space check before backup- you can check this box if you have no space issue to store backup files.
Encryption- to restore from the same backup with 'Encryption' tab setting up a strong password.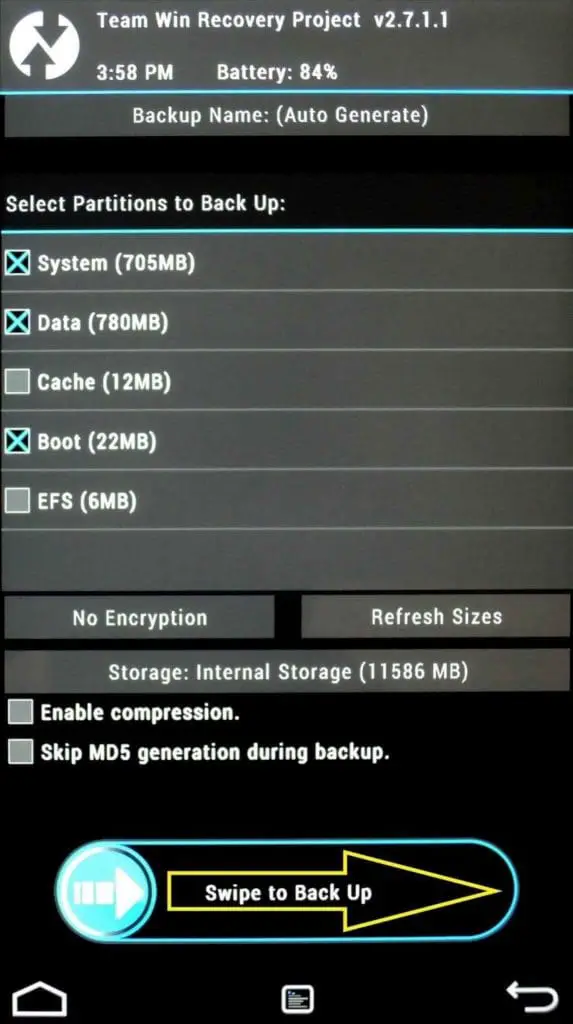 Installing a ZIP folder or ROM
Install any ZIP file in the internal storage according to your preferences. With no requirement of high skills, you can easily start this process to install any system file you want. Tap the displayed button called 'INSTALL' to start the process in the TWRP framework.
Choose a storage unit and install image files such as recovery.img directly and the location in internal memory, USB OTG, MicroSD card and confirm it.
During the installation, ZIP flashing allows you to select up to 10 files at once. You can choose multiple ZIPS once at a time or clear the ZIP Queue too. Lastly, swipe right to confirm the process.
Wipe
This allows you to wipe selectively or perform a factory reset on your device.
Whether you're an experienced or a beginner TWRP user, it is advised to include an advanced wipe on the device before flashing in any custom ROM.
This is a smart way to avoid a series of occurrences such as all corrupt files which are instantly eliminated from any section on your phone. Also, this process may cease the earlier OS.
By default, the 'Wipe' feature will you ask to do a factory reset once. In this case, make sure you choose 'Advanced Wipe' and select every check box except for internal storage and MicroSD card & USB OTG for an adequate and safe wipe out on the system.
Be aware that, all the information from partitions will disappear once you employ the factory reset or Advanced Wipe.
Also, performing these can be a savior especially when you need to under repairing, use the storage where you can install custom ROMs or change file systems while facing problems with partitions.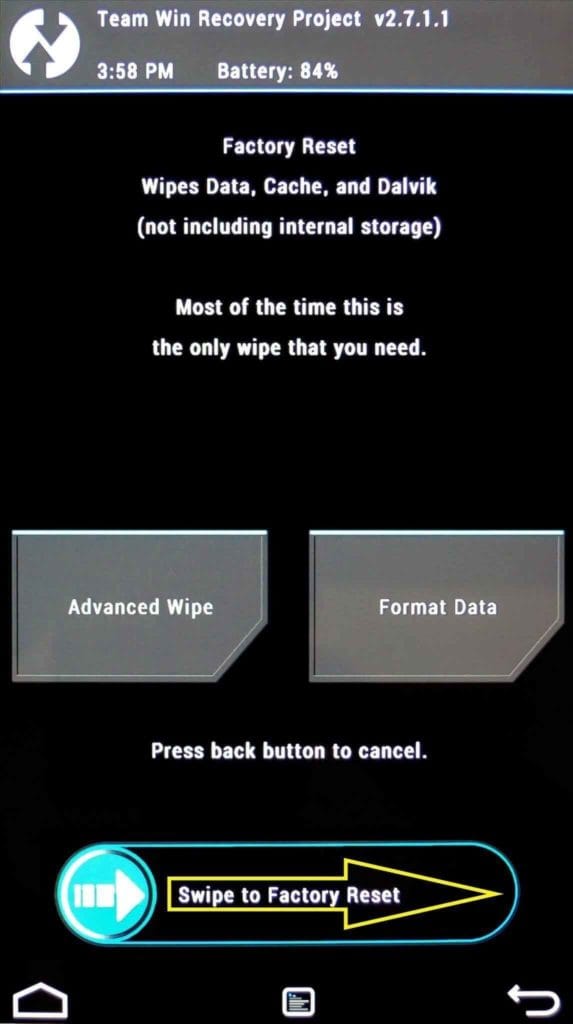 Select the following alternatives for Advanced Wipe, then swipe right to wipe.
DALVIK/ART CACHE
SYSTEM
DATA
CACHE
CUST
Restore from an existing backup
Performing a restore from an older backup can be the solution especially if you had been tinkering around with a Mod and you involuntarily bricked the system that appears to not boot the OS.
For that, access TWRP's main screen, tap the Restore button and it will display a list of all backups that you have employed currently.
With one single tap, you can select the backup, then partition images will be available to restore. Ignored these partition and proceed to the following restoring by swiping the slider.
Finally, once you complete this easy phase, you will be able to locate all your file systems as they were at the time you created the backup.
Fixing permissions
On the Android OS, permissions that were previously set by you may be affected as a result of flashing mods and installing root apps.
If you have set any App permissions for the most frequently used applications bear in mind that any system-level app would need permissions set in a particular manner in order to function properly.
Otherwise, the application would crash and you would face several other minor bugs. In order to cease crashes and bug threats, the app makers tinker around as support that acts in the back-end to fix permissions and to strike crashing issues.
TWRP allows you to reset permissions in the manner system needs them. Access the main menu, choose 'Advanced' then tap 'Fix Permissions' from the subsequent menu.
Lastly, swipe the slider to the right and the applications will give permissions for their all folders automatically.
Getting back to Android
Go to the main menu, tap the 'Reboot', then tap System to boot back into Android to finalize the TWRP and go back to use your Android.
Conclusion
TWRP lays the foundation for rooting any Android device. It's the most used program that makes using Android a lot more fun. If you have not yet installed TWRP, Custom Recovery, you can now access the Google Play Store to download the Official TWRP app for Android.
Also Read –