ChatGPT is one of the most advanced chatbots available for users right now. With its text-generating abilities, it has taken the content-writing sector by storm. From academic writers to blog writers, everyone uses ChatGPT to their advantage. 
However, ChatGPT-generated content can appear plagiarized, and it struggles to rank on SERPs. 
If you want to see whether your content is ChatGPT-generated, this is the right page. 
Today, we will list five online tools to detect ChatGPT content with high accuracy.
These tools will help you identify whether your writers are putting in the work or just using ChatGPT to do all the work. 
The Issue with Generating Content at Scale with ChatGPT
While ChatGPT is an excellent empowering tool for writers, many see it as a tool to pump out content at a large scale. But you should avoid that as a writer if you have long-term career goals in this sector. 
Many videos on YouTube and Instagram show you how to set up an entire blog with 50 articles in a day using ChatGPT. While there are no issues in doing that, it just doesn't work in the long run. 
You might be able to take the blog live, but soon it will be flagged for plagiarized content. Moreover, the lack of creativity will be evident, and you won't get any engagement. 
Just like everything, ChatGPT also comes with its disadvantages. For starters, the information on ChatGPT is unreliable as it has access to limited data. 
Then it also has a monotonous tone that does not make up for any compelling readings. Because of this, many website owners are losing money as writers use ChatGPT to generate articles. 
Furthermore, the articles don't have a writer's touch and finesse. Hence, they struggle to rank on search engines and even get blacklisted for plagiarism. 
Overall, using ChatGPT to generate and publish content at a mass scale is a significant ethical and moral concern. Many believe that as long as they disclose that the content is AI-generated, using ChatGPT for mass content generation is okay. However, If readers are unaware that AI has generated content, it could be seen as deceptive or unethical.
How Do AI-Content Detectors Work?
We will simply take a look at how most of the online tools to detect ChatGPT content work. So ChatGPT is a language model that relies on deep learning and large data sets to generate text. The process involves several steps, but there are recognizable patterns since it is an AI model. 
While these patterns might seem unique to an average human, upon a deep analysis, a ChatGPT text detector can accurately predict the most probable word choices of the AI chatbot.
So just like ChatGPT can generate text from existing data and deep learning, these ChatGPT content detectors can detect it. This is a very simplified explanation of what happens behind the scenes, but you get an idea. 
5 Online Tools to Detect ChatGPT Content 
I have tested many tools available to find AI-generated content. However, only a few did a satisfactory job. Here are some tools you can try-
1. ChatGPT
Including ChatGPT on the list of ChatGPTdetector tools might seem slightly surprising, but it is not. Since ChatGPT relies on data to generate better content, it often records what it generates. 
So if you want to find ChatGPT-generated content, the primary layer you should test is ChatGPT. Just take the entire text you wish to text and use a prompt like "Did you generate this text:" and paste your text. 
To test this, we did ask ChatGPT to write an essay on dogs. As you can see, it did give us an essay on dogs.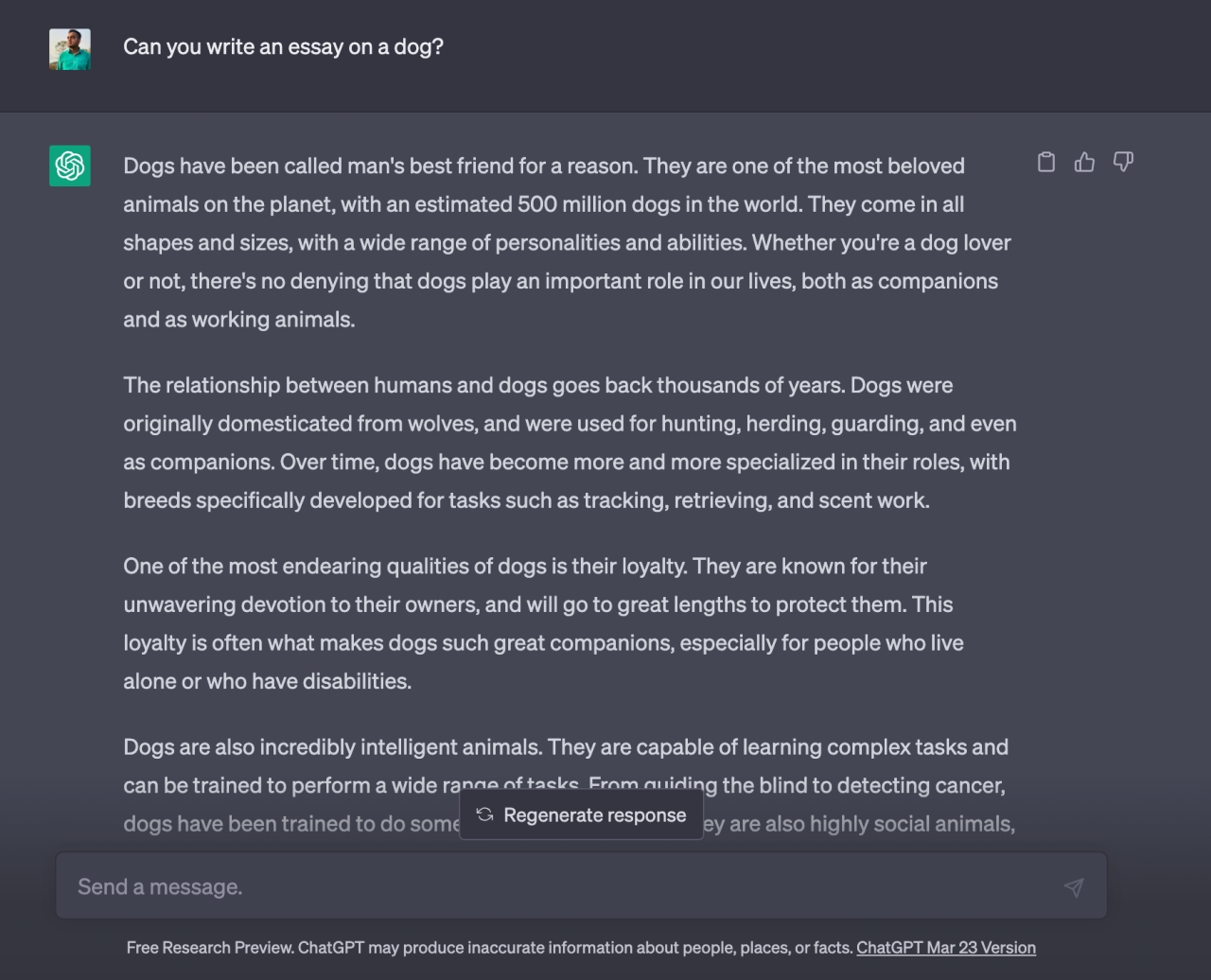 Then we simply took the entire generated response and asked ChatGPT, "Did you write this" followed by the generated text.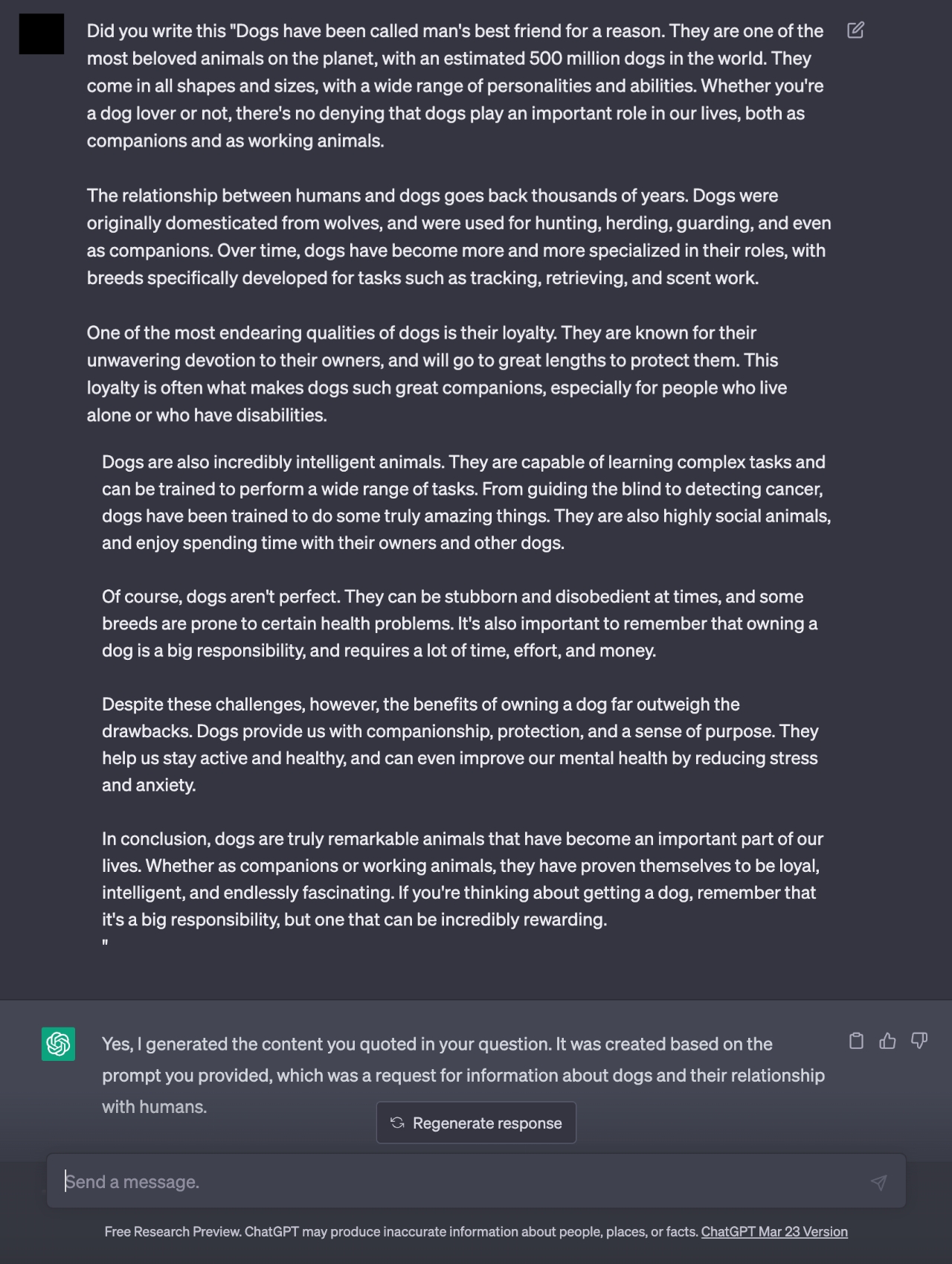 In our test, it did tell us that it wrote the text. To test it further, we also took a random essay on the internet and asked ChatGPT whether it generated it or not, and surprisingly, it denied it and said that it did not generate the text.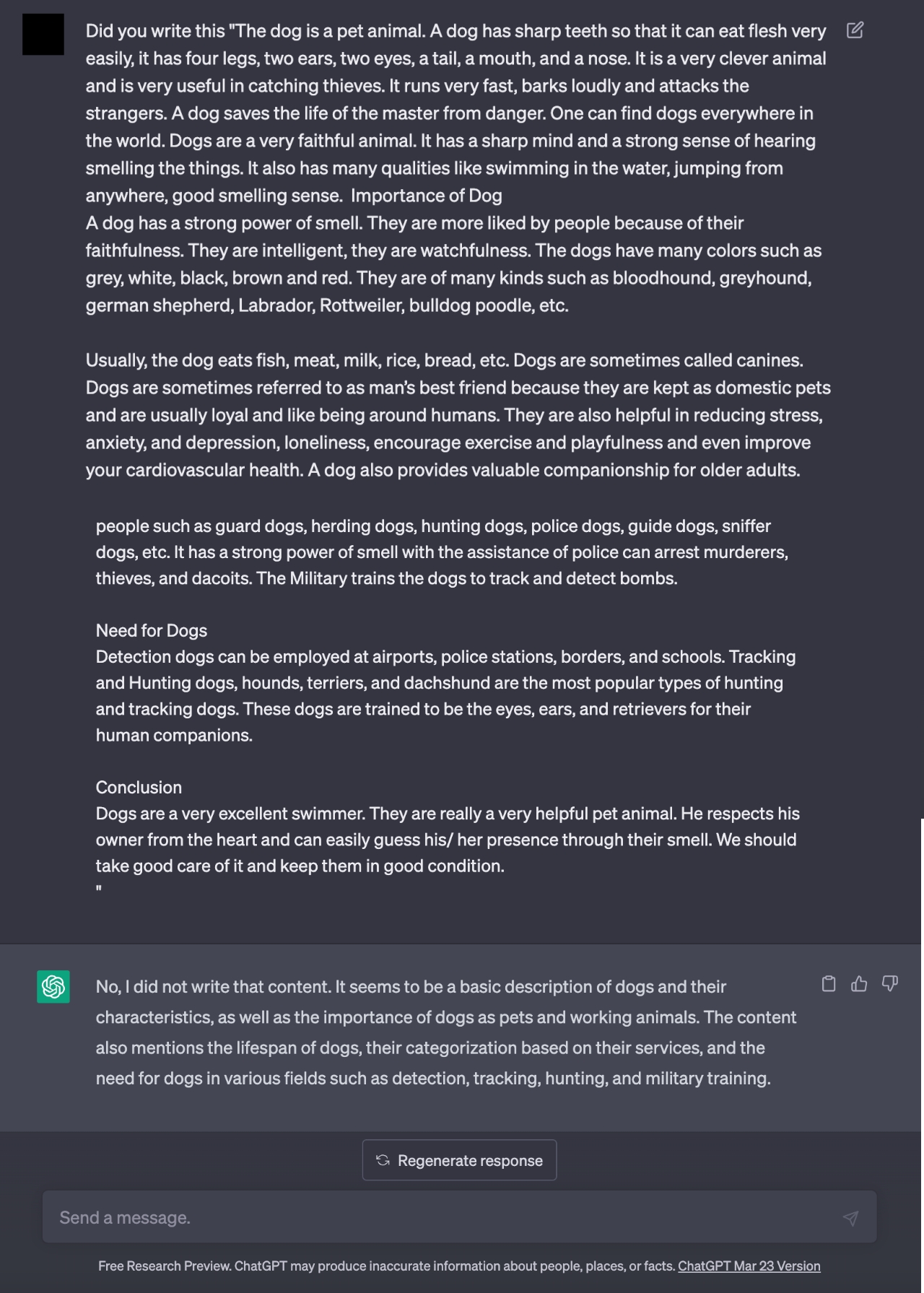 We know that ChatGPT does not keep a record of the text it generates for any long-term use. So this method is not the most reliable and can fail if someone paraphrases the text.  So make sure you just use it as a primary layer of testing. 
2. ZeroGPT
Developed by a 22-year-old Princeton student, Edward Tian, ZeroGPT has been one of the most reliable and widely-used tools to detect ChatGPT content since its launch in January 2023.
The reason why it is popular is that it has a straightforward and easy-to-use interface. You open the site, paste the content, and simply click Detect Text, and the tool works. 
In our testing, ZeroGPT came out to be the most reliable to find content written by ChatGPT. It underlines the content it thinks is possibly AI-generated and gives you a percentage of how much it is AI-generated. 
We tested this article on ZeroGPT, and as you can see, it shows that the text is entirely human-written (which we can vouch for). 
We also took the same dog essay that ChatGPT generated and checked it on ZeroGPT. And as you can see, it shows that the text is fully AI-written(we can also vouch for that).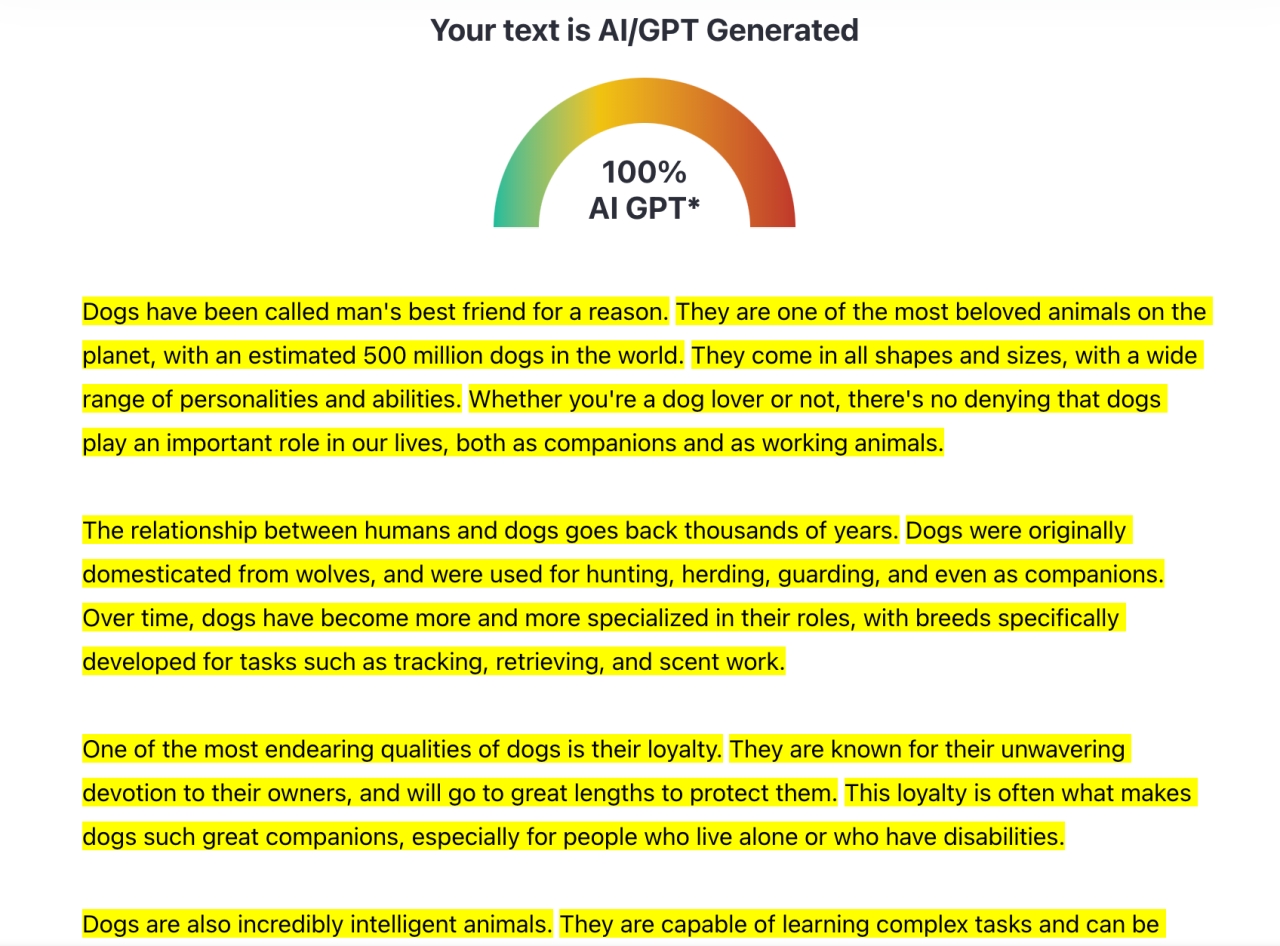 3. Content At Scale AI Detector
Another tool that is almost as good as ZeroGPT is Content At Scale's AI Content Detector. Similar to ZeroGPT, this tool has a seamless user interface. All you have to do is paste your text in the box. The tool does its job once you click on Check for AI Content. 
It takes an extra step and tells you about the text's predictability, pattern, and probability. Then it shows you an overall percentage of how likely your text is AI-generated. We call it as good as ZeroGPT because it is less reliable than ZeroGPT. 
In our testing, we tested the same ChatGPT-generated dog essay on this content detector. The results showed that it is both human and AI-generated, which was not true.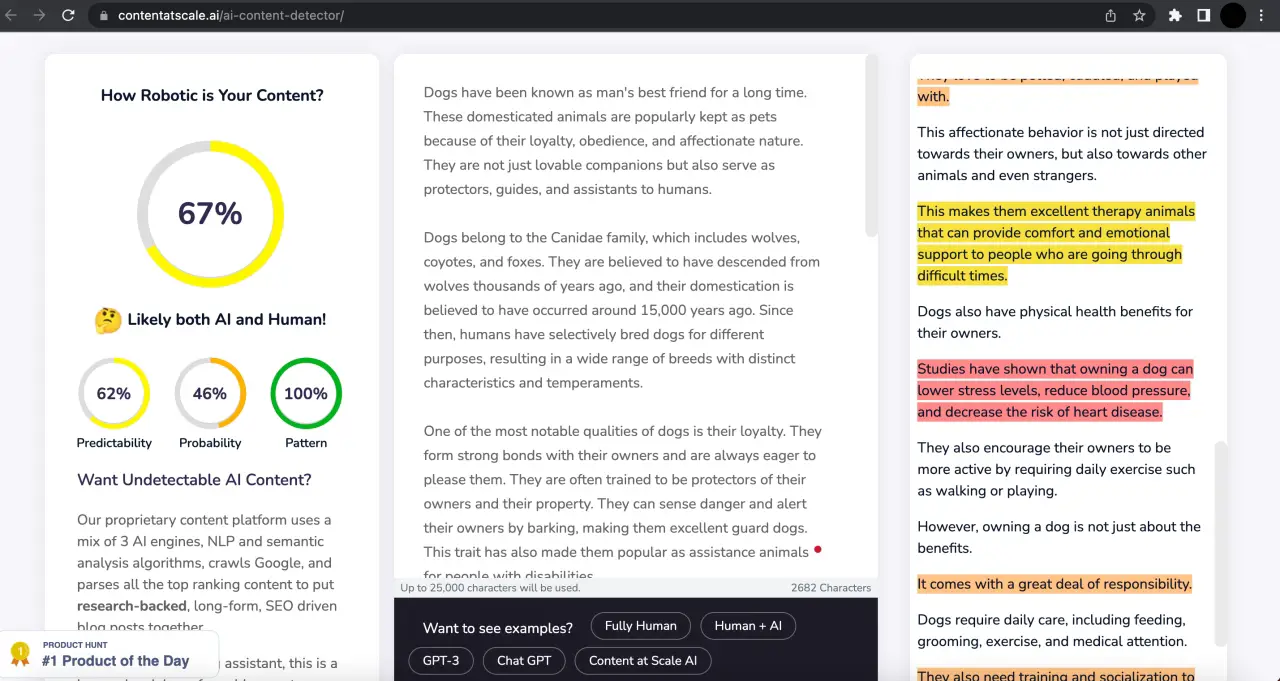 We also tested it on a random dog essay from a site, and it showed that the text was human-generated. So the results were reliable.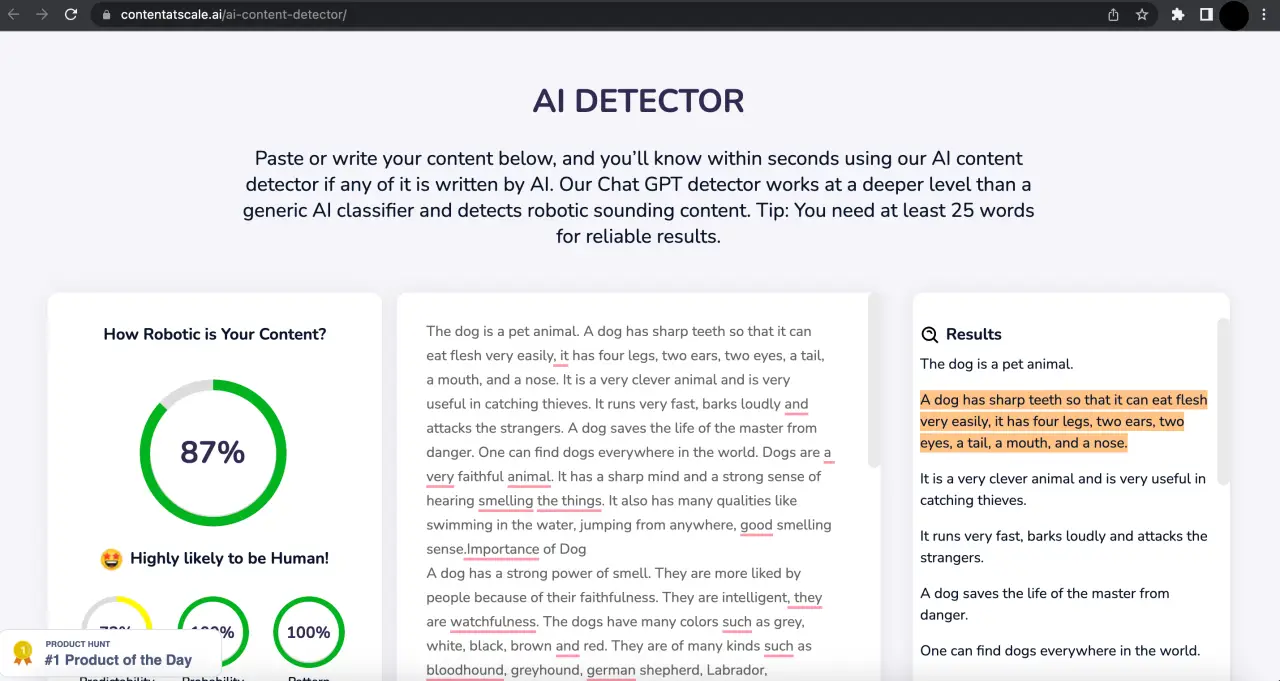 But it usually shows reliable results after playing with the tool for a while. 
4. GPT 2 Output Detector 
Next up, we have GPT 2 Output Detector. This is another reliable AI content detector you will find. You simply have to paste the text in the box, and then the tool will show you how real or fake your text is in percentage. 
We tested multiple AI-generated texts on the tool, and it showed us mixed results. 
First up, we put the same dog essay, and it showed that it was real text. However, we know it is not true; it is entirely AI-generated.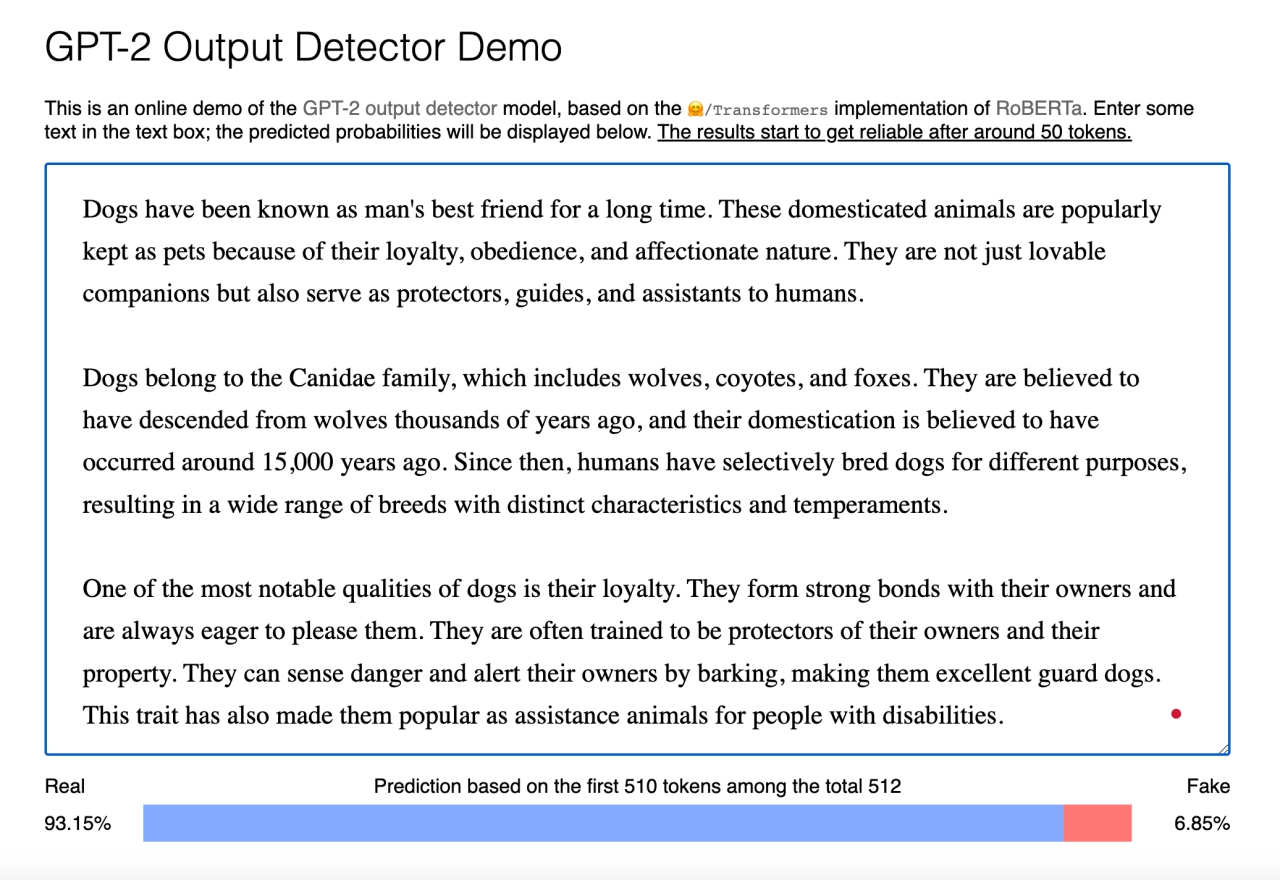 So we decided to paste a complete ChatGPT-generated article on the detector, which detected it correctly this time. 
We got mixed but mostly reliable results in our test.
5. Writer's AI Content Detector
Another reliable online tool to detect ChatGPT content is Writer's AI Content Detector. It has a cool feature where you can directly paste the link to the site or page for which you want to conduct the test. 
Then you can paste the text and hit the Analyze text button. This tool also shows you the percentage of the text that is human-written. In our testing, the tool showed us reliable results consistently.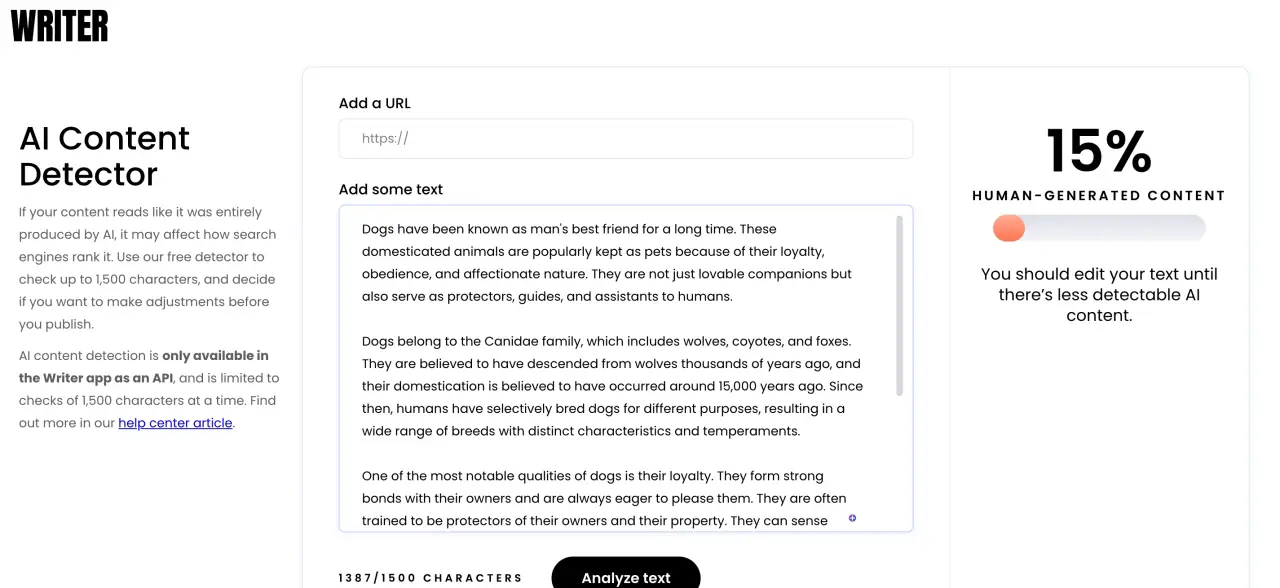 However, the only disadvantage is that it is limited to 1500 characters which is less for people who want to check long-form content. 
Closing Thoughts
Those are some of the best online tools to detect ChatGPT content. Of all the mentioned tools, ZeroGPT showed the most reliable results in our testing. So if you want the best one, check out ZeroGPT. We hope this guide helps you to detect AI-generated content. As a writer, you should use this tool to empower you, not weaken your skills. Your writing skills will help you generate exciting reading pieces in the long run. 
FAQs About AI Content Detectors
Can you detect AI-generated content?
Yes, tools like ZeroGPT, Content Scale's AI Content Detector, etc., help you to detect AI-generated content. These tools can easily distinguish between AI and human-written content.
What is the best online tool to detect ChatGPT content?
ZeroGPT is one of the best tools to detect ChatGPT content. In our test, it did a great job; the tool can easily separate AI and human-written text.
What are the issues with ChatGPT-generated content?
ChatGPT-generated content often has plagiarism and sometimes unreliable information. It can also be misleading to publish ChatGPT-generated content as human-generated content.
Also, Read: