Mac's Finder has always been the same since Mac was called Macintosh.
Except for a few changes in the UI, there has not been a groundbreaking development made on this front.
Mac users hate having to work too much to find out basic information that should otherwise be readily available such as finding the current file path, searching in a current/user chosen folder instead of the whole system (which is time consuming), and some pretty horrible and sad folder viewing options such as the Cover Flow.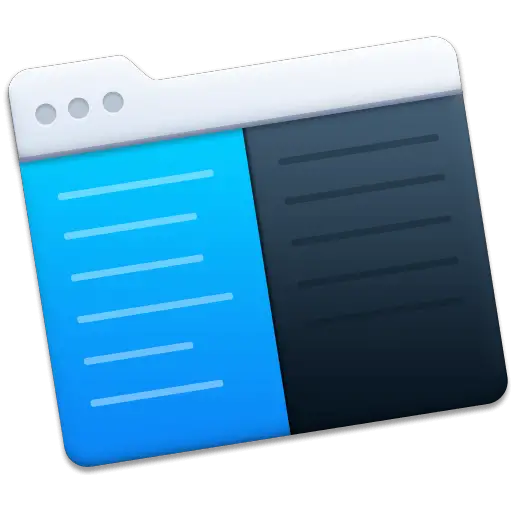 Even in this day and age, there's no AI integration made with the Finder that's offered by other contenders.
So, is there an alternative to Finder? In one word, Yes! It's Commander One. This Mac app from Eltima Software is a perfect 'Finder replacement' with advanced user options that make any file management task easy to perform.
Key features of Commander One
Dual-pane file manager as opposed to Finder's single-pane view.
Open unlimited tabs within a window with each tab enumerating all of the folder contents.
Each tab can be independently configured.
File renaming while performing the 'move' function.
User-assignable hotkeys.
What's interesting about Commander One?
For starters, Commander One is completely written in Swift, which is Apple's new programming language used for iOS and OS X apps.
Maybe that does not make much of a sense or cast a whole in the minds of most users, so long as it works well and does what Finder has never been able to do.
Although using Commander One will not make a Mac user feel any differently, the application does make the life a lot easier to get around basic Mac functionality.
Once you spend a bit of time using Commander One you will see how it maintains the visual aspects of the Finder while offering a lot more for the price that you pay for additional features, which I'll describe later on.
Take a look around Commander One's Interface
Multiple file-viewing options:
Upon launching this application, a dual-pane window opens with a toolbar located on the with most commonly used features to view the files- Quicklook, Search and File Info. You'll also see a button to view hidden files, archiving option to compress files has its own designated switch as well.
Connect to remote systems:
Then there's the FTP option that connects to the remote file system (if you have one on your system). This facilitates connection to another Mac or a web server.
Do more with dual-panes:
The window itself consists of two-panes, instead of the standard single-pane. Each pane gives you a thorough look inside the folders on your Mac system. You can even copy, move and make changes to any file or folder on either one or both the panes at the same time.
Unlimited tab functionality:
Furthermore, each pane can hold unlimited tabs so you can open as many folders as you like without cluttering up the window space. Easily drag one of the tabs out of the panes and make a window of its own.
Assign Hotkeys:
Another neat feature lets you use some of the preconfigured hotkeys for common functions like copy, move or delete, but Commander One lets you change them around so you can assign a favorite key combination and set it as a hotkey.
Commander One Views
Like Finder's list, column and icon views, Commander One brings full, brief and thumb viewing functionality. They do exactly what you would expect them to do.
Another great thing is that each pane of the window can have its own set of views so if you choose 'full' on one pane, you can choose 'thumb' on another.
You can also independently disable areas like buttons, command line, disk list disk info, path bar and selection info from the View menu to filter what you really want to see on the window.
Like I said before, it is easy to move and copy files between the two panes. If you are a big fan of a single-pane view then Commander One might disappoint you a bit since there's no added option to just close one of the panes.
Although you can resize the panes and attain an almost single-pane view. Perhaps a future update will bring this functionality to the fore, we don't know yet!
Extra features of Commander One
For a Finder replacement, Commander One does consist of everything that a Mac user would want while retaining the visual aspects of the Finder.
Did you know that Commander One facilitates file viewing in both Binary and Hex data format? And you don't even have to open any of the files! Although OS X has a similar option also known as Quick Look, but Commander One supports other file types that come in handy for developers and IT pros.
Also, what's missing in the Finder is the possibility of forming a remote connection to FTP and SFTP clients, which Commander One provides without fail.
What's in the Pro Pack?
The add-ons for Commander One are neatly delivered to you when you decide to upgrade to the Pro version at $29.99.
The Pro pack consists of a host of new features such as the ability to mount iOS devices directly on your Mac system, integrate dropbox, add FTP, SFTP and FTPS remote client managers, adds the ability to compress very large files and also a robust extraction engine that supports all file compression types.
Additionally, you get various themes to use and personalize Commander One file manager and much more.
Final verdict
If you find yourself troubled with Mac's native Finder, Commander One is at least worth the try. It is an efficient Finder replacement that comes with a lot of capabilities for Mac users to increase their everyday productivity. All of these features are free (for the most part), but should you wish to gain access to additional features, you shouldn't hold back from spending a small price of $29.99.
Also Read
CloudMounter Review- Mount Cloud Storage Services as Local Disks on Mac