Perhaps one of the best things about Android is the customization options that you get. If you do not like the UI of your smartphone then you can easily change it by installing an Android launcher. With the help of an Android launcher, you can change the appearance of widgets, icons, interface, wallpaper, themes, and whatnot.
There are tons of Android launchers available on the Google Play Store but it gets really confusing to find the best that does not slow down Android performance.
In this article, you will find some of the best launchers that will definitely change the UI from normal to stunning.
Top 10 Android Launchers of 2021
Before installing a launcher here are few things you should check
Ensure it does not compromise on device performance.
Look for icons shapes & colors.
Widgets behaviour, customization and options.
Menu alignment.
Themes & wallpapers.
Keeping these things in mind we have created a list of top Android launchers that can change the boring stock UI.
We can't talk about the best Android launchers without mentioning Nova Launcher. If you are new to this customization and launchers thing then Nova Launcher is top in the game.
The launcher is highly customizable and you can easily change app icon style, icon size, app drawer, etc. If that isn't enough, the launcher also supports icons and theme packs. 
Nova Launcher is very lightweight and fast at the same time. It is good for frequent users as well, you can easily import the layout from the previous launcher. 
There is paid version available for the Nova launcher which gives you more customization options. With a little bit of time and playing with the themes, you can easily get the best out of it.
Smart Launcher has been around for a while and it is quite popular too. However, they really hit it out of the park with Smart Launcher 5. It is a great launcher and highlighted feature is the app drawer which automatically sets apps by categories. 
Apart from that, it has other features such as gridless widget placement and a modular page system. The home screen app gestures are great too. The launcher is very easy to set up with its easy-to-use layout. 
For people who are looking to try something new and good, Smart Launcher 5 will be good. The paid version unlocks a lot of new customization features which you can try. 
If you are looking for an Android launcher that can help you a lot in productivity, Microsoft Launcher is for you. 
Swipe left and you get all of your productivity options in one place. The launcher offers edge-to-edge widgets and subgrid positioning.
You also get a very smooth integration with your Windows PC with Microsoft Launcher. With this launcher, you can work with the same Microsoft account across your phone, laptop, or desktop.  
You can add widgets like calendar, recent activities, frequently used apps, sticky notes, documents, tasks, screen time. There is an option to add more widgets from the list, your notes, docs, etc to stay synced with your Microsoft account.
Niagra Launcher is yet another popular Android launcher out there. It is super clean and simple! In times when the UIs from every brand are clunky and not good to use, Niagra shows up to the occasion. 
A lightweight app making it ideal for low-memory devices. But don't let the smaller size fool you, it is ridiculously fast. It displays the notifications on the right side of the home screen. The app drawer is great too and it is just super easy to use. 
If you are a minimal person, you are going to love everything about the Niagra Launcher. 
While Xiaomi has a very notorious reputation with the MiUI, the POCO series is known for its cleanliness. As a result, many people like the UI on POCO series smartphones. Xiaomi says that the POCO launcher is compatible with Android 10 so you can use it on your other smartphones too.
With that said, there is nothing really wild going on with this one. It is just a great Android launcher with an app drawer and other features. You can however customize background, app transparency, icon size, app drawer, and manage app categories.
POCO Launcher supports icon packs, allowing you to use custom icons. And yes, it's free to use and ad-free too.
The name here is kind of a dead giveaway, isn't it? Yes, with BIG Launcher, everything is big. The launcher is great for the elderly or anyone who has issues with vision. The icons on this launcher are quite big and the color scheme is unique and easy to differentiate. 
It has very useful customization options that include text size, full-screen display, navigation bar, etc. It also allows you to add the frequently used app on the home screen for quick access. The UI is very simple and with a one-time fee, you can unlock a lot of customization options.
The launcher is highly recommended for the elderly, little kids, or anyone with eye-related problems.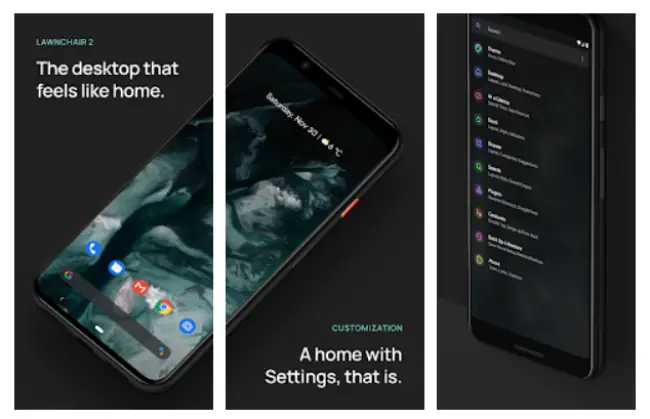 If you are looking for a good clean Pixel launcher, Lawnchair 2 is definitely a candidate for it. It is everything that a Pixel launcher can be. The UI is very clean and simple. Along with that, you also get some customization options including icon pack support. 
It also has other cool features including automatic theming, edge-to-edge widgets, adjustable icons, and grid sizes, folder covers, categorized app drawers, etc.
It is an open-source Android launcher meaning you get great community support with this one. The launcher is free and if you are looking for a Pixel launcher with customization options, this is definitely the best one.
The main goal of the AIO launcher is to provide you with as much information on your screen as possible. That too, by maintaining a clean layout so that it does not looks bad. 
You don't get your typical home screen with this one, instead, you get info like frequently-used apps, notifications, dialer, mailbox, a control panel, and more.
Everything is just a swipe away and it is just super easy to use once you get accustomed to it. The launcher is free and you can unlock some additional features with a paid version.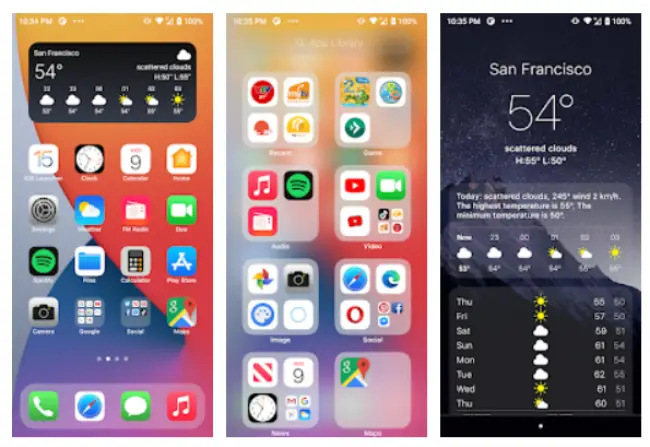 We all sometimes wish to use the iOS user interface on our Android smartphones, isn't it? Well, Launcher iOS just seems to fulfill that wish. 
It is the best iPhone launcher for Android to mimic iOS on your Android smartphone. It brings features like a lock screen to the control center, animations, wallpapers, and widgets. 
Finally, we have Action Launcher and it works around being 'quick'. It comes with features like Quicktheme, Quickdrawer, Quickpage, Quickbar. 
Action Launcher is easily one of the most customizable Android launchers available out there. The launcher has some of the best gesture controls you will ever use and the support is great too. If you are into customization, using Action Launcher is the way to go.
Closing Phrase
These are some of the top Android launchers you can try in 2021. If you face any performance issues then try a different launcher from the list. You can use these launchers to get a stunning UI on your Android smartphone.
Also, Read: