Intego has come up with a complete security solution for Mac OS. Intego Mac Premium Bundle X9 is an advanced antivirus to fight against malware and keep your Mac OS safe. In this article, you will get to know how malware can affect macOS and review of Intego antivirus for mac.
There is the misconception that macOS doesn't get affected by malware. However, macOS has a sandbox that does not let applications access user data and hardware without asking the user's permission.
This means applications that are sandboxed cannot access user data and hardware resources like webcams without user intervention. The new macOS asks user permission for every application, whether it is a third-party app or system inbuilt app.
But there are malicious programs that can get installed with third-party software and seek the required permission by camouflaging with the main software. The Internet is flooded with many fake and cracked software that can disguise as genuine software.
There was a recent malware attack named CookieMiner that could steal user login and passwords from chrome browser to wipe out your cryptocurrencies.
There may be malicious websites that can download a virus, adware, or rogue software to affect Mac performance. Or it may even steal data like photos, documents, saved passwords in the browser, etc.
There are several Antivirus software available for Mac, but not all provide complete protection from different types of malware like a virus, trojans, rootkits, adware, malicious websites, etc.
To overcome this issue, Intego has come up with a complete antivirus solution called Mac Premium Bundle X9 to protect your Mac from all these threats. We will discuss the features in detail later in this Intego mac antivirus review.
Intego Mac Premium Bundle X9 Review
Intego has different security suites for different purposes, like Mac Internet Security X9, Content Barrier Secure X9, and Washing Machine Secure X9.
Mac Internet Security X9 This application includes a Mac Antivirus (Virus Barrier X9) to protect your Mac from Mac and PC Malware and Net barrier X9 to protect your Mac from unauthorized access over the connected network.
Content Barrier Secure X9 This suite by Intego Includes Virus Barrie X9, Net Barrier X9, and an additional tool for parental control named Content Barrier X9. This antivirus protects you from malware and network-related attacks and a tool to monitor your kids while they surf content online.
Mac Washing machine Secure X9 It is a Mac security and cleaner tool which includes Mac antivirus (Virus Barrier X9), Internet security(Content Barrier X9), and a tool to clean the junk files from your Mac to improve performance.
Installing all the above tools will cost you a high price, and it will be hectic to install all these security suites one by one.
To overcome this problem, Intego has developed another security tool to bundle all these tools into a single security software known as Mac Premium Bundle X9.
Mac Premium Bundle X9 includes Internet Security, Content barrier, Personal backup, and Washing Machine Secure to provide complete protection from malware, network intrusion, parental control, and a performance booster for your Mac.
Let's find detailed information about the Intego Mac Premium Bundle X9.
Features of Intego Mac Premium Bundle X9 Antivirus
Bundle X9 is the most comprehensive protection by Intego. When all the tools are used together, it does protect your files from malware and a personal firewall to block malicious network activities.
The features can be summarised as below-
Protect from Mac & PC malware.
Real-time system scan.
Scheduled Scans
Personal Firewall
Parental Control
Network shield & activity monitor.
Website Blocking
Personal Backup
Performance Booster.
Software updater.
Virus Barrier
The virus barrier allows you to scan the whole Mac or the Mac partitions.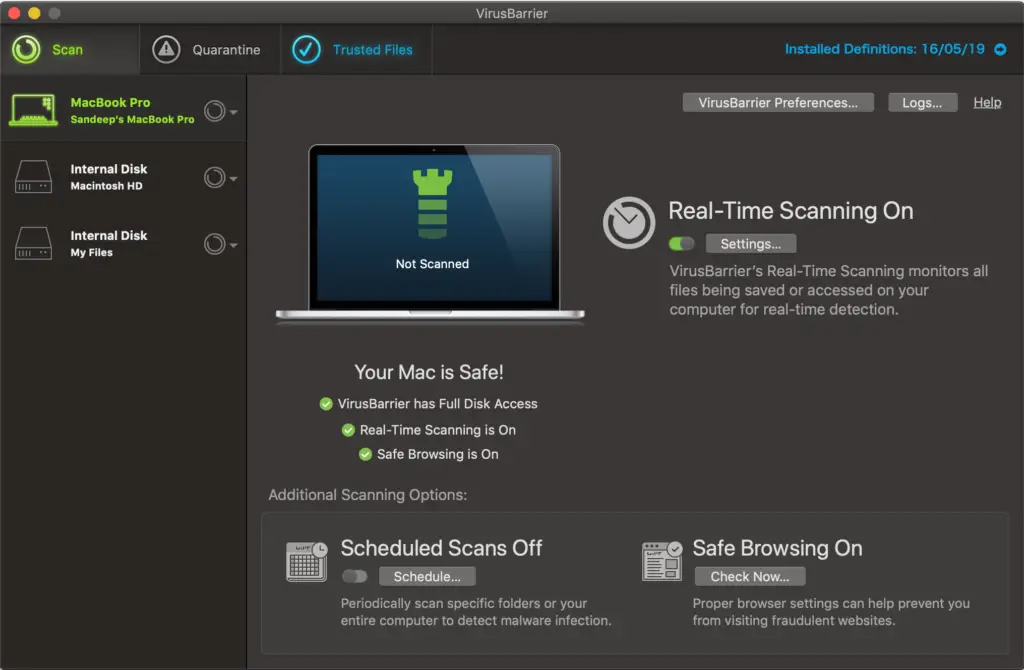 There is a Real-Time scanning feature that automatically scans the downloaded files, data accessed or data transferred from/to your mac.
Scheduled Scan periodically scans specific folders or entire mac to protect you from malware.
Safe browsing features protect your browsers, like Google Chrome, Mozilla Firefox, Safari, etc, from fraudulent websites and common internet threats.
The Virus Barrier not only fight against Mac Malware but also detects and quarantine.
Windows Malware
Linux Malware
Malicious Scripts
Hacking tools
Keyloggers
Ransomware
Net Barrier
The Net Barrier is a personal firewall to monitor incoming and outgoing traffic. You can choose the network profile whether you are connecting your Mac to the home network, public network, or work network. It will set the security levels according to the network profile.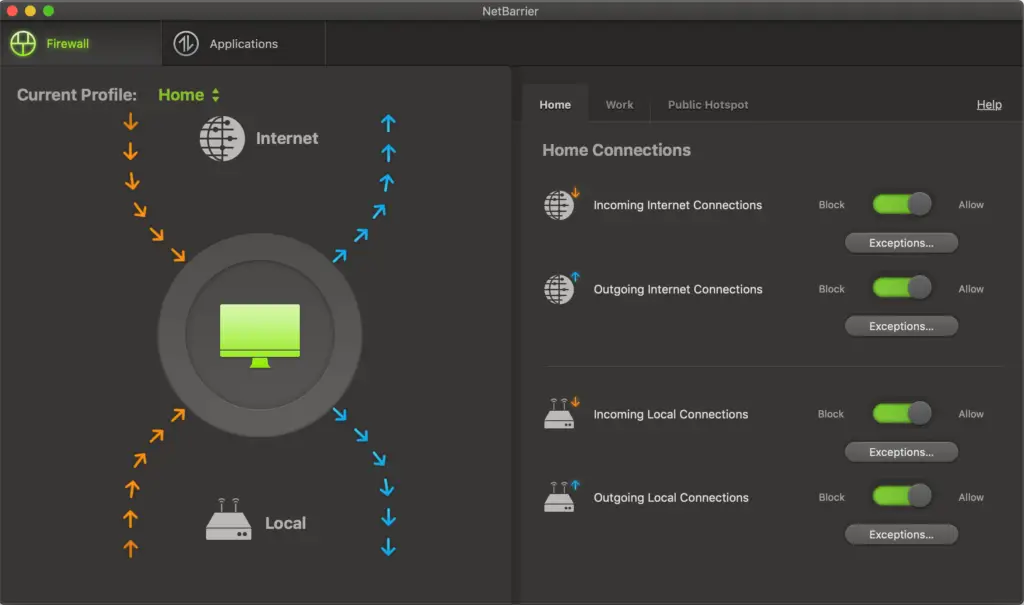 net barrier monitors the incoming and outgoing packets by background applications as well. You will get a notification if a specific app is trying to connect to the internet. If you are skeptical, you can always block internet access to that application.
Content Barrier
Using the content barrier, you can enable parental control for your kids to monitor their internet activities like visited websites, chats, and email activity.
There is an option to block certain website categories like drugs, alcohol, p[0]rn[0]graphy, hacking, gambling, etc. or you can block the specific website or game server.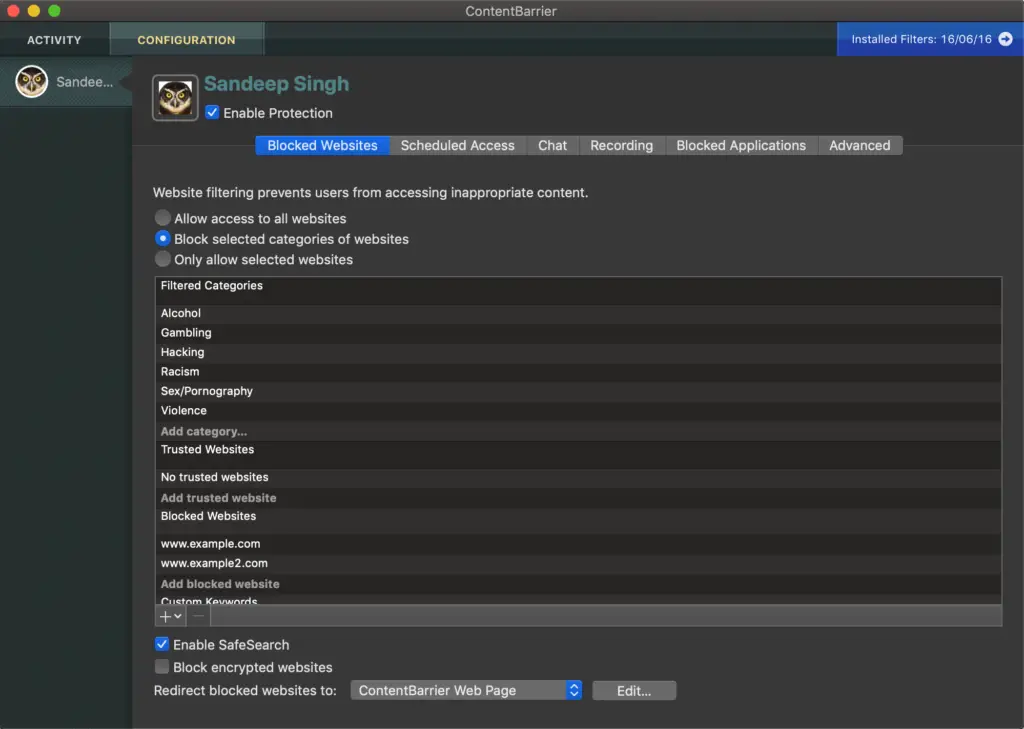 You have to select the user account you want to monitor from the main user account. After that, the kid's account won't be able to access the blocked content.
There is an option to block specific applications and screen recording features, which would take snapshots of the screen at a defined time duration.
Also, you can record the keystrokes to see what your kids are typing when you are away.
The blocking feature is very effective in protecting your kids from online threats, but the keylogger is something that is an intrusion into your kid's privacy. Still, hey, they are your kids, and it's your responsibility to protect them by any means.
Personal Backup
Intego Mac Premium Bundle X9 includes a backup assistant, which is a comprehensive backup solution for Mac OSx to protect you from data loss by making copies of your documents, application, and system files onto the external disk or on the server.
Intego personal backup can backup your files, including-
Hard disk partitions.
External hard drive.
Removable media such as USB disk.
network Volume.
Specific folders.
iPod
Disk Images.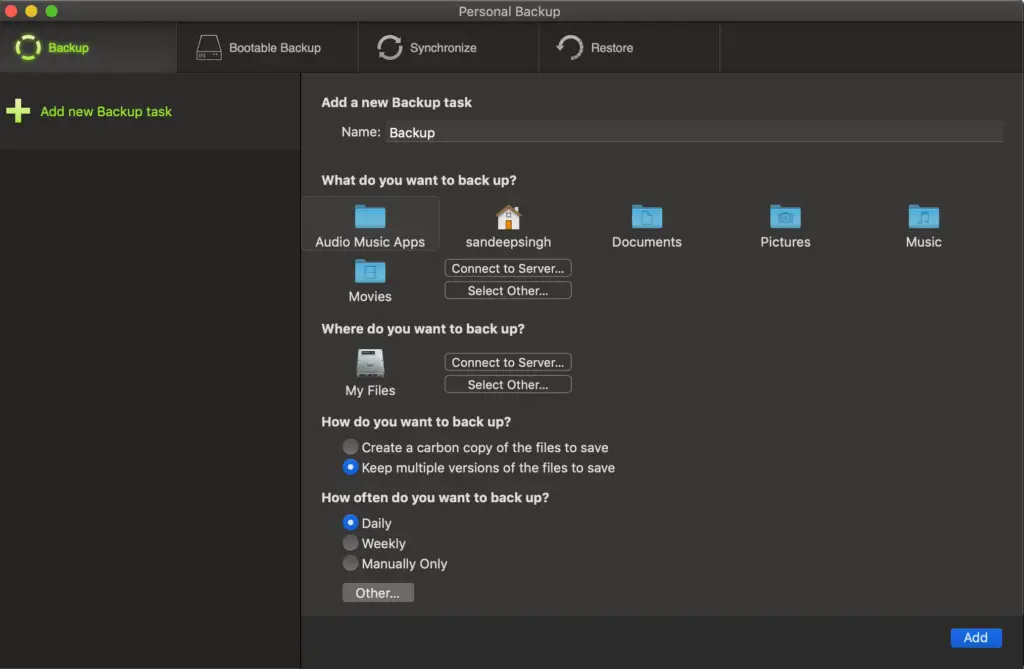 A bootable backup copies a volume with Mac OSx to a second disk so the new location can act as a startup disk in case of system failure. Using the bootable backup, you can rescue your data from the corrupted operating system to secure storage.
If you have a system problem or your Mac won't boot, you can connect the backup disk, now restart your Mac while holding the Option key, select the backup disk and start up your Mac.
Intego Washing Machine
Mac acquires junk over time and takes up disk space, causing slow performance. You need to optimize your Mac to make it faster again. Intego Mac washing machine does this job in a few clicks.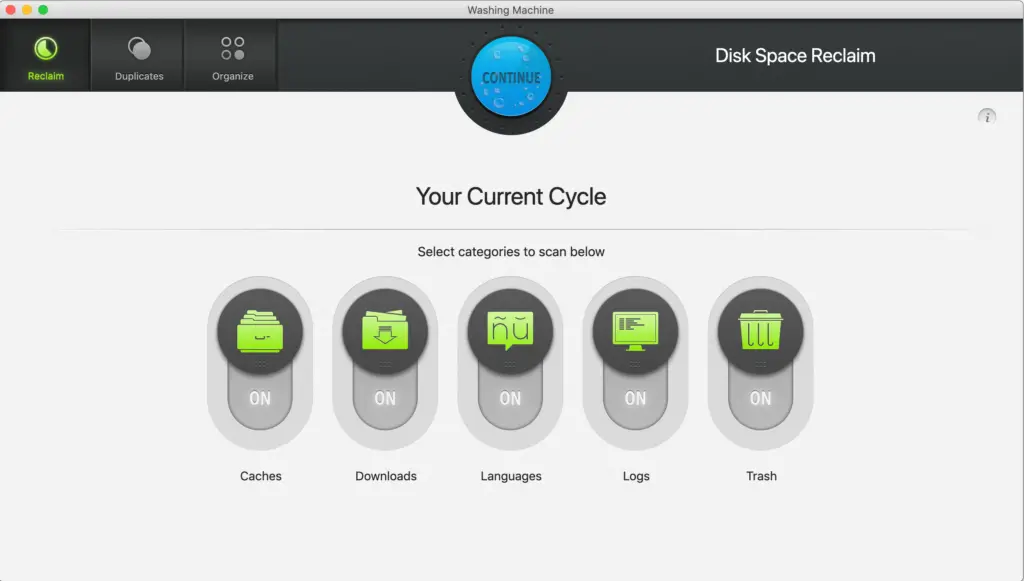 Apart from cleaning the Mac, this tool helps you to find duplicate files in your Mac. You can scan and remove duplicate files to save disk space.
If you have the same file with a different name in a different location, this tool will still find them by analyzing the data bit by bit.
The organizer option helps you to organize the desktop and dock to keep the documents, photos, pdf, and software in their preferred location or directories.
You can also create smart folders that automatically keep up to date; these folders are available on the favorites sidebar of the finder.
Another feature of the Intego washing machine is it does check for software updates for installed apps. You can update all of your applications in a few clicks.
How to Install Intego Mac Premium Bundle X9 Antivirus
First, you need to download the Security suite by going to the official Intego Website.
Download Mac Internet Security X9. (30 days full-featured unrestricted trial using this link)
Download Mac Premium Bundle X9
Once downloaded, proceed with the installation.
Installation is pretty easy; just follow on-screen instructions. If you are on macOS Mojave, you need to provide additional access to your mail, messages, safari data, disk data, and other things to the Intego Antivirus from system preferences.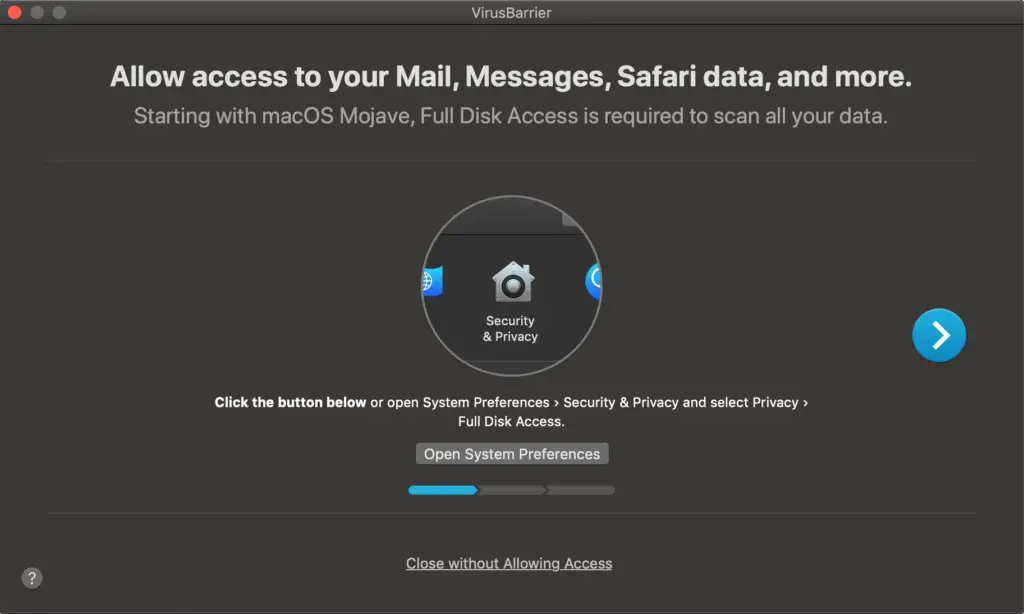 This access is required so that the antivirus application can scan your files.
After installation, you will get all the tools listed in your applications.

The virus barrier and net barrier run in the background; use the virus barrier for an on-demand virus scan. It will do the real-time scan without user action.
Pricing
The different tools are priced very reasonably and available for 1 year and 2 years of subscription for 1, 3 & 5 computers.
Here is the pricing of different security suites.
| | | | | |
| --- | --- | --- | --- | --- |
| SECURITY SUITE | 1 YEAR LICENSE 1 COMPUTER | 2 YEAR LICENSE 1 COMPUTER | 1 YEAR LICENSE 3 COMPUTER | 1 YEAR LICENSE 3 COMPUTER |
| Mac Internet Security X9 | $49.99 | $84.99 | $64.99 | $109.99 |
| ContentBarrier Secure X9 | $59.99 | $114.99 | $119.99 | $229.99 |
| Mac Washing Machine Secure X9 | $55.99 | $99.99 | $109.99 | $209.99 |
| Mac Premium Bundle X9 | $69.99 | $129.99 | $94.99 | $174.99 |
Buy Intego Mac Premium Bundle X9
Intego does offer Windows protection as well since they are partnered with Panda Antivirus to provide Windows security. If you have a Windows computer, then you can get Panda Antivirus for an additional cost of $9.99.
All the products come with 30 day money-back guarantee.
Looking at the price and features offered, Intego Mac Premium Bundle X9 is the best option available since it contains all the mentioned tools at a cheaper price.
Verdict
There is no doubt that macOS is safer than windows due to its sandboxing feature. But there is advanced malware that can affect macOS and cause serious damage like data theft, network intrusion, botnet, privacy breach, ransomware, credit card fraud, or complete system failure.
It is completely your responsibility to keep your Mac safe from malware attacks.
Intego Mac Premium Bundle X9 is an advanced security tool that not only protects you from malware but prevents network intrusions and offers parental control, a performance booster, and a software updater tool.
The malware detection rate of Intego Antivirus is the best in the industry for Macs. You can choose it without a second thought. What do you think about our Intego mac premium bundle x9 review? Let me know in the comments.
Recommend Reading