Forgot your Windows 10 password? There are different methods to recover Windows 10 password. But some of the methods require extracting the NT/LM hashes from the SAM file and then import to another program for performing a brute-force attack. That's a bit complicated as well as time-consuming.
In this tutorial, we'll discuss different and easy ways to reset forgotten Windows 10 password, so you can get back into your local administrator or Microsoft account in just a few minutes.
Method 1: Reset Forgotten Windows 10 Password Using Password Reset Disk
Windows 10 allows you to create a password reset disk from the Control Panel, which enables you to reset a forgotten password with ease. If you've created the reset disk before your password is lost, you can use it to reset the password.
From Windows 10 sign-in screen, enter the wrong password and hit Enter. You'll get a message that says your password is incorrect.
Click OK and you'll be back to the sign-in screen. But this time it shows you the "Reset password" link under the password field.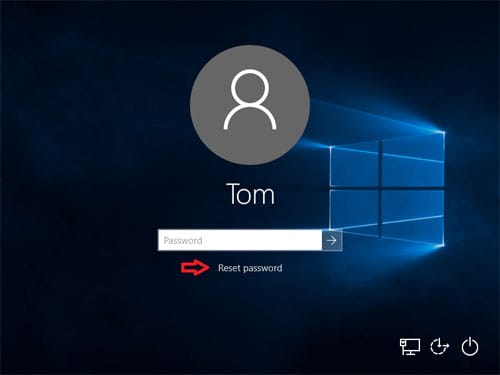 Now, insert your password reset disk and then click the "Reset password" link. When the password reset wizard opens, choose the drive letter of your password reset disk. It will let you set a new password for your Windows 10 user.
Method 2: Using Another Administrator Account
This method works if your Windows 10 computer has another administrator account and you can log in to Windows 10 with another administrator account.
Once you've logged in, press the Windows logo key + R to open the Run dialog box.
Type lusrmgr.msc and hit Enter.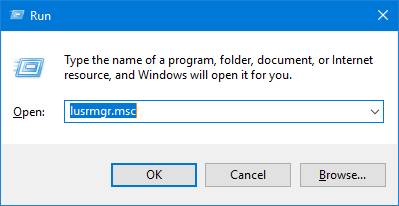 When the Local Users and Groups dialog appears, click the Users node on the left side. The users list is shown in the middle pane of the page.
Right-click on the user of which password you want to change, then select Set Password from the menu.
If any warning dialog box opens, click on Proceed. In the next window, you can set a new password without providing your original password.
What if you couldn't sign in to any admin account and have no password reset disk?
Method 3: Using Sticky Hack
Note that you'll need to have your Windows 10 installation media in hand in order to follow this section of the guide.
Insert your Windows 10 DVD or bootable flash drive having Windows 10 into your computer's optical drive/USB and boot from DVD/USB Disk.
Once you are on the setup screen, press the SHIFT + F10 keyboard shortcut to launch the Command Prompt.
Type the following command into the command prompt. Note: Replace d:\ with the drive where your Windows was installed. (It remains d by default in Windows 10)
copy d:\windows\system32\sethc.exe d:\
Enter this command to overwrite the sticky keys application (sethc.exe) with cmd.exe:
copy /y d:\windows\system32\cmd.exe d:\windows\system32\sethc.exe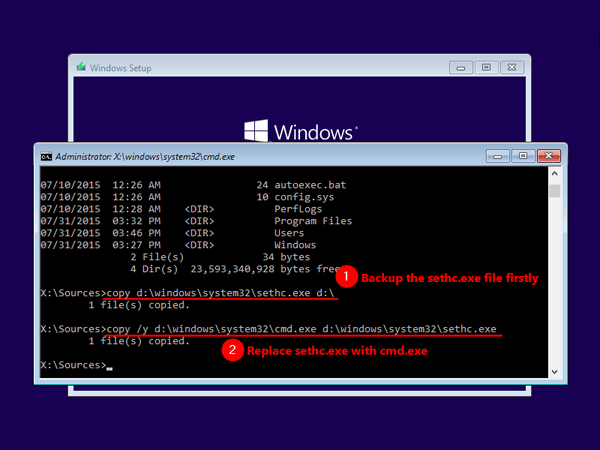 Disconnect your Windows 10 installation media and reboot your computer.
When the Windows login screen appears, quickly press the SHIFT key five times. This would ordinarily have activated the Sticky application but now it should launch a command prompt.
Type the following command to reset your forgotten Windows 10 password.
Replace your_user_name and new_password with your username and desired password, respectively.
net user  your_user_name   new_password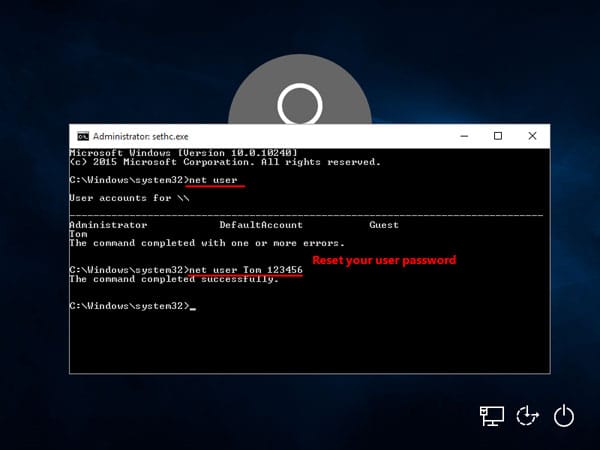 Now, your Windows 10 password reset is complete.
Method 4: Using PCUnlocker
The simplest way of resetting Windows 10 password is to use the third-party software – PCUnlocker.
This program can help you unlock ANY Windows 10 computer that is locked with an  Administrator password or a Microsoft account password.
It works with almost every edition of Windows out there, including Windows 10, 8, 7, Vista, and XP.
1. To get started, use another PC (NOT your locked PC) to download PCUnlocker ISO image (about 180 MB), burn it to a boot CD or USB thumb drive using the freeware ISO2Disc.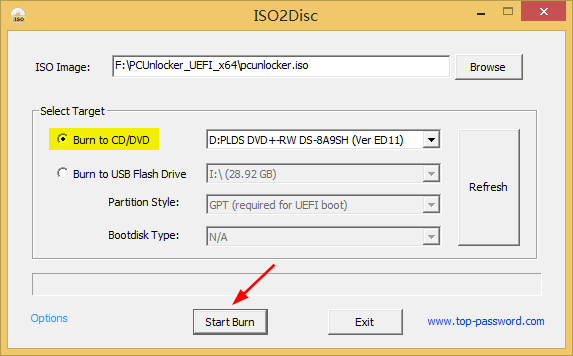 2. After burning the CD or USB drive, insert it into your locked Windows 10 computer. You have to set your PC to boot from CD/USB, by changing the boot sequence in the BIOS/UEFI Setup.
3. Once booted into the CD or USB, you'll see a list of all the local accounts shown on the screen. If there is a Microsoft account that was set up on your PC, your Microsoft account email address will be displayed under the "Description" column next to the linked local account.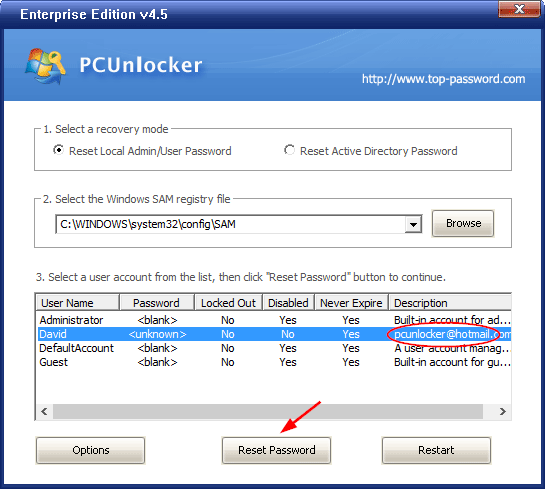 4. Choose the Administrator account (or the linked local account when you forgot the Microsoft account password in Windows 10), and then click the Reset Password button.
5. When the Change Password window appears, enter a new password for your selected Windows account, and click OK.
6. Now you've successfully reset Windows 10 password that you forgot. Just reboot your computer and log in with your new password — that's really all there is to it.
So these are some of the best methods to reset your windows 10 passwords in case you forgot it, do not try to hack into other's computers using these techniques since hacking into someone's computer without their consent is illegal.
Let me know which method worked for you or if you face any trouble, then comment below.
Also Read –