For some, college is associated with partying and just general fun and debauchery. For others, it is a big step in furthering their education and getting the most out of the academic environment.
A computing device is important for the students of all streams, without a laptop or desktop it impossible to go through education these days, you need to access different information over the internet, running different types of programs, coding, design, development, and much more.
Having a laptop with high performance and good battery backup is all you need, it is really annoying when the laptop gets stuck while working.
You don't want to buy a laptop that is troublesome rather than productive for yourself.
With the right laptop, you can easily get ahead and stay on top of your work without needing to schedule in time to go sit in the library to use the computer for either work or for personal reasons.
5 Best Laptops For College Students
The following laptops are all priced at around $500 and are some of the best laptops for a student on a budget.
1. Acer Aspire E 15 E5-575-33BM 15.6-inch
Budget shoppers will rejoice at the Acer Aspire E 15 E5-575-33BM that retails on Amazon for around $360.
While its design won't turn heads, it comes with a strong performing 7th generation Intel Core i3-7100U processor and 4GB of DDR4 RAM, which will easily cope with basic tasks such as video streaming, web browsing, and word processing – all essential tasks for students.
The 7th Gen Processor and 4 GB DDR4 Ram make it one of the best laptops for college students.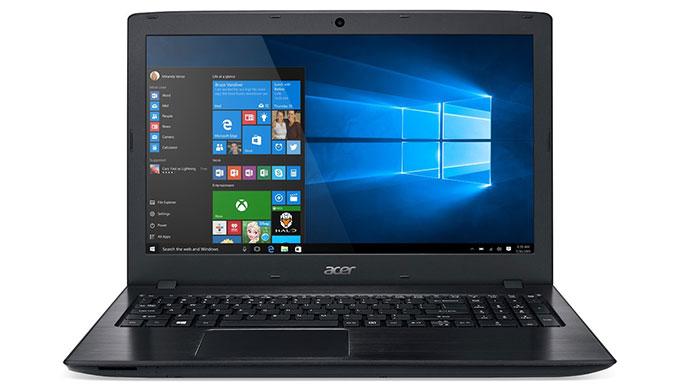 Adding a second 4GB of RAM will improve its multitasking capabilities and may be worth considering if you looking to maximize productivity.
The 1920 x 1080 resolution display, which is higher than the standard 1366 x 768 display panels we see at this price, has great composition and makes use of Acer's Bluelight Shield to protect your eyes from taking the excess strain.
To further boost your productivity, Acer has included the latest connectivity options such as USB 3.1 Type-C and Bluetooth 4.1.
2. ASUS VivoBook F510UA-AH51 15.6-inch
The ASUS VivoBook F510UA-AH51 15.6-inch is a premium-looking laptop that is both lightweight and thin, weighing in at a measly 3.7 pounds.
ASUS claims that its battery life is around 13.25 hours, but that is with power-saving measures in place.
Users found that it lasts closer to 5 hours and 30 minutes, which is usually under quite a bit of load.
With its 8th Generation Intel i5-8250U 1.6GHz CPU and 8GB of RAM, you will be able to comfortably carry out your daily tasks with ease, but the slower 5400 RPM hard drive can lead to a less responsive system, especially when compared to a modern-day SSD that significantly reduces load and boot times.
The 1920 x 1080 IPS NanoEdge display gives the VivoBook F510UA-AH51 an amazing 80% screen-to-body ratio, the screen offers wide viewing angles without losing detail, as we often see with low-quality TN panels.
It also features a USB 3.1 with a reversible USB C connector for blazing-fast data transfers, and the Intel UHD Graphics 620 chip will even allow you to do some casual gaming and edit videos on photos on Adobe Premiere Pro.
Asus Vivobook is sleek and has attractive look which makes it stand out among other laptops your fellow mates may have.
3. ASUS Chromebook Flip C302CA-DHM4
Those who love the simplicity of Chrome OS will be happy to see the addition of the ASUS Chromebook Flip C302CA-DHM4.
With its ability to flip between a laptop and a tablet, it features a robust and versatile design that is incredibly lightweight and portable (2.6 lbs, easily slipping into your backpack.
While it doesn't have much storage space with its 64GB solid-state drive, you will have easy access to Google Drive within the Google ecosystem to store any additional files that just won't fit on the small drive.
It has an incredibly long battery life of around 10 hours, meaning you won't need to do a mid-day recharge run between your lectures.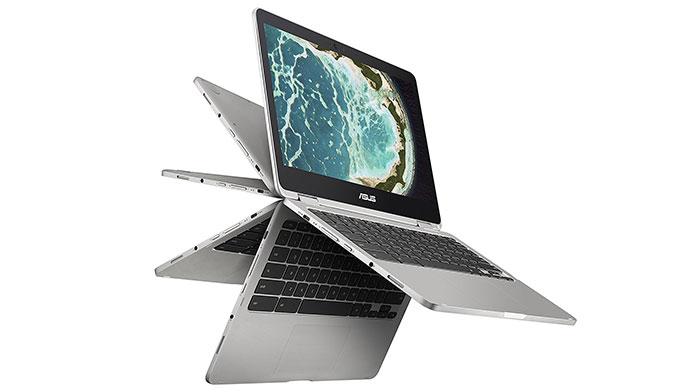 The Intel Core M3 2.2Ghz processor is an efficient mobile processor that packs a decent punch, and it is backed by 4GB of RAM, enough to run a few tabs in your browsers and a few programs at once without noticeable slowdowns.
The FHD IPS display has a clear and crisp image quality, and as was mentioned in the VivoBook F510UA-AH51 review, IPS are superior to lowly TN panels.
The next-gen connectivity keeps up with modern standards, making the perfect all-around laptop for the modern student.
4. Dell Inspiron I3567-5664BLK-PUS 15.6-inch
Dell's Inspiron I3567-5664BLK-PUS 15.6-inch is not only suited to college but for office use as well thanks to its consistently solid performance.
It has a durable design with a sturdy chassis, meaning it can withstand the small knocks and bumps of everyday life.
While not as light as the ASUS Chromebook Flip C302CA-DHM4, it still weighs 4.85 pounds, so it is easy to transport from lecture to lecture without taking much strain.
Sadly, unlike the above three laptops, it doesn't come with a Full-HD display, but instead, the resolution is only HD at 1366 x 768, but the image quality is still sharp and clear, but less so than its higher definition counterparts.
It has a regular, but spacious 1TB hard drive, and a reliable 2.5GHz Intel i5 processor that is helped along by a generous 8GB of RAM.
The HD 620 graphics will allow you to do some light gaming in your off time, but don't expect the same performance you would get from a laptop with a dedicated graphics card.
Dell is known for one of the best after-sales support, you don't have to worry much if you face any issue with your Dell laptop.
Just call the service center they will help you over the phone but if there is any physical issue a representative will attend you at your place for the service.
5. Samsung Chromebook Plus XE513C24-K01US
Another great choice for Chrome OS lovers, the Samsung Chromebook Plus XE513C24-K01US is another hot selling Chromebook that is perfect for all your college needs.
It is one of the sleekest Chromebooks currently available, with a height 051-inches thin and weighing in at a mere 2.38 pounds. It also features the highest resolution of any of the laptops in this guide, with Samsung going for a QHD 2400 x 1600 display that offers a refreshingly clean and crisp picture quality.
Armed with a Rockchip Hexa-Core OP1 processor and 4GB of DDR3L RAM, it is easy to see why it is one of the pricier Chromebooks on the market, as it edges out most competing Chromebooks in performance in this price range.
The OP1 has been optimized in conjunction with Google for Chrome OS, so you will have a far better overall experience.
The 32GB of storage is slim, and Chromebooks are known for offering limited storage, but it is more than enough for saving all your important documents.
If you plan on saving heaps of media files such as movies or music, then you will need to look at getting an external hard drive or a larger 128GB microSD card.
Alternatively, Google Drive offers decent storage options.
A new laptop for college use doesn't need to cost an arm and a leg. It should be able to carry out basic tasks such as document editing for essay writing, viewing lecture slides, watching lectures or tutorial videos, and Internet browsing for research purposes without any severe slowdowns that can lead to frustrations.
Also Read –