There are many AI tools available in the market, each designed to perform a particular task, solve problems, and improve productivity. In this article, you will find the 10 best AI tools that can help to improve productivity, do general tasks, and make your life easier. These tools are easy to use, cost-effective, and can help you save time and money. Whether you're a business owner, a marketer, a student, or just someone looking to simplify your tasks.
What is Artificial Intelligence?
Artificial intelligence, commonly known as AI, is a technical attempt to make machines perform or mimic the act of human intelligence. It has become a crucial part of present-day society. AI tools have created a place for themselves in almost every aspect of human life. These have certainly intrigued people in various fields like medical diagnosis, finance, website development, code generation, weather forecast, and several others.
The AI uses machine learning and large data sets to learn and improve its algorithm. There are different computer languages and technology involved behind the scene.
The selection of the appropriate AI tools from a long list can be a tedious task. Yet, these AI techs have proven to be of great importance for almost everyone, irrespective of their job requirements.
AI apps/websites are famous for a variety of reasons. Some of these are:
Predictions
Analysis of data
Automate processes
The demand for these AI tools has skyrocketed during the past few years. Continue reading this article to learn more about 10 AI tools to make your life easier and more efficient.
10 AI Tools You Should Use In 2023
Facilitating your daily chores with the help of AI tools does not merely sound pleasing rather, it is incredibly comforting. You must only be concerned about selecting the appropriate AI tools to complete your task. To make this task furthermore interesting for you, we have compiled a list of 10 extremely useful AI tools.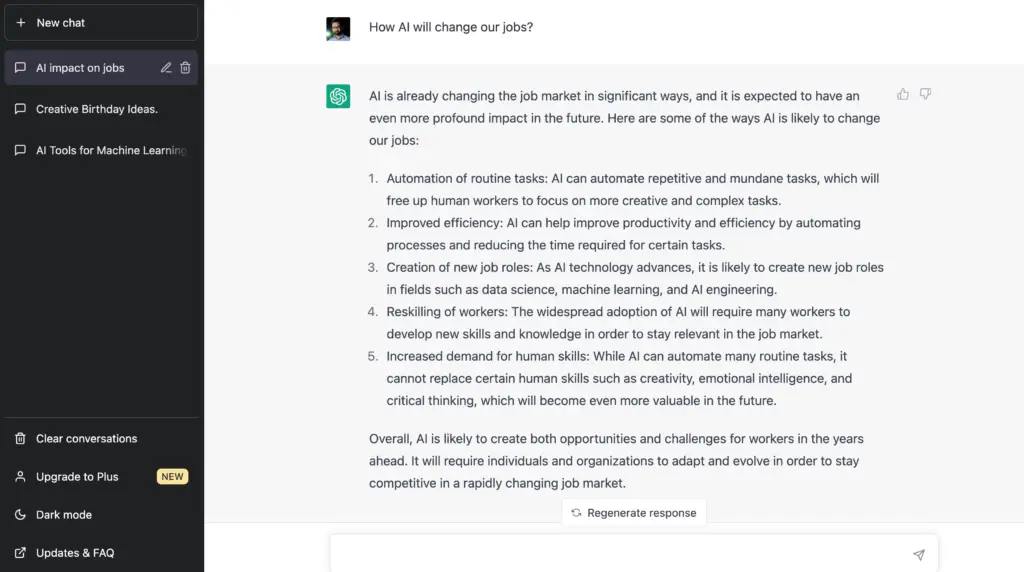 One of the most talked about AI tools these days is ChatGPT. It is a fantastic AI chatbot developed by OpenAI. This chatbot is strengthened and managed with language techniques using a large language model. ChatGPT is an open-source conversational AI that can talk with you and provide human-like responses.
It is efficient enough to generate highly accurate and explored answers to almost all questions. This AI tool provides coherent answers merely based on its training data. Thus, the efficiency and human-like responses of this chatbot can further increase with regular training in this language model.
Other than using this in-demand AI tool for commercial purposes, students can even use ChatGPT to complete their homework. This AI tool can even be used to know a recipe from available ingredients, for generating or fixing already prepared code, and for various other purposes.
Recently OpenAI launched GPT-4 version, which is more efficient than the previous GPT-3 (Generative Pre-Trained Transformer).
You can simply ask the AI any questions and get your answers.
ChatGPT Prompts Example –
Write a professional email to my boss[name] for 3 days of sick leave.
Write an ebook on "Quick Fat loss" without going to the gym.
Write python code to create a Chat Bot.
What can I cook with 'Available ingredients'.
Solve the 'logical questions.'
These are a few examples; you can get answers on almost every topic, which is legal and ethical.
Developer: OpenAI
Famous for: Seeking efficient and human-like answers to various questions.
Beneficial for: Business owners, content creation, quick research, translation of content, and various other purposes.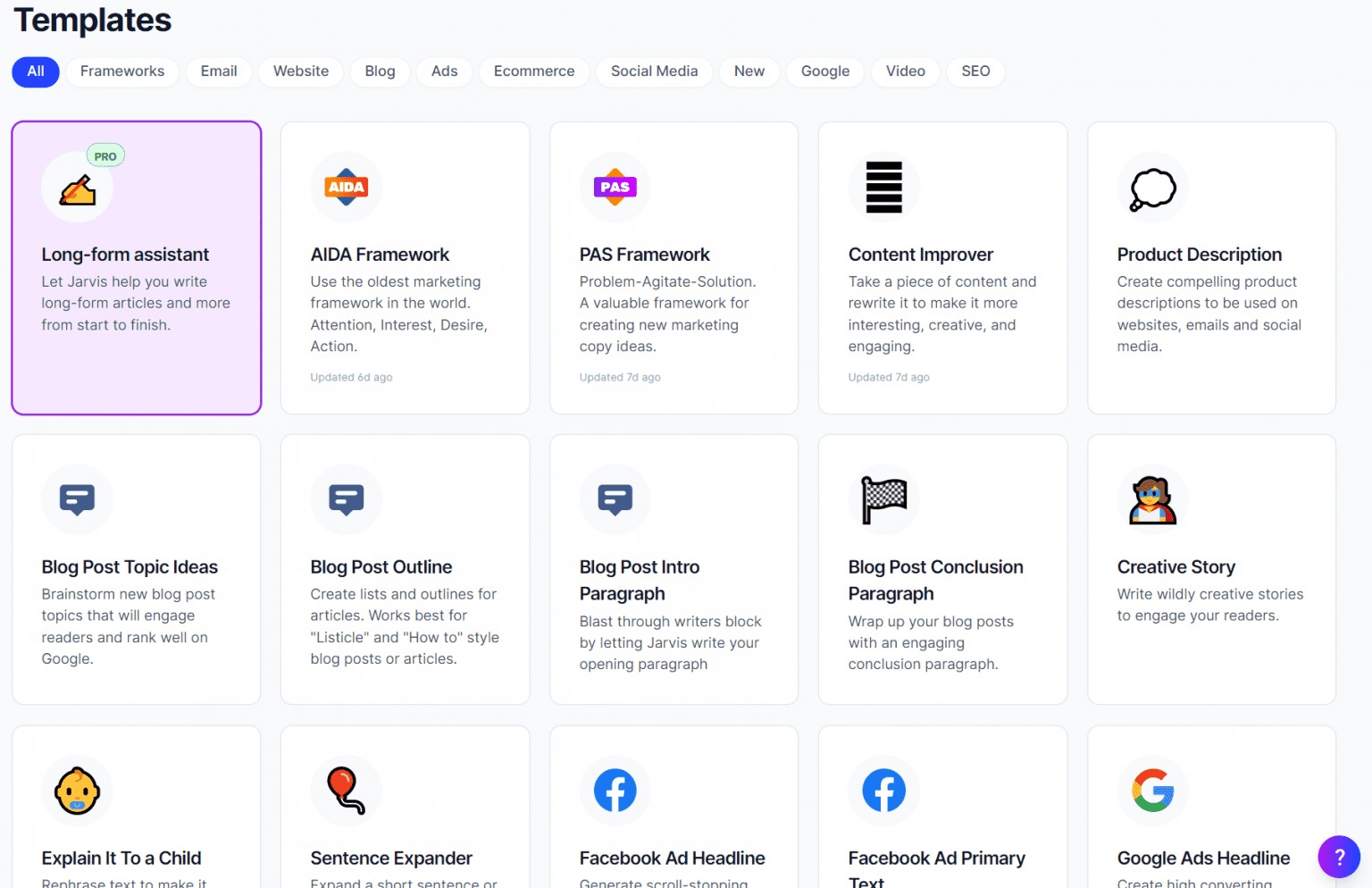 Jasper.AI is one of the most prominent content-generation AI tools. This fantastic tool helps generate researched and accurate content like blog posts, emails, stories, newsletters, reports, and others. Besides creating written content and copy, you can even use Jasper.AI to brainstorm new ideas.
Jasper includes various templates that allow the users to give their input and receive their desired output. It is the complete package, as you can use it to create, edit, check, and publish your preferred content.
Developer: Jasper AI INC.
Famous for: Creating and churning content for various purposes.
Beneficial for: creating web content, blog posts, marketing copy, video scripts, sales emails, and various others.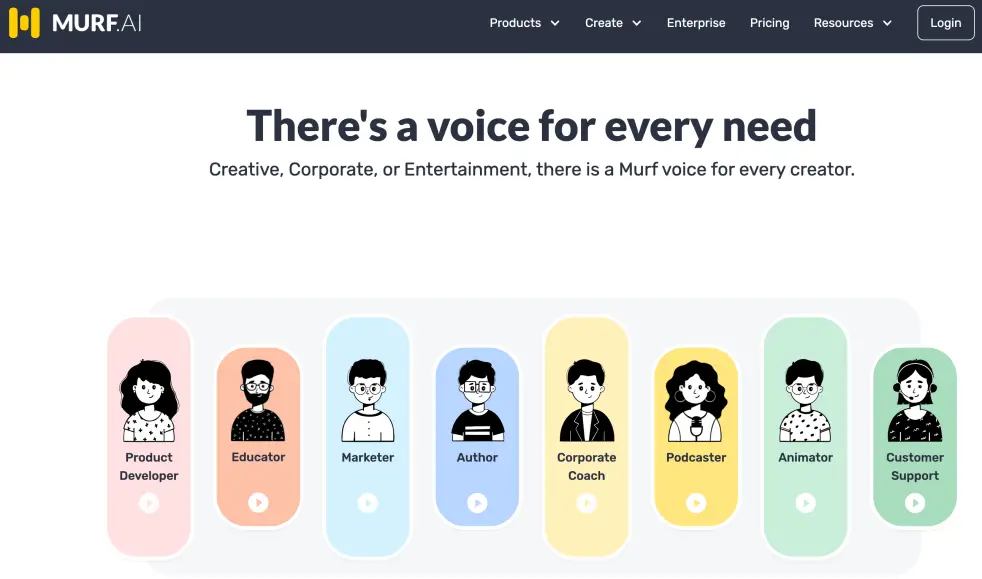 Any of your written content can easily be transformed into speech content with the help of Murf.AI. Using this tool, you can effortlessly create studio-type voice-overs for your videos, presentations, or podcasts.
Murf.AI requires merely a few minutes to add voiceovers to your selected content. This AI tool even provides various voice options that can conveniently be selected based on your need.
That is, you can choose voice preferences for several creators like product developers, educators, authors, podcasters, animators, customer support, and others.
In all, you can select from over twenty languages and over one hundred twenty voices. All your chosen images and videos can even be synced with your recorded voiceovers.
Developer: Murf.AI
Famous for: Converting text to speech.
Beneficial for: Adding voice-over to videos, images, podcasts, and others.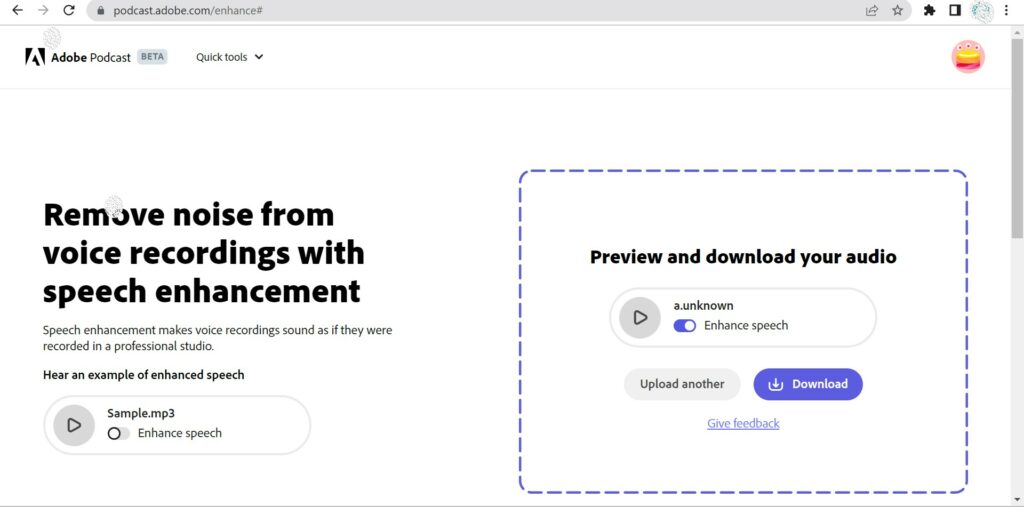 Enhance speech is a quick tool by Adobe Podcast. This cloud-based tool elevates the quality of recorded sounds.
You can use this tool to automatically the audio and make it sound like professionally recorded audio. It helps to remove the background sounds, echo, or sound disturbance from the uploaded audio. You can upload any audio and improve its quality with this amazing AI tool.
Developer: Adobe Inc.
Famous for: Improving the quality of your audio by removing background noise and echoes.
Beneficial for: content creators, podcasters, journalists, and anyone who has a lot of stories to share.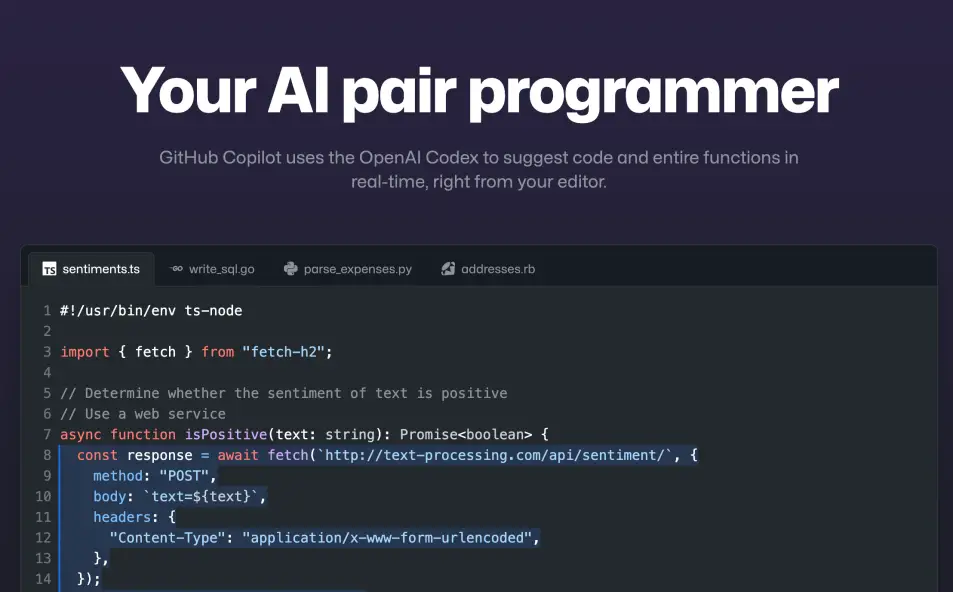 Transform natural language prompts into coding suggestions using GitHub Copilot. This brilliant AI tool suggests quick and efficient code from your editor. You can quickly generate the code within a few minutes by providing a descriptive phrase to this AI tool. This AI tool even allows you to make real-time edits or changes in the generated code.
You can save a lot of your time by using this AI tool to generate efficient as well as quick codes for your projects. Above all, you can even secure your code within minutes and comply with the regulations of your organization.
It was launched back in 2021, and since then, the copilot has been writing 46% of code and helping users to write code 56% faster, as per Microsoft.
Copilot X is the next step toward AI coding. Copilot is now integrated with ChatGPT 4.0, which provides a chat interface in VS code and Visual studio code editors.
Developer: OpenAI
Famous for: Generating codes for various programming languages like Ruby, JavaScript, TypeScript, and Python.
Beneficial for: Beginners, IT professionals, and mainstream project developers.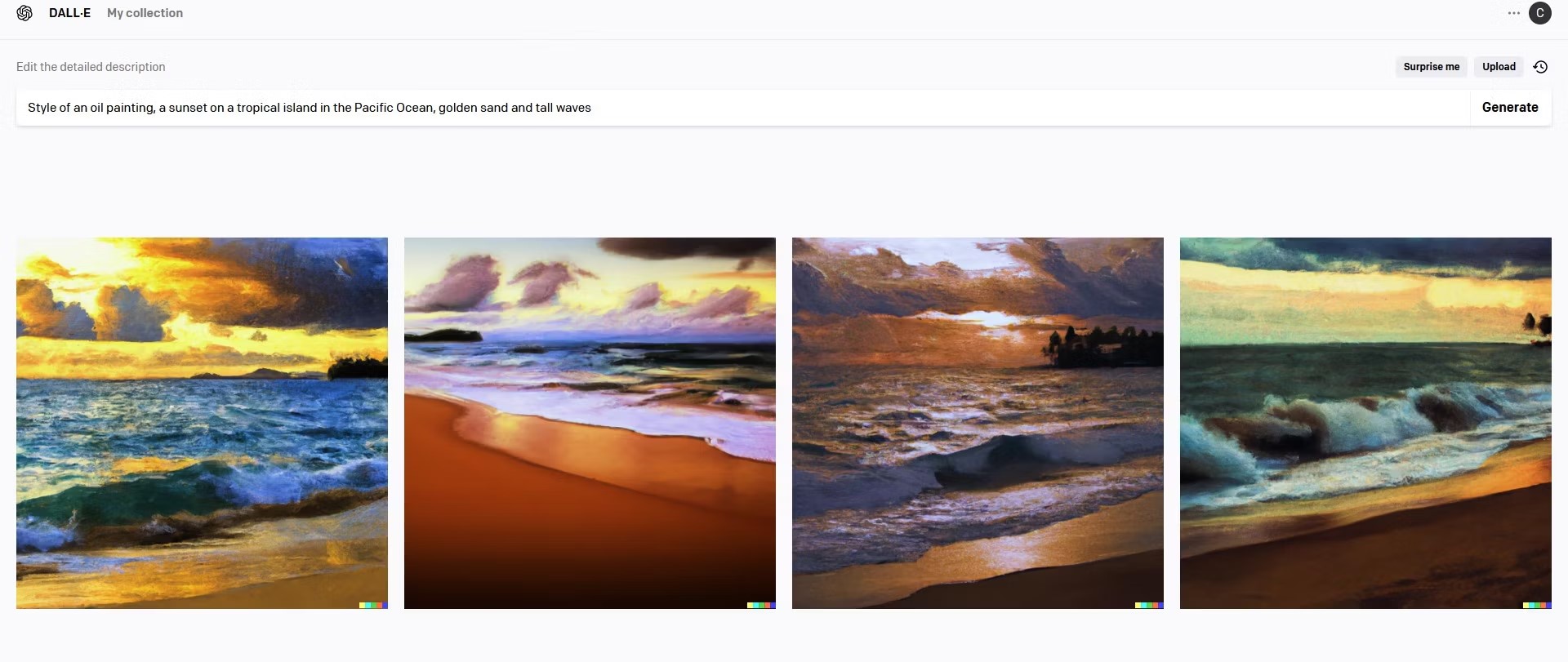 Dall-E 2.0 is a brilliant AI tool that is known for creating images. This AI can proficiently create a wide range of attractive computer graphics based on the provided descriptions. These images include photorealistic images to fantasy images.
Now, you do not have to waste endless hours searching for a suitable image, as Dall-E can create high-quality and captivating images for your projects. All you must do is describe the qualities and features of your desired image, and Dall-E will generate it for you. This is undoubtedly the competent AI tool to let your creativity flow!
Developer: OpenAI
Famous for: Generating images using provided descriptions.
Beneficial for: Graphic designer, content creator, and others.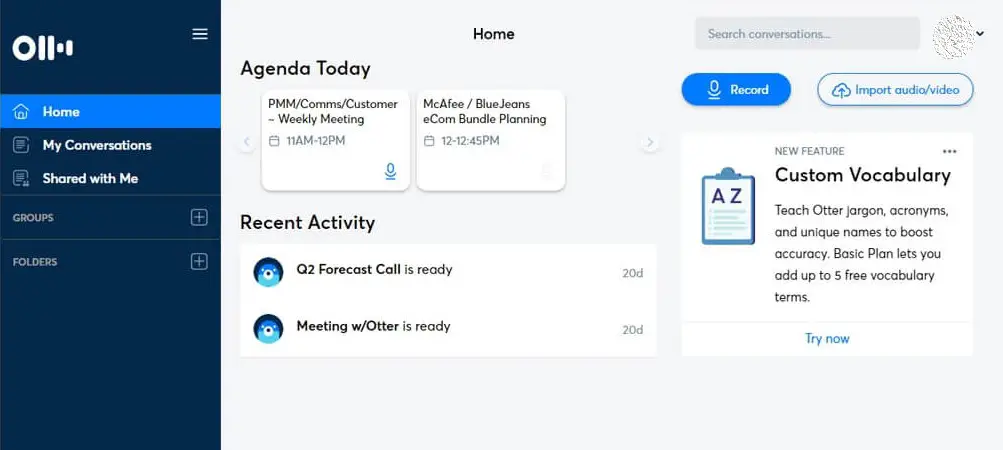 If you have a lot on your plate, then you can select Otter to join your meetings on time using either Google or Microsoft calendar. Besides joining the meeting, this amazing AI tool can generate notes based on the topics discussed in the meeting.
Otter is a must-have AI tool if you fear missing important topics while jotting down important points during meetings. This AI transcription is also helpful in converting speech to text. Otter can even be used to automatically capture slides and generate summaries of the audios or meetings.
Developer: Otter.ai, Inc.
Famous for: Proving transcripts of the topics discussed in the meetings.
Beneficial for: Everyone who wants the most out of the meetings.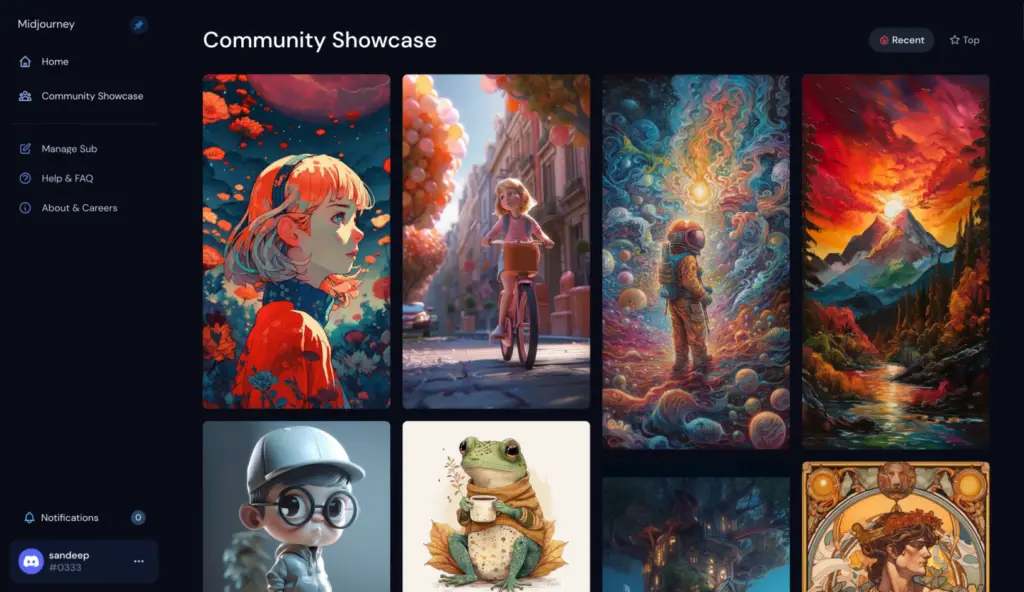 Do you want to turn your imagination into art? MidJourney is the answer. It is an AI-powered tool that can generate super realistic images based on the text prompt.
Midjourney is one of the best image generator tools available right now; you can use the Discord chat app to communicate with the AI bot to create images. It saves you hours of editing time, and it can develop the images beyond your expectations.
Middjourney allows up to 25 images for free; after that, you should join their paid plans to create more graphics which start from $10 per month.
To create art, join their Discord server and accept the invite. Join any of the newbies' channels and type /imagine [Prompt for your image]
Example:-
/imagine [A young man working on his laptop,wearing specs, sitting on chair and interacting with AI tools].
Result:-
You will get options like U1, U2, U3, and U4 to upscale the images. V1, V2, V3, and V4 are the options to create different variations. You can also regenerate the images.
Developer: Midjourney
Famous For: Creating text-to-image. Realistic image creation.
Beneficial for: Graphics designers, bloggers, students, or anyone interested in arts.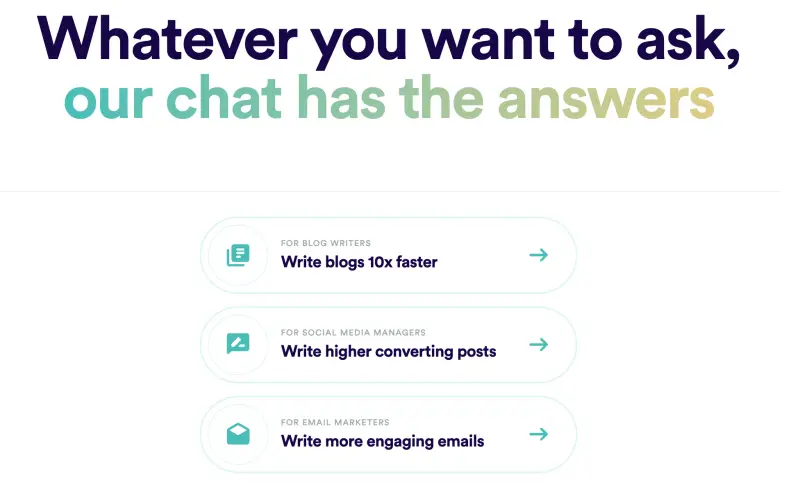 Are you troubled with writer's block? Then try Copy.AI. It is a mainstream AI tool for creating high-quality as well as interesting copy and content. This AI tool is used to generate high-performance audience-based copy in seconds. Copy.AI is an AI tool with a user-friendly interface. Thus, you do not have to be a tech professional in order to use this AI tool.
This tool is efficient enough to observe the tone and style of a text and create a similar text with utmost precision. You can use this AI tool to generate sales copy, digital ad copy, blog content, website content, social media content, and eCommerce copy.
Developer: CopyAI Inc.
Famous for: Generating high-quality content and copy.
Beneficial for: Content creators, entrepreneurs, and anyone who loves to write.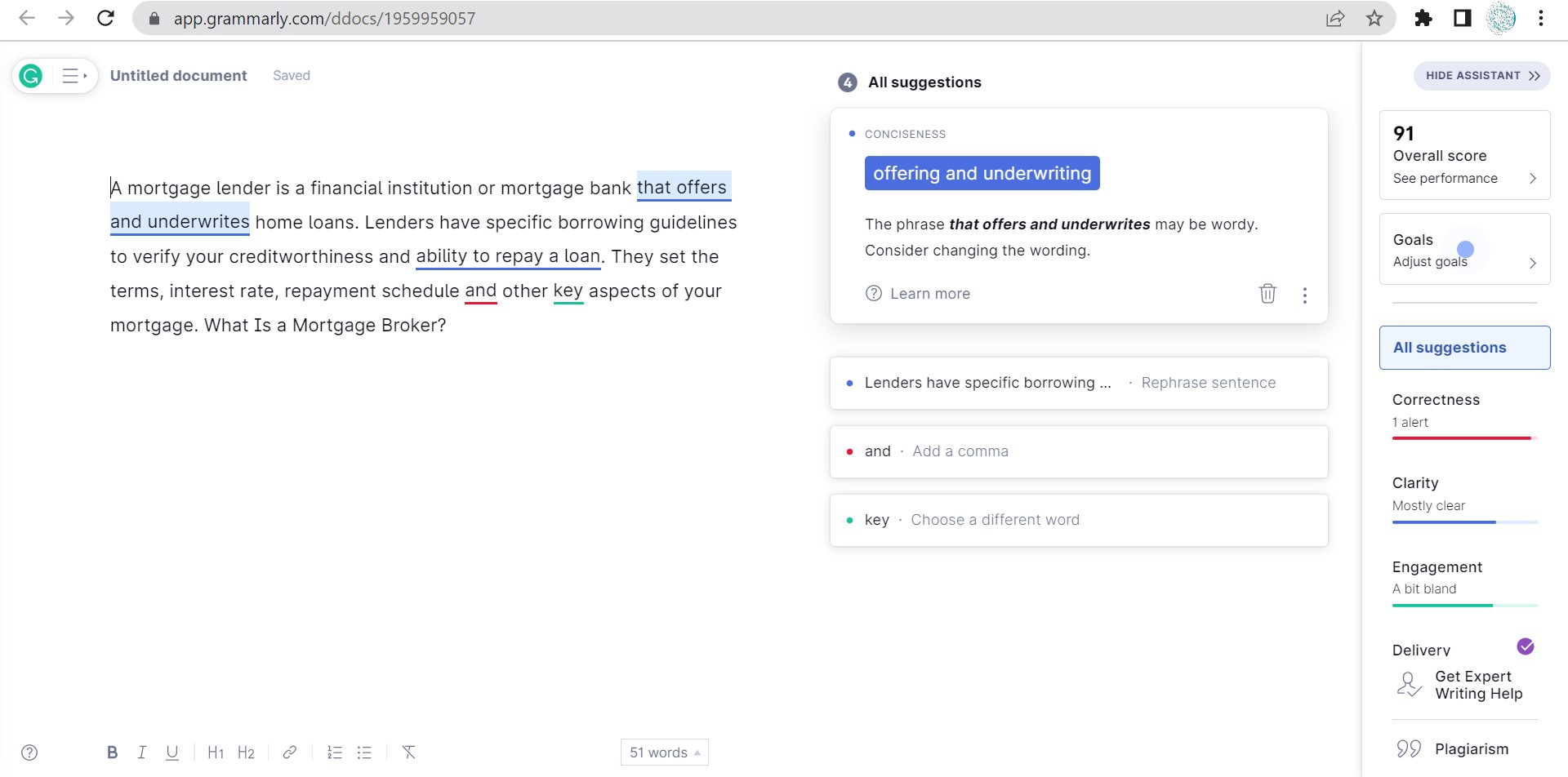 Any written material is best received by the reader if it is both logically and grammatically correct! Thus, almost every other person needs a dependable AI tool like Grammarly to avoid grammatical errors and improve the quality of their write-up.
This amazing writing assistant can easily be used on a wide range of applications like Word, Gmail, and even social media using the Google Chrome extension.
You can efficiently boost the quality of your writing with the help of this amazing cloud-based typing assistant. Grammarly is available both as a free version and a premium version.
You can use the former version to check for grammatical errors, while the latter offers various advanced features like citation suggestions, plagiarism checkers, and various others.
Developer: Grammarly Inc.
Famous for: Spelling checker, plagiarism detection, improving text clarity, engagement, vocabulary, and writing suggestions.
Beneficial for: Students, Content Writers, and basically anyone who either loves to write or writes often.
Improved productivity with AI
Other than this list of extremely useful AI tools provided above, we users are surrounded by AI tools in the form of Google Assistance, Amazon Alexa, and Siri from Apple. All of us would have used it someday or the other. AI tools are becoming necessary for almost all individuals and businesses.
Get your hands on the brilliant AI technologies mentioned in this article to get ideas, better understanding, or improved productivity.
FAQs About AI Tools
Where does Grammarly work?
This brilliant writing assistant works both in your browser and desktop using its application.
Is GitHub Copilot free?
If you are a verified student, teacher, or maintainer of a popular open-source project, then GitHub Copilot is free for you. GitHub Copilot even offers monthly as well as yearly subscriptions. The former subscription costs $10, while the latter subscription costs $100.
Which AI tool is best for content writing?
You can choose from a variety of AI tools for content writing. Some of the most popular ones are ChatGPT and Jasper. AI.
Can AI do coding?
Yes, AI tools like GitHub Copilot can efficiently do coding. Despite saving you time, this AI tool even lets you make necessary changes to the code as per your preference.
Is Midjourney Free?
Midjourney allows up to 25 images for free. After that, you can join paid plans to unlock more image creation. The plan starts from $10 per month and goes up to $40/m.
Can ChatGPT provide the latest information?
ChatGPT is trained on data available till September 2021; it can not provide the latest news or information, and the latest information provided by ChatGPT might be inaccurate.
It is now integrated with Bing Search API to perform web searches for you and provide the answer you are looking for. If it does a web search then you can rely on the data.
Read More: